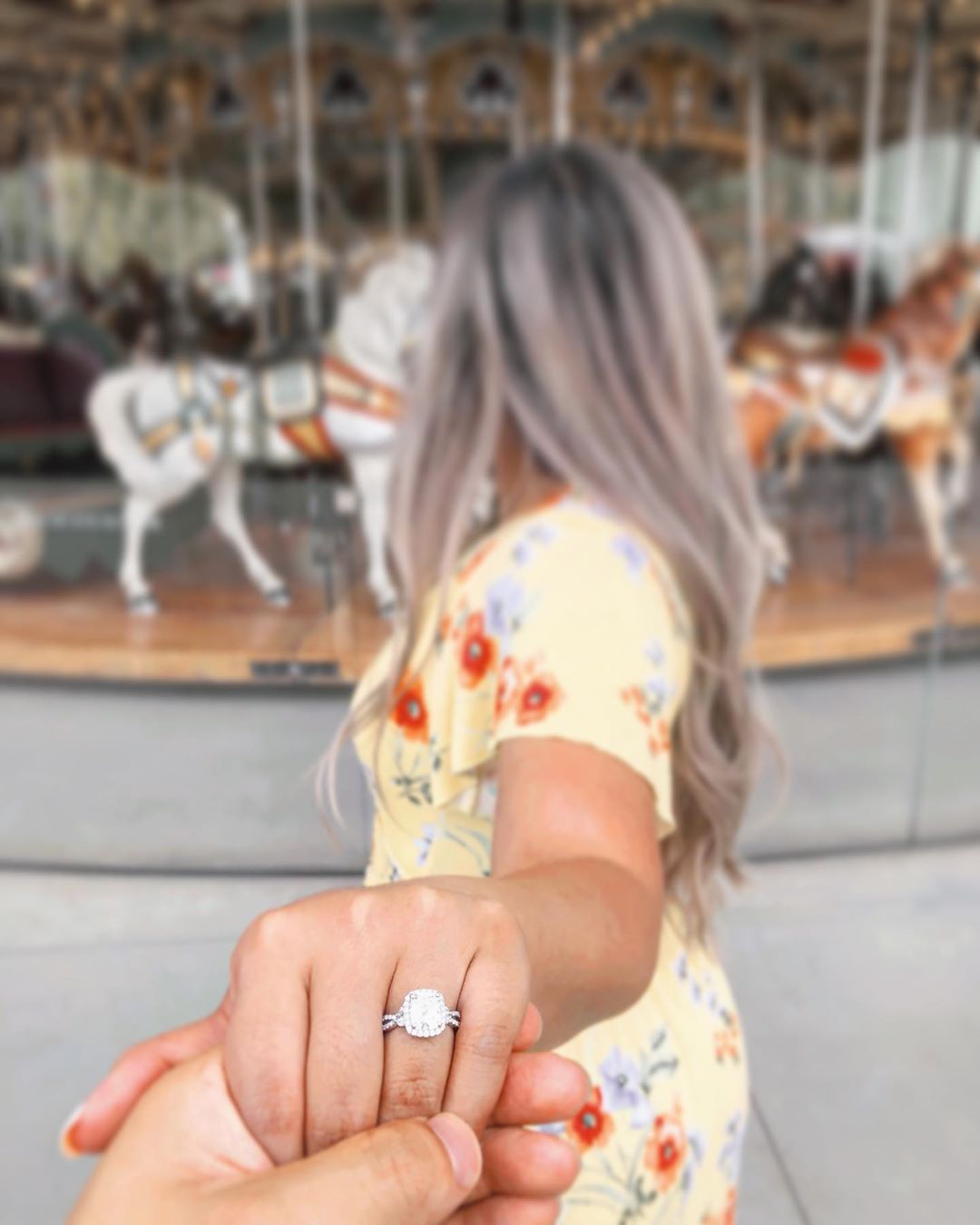 Cushion diamonds and gemstones are a timeless, romantic choice for engagement ring center stones.
Refined over centuries and based on the "old mine" style of cutting gemstones, cushion diamonds are designed for exceptional sparkle and brilliance. Soft, rounded edges differentiate cushion gems from more angular princess cuts and give this fancy shape their pillow-like appearance.
This unique fancy diamond and gemstone shape is complemented by delicate diamond halos and other vintage inspired ring settings. Read on to discover some of our favorite settings for cushion center stones, and see why we're drawn to the classic romance they evoke.
Secret Halo Diamond Ring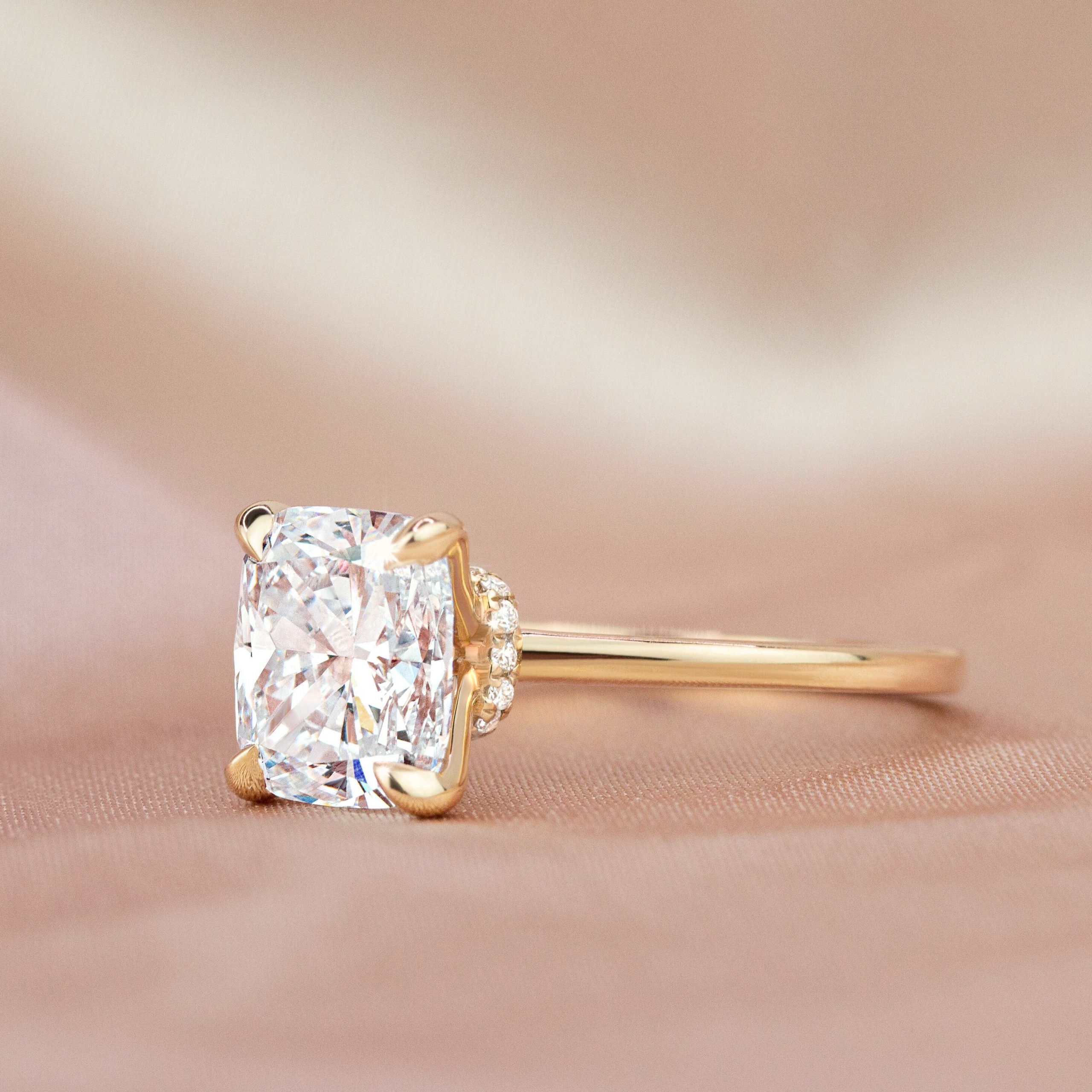 This elegant engagement ring features a glittering hidden halo of diamonds that wraps around the center gem. The subtle diamond accents add to the sparkle of your center stone, while the graceful claw prongs and petite band draw all attention to the stunning cushion cut diamond.
Fortuna Diamond Ring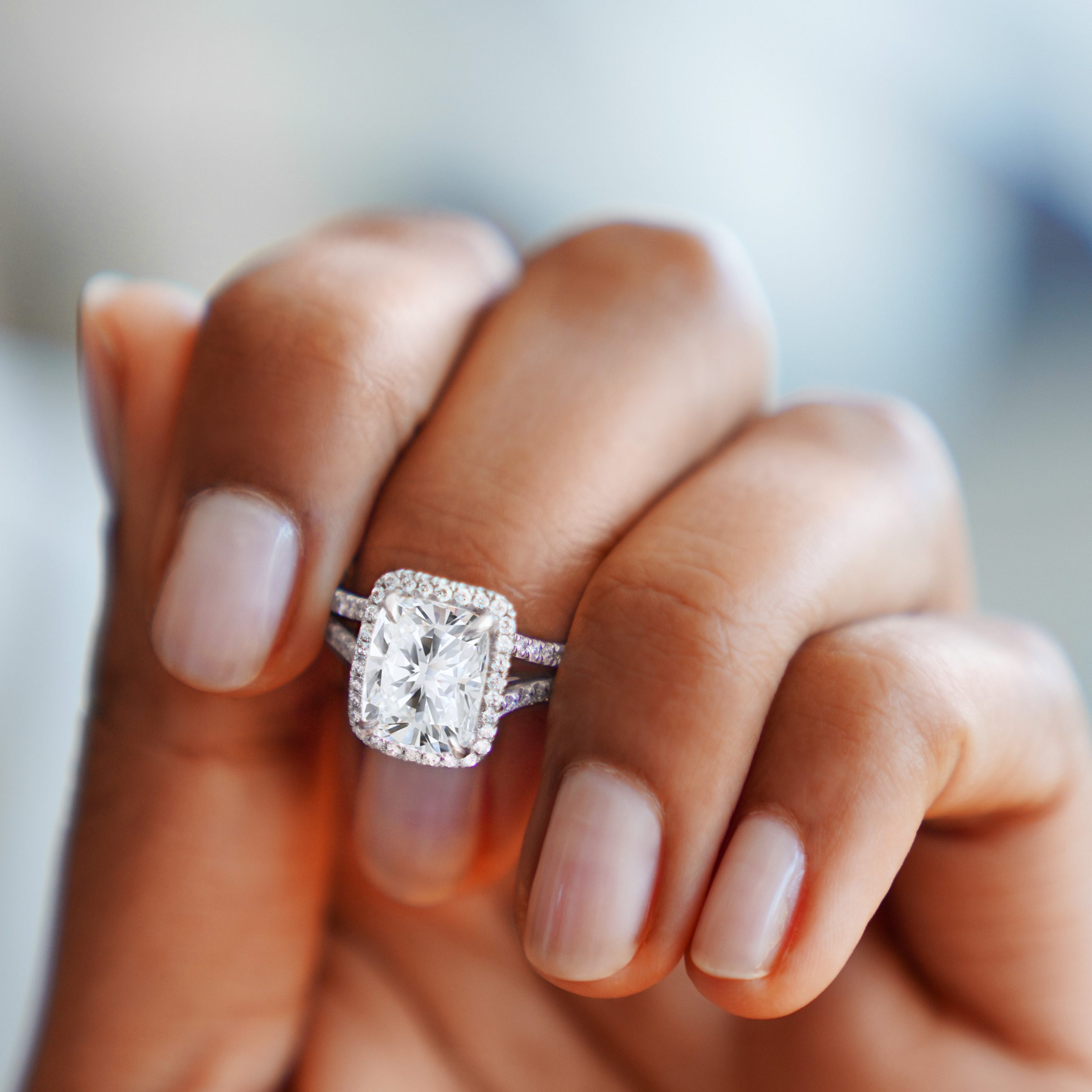 The subtle curves of a cushion cut diamond are beautifully framed in a halo of diamonds in this exceptional setting. Two rows of pavé diamonds sparkle on the contemporary split shank band, while a surprise row of diamond accents on the bridge completes this glamorous look.
Opera Diamond Ring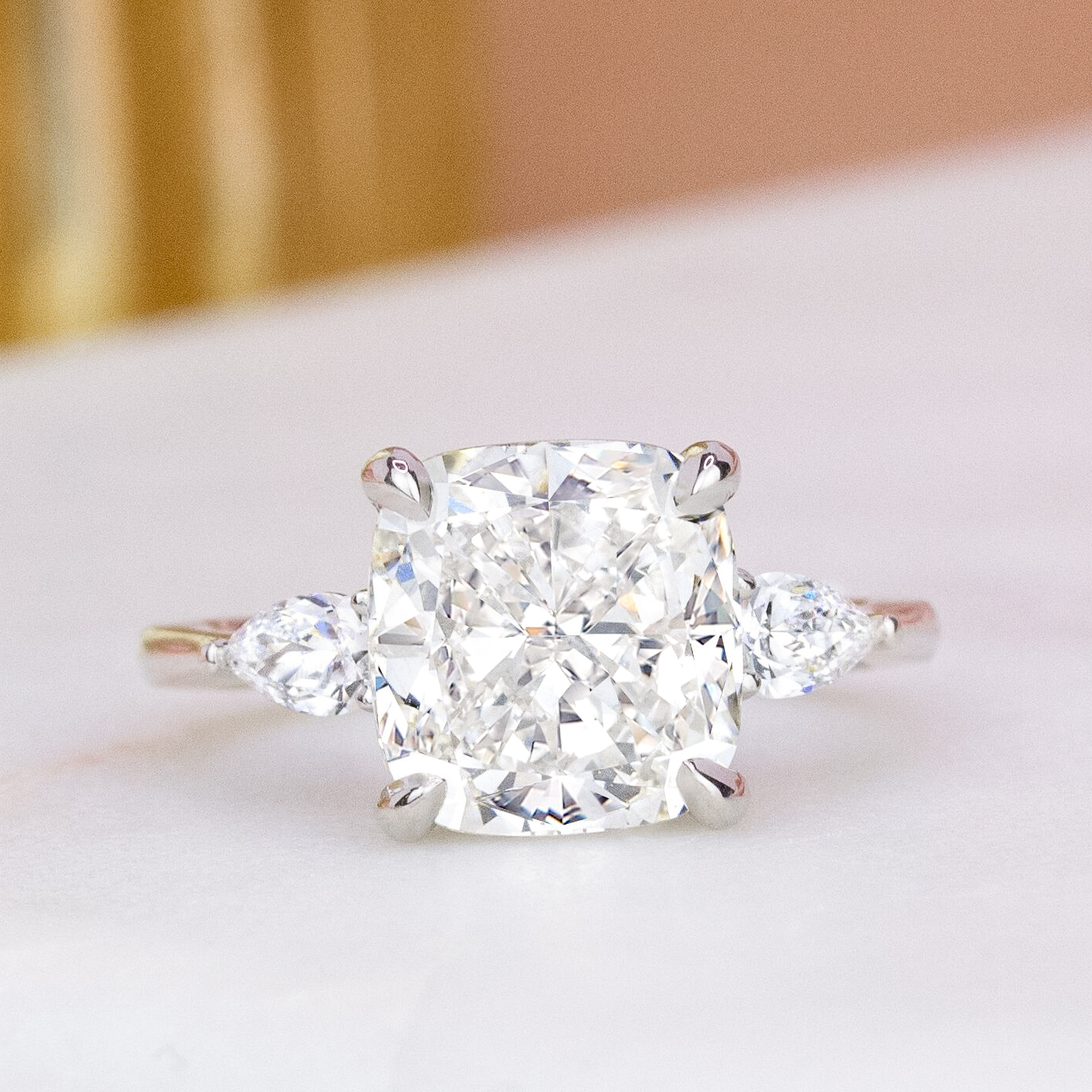 A three stone setting combined with a stunning cushion cut diamond is a match made in heaven! These rings represent a couple's journey together. Framed by two pear-shaped diamonds, the center gem makes a romantic statement, reminiscent of your unique love story.
Anthology Diamond Ring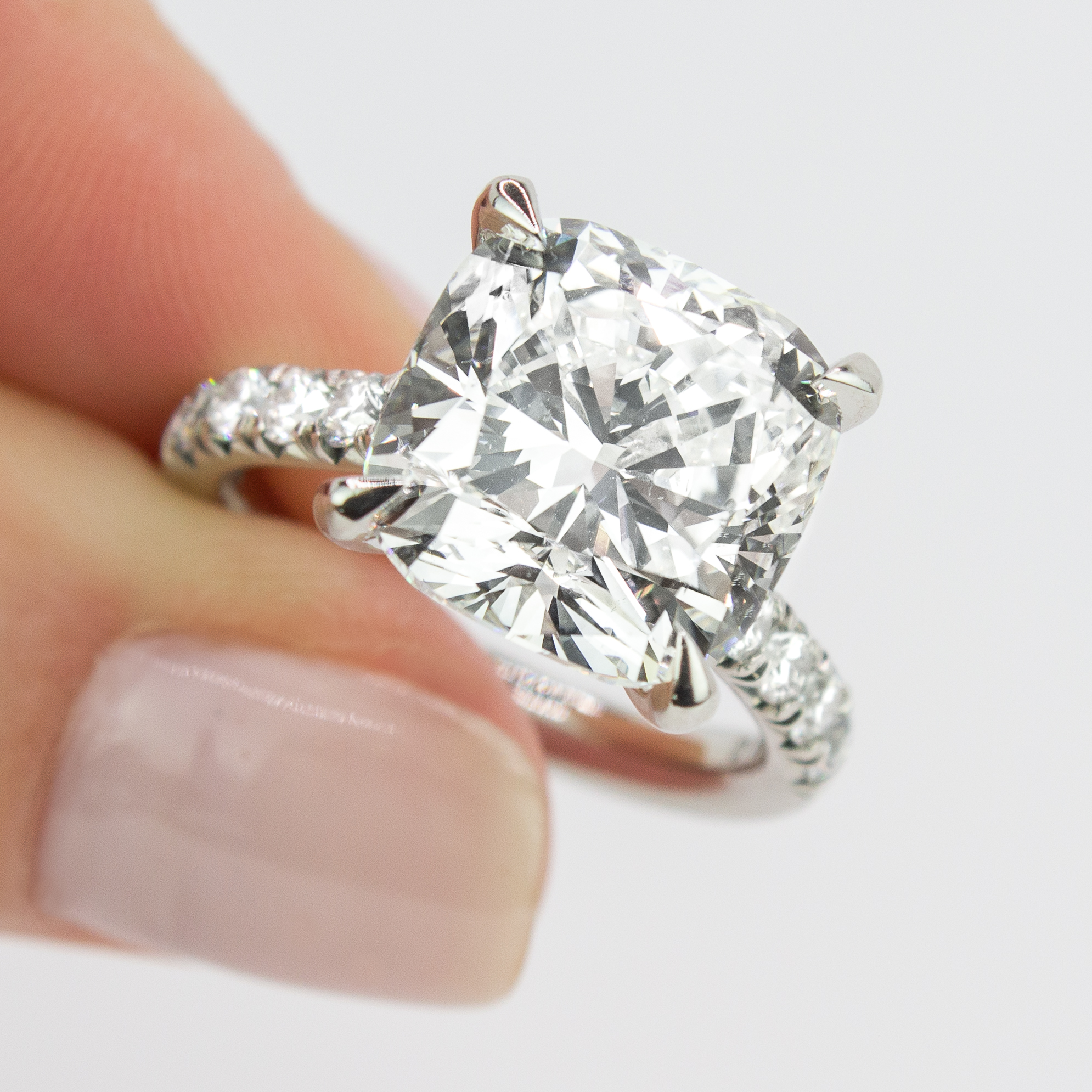 Glamorous French pavé diamonds adorn the band of this ring, allowing light to reach each diamond from multiple angles and enhancing their sparkle.
Lotus Flower Diamond Ring with Side Stones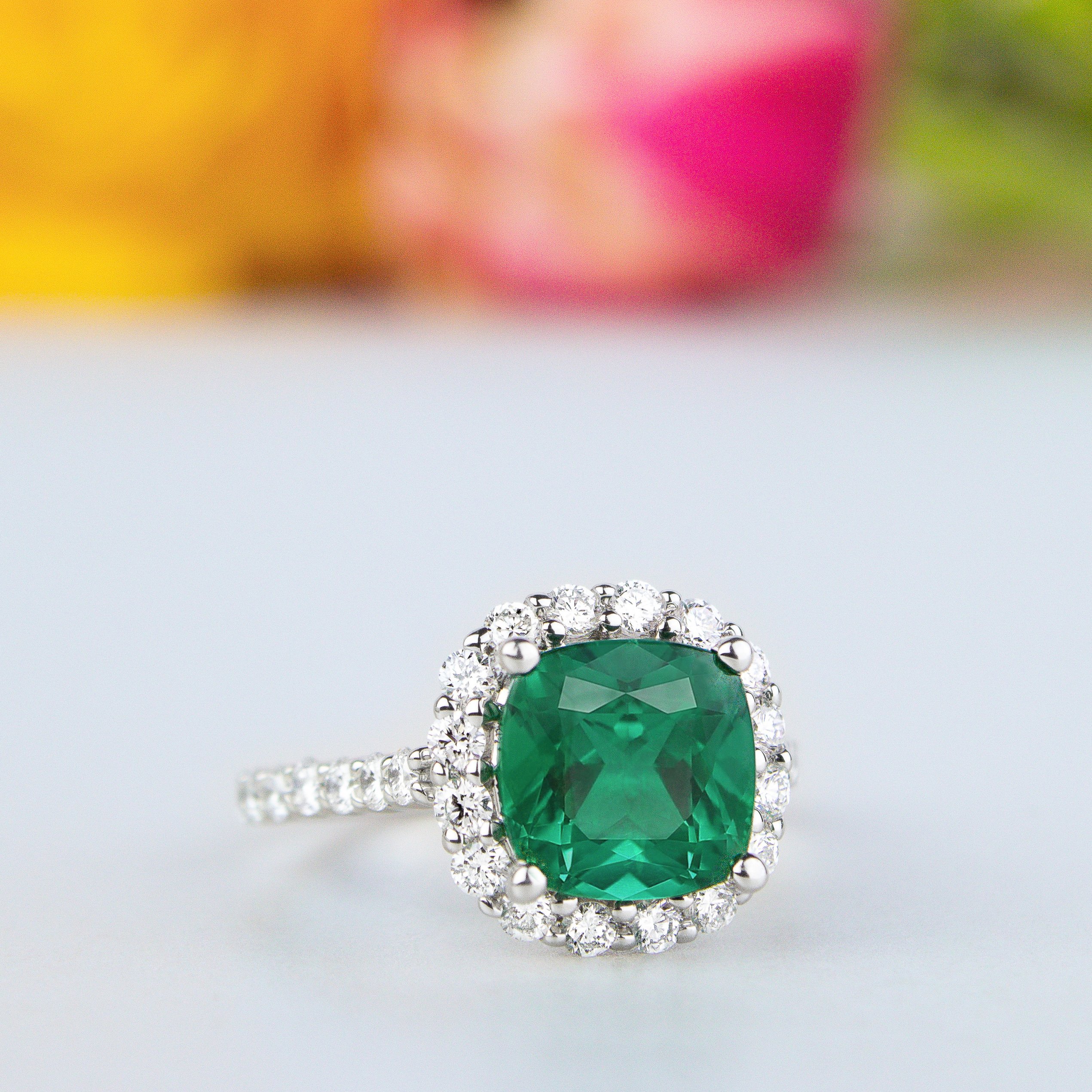 Emeralds are a beautiful and timeless choice for an engagement ring center gemstone. The rich color of this cushion cut gemstone is striking when paired with a blooming halo of diamonds.
Sunburst Diamond Ring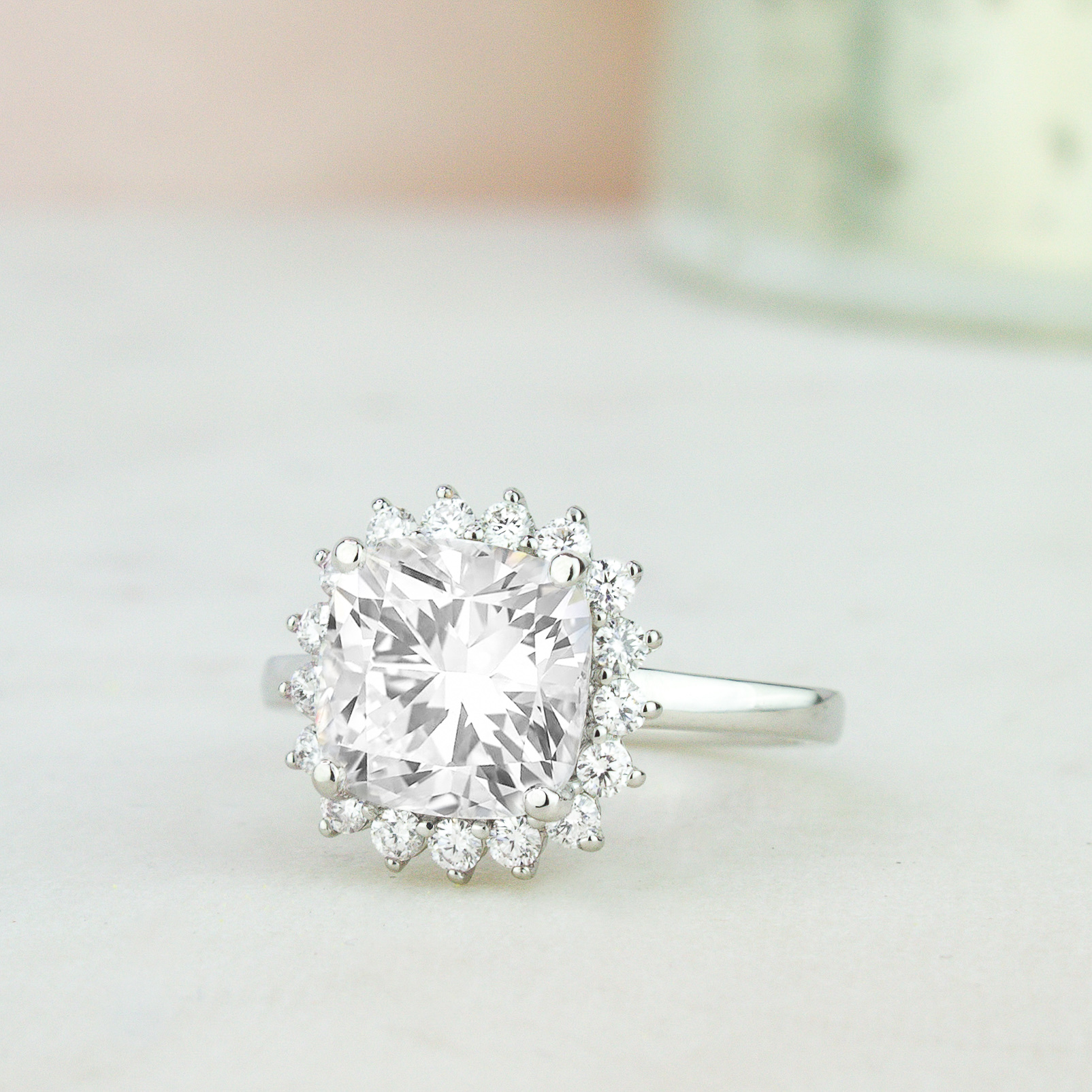 An array of glittering diamonds set in three-prong settings surround and enhance the center gem in this magnificent ring.
Provence Diamond Ring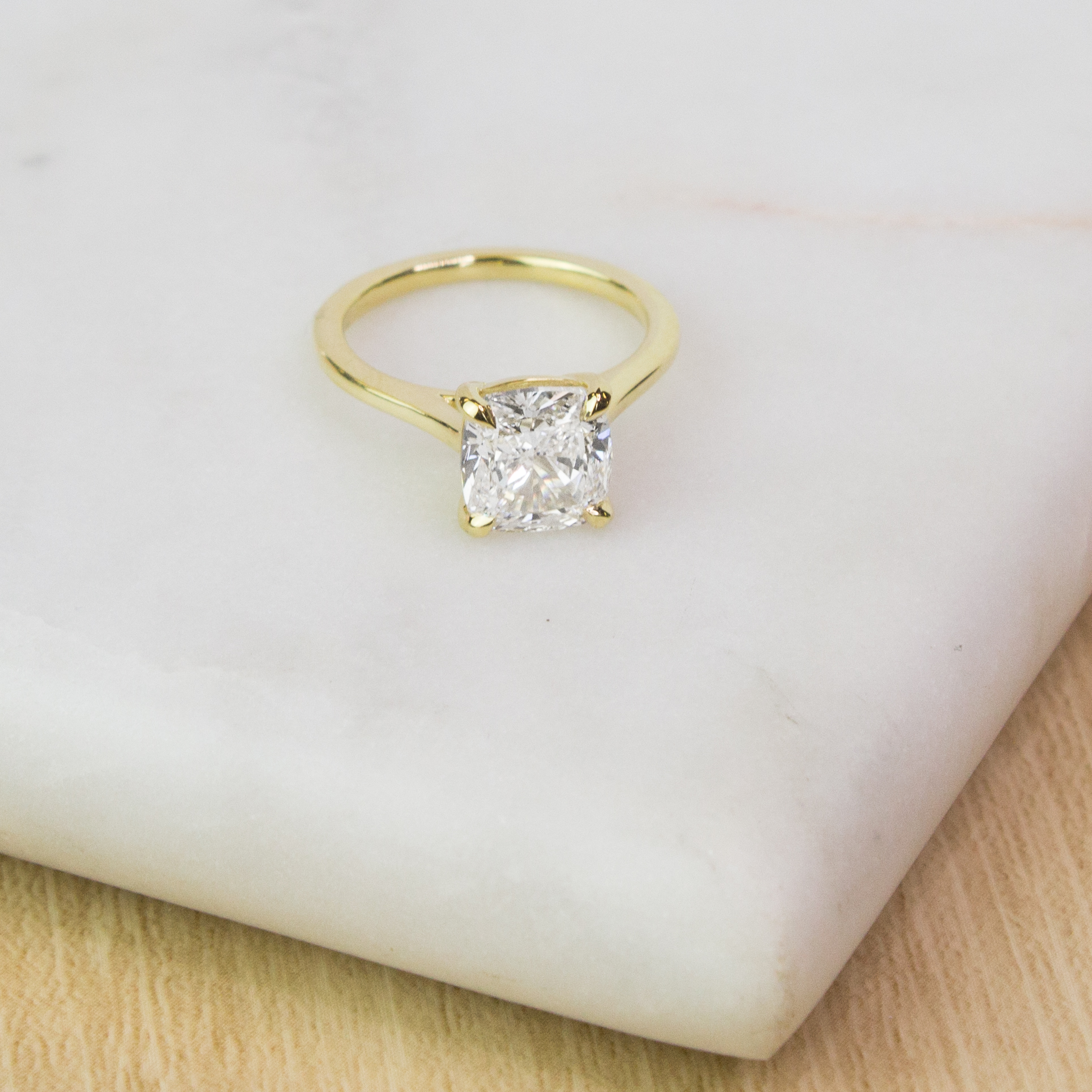 A petite band sweeps up to embrace the center gem in delicate claw prongs, accentuating the soft look of a cushion shaped gem.
Luxe Sienna Halo Diamond Ring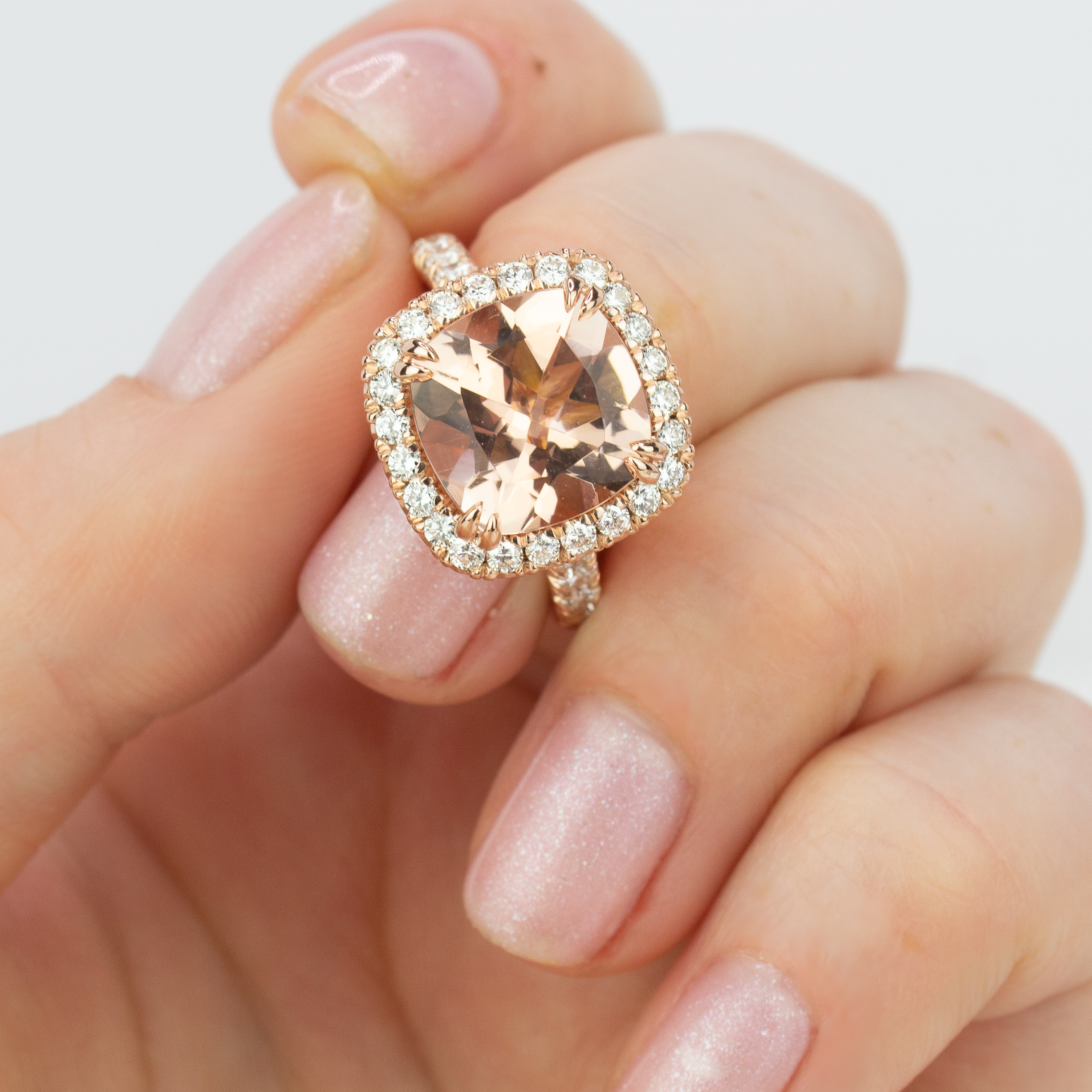 This luxe setting features diamond accents adorning the band and gallery, as well as a stunning halo surrounding the center gem in a ring of brilliant light. Morganite's captivating blush tone enhances the romance and glamour of this style.
Marseille Halo Diamond Ring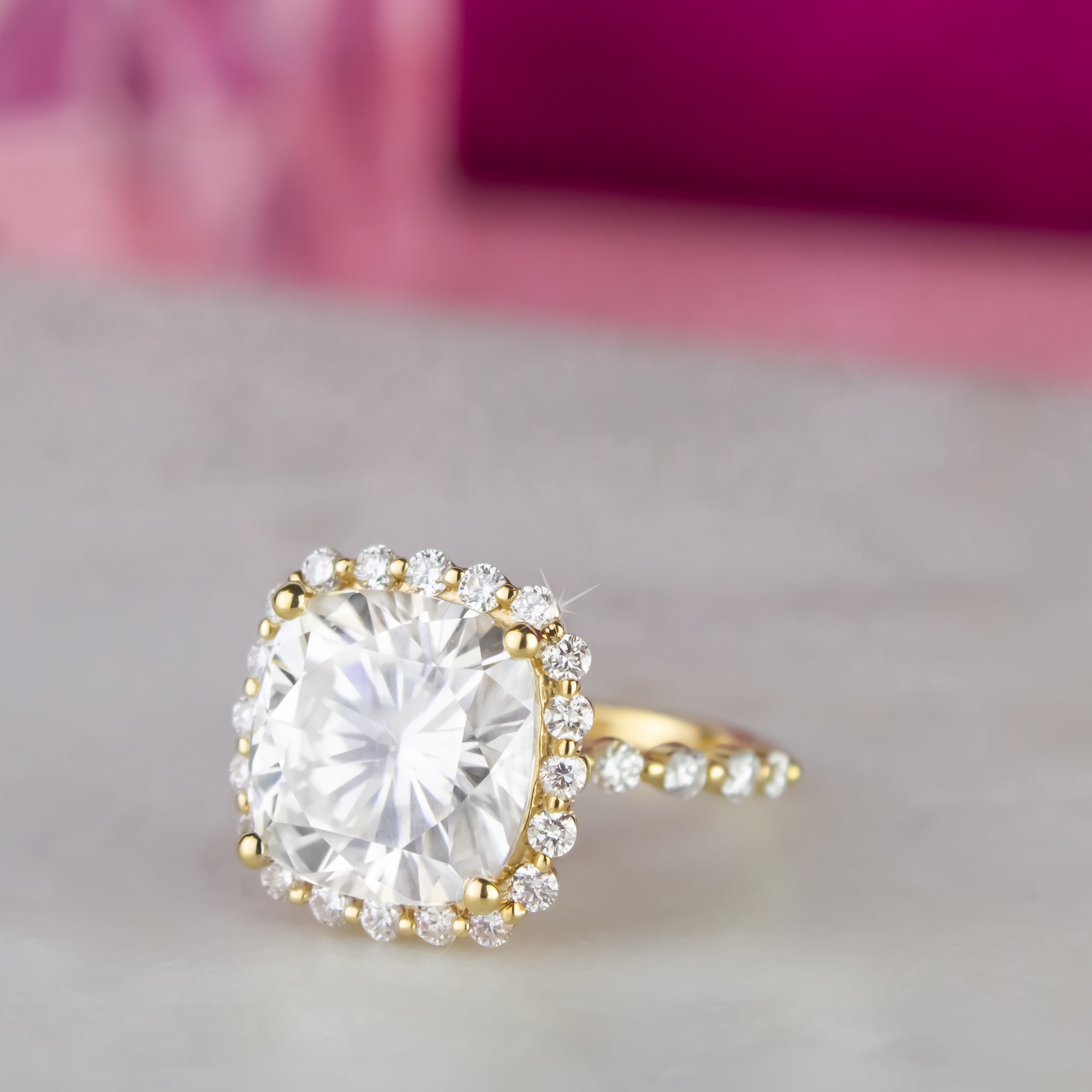 Floating shared prong diamonds give this setting a light and dazzling feel, elevating the center gem for a stunning look.
Odessa Diamond Ring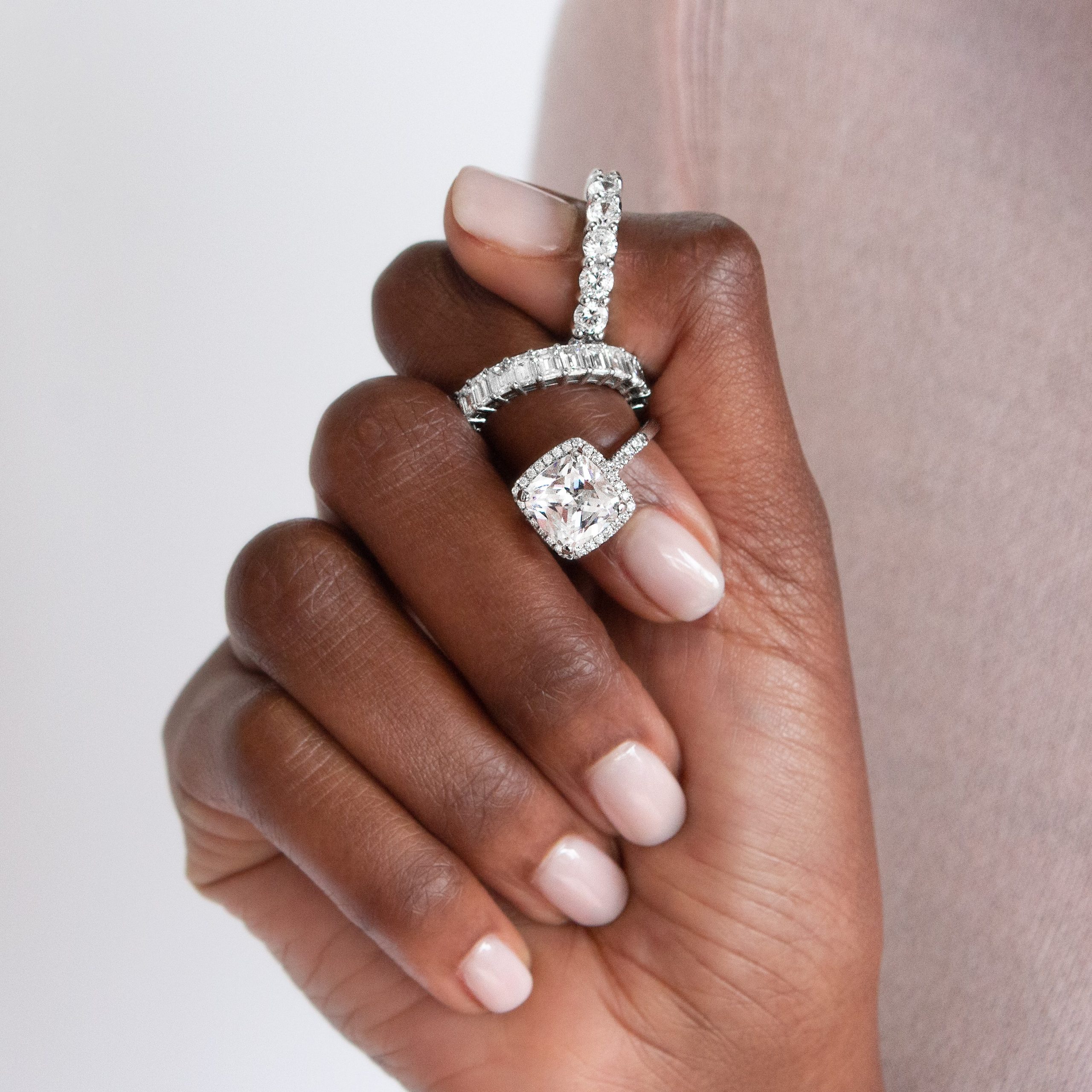 This ring is designed to accentuate and amplify the brilliance of your center gemstone. A delicate halo of pavé diamonds embraces and accentuates the center gem, and French pavé diamond accents on the band add a truly dazzling effect.
Final Thoughts
Do you love the look of cushion diamonds and gemstones? Tell us your favorite ring styles in the comments below, or on Instagram, Twitter, and Facebook!