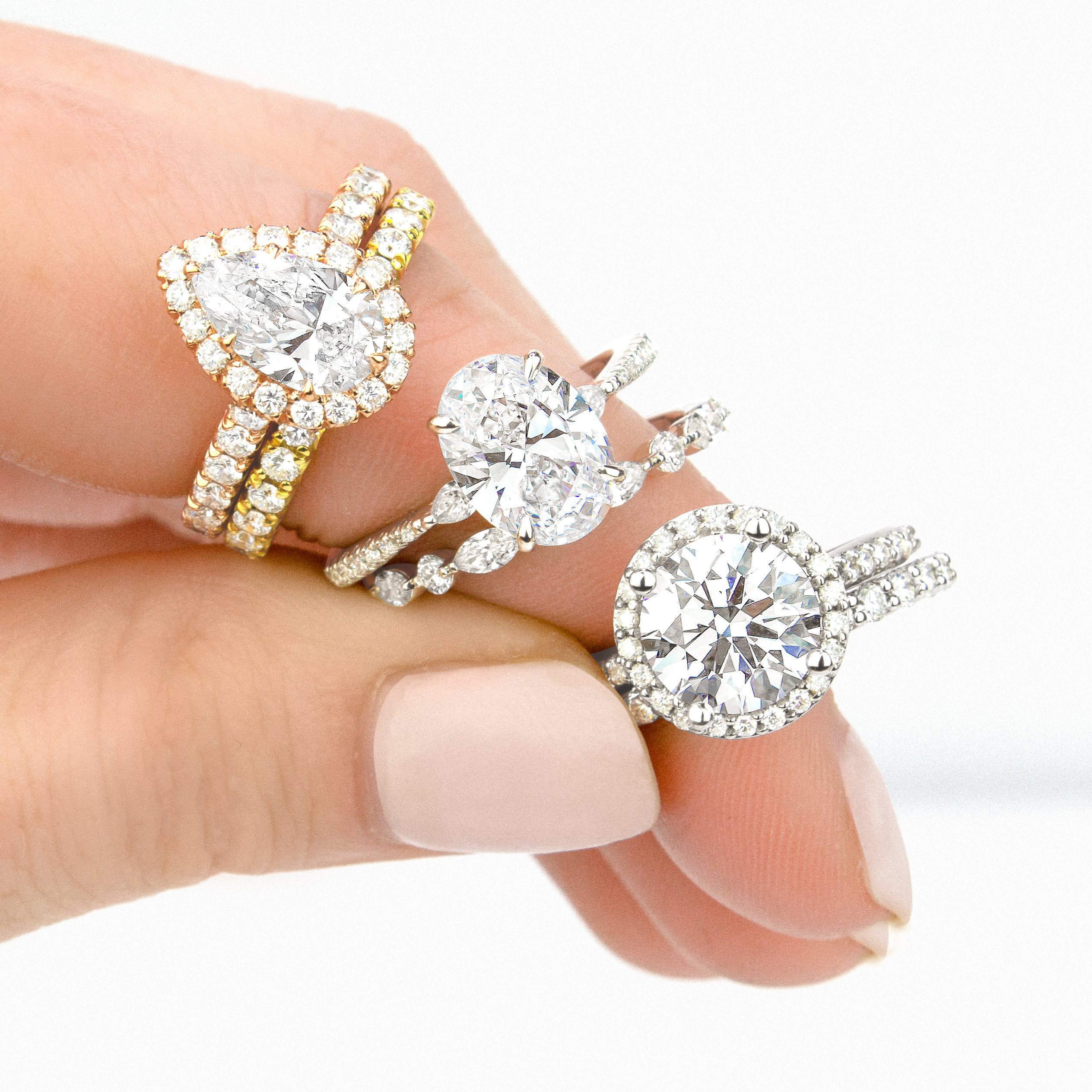 The jury is out! According to social media, sparkling diamond halos remain a top engagement ring trend for 2019.
Halo diamond engagement rings feature diamond accents that encircle a center diamond or gemstone, giving extra sparkle and dimension to a ring. Due to their glittering circumference, they can make a center diamond appear larger, making it an extremely popular choice for diamond engagement rings. However, many celebrities like Kate Middleton, Katy Perry, and Elizabeth Olsen have opted for colored gemstone halo engagement rings. Whatever center gem you choose, halo rings are a gorgeous trend we don't anticipate slowing down any time soon!
Considering the popularity of halo engagement rings, the natural next step is finding the perfect wedding band to pair it with! To make the choice easier, we've called out some of our  most popular halo engagement ring and wedding band pairings below.
Waverly Diamond Ring & Luxe Ballad Diamond Ring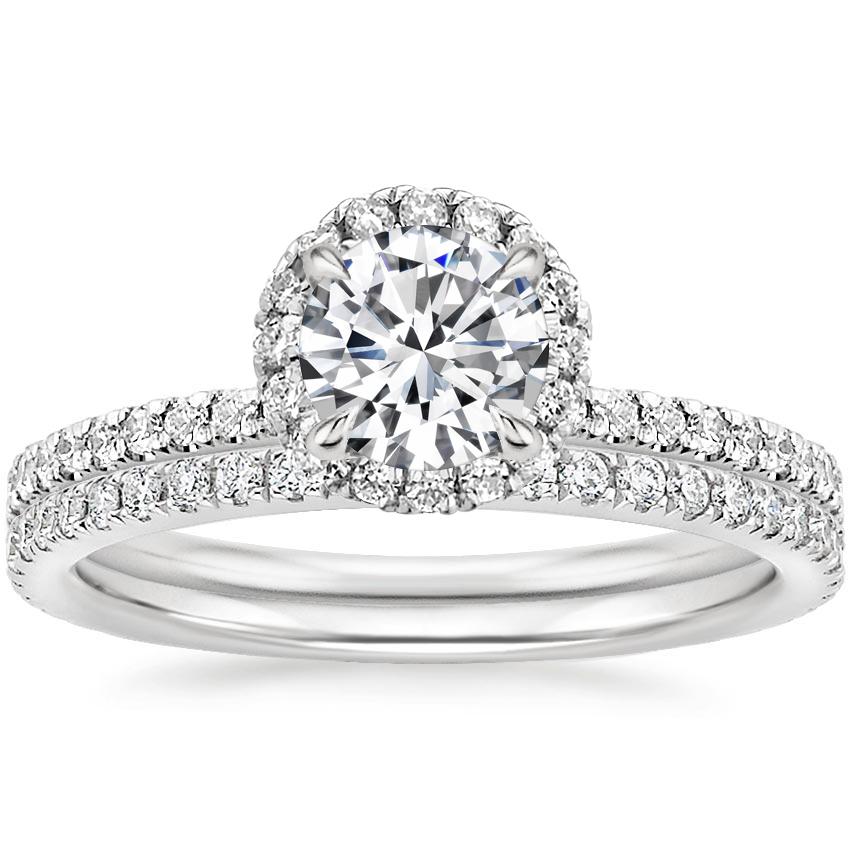 The Waverly Diamond Ring has a sparkling halo of scalloped pavé diamonds that extend onto the band, making it shimmer from all angles. The petite scalloped pavé diamonds of the Luxe Ballad Diamond Ring make it a perfect match.
Fancy Halo Diamond Ring with Side Stones & Petite Shared Prong Diamond Ring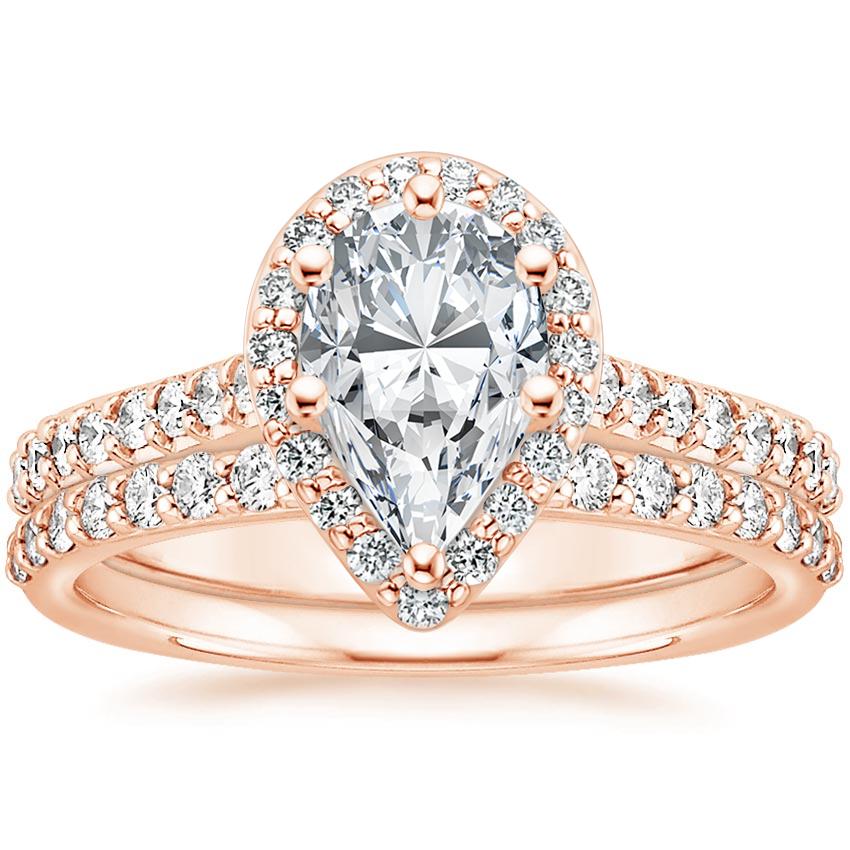 The Fancy Halo Diamond Ring with Side Stones features an alluring halo that can be set exclusively with fancy shaped diamonds or gemstones, such as pear, oval, marquise, emerald, or cushion. The Petite Shared Prong Diamond Ring's round brilliant diamonds match those of the Fancy Halo Diamond Ring, fitting seamlessly alongside the engagement ring.
Odessa Diamond Ring & Sonora Diamond Ring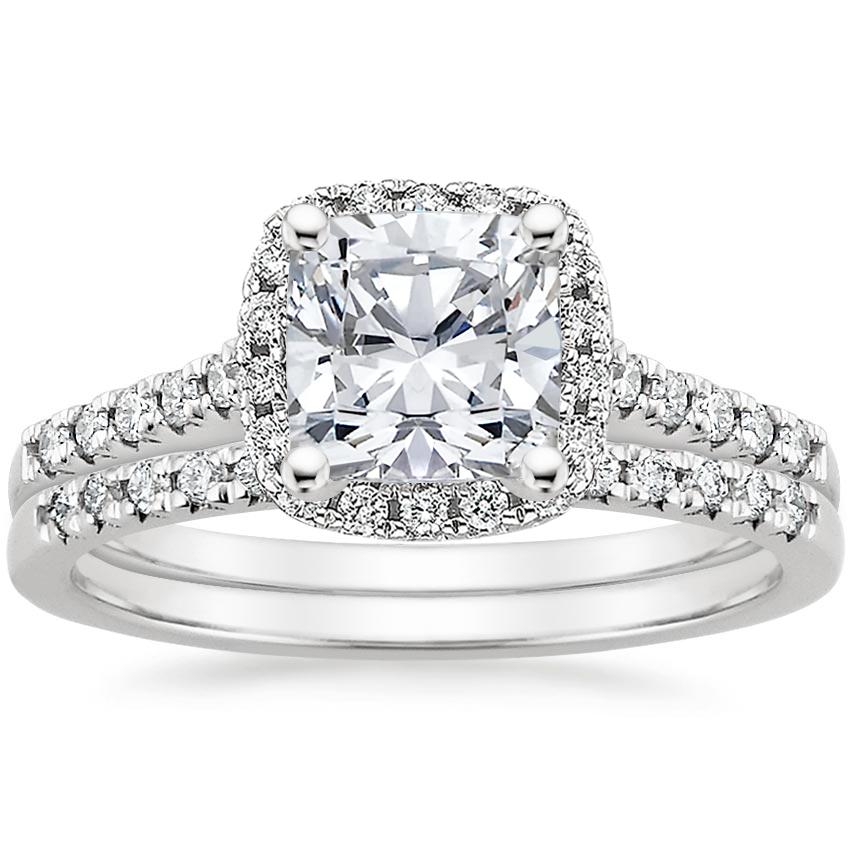 With matching French pavé accents on their bands, the Odessa Diamond Ring and Sonora Diamond Ring are a perfect pair! The combined diamond accents create a truly dazzling effect in this bridal set.
Sol Diamond Ring & Petite Comfort Fit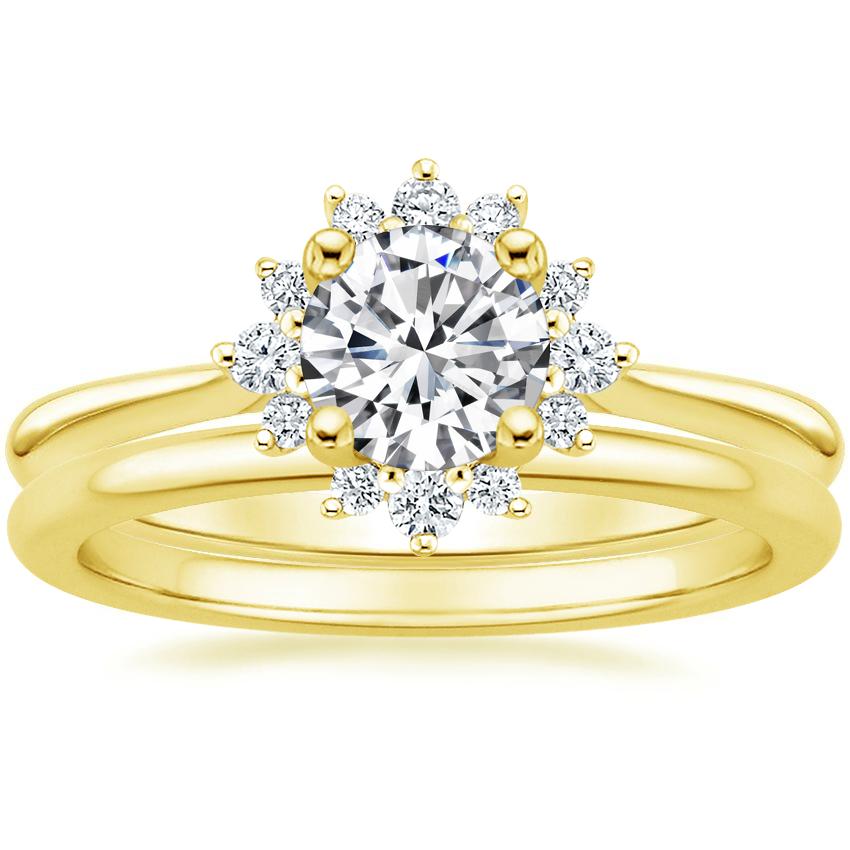 A sleek band with rounded edges for optimal comfort makes the Petite Comfort Fit Wedding Ring a great choice to pair with any engagement ring. Matched here with the Sol Diamond Ring, the simple band allows the engagement ring's sunny halo to be the star of the show.
Reina Diamond Ring & Versailles Diamond Ring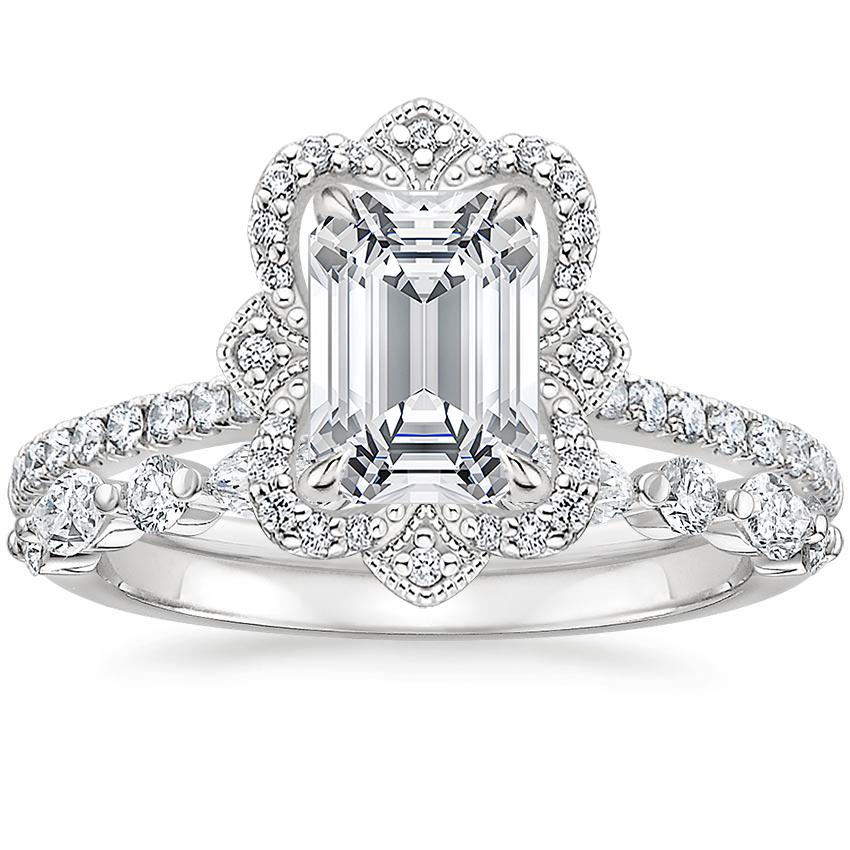 These two regal rings, although both unique and distinctive, are a match made in heaven! The Reina Diamond Ring boasts an intricately detailed halo with beading, milgrain, and diamond details for a look that is inspired by royal motifs. Like the Reina, The Versailles Diamond Ring is from our Regalia Collection and was inspired by crown jewels and classical palace architecture.
Crescent Diamond Ring & Wren Diamond Ring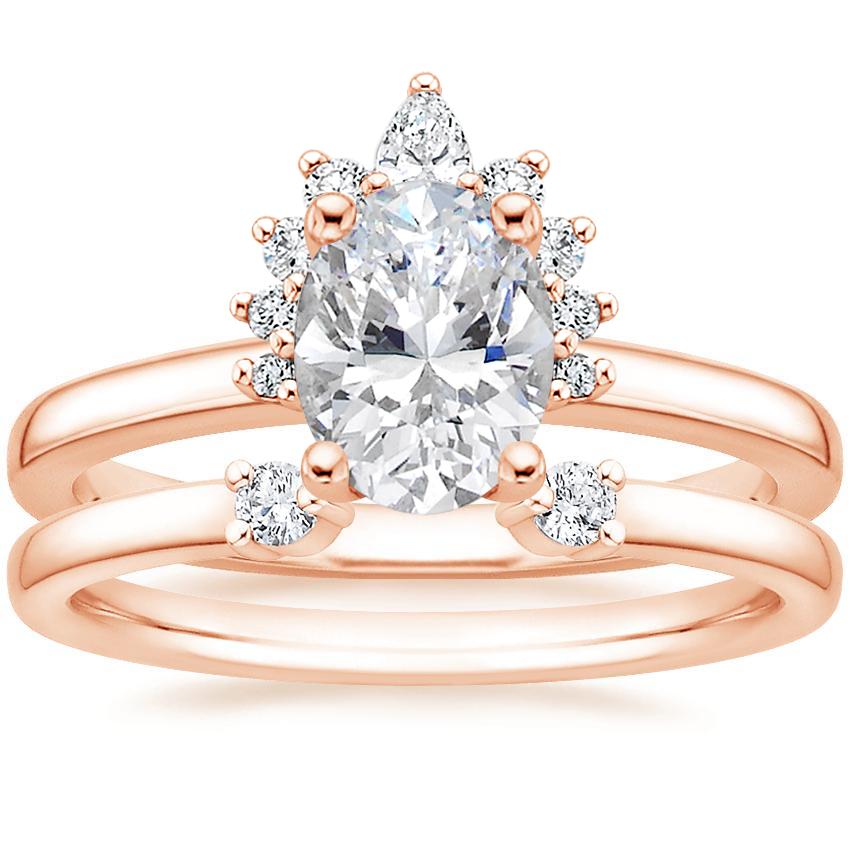 This contemporary set is a true showstopper. Sparkling pear and round brilliant cut diamonds create a half halo on the Crescent Diamond Ring. Nestled underneath the engagement ring, the two diamond accents of the Wren Diamond Ring cradle the center diamond, adding subtle extra sparkle.
Final Thoughts
Do you love halo engagement rings? Would you choose any of the bridal sets called out above? Let us know your favorites in the comments below, or on our Instagram, Facebook or Twitter!