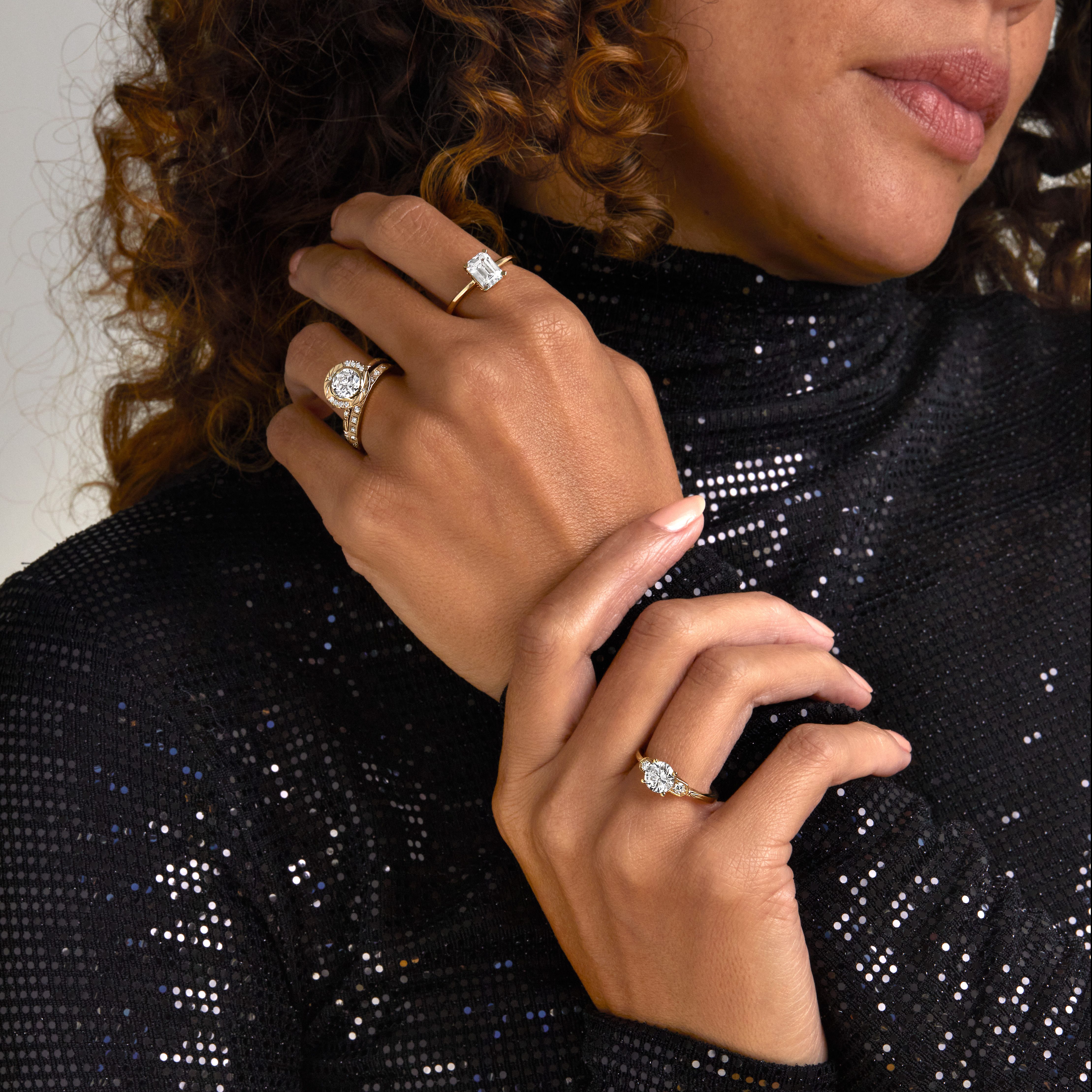 Halo ring settings were inspired by flowers, with a feminine "halo" of smaller gems that encircle your center stone. The frame is not only radiant and delicate — it also makes your main gem appear a whole half carat larger. We're talking hundreds of dollars of difference, all for choosing a smart setting. That star power is why halo rings are massively popular for engagement rings. Their glittering circumference can be paired with any cut and color, so as you choose a wedding ring to harmonize with your gorgeous halo engagement ring, here's what you need to know to accent the size and sparkle.
What kind of wedding bands go with halo engagement rings?
A halo engagement ring's surrounding stones create the shimmering illusion that your head stone has more dimension. A clever way to spend less. But should your wedding band do the same? Here are a few pairing ideas.
1. Matching
The easiest way to simplify your selection is by shopping for a matching wedding ring set and engagement rings at the same time. Their "one-ness" can symbolize your eternal love and cut back the length of your search. Plus, consistency always tends to look a bit more elevated and intentional. And there's an adorable bond and sweeping romantic gesture in doing everything together.
To "match," you can mimic a halo engagement ring's gem-heavy look with an eternity band, which also speaks to your everlasting commitment and lifelong loyalty. For example, the most sought-after shape for proposal pieces is the round halo engagement ring. It features a round center stone with a beautiful wrap of round mini gems. An eternity band is perfect for completing an all a-"round" imaginative and refreshing design.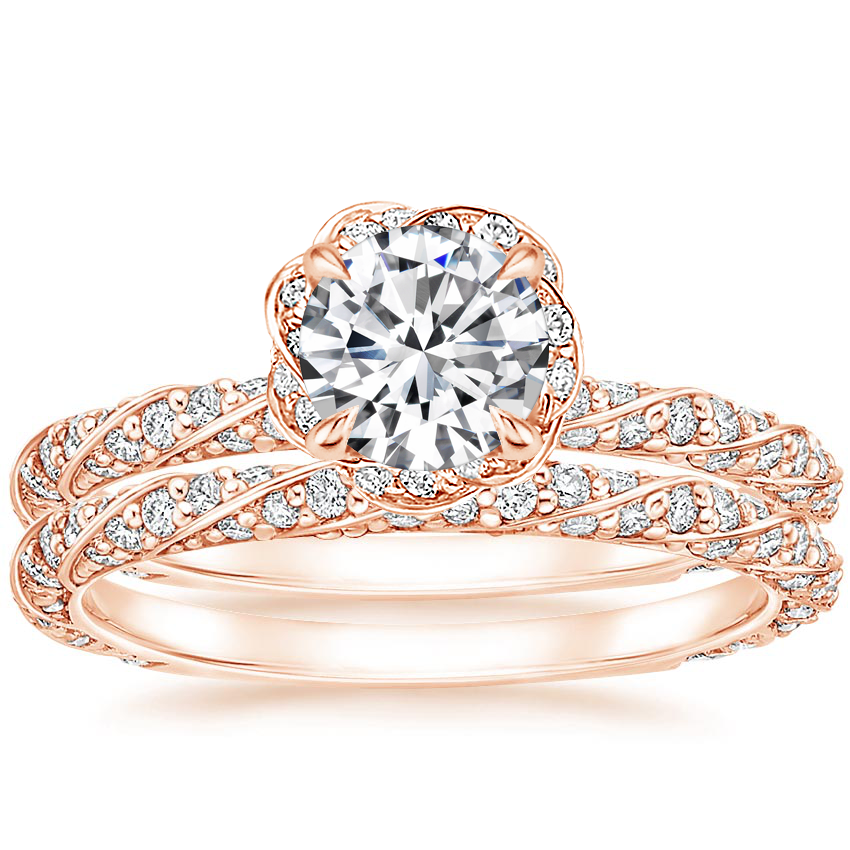 2. Mismatched
Mismatched wedding rings might have several elements in common and vary in one substantial or subtle way, much like couples themselves. You might contrast your wedding band's round shape with an angular halo: the antiquity of the rectangular emerald cut engagement rings echoes the vintage nature of the halo's Victorian origins, while in cushion cut halo engagement rings, your center stone is square with rounded, pillow-like edges.
Mismatched rings are sort of like saying you bring out the best in each other, or that even though you're different, you're united. Even if you're mismatching your own engagement ring, in which case, you could represent your diverse interests or the layers of your personality.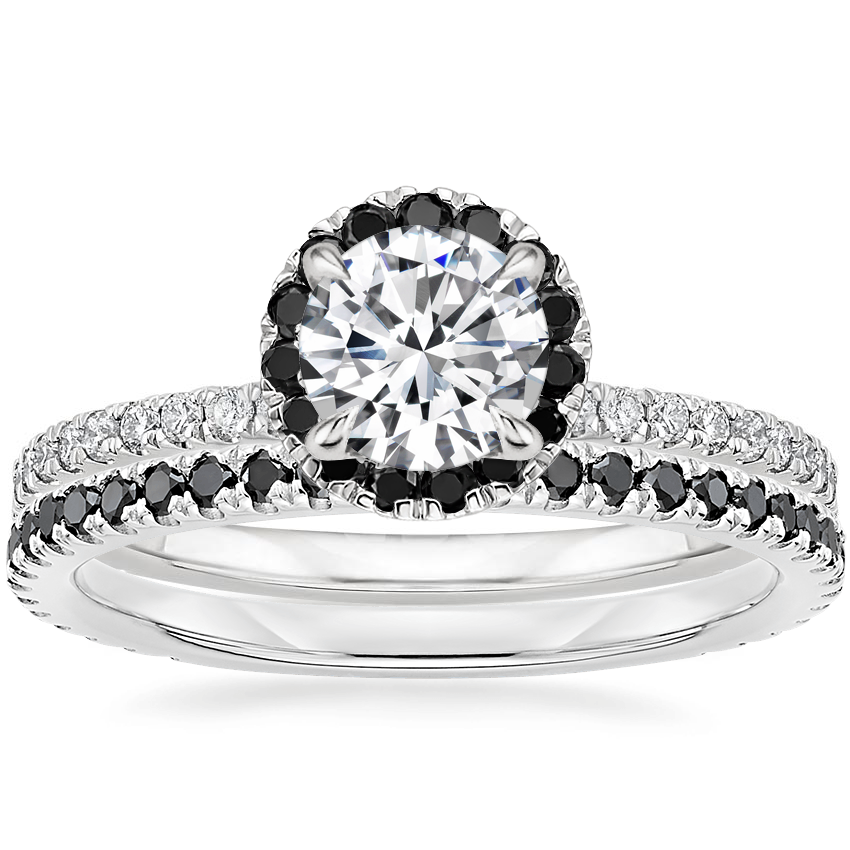 3. Individual
It's your jewelry and you'll be the one wearing it every day, so you might prioritize separate styles, rather than trying to find a mutual wedding band that happens to work with your halo engagement ring. Your own wedding band can celebrate your individualism.
Another way you can honor both independence and connection? Even if you opt for the same wedding rings, each of you can wear them in your own unique way. For instance, you might prefer either your engagement ring or wedding band, or wear both of them sitting flush on the same finger, or as complementary pieces with one ring on each hand.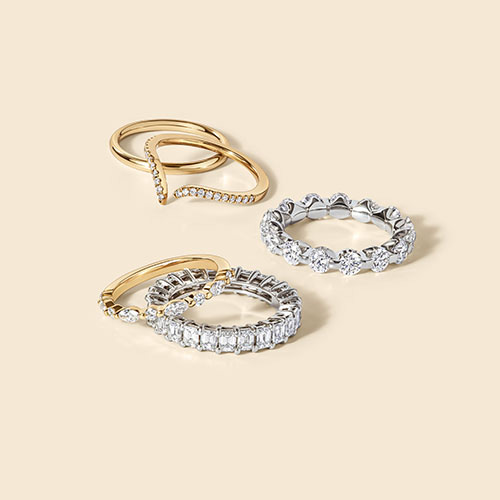 Two Types of Halo Engagement Rings
Suspended Halo Engagement Rings: With no metal beneath your gem, the sides of a suspended halo raise your ring, creating air space that makes a good fit for sliding straight wedding bands right on underneath. With that degree of separation, they won't rock against one another. If you prize simplicity and separation in your jewelry, this is for you.
Supported Halo Engagement Rings: Elevated in position and style, a supported halo setting gives your center diamond a pedestal, with metal down below to prop it up. This handiwork is invisible from the top, but ultra shiny from the sides.
Most Popular Wedding Band Options for Halo Rings
If your engagement and wedding rings sit together, you'll want to make sure the materials are strong enough so that they won't wear down, and that the shapes won't rub each other the wrong way. Repairs can restore the glamour, but friction isn't good for any couple, even rings. That being said, here are several ways to ensure that your engagement and wedding rings mesh well.
1. Curved
Curved wedding bands sit tight with a halo engagement ring, so they rest upon each other gracefully in a forever hug. The dip or arch creates a contour, the perfect match for a supported design because it can wrap around the halo's sides.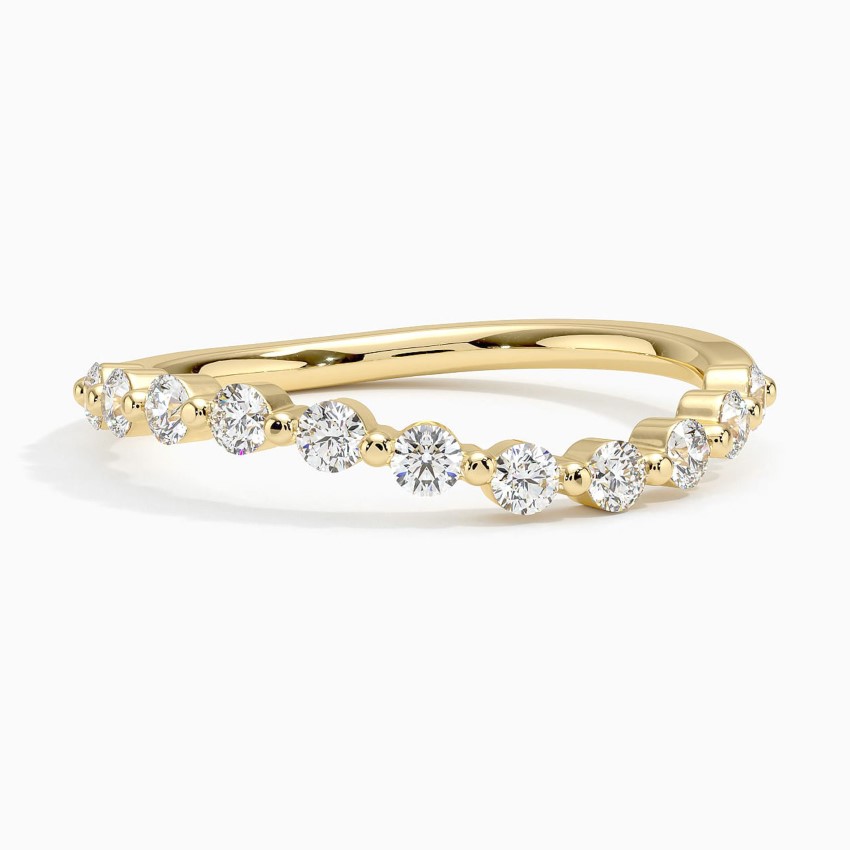 2. Notched
Some wedding bands come with a notch or nook, inviting a halo to nestle easily in its embrace. The rest of the band is straight, so the opening is a compromise, like a slot or puzzle piece allowing the wedding band to sit flush against the halo's supports.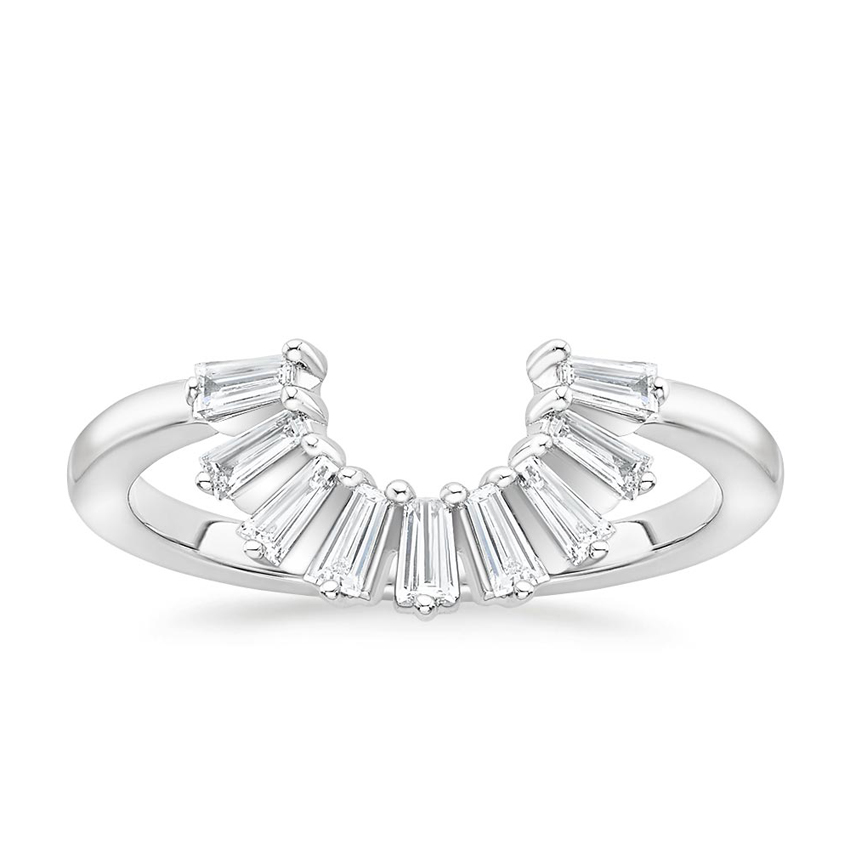 3. Straight
Straight bands are the even circles you typically envision for a wedding ring. Think "straight"-forward. It fits under the simple lift of a suspended halo, but will be agitated by a supported halo's prongs (there's a little too much going on mechanics-wise for these rings to sit parallel together).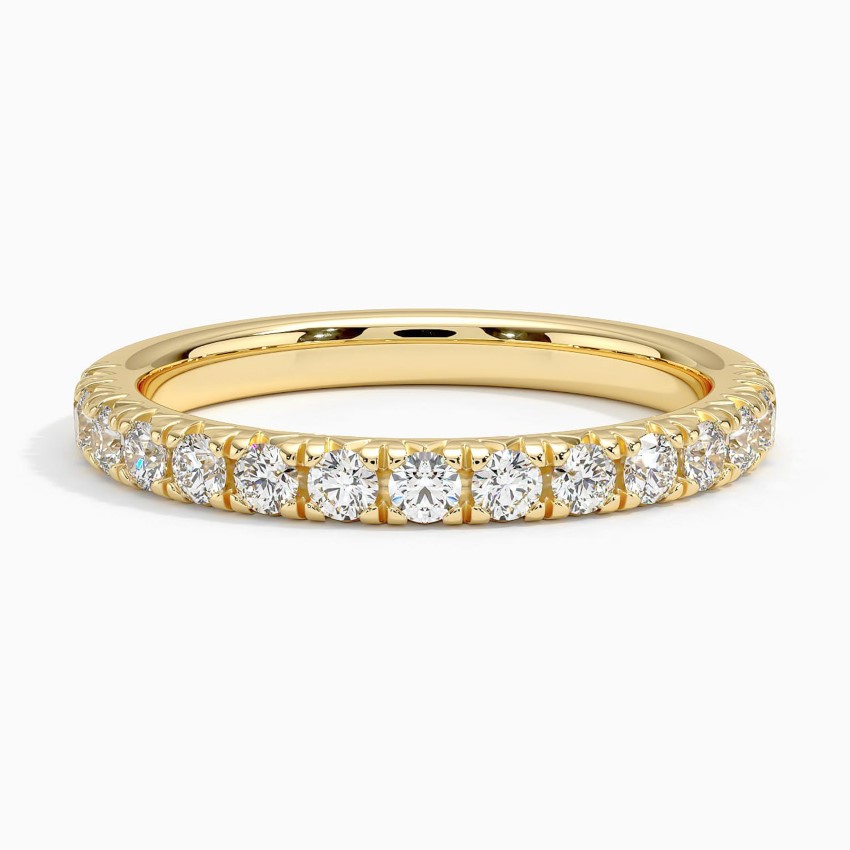 4. Jacket
Ring jackets are designed to enclose another ring, so it's literally made for your engagement ring and not meant to be worn alone. Also called an enhancer, it wraps around your ring, with a gap where your center stone will shine. It's like an additional halo, framing your angelic star.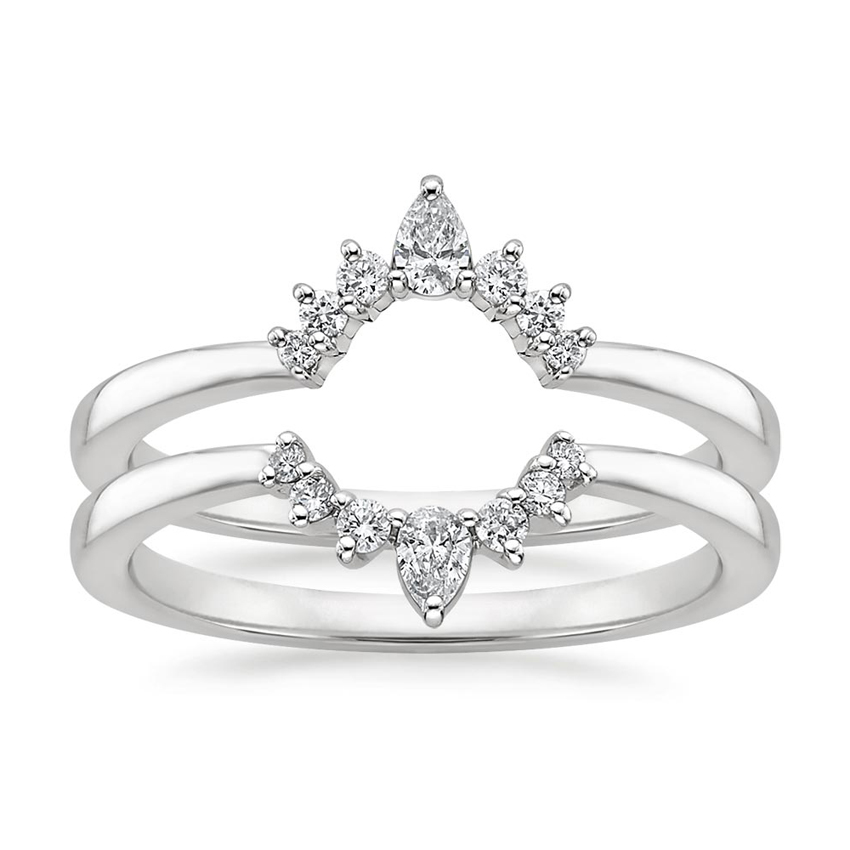 When you design your own ring stack, you can always ensure your custom rings wrap around each other or that one slips beneath the other. You can also have a guard made to protect your engagement ring on either side.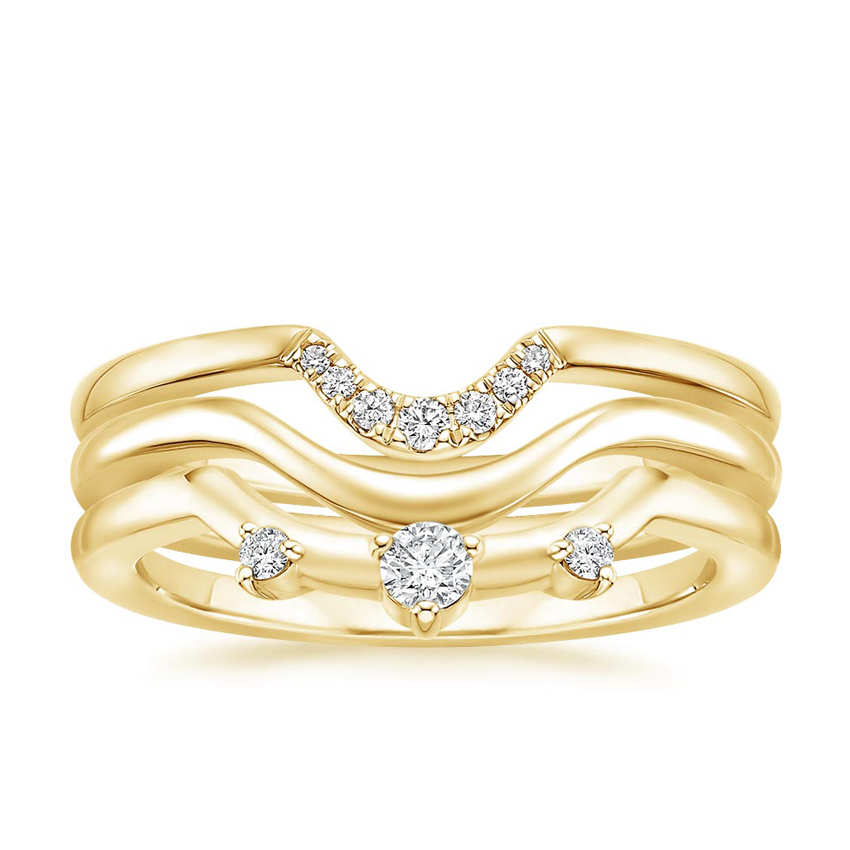 What to Consider When Choosing a Wedding Band for Your Halo Ring
Band Thickness: For a seamless look, match the width of your rings. They'll look like they belong to each other, the same way you and your partner do. Thicker wedding bands are also common, since they don't usually have the adornment of an engagement ring's center gem to impress. The added width gives them a bit more heft and substance beside a gleaming halo.
Style: If you're all about cohesion and flow, find a wedding band that's an exact match or complement for your halo engagement ring. You might mimic the stone, color, or metal. Remembering that a halo ring makes your center stone flashy, you can go glitzy in your engagement ring and understated in your wedding band, or bold and bright in both. For example, the second-most popular princess cut halo engagement rings offer a striking, many-sided square stone with beveled facets. This cut is all about shine, so your wedding band can play up its brilliance or take a grounded approach to give it a bit more gravitas.
Metal: White gold and platinum wedding bands are timeless, elegant options when you don't want to overthink your pairing. But if you're looking to add some excitement to your jewelry palette, warm up your classic band with a sweet and playful rose gold halo engagement ring. Rose gold, aka pink gold, is a trendy mix of gold and copper, making it extra durable, which is ideal when you want to wear both rings. Rose gold also pairs well with all skin tones.
Gemstones: Pearls, sapphires, rubies — a halo rings draw attention to the center stone, whatever it may be. A pave wedding band can complement the sparkling gems that make the center stone of your halo engagement ring look bigger and brighter. Pave is French for paving, so-called because it's a pretty lining of small stones that sit snugly together. They look like they're bound to each other rather than a piece of metal, so in a wedding band, pave seems like a walkway paved with pure stones hiding the shank. More stones, more extravagance. You might even reverse the gem or color used in your engagement ring's center stone and halo for your wedding band.
Center Stone Height: While a flush halo sits level with the surface of your head stone (better protecting it), a floating halo is separated by prongs (adding more shine). Suspension allows for both straight or curved wedding bands. A curved band is better if you prefer no gap because a low halo and a straight, standard wedding ring will bump heads.
Soldering: Soldering, or joining, your wedding and engagement rings prevents the wear and tear of movement. Even a guard that's not melded to your jewelry will cause spinning and rubbing over time. That being said, skipping soldering to keep your pieces separate means you have the easy option to wear one ring without its mate.
Your Lifestyle: The smaller gems in your ring's halo can fall out easily, so if you or your partner are active, look for a low setting to better preserve your halo engagement ring. As for a wedding band, use the above section to make sure they fit together so the friction doesn't loosen the halo's stones (curved, notched, and jackets are safe).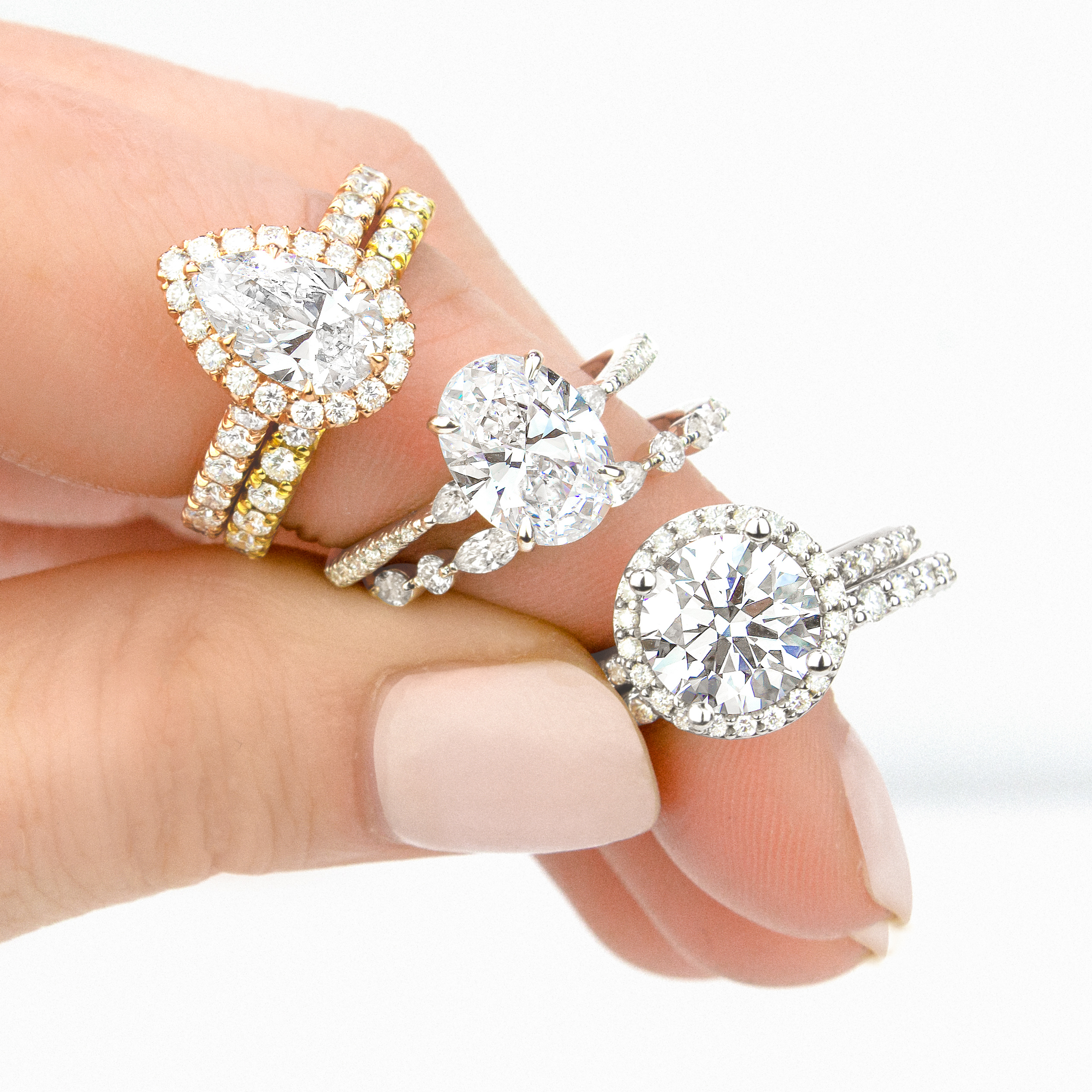 Most Popular Wedding Bands for Halo Rings
Considering the popularity of halo engagement rings, the natural next step is finding the perfect wedding band to pair it with! To make the choice easier, we've called out some of our  most popular halo engagement ring and wedding band pairings below.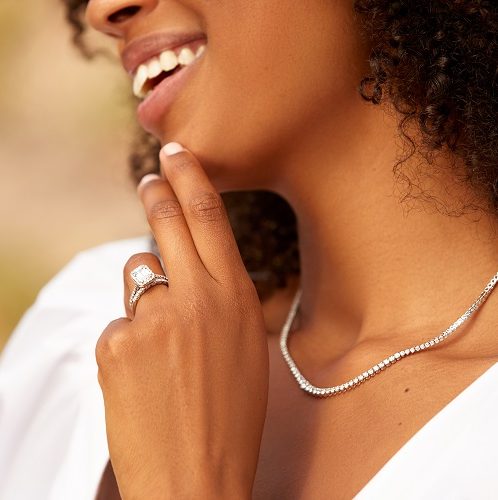 FAQs
Are halo engagement rings outdated?
No! Halo rings are second only to the solitaire setting in popularity. Even though halo engagement rings are a relic from the luxury, grace, and petticoats of the Georgian era (1700-1800s), they received an even wider welcome in the romantic Victorian times. And there's no chance of halo settings slowing down after centuries of celebration. After all, they've made it this far.
Are halo rings tacky?
No! Here's where some people might disagree: Halo rings are mega bright. The "halo" of smaller diamonds surrounding the center makes any ring with this setting super, ultra sparkly. And while that's not everyone's thing (some prefer subtlety over shimmer), shine is the darling of the jewelry industry. It's what makes stones more valuable. As a centuries-old setting, some would also say the halo ring's traditionalism makes it sophisticated, far from tacky.
Final Thoughts
When you've found your halo engagement ring a match as worthy as your own love, shop Brilliant Earth's wedding ring sets for ethically sourced jewelry. Still not sure? Get more advice and explore more styles in our wedding ring guide.