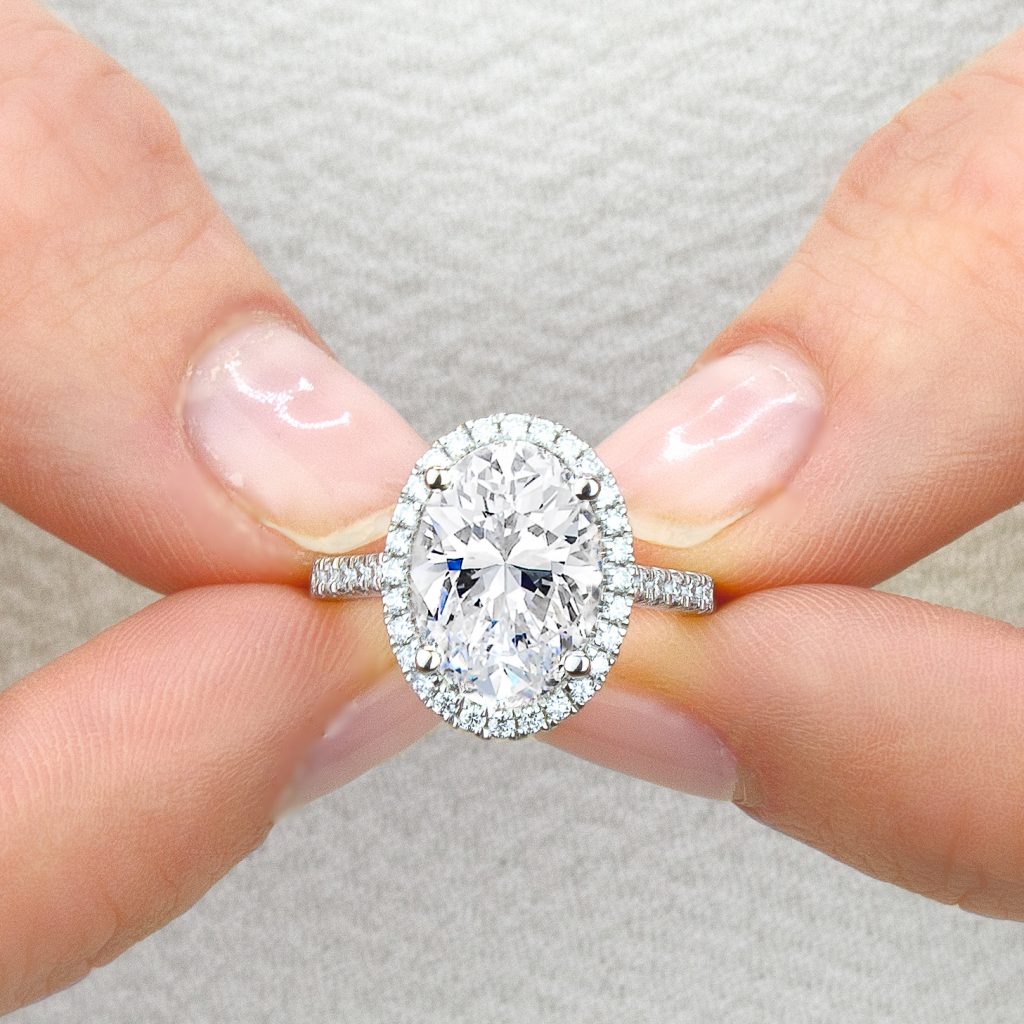 No doubt about it, oval diamonds are having a major moment!
Based on both sales data and social media engagement, oval shaped diamonds continue to rise in popularity. With their scintillating brilliance and flattering elongated shape, it's no wonder why oval engagement rings are so beloved.
A modified brilliant cut, oval diamonds sparkle exquisitely in a unique, elongated shape. Their lengthened surface area often makes them appear larger than round diamonds of the same carat weight. These beautifully shaped diamonds can stand alone as a statement in solitaire settings or work well when complemented by diamond accented bands.
The likes have spoken! We scrolled through our Instagram to see which Brilliant Earth ring designs people loved most when set with oval diamonds. Here are our top 8 oval diamond engagement rings according to Instagram:
8. Four-Prong Petite Comfort Fit Ring
9,399 likes
The stunning sparkle of the oval diamond is the focal point of this classic yellow gold solitaire engagement ring. No need to gild the lily with other diamond accents when the center diamond is this gorgeous!
7. Lyra Diamond Ring
9,535 likes

This beautiful ring embodies more than one popular ring trend. Although always a classic style, three stone diamond engagement rings like this one have had a resurgence in popularity since Prince Harry presented one to Meghan Markle as an engagement ring in 2017. These beautiful rings have romantic and sentimental symbolism, the three stones represent a couple's past, present, and future together.
6. Petite Quattro Ring
9,565 likes

Beachside pictures of sleek oval solitaire diamond rings win the double taps! The warm rose gold band of this timeless band is paired with white gold prongs to enhance the sparkling look of the center diamond.
5. Luxe Viviana Diamond Ring
10.2K likes

This classic engagement ring features sparkling scalloped pavé diamonds that extend three-fourths of the way around the ring. For subtle extra sparkle, a diamond accented gallery and graceful claw prongs embrace the center oval diamond.
4. Twilight Diamond Ring
11.6K likes
The unique halo of this dazzling ring is meant to evoke the soft glowing rays of the setting sun. In addition to the sparkling halo, diamond accents cover the gallery and half of the band for an eye-catching look.
3. Fiorella Diamond Ring
17.1K likes

This nature inspired ring has long been a favorite with our social media audience for its unique look and chic design. A beautiful oval diamond blooms from within shimmering diamond leaves in this memorable setting.
2. Luxe Ballad Diamond Ring
18.6K likes

This classic engagement ring features sparkling scalloped pavé diamonds that extend three-fourths of the way around the ring. The extended prongs of this setting make the center gem appear to float above its delicate band.
1. Ballad Diamond Ring
27.4K likes

Sparkling oval diamonds paired with delicate diamond accented bands is a major trend in this list! Like the Luxe Ballad Diamond Ring, the Ballad Diamond Ring features scalloped pavé diamond accents, although these extend halfway down the band. We think the slightly floating look of this ring's center oval diamond is what sets it apart!
Final Thoughts
Do you agree with our Instagram followers? Tell us your favorite oval diamond engagement ring on our Instagram, Facebook, Twitter or in the comments below!