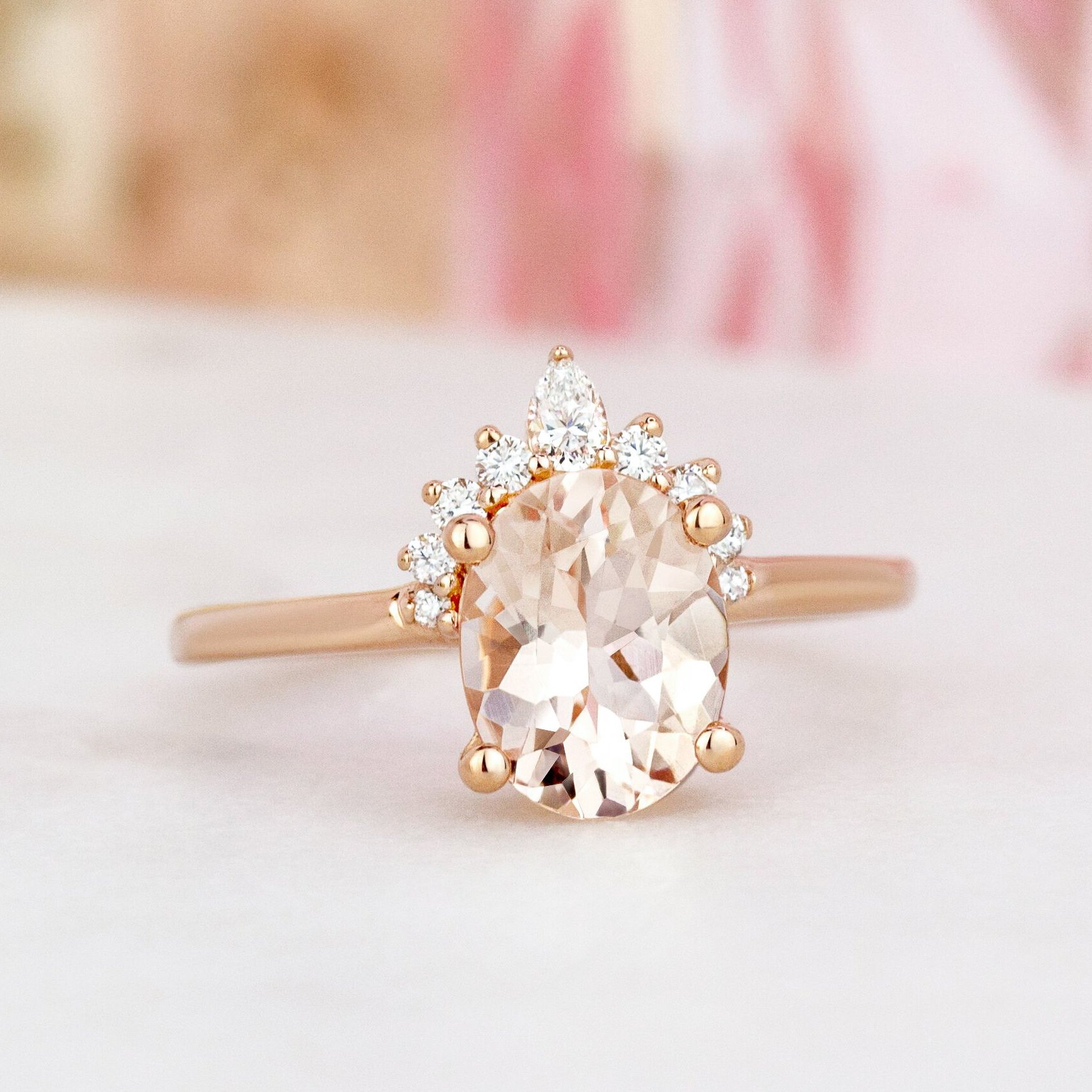 Soft and sweet, peach hued gemstones are a gorgeous choice for engagement rings or for "just because" rings.
We're seeing morganites, peach sapphires, and peach colored diamonds become some of our customers' favorites! When we post these romantic and feminine rings on our social channels, the feedback is unanimous: peach gemstones are having a moment.
If you love the look of these rosy hued gems too, we've collected some of our favorite peach gemstone rings to add to your own Pinterest boards below!
Waverly Diamond Ring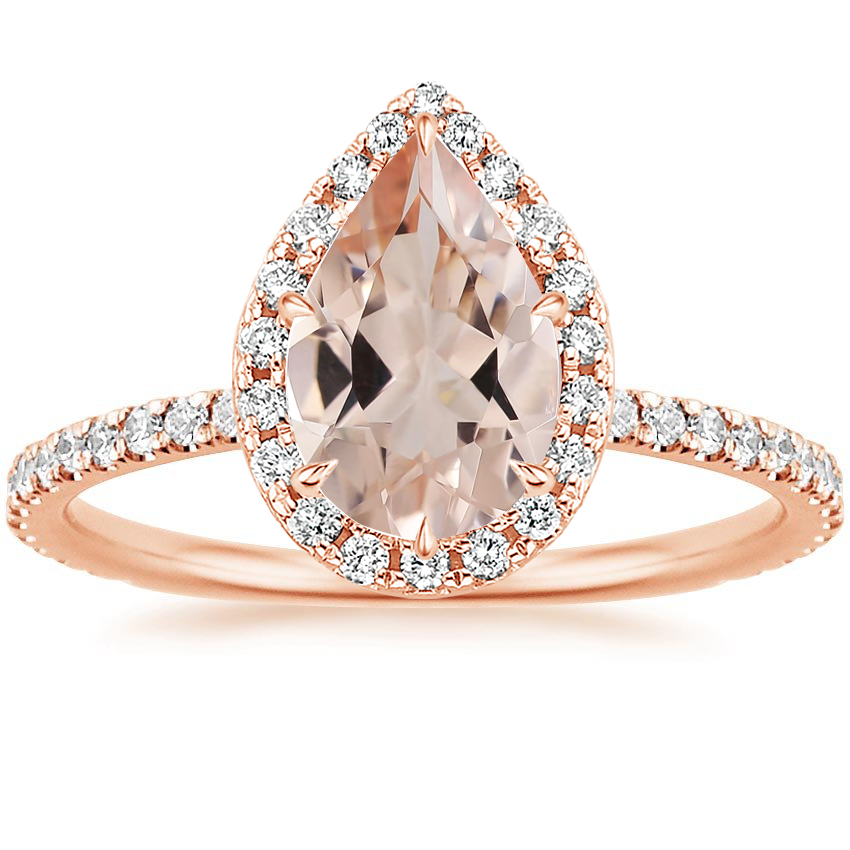 This sparkling halo setting features beautiful scalloped pavé diamonds that encircle the center gem and adorn the band. Shimmering diamond halos like this one are a gorgeous way to add both sparkle and distinction to a center peach gemstone. A diamond-encrusted gallery makes this ring truly spectacular.
Lotus Flower Diamond Engagement Ring with Side Stones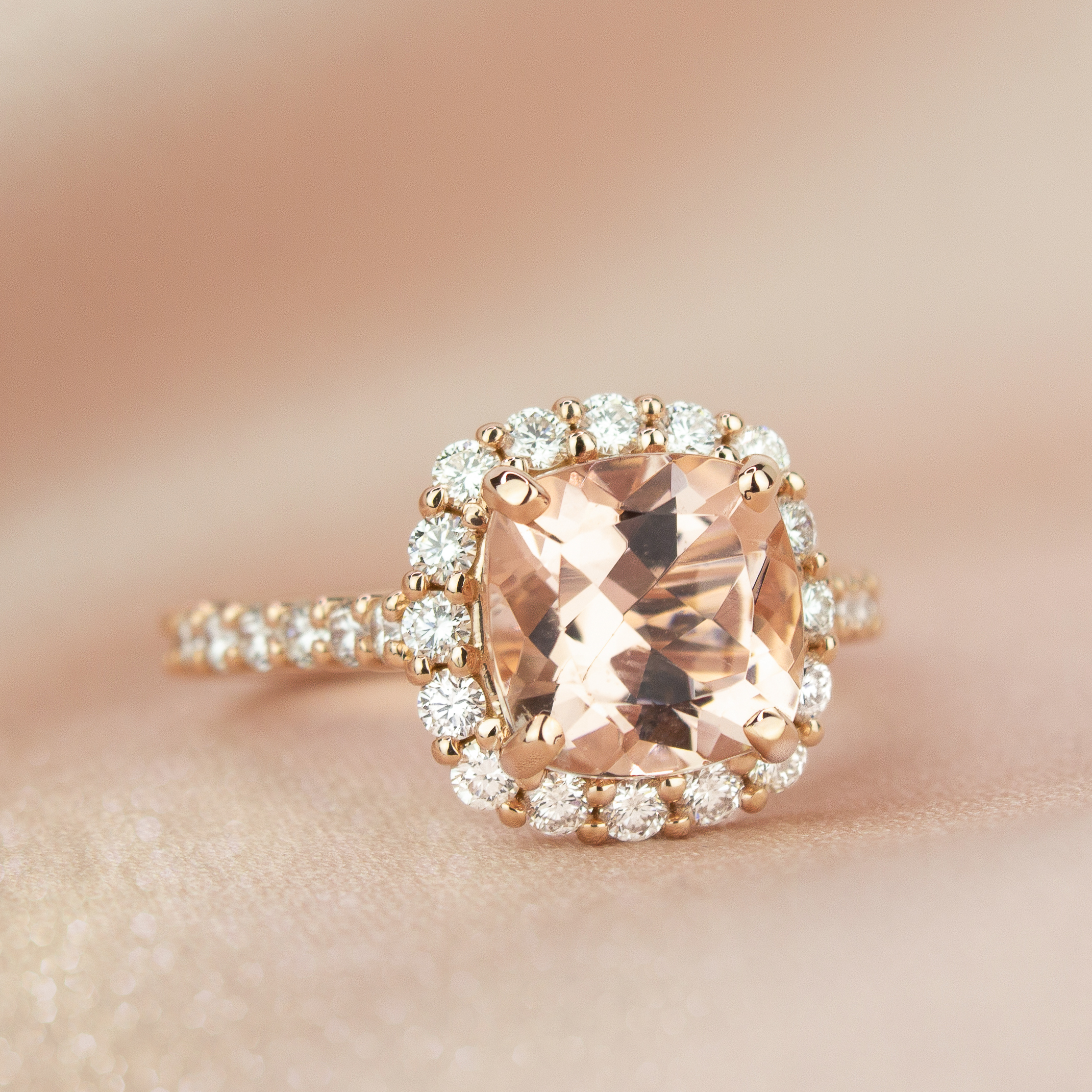 These feminine and unique gems look especially beautiful when paired with the warm tones of our rose gold diamond engagement ring settings. A subtle floral diamond halo blooms around the center gem in this exquisite ring. Dazzling diamond accents adorn the band for a truly glamorous effect.
Petite Twisted Vine Diamond Ring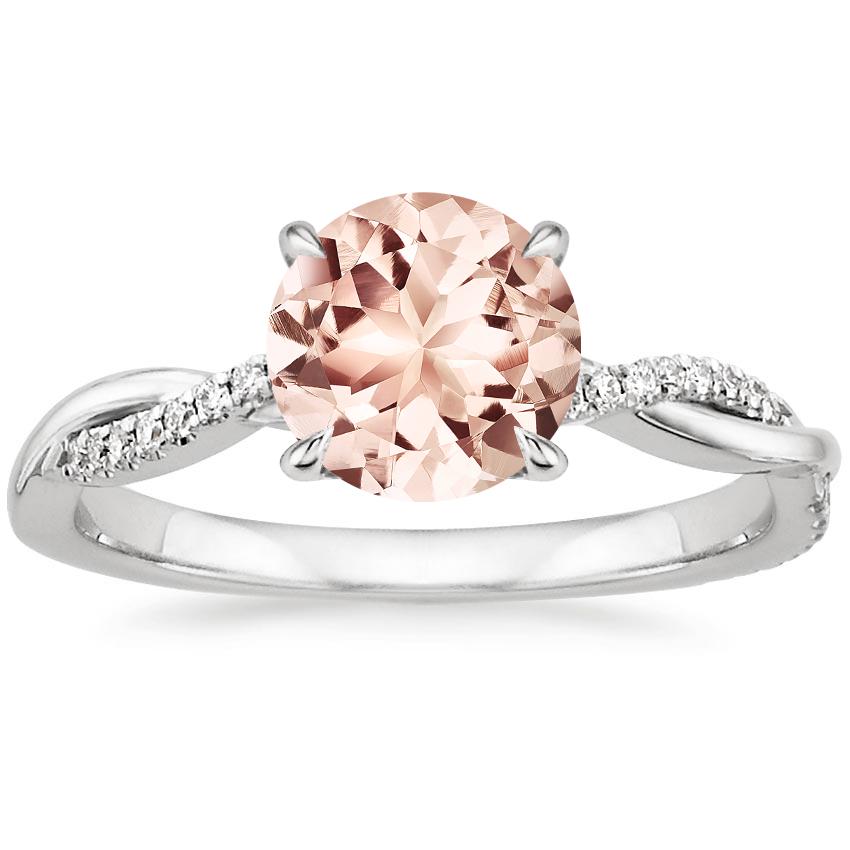 A center morganite stands out against the shimmering strand of pavé diamonds entwined with a lustrous ribbon of precious metal in this nature inspired setting.
Aria Diamond Ring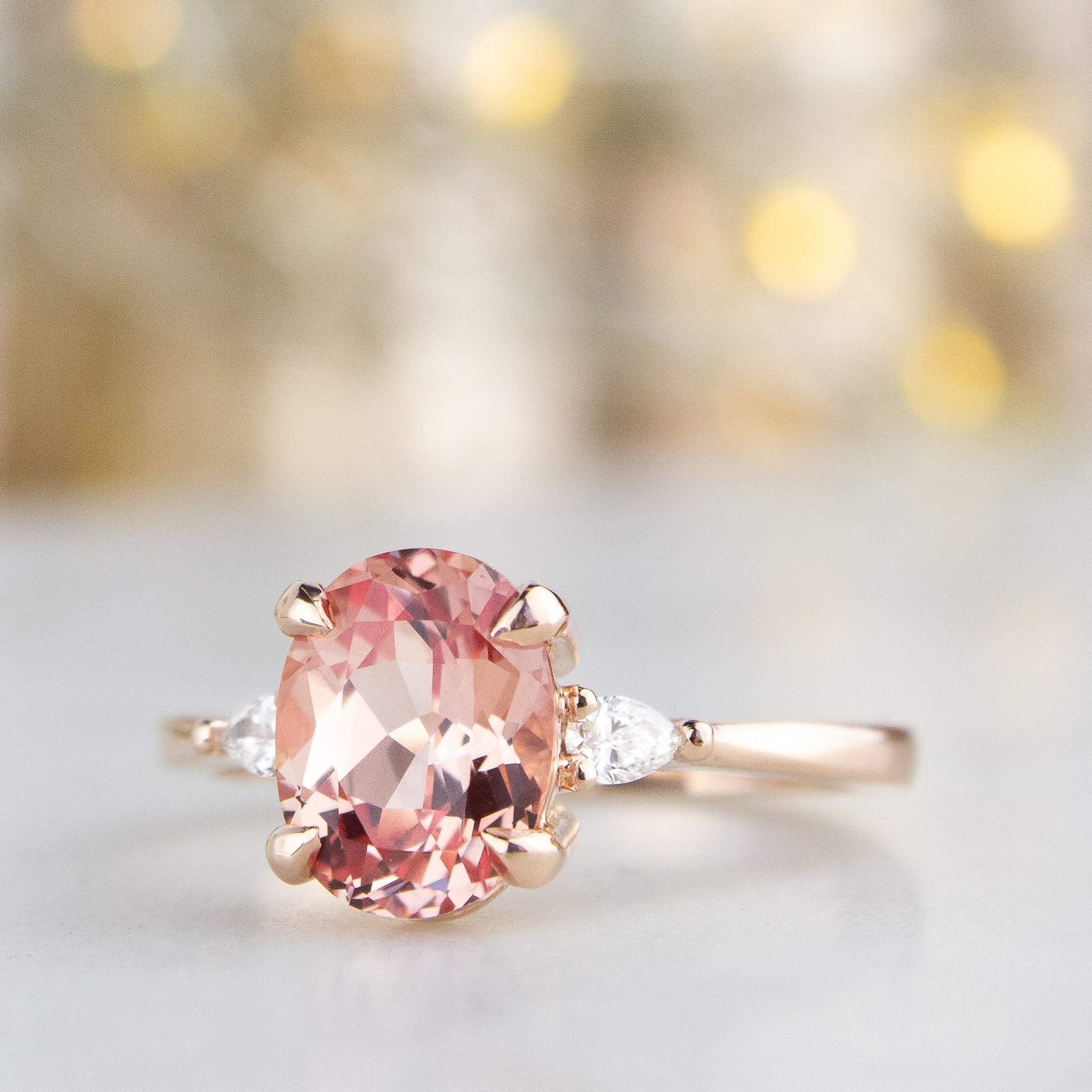 Three stone engagement rings, like the Aria Diamond Ring, are a beautiful choice for colored gemstones. Two sparkling accent diamonds and a delicately tapered band highlight and accentuate the center peach sapphire.
Selene Diamond Ring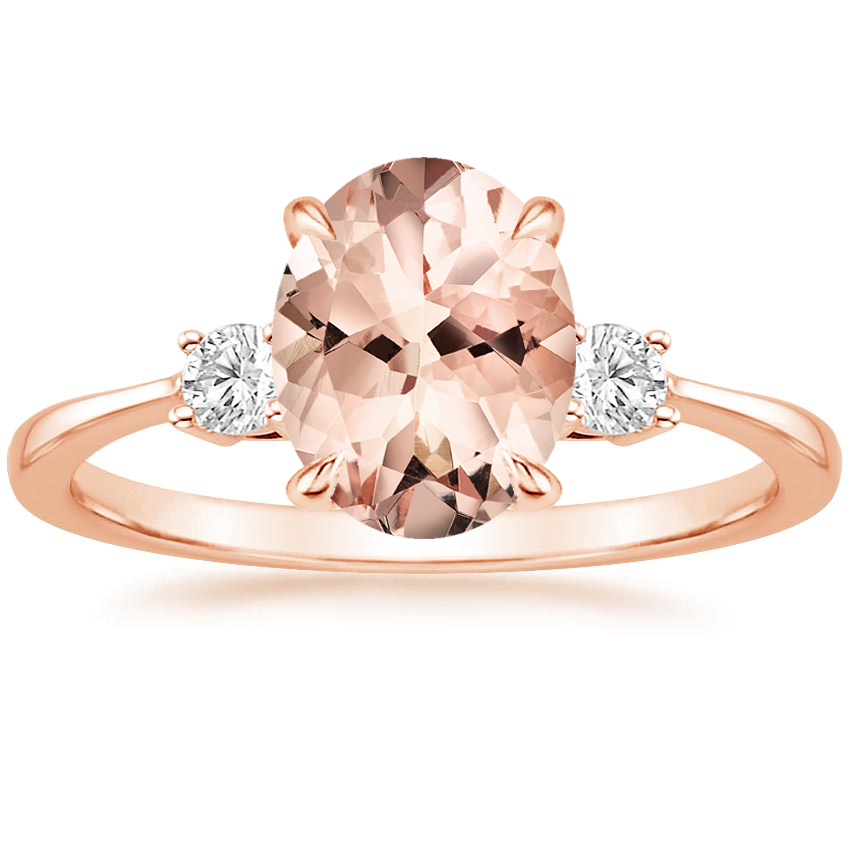 Classic simplicity defines this delicate setting, which features a thin precious metal band that gently tapers towards a diamond accent on each side of the center gem.
Valencia Halo Diamond Ring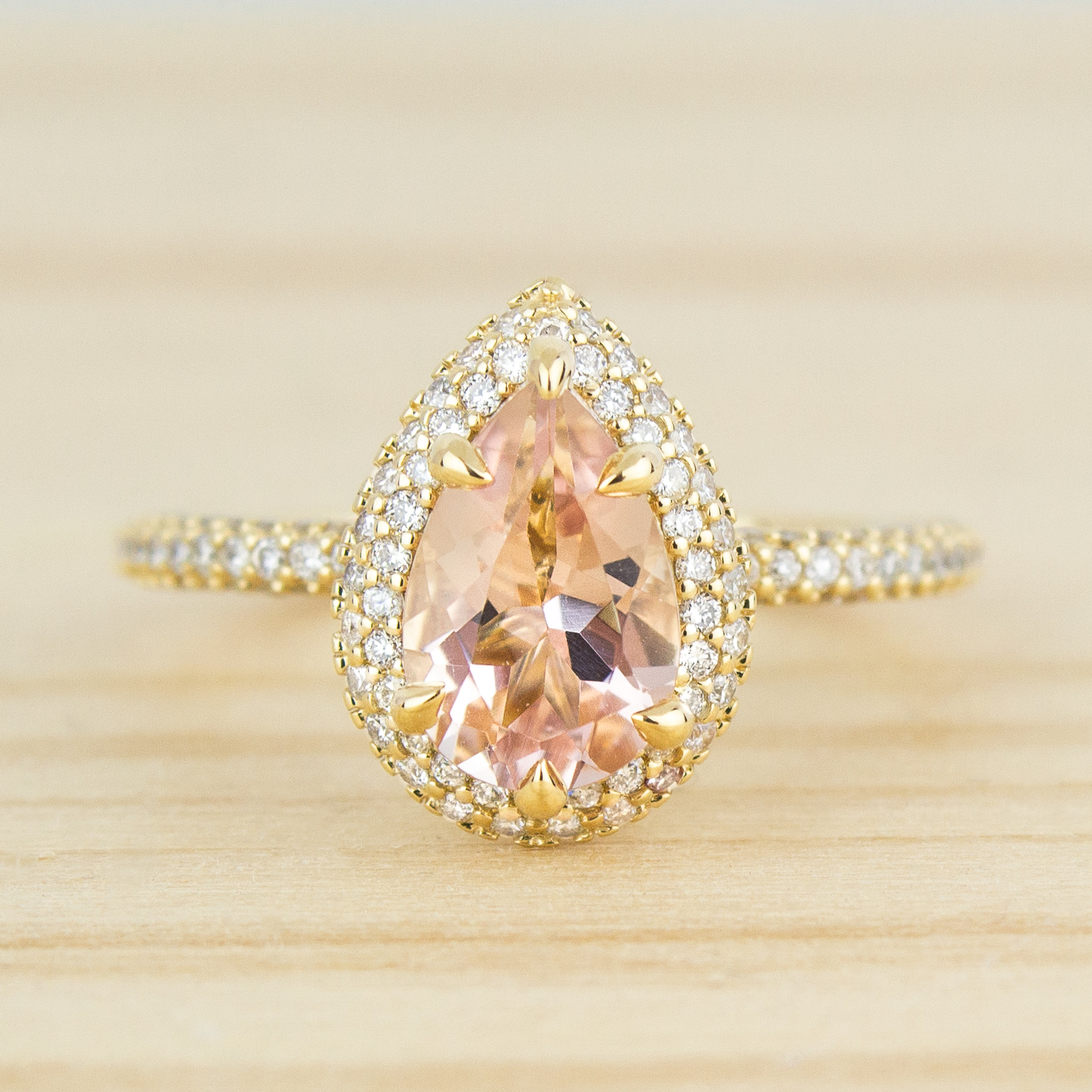 Micro-pavé diamonds shimmer from every angle of this petite domed engagement ring, which features a double row halo of diamonds surrounding the center gem.
Reina Diamond Ring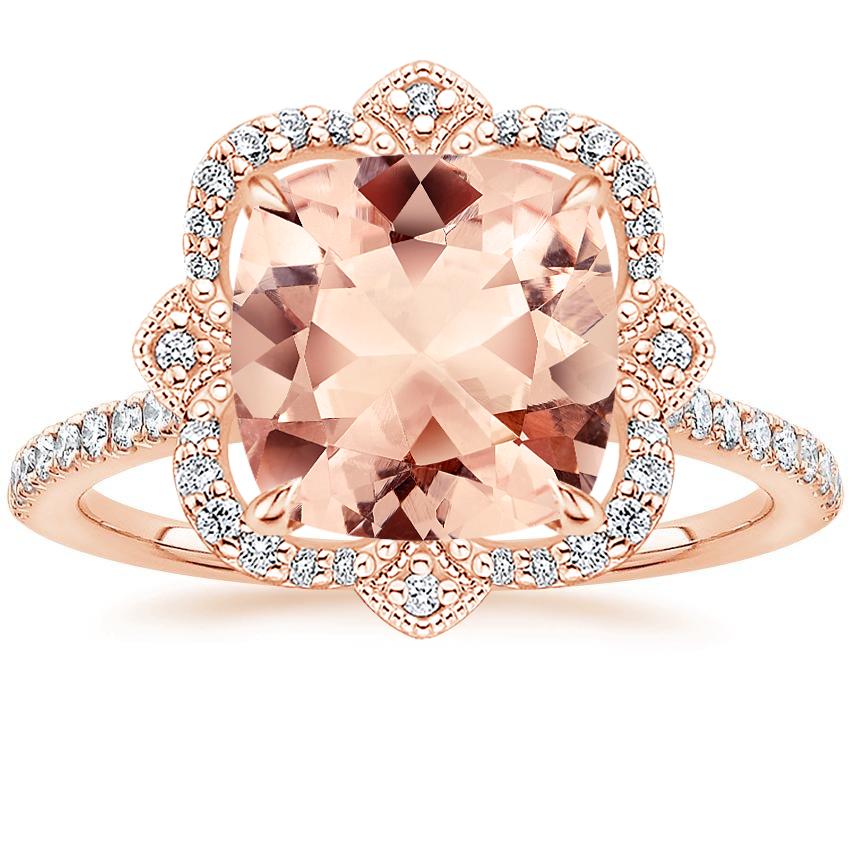 A regal halo of diamond accents surrounds a shimmering center gem in this dazzling ring for a distinctive and elegant look.
Cadenza Halo Diamond Ring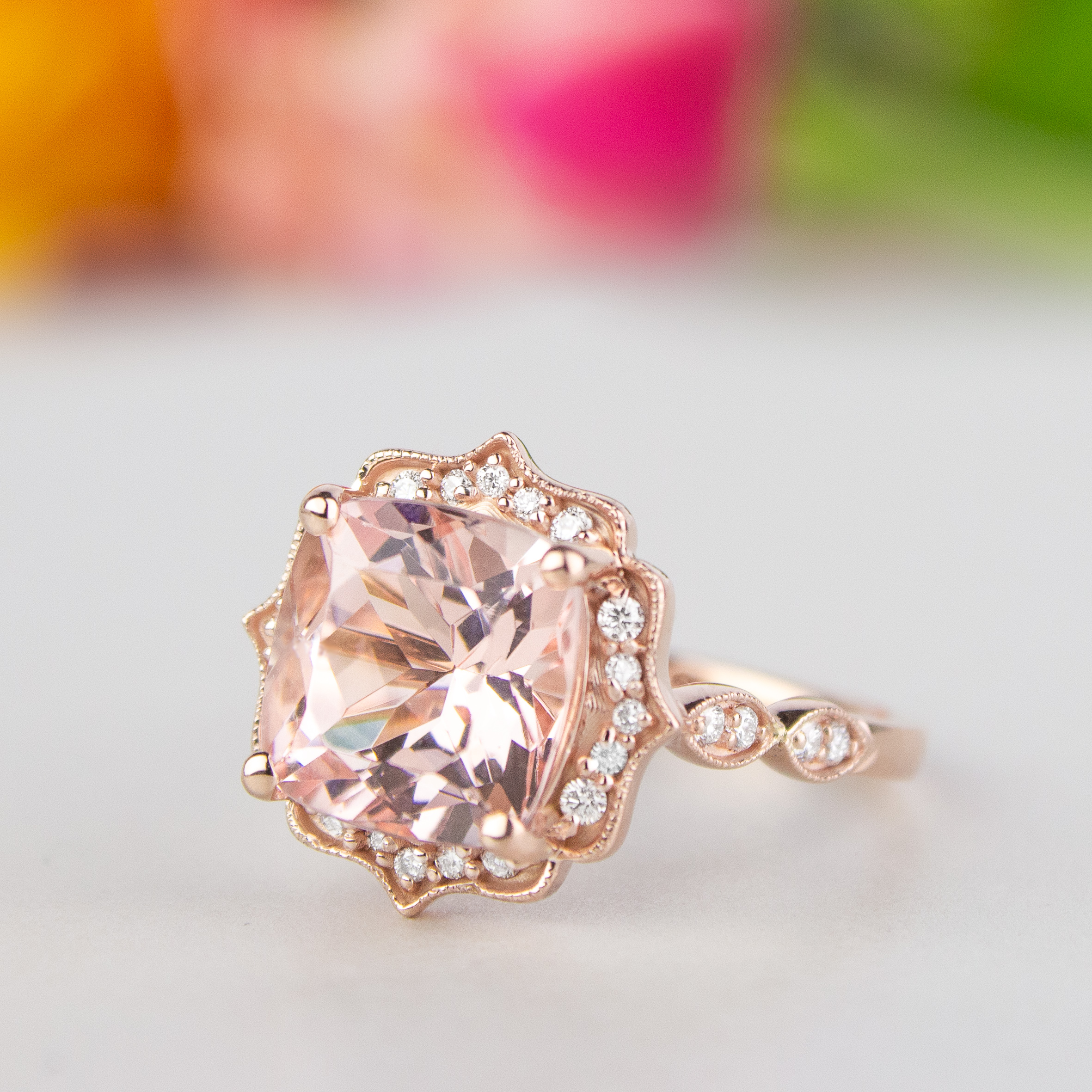 Glittering diamonds and light-catching milgrain form an ornate halo around the center gem in this breathtaking vintage-inspired ring. Pairs of pavé diamonds nestled in marquise-shaped frames gracefully flow down the band for additional sparkle.
Demi Diamond Ring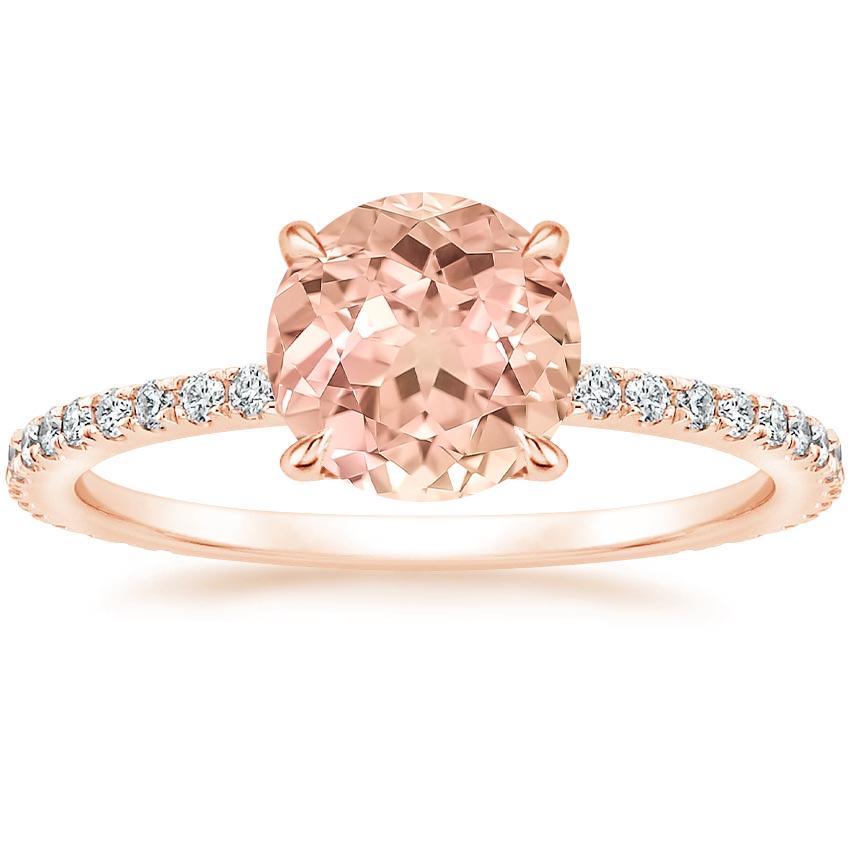 This elegant engagement ring features a glittering hidden halo of diamonds that wraps around the center gem. A petite band complements the gallery for an elegant, chic look.
Elodie Ring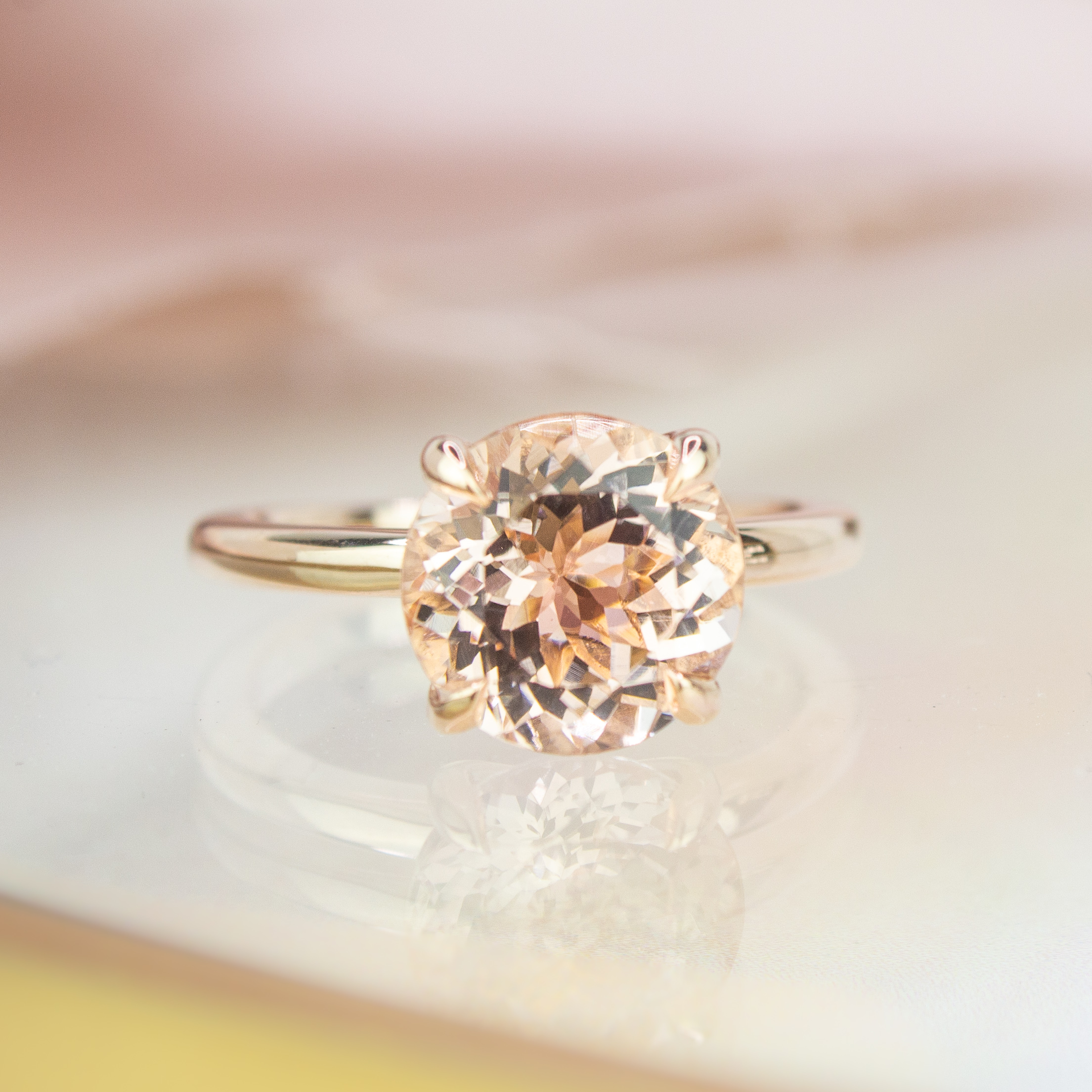 A classic solitaire like the Elodie Ring makes your center gemstone the focal point. This elegant solitaire features an open basket with claw prongs that cradle the center gem.
Secret Garden Diamond Ring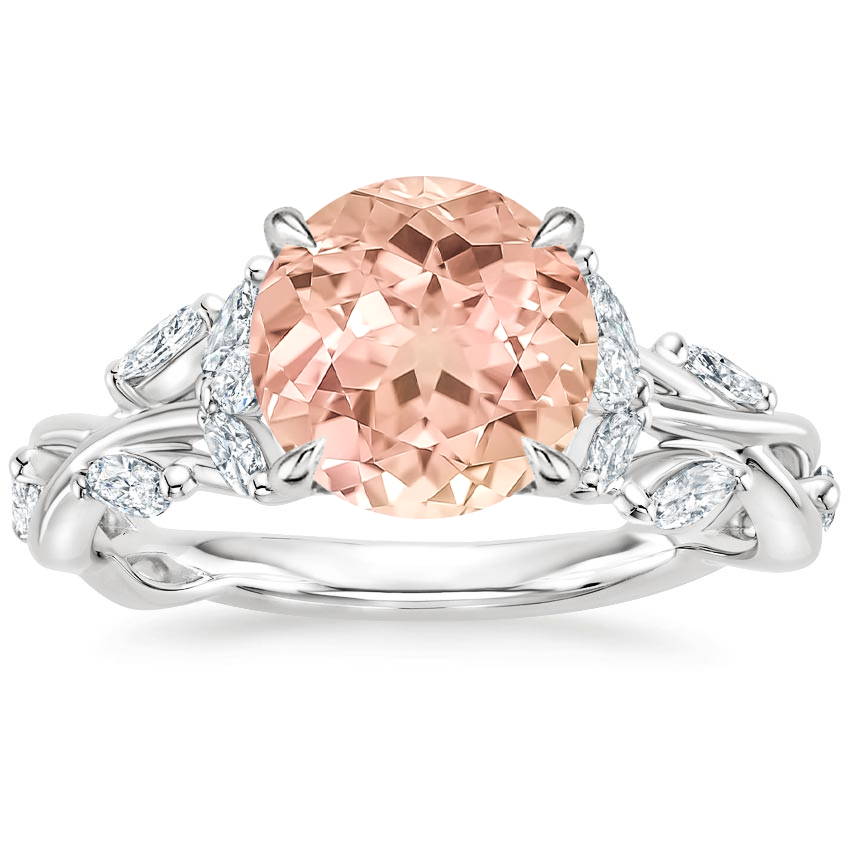 Glistening marquise-shaped diamond buds rest on whimsical vines of precious metal winding towards the center gem for a look of natural elegance.
Mirabelle Diamond Ring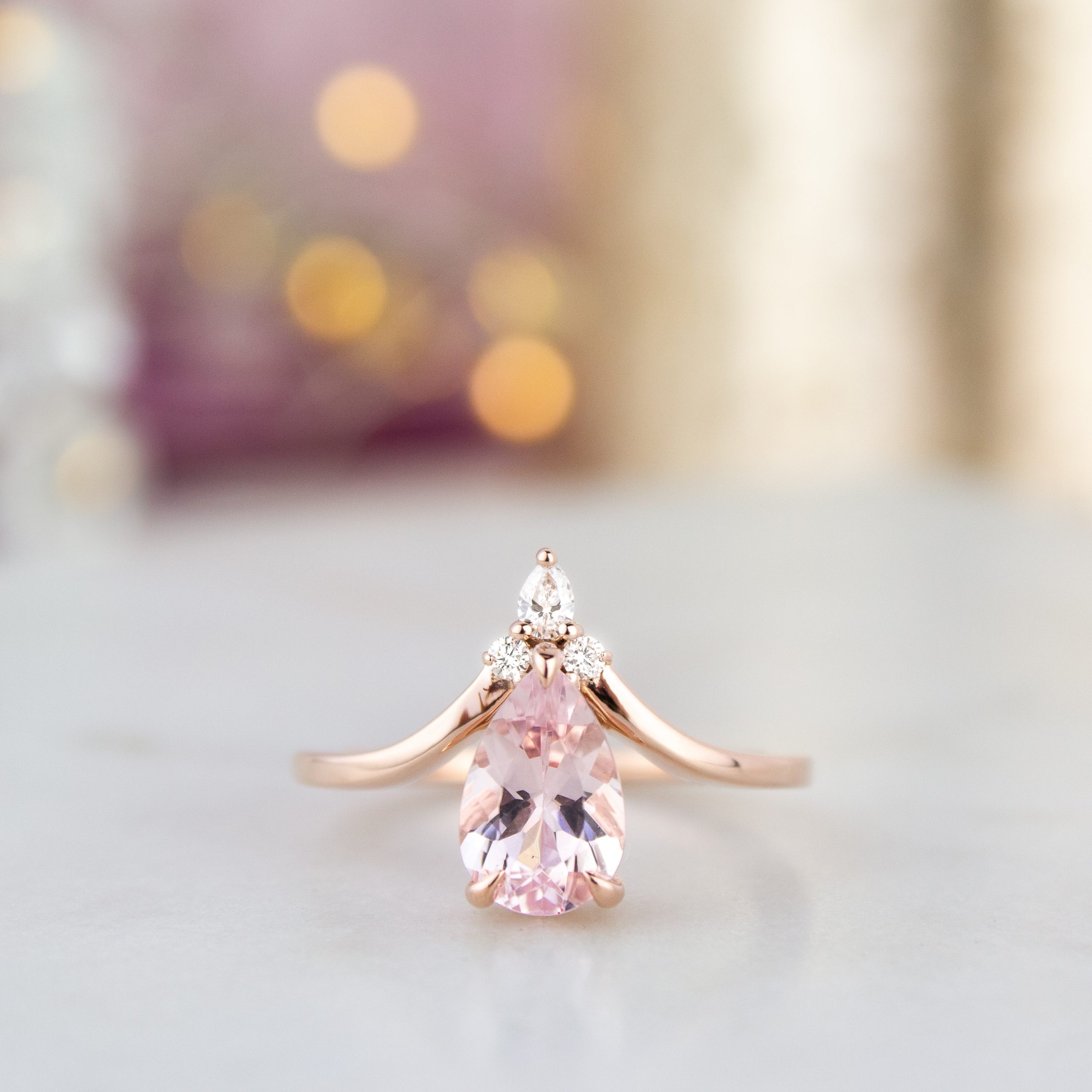 A cluster of diamonds adorn the highest point of the chevron-shaped band in this exquisite ring. Claw prongs delicately hold the center gem, which rests beneath the band for an artistic look reminiscent of the Art Nouveau era.
Sienna Diamond Ring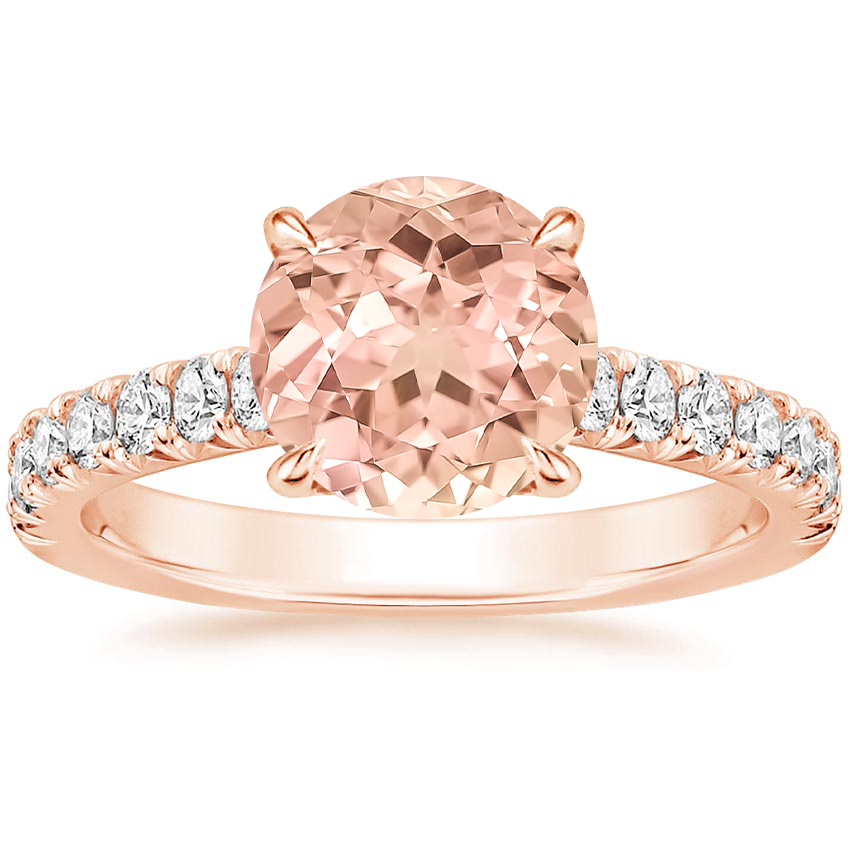 This glamorous ring secures the center gem with elegant claw prongs and features French pavé diamonds, a setting style that allows light to reach the diamonds from multiple angles and enhances their sparkle.
Melody Diamond Ring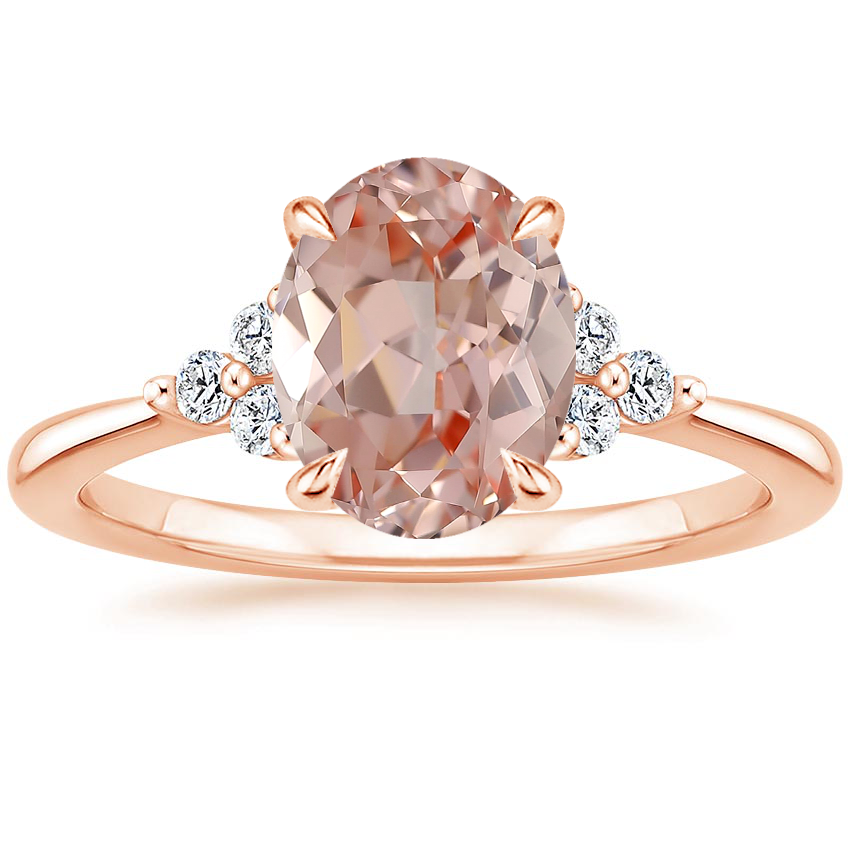 This chic ring features a dazzling cluster of three diamonds framing each side of the center gem. The gently tapering band and open gallery creates a light and lustrous look.
Final Thoughts
Which of these peach gemstone rings is your favorite? Let us know on our Instagram, Facebook, Twitter or in the comments below!