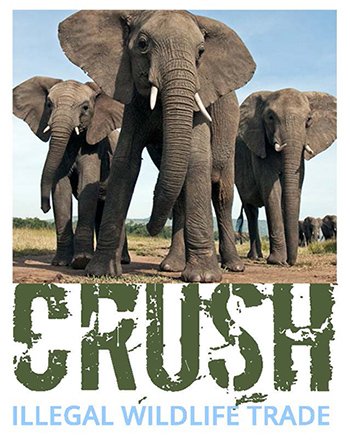 Here's a startling story: the Obama administration last week fed about six tons of ivory into a rock crushing machine. To mark the occasion, the U.S. Fish and Wildlife Service held a public ceremony at a wildlife refuge near Denver. A small crowd watched as a pile of elephant tusks and ivory figurines, trinkets, and jewelry disappeared into a massive rock crusher. Moments later, almost the entire stockpile of ivory confiscated by the U.S. government since the 1980s was reduced to smithereens. (A video of the ivory crush can be found here.)
The point of the ivory crush, according to authorities, was to send a message that poaching elephants and buying and selling ivory isn't OK. "By destroying our domestic stocks of ivory, we send a very clear signal that these illegally traded products should not be perceived as items of value," said Robert G. Dreher, an official with the Justice Department.
That explanation sounds sensible. Still, it's reasonable to wonder: how exactly will crushing ivory in the United States help save elephants in Africa?
Nobody disagrees that elephant poaching is a serious problem. Although an international ban on the ivory trade was enacted in 1989, illegal poaching continues today and has gotten worse. Every year, an estimated 30,000 elephants die at the hands of poachers. In ten years it is possible that wild elephants could be extinct. Also troubling is that elephant poaching is supporting some of Africa's most notorious militants. Joseph Kony's Lord's Resistance Army, the Janjaweed of Sudan, and the Al Shabab wing of Al Qaeda all get money from elephant poaching. One elephant conservation group believes that poaching may provide between $200,000 and $600,000 per month to Al Shabab, the same group that attacked a Kenyan mall in September.
The question is whether crushing the U.S. ivory stockpile will help stop this slaughter.  Although wildlife groups like the World Wildlife Fund supported the crush, some conservation experts aren't so sure. One of them, Dr. Daniel Stiles, wrote in The Guardian last week that the decision to crush the U.S. ivory stockpile ignores how ivory markets actually work. He believes that crushing ivory could backfire if poachers conclude that ivory supplies are dwindling. The crush is "almost certainly sending a message to criminals that they had better step up their killing of elephants before all the ivory is gone," Stiles wrote.
Stiles may have a point. Poachers aren't likely to be shamed into stopping the elephant slaughter, and some may even decide to hunt more elephants. But he also doesn't really address another point: poachers weren't the only audience for the crush. Consumers and governments around the world were part of the intended audience too. And increased awareness about elephant poaching is necessary to lower demand for ivory, as well as build momentum for change.
The ivory crush was designed to attract maximum publicity. It was covered by media including China's CCTV, Al Jazeera, CBS, and Reuters. And at least two celebrities were on hand to lend their support. Actress Kristin Davis, who played Charlotte on Sex and the City, was there. (She became involved in the anti-ivory campaign after helping save a baby elephant in Kenya in 2009.) So was Kristin Bauer van Straten, an actress on the HBO series True Blood.  According to National Geographic, Bauer van Straten reached into her pocket before the ivory crush and pulled out an ivory bracelet that her father had brought home from World War II.  "This is a thing," she said. "This is not life." She then added the heirloom to the pile of ivory to be destroyed.
All this publicity and celebrity activism can be put to good use. One reason why the illegal ivory trade continues is that, although countries can't import or export ivory, it remains legal to buy and sell ivory within countries, including in the United States. Last week's ivory crush could be the start of a push by the Obama administration and wildlife activists to ban domestic ivory sales. And even if the U.S. government doesn't shut down the U.S. ivory market, the crush sent a message to U.S. retailers and consumers that buying and selling ivory isn't ethical. At Brilliant Earth, we are careful not to buy or sell antique jewelry containing ivory because we don't want to contribute to ivory demand.
Probably most important, the ivory crush sent a message to countries around the world—especially China, the single biggest market for illegal ivory. According to Time magazine, one reason why ivory is so popular in China is that many people there don't realize that killing elephants is necessary to obtain ivory. Ad campaigns are trying to change that. But the Chinese government needs to do more to clamp down on the illegal ivory market and educate consumers.
History shows that determined efforts by governments, non-profit groups, and businesses can limit ivory consumption. Japan was once the biggest market for ivory, but that market has now dried up, according to an expert quoted in the Time article. Awareness raising efforts reduced the Japanese ivory market to one percent of its peak. There is no reason why Chinese consumers can't alter their purchasing habits as well.
It's unclear what kind of effect the ivory crush will have. But hopefully, it signaled the start of a renewed global effort to save African elephants.