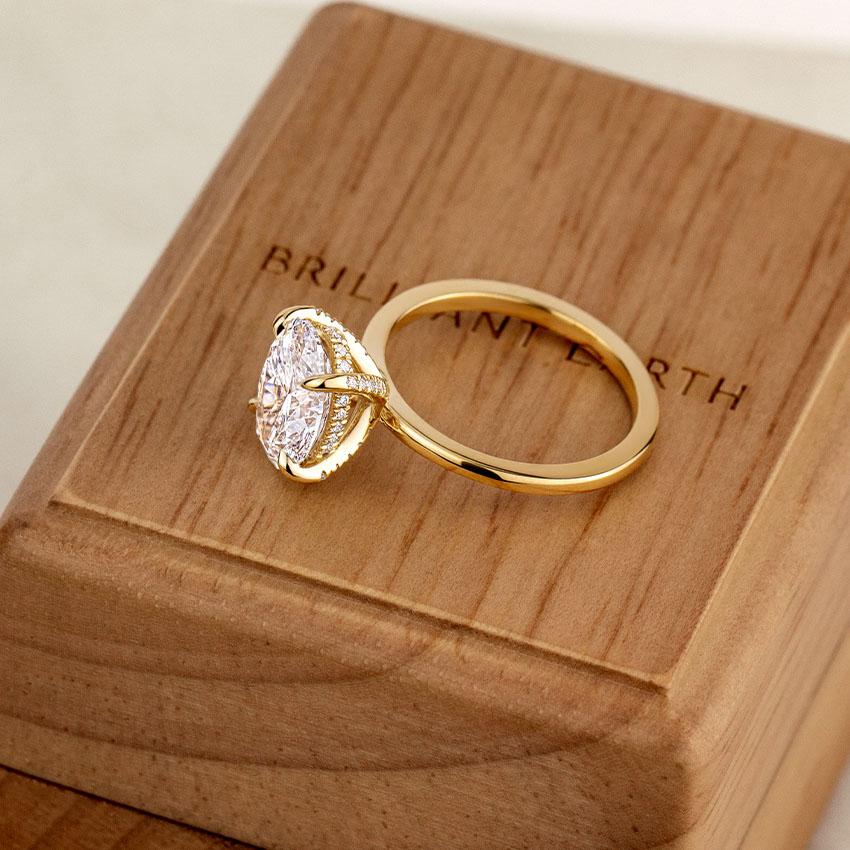 A marriage proposal is the perfect time to prove that you respect and understand who your partner is. Show that you consider their personality and preferences, and that you support how and when they feel comfortable. Here are heartfelt and unforgettable marriage proposal ideas to create a lifelong memory with the love of your life.
How Soon is Too Soon to Propose?
There's no such thing. Do what feels right, when it feels right, as long as you have a clear indication that the love is reciprocated. A marriage proposal can be thrilling and dramatic when you catch your partner by surprise, but not too much surprise. Readiness conversations should definitely play a part in planning for a future together — the perfect proposal is not about winning them over and earning a "yes."
One to two years is typical for a marriage proposal. But when you can demonstrate that you've carefully considered your shared experience, however long you've been together, you'll sweep them off their feet. Friends and family might find your timeline controversial, and that should be part of your discussion leading up to the big day. But when you feel comfortable, see our tips for how to buy an engagement ring.
What Should Be in a Wedding Proposal?
You've seen the petals scattered across garden paths, bedroom floors, and tabletops. Champagne seems to always make an appearance at a marriage proposal, closely followed by chocolate-covered strawberries. Maybe even the occasional blindfold. Cue the violins and undercover photographer.
But a proposal isn't a checklist. Props don't cheapen a marriage proposal, but the gesture is about your everlasting connection to your partner, and no one else. Celebrate their individuality and what makes your connection special. When your marriage proposal comes from love, you'll know whether to emphasize the words, the scenery, the ring, the people present, etc. Prioritize your partner's emotions and yours so your marriage proposal will feel significant and sincere.
That being said, you can never go wrong with candles and roses.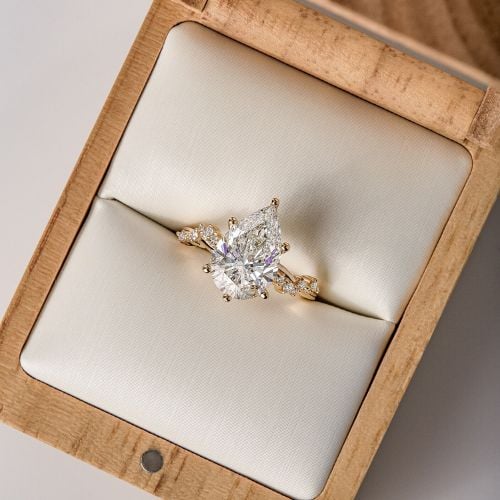 How Can I Make My Marriage Proposal Special?
Make it memorable for everyone in attendance, even if that's just the two of you. If isolated and out-of-earshot is more romantic for your partner, then create the conditions for a private marriage proposal so their answer isn't pressured. If your partner wants a display as big as the fireworks in your relationship, we have ideas for that, too.
Here are four questions to consider to guide your marriage proposal ideas:
Is your marriage proposal the time to celebrate your shared sense of humor and a lifetime of laughter? If so, lighthearted can still be wholehearted. Or would your partner want a weighty, profound moment to validate that you take them seriously and that you're capable of commitment?
Have you discussed a marriage proposal? Have they been waiting for one? Have they hinted how they envision it? This can help indicate if they'd lean more towards a grand or intimate gesture.
Should it be a gathering? Who would they want to share the moment with? Should those people be there (maybe even involved) or do you FaceTime them afterward?
Is a diamond the right gem for them? See our Diamond Buying Guide and Non-Diamond Engagement Rings to explore options. Or, if your partner always wants the latest in style, check out Engagement Ring Trends.
Unique Marriage Proposal Ideas
1. Add Additional Adrenaline
Embrace the rush that comes with asking your partner to marry you. You might ask at the top of a rollercoaster, the end of a zipline, the scenic float portion in between rafting rapids, or the plunge right before bungee jumping. After all, love is about risk. Pick whatever gets your heart pumping as much as they do, then you'll always associate that feeling of butterflies with when they said "yes." If low-stakes adrenaline fuels your love, consider asking your local escape room to incorporate your big question into your game.
2. Steal the Stage
The classic on-stage marriage proposal. Collaborate with a venue or performing artist to either have them announce your intentions or pass you the mic to do so. You can have the DJ or bandleader queue up meaningful music for you as a couple if you're attending a live concert. If it's a karaoke stage, you might work your partner's name into the lyrics or pop the question on the teleprompter during a duet (you might even sing an original). If the stage act is a magician, you can volunteer you or your partner to be part of a "trick." A trivia night quizmaster who's in on the proposal can coordinate "Will you marry me?" as a question. If your marriage proposal happens during a play, have the actors bring you up at curtain call or make mention of you both in the play bill or script. There's plenty of ways to put the spotlight on your love.
Romantic Marriage Proposal Ideas
3. Food Made With Love
Hire a personal chef or become one, serving up a combination of your partner's favorite foods and fancy courses, whatever would make them feel more special. This can even be breakfast in bed brought in on a tray if quality time and acts of service are their love languages (breakfast is everyone's love language). If you opt to eat out (or spare your partner your less-than-stellar culinary skills), you can sneak your question into the restaurant specials, hidden under a tray, or spelled out in sauce. A rooftop restaurant can make it all the more romantic.
4. Public Displays of Affection
A different take on PDA, this type of marriage proposal is all about knowing your partner's habits and routines to show you know them best. Publicly declare your love over the airwaves by calling into their favorite radio station to propose, or have the radio announcer ask for you while you and your partner commute together. You can also ask their go-to podcast host to replace their intro song with a recorded message from you. If you opt for the written word, take out an ad in the newspaper they subscribe to.
Picture Perfect Marriage Proposal Ideas
5. Vacation Vibes
You've heard of destination wedding, but what about a destination proposal? While you're traveling, you're already in a relaxed state of mind. And from exotic to iconic, travel allows you to up the ante for those social-media-worthy marriage proposals. Book a romantic ice hotel or treehouse in the jungle to stay, or pop the question as you're inspired by sightseeing. Beachside proposals come with cute asking ideas, like popping the question with a message in a bottle or drawing it in the sand. When you propose on vacation, you can even make the trip an annual one for your anniversary.
6. Scenic Spectacle
When you want the moment to be a true "spectacle," look to nature. Posing in front of uninterrupted views makes for an easy, sneaky way to ask a stranger for a pic before you drop down on one knee. National parks offer plenty of opportunities for "monumental" romance on a mountaintop or under a waterfall. The historic features are an easy way to add another "landmark" to your relationship.
Private, At Home Marriage Proposal Ideas
7. Make It a Game
There's so much opportunity for cuteness and creativity when your marriage proposal is made from scratch. Complete a puzzle that spells out your proposal, even if it's a crossword. You can design your own board game, with clues or pictures from highlights of your relationship. Or take advantage of existing board games by writing your marriage proposal on a Jenga brick or a charade clue (whether they're acting it out or guessing).
8. Dress Up Your Day-to-Day
This proposal has the potential to be super adorable. Cook your future fiancé an al fresco meal in the backyard with twinkling string lights and floral arrangements. Or set up a projector and comfy pillow fort full of their favorite snacks for them to come home to a movie night. A proposal at home can be tender and touching and allow you to be more vulnerable when you can say how you truly feel without an audience.
Outdoor Marriage Proposal Ideas
9. Seasonal Sites
A marriage proposal over the holidays is the easiest way to make the most of golden hour and family already in town. You can take advantage of the outdoors by spelling your marriage proposal out in snow or a pile of leaves. Carve your question into a pumpkin you pick out together at a patch, or have it engraved on an ornament from a tree you choose at a Christmas tree farm. Plus, a hired photographer isn't out of place in these picturesque venues. Choose your partner's favorite season or holiday, so they're motivated to get outside. But whether it's a hay ride or sleigh ride, we think a blanket and cocoa should be involved.
10. Shared Passions
If you're the active types, take in gorgeous views while hiking, kayaking, or horseback riding. Releasing that physical energy can relieve some of the anxiety before popping the big question! Camping can also provide a pretty setting for those adventure seekers hoping to share the magic moment with more solitude.
Marriage Proposal Ideas that Include Family
11. Scavenger Hunt
A scavenger hunt offers plenty of opportunities for family to help coordinate the clues. And stationing them at sites around the city helps ensure everything's going to plan. Work in references to your relationship, whether you shared a kiss on a Ferris wheel, a star sign at the planetarium, or favorite animal at the aquarium. It's sure to be a fun day when each experience is with their loved ones. Or, work in locations like a spa, salon, or boutique so your partner is feeling pampered and picture-perfect for a day they'll always remember. This marriage proposal idea gives you a chance to spoil your future in-laws, too.
12. Family Flash Mob
If dancing and singing are a huge part of your family get-togethers, this is the perfect marriage proposal idea. Even if they're not, the lack of rhythm can be hilarious. Choreograph a flash mob to surprise your partner with their nearest and dearest. This is also easy to accomplish virtually if your families are scattered. Simply have them send recordings of them busting a move to the same song and splice them together in an edit.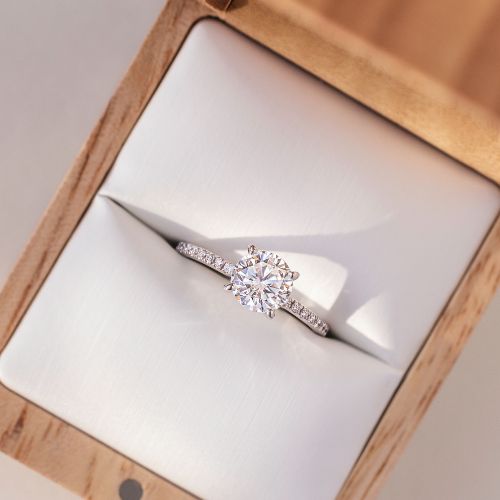 Marriage Proposal FAQs
What is a Unique Way to Propose?
The jumbotron is a fan favorite, with homerun and slam dunk pun captions galore for your Instagram post. But as for one-of-a-kind marriage proposal ideas, you can't beat recreating your first date (or any first from your relationship). It gives you a chance to relive and reflect upon what makes your love unlike any other. Whether you do this by renting out past theaters and restaurants, or by chronicling your relationship with a scrapbook of keepsakes, you get a chance to remember the good times before you promise more to come. After all, nostalgia is a super romantic emotion. Consider custom engagement rings to express love truly unique to you.
What's the Most Romantic Way to Propose?
If your partner is into words like "fairytale," "journey," and "magical," then they will appreciate a swoon worthy scheme. A skywriting or marquee marriage proposal are sure ways to make a statement. As long as you and your partner are not afraid of heights, an airborne proposal in a helicopter, hot air balloon, or sea plane can "elevate" a picturesque moment. Simple can still be extravagant, so if your partner's idea of romance is subdued, consider a pet proposal and tie the ring around their fur baby's collar.
What do I say while proposing?
Do yourself a favor and don't borrow someone else's words. Your partner has fallen in love with your words this far. Just like the engagement ring, your proposal has got to fit your partner. What would be important for them to hear in this moment as you consider a lifetime together? What's specific about your journey together so far that's worthy of that lifetime? What are you looking forward to in a forever partnership? Avoid reciting your proposal too much so you don't sound stiff. Speak from the heart.
How do you record a proposal?
Hiring a photographer or videographer for your marriage proposal is a simple recording solution that allows everyone to stay in the moment while making sure it's still captured. You and your loved ones can cherish the proposal while it's happening, but having a third party ensures that you can relive the magic for decades afterward. It also guarantees a professional level of quality, so it's well worth the investment. Your present and future families will appreciate it.
Should I propose before or after dinner?
Proposing before dinner can calm your nerves and prevent you from sitting through them (you also don't risk being bloated for your big moment). The meal can then be a celebration of the acceptance afterward.
Final Thoughts
Even if you've fantasized about this day for a lifetime, the pressure of the moment and all that comes after can be intimidating. But your marriage proposal will be perfect as long as it's meaningful and a celebration of your everlasting partnership. Now that you have the perfect plan, see our Ring Size Buying Guide to find the right jewelry to pair with it. Brilliant Earth offers rings for everyone, including mens engagement rings.