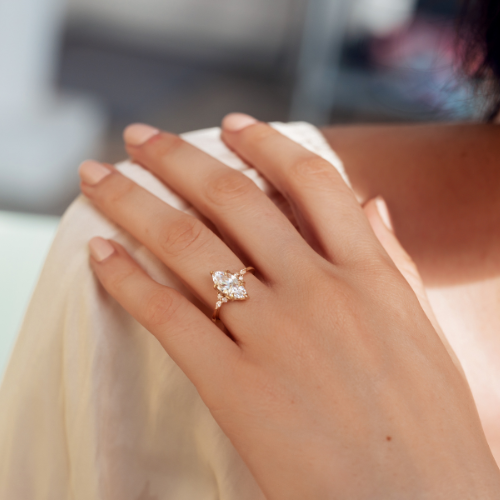 The elongated silhouettes and graceful curves of marquise cut diamonds make them an eye-catching choice for the centerpiece of an engagement ring.
If you are attracted to the elongated shape of an oval cut, but desire something more distinctive, a marquise cut diamond engagement ring might be right for you! Marquise cut diamonds are faceted, allowing them to give off the dazzling sparkle and brilliance offered by an oval diamond, with a striking vintage flair. Their long, narrow shape is not only flattering and elegant, but also a great option for the budget-conscious, as marquise diamonds tend to appear larger than other diamond shapes of the same carat weight. This is because the marquise diamond's extended shape maximizes its surface area, resulting in a larger appearance.
The vintage style of marquise cut diamond engagement rings have been around for centuries. The origin of the marquise cut dates back to the 18th Century, when King Louis XV of France commissioned a jeweler to design a diamond shape that resembled the graceful curves of his mistress's lips, the Marquise de Pompadour. Marquise cut diamonds are also sometimes called by another French name, "bateau" diamonds, which is French for "boat." Despite having roots in antique European style, marquise diamond engagement rings are having a resurgence in popularity in fresh and modern ring settings.
While this feminine shape looks striking in nearly any setting, these 10 marquise cut engagement rings are our current favorites:
Luxe Viviana Diamond Ring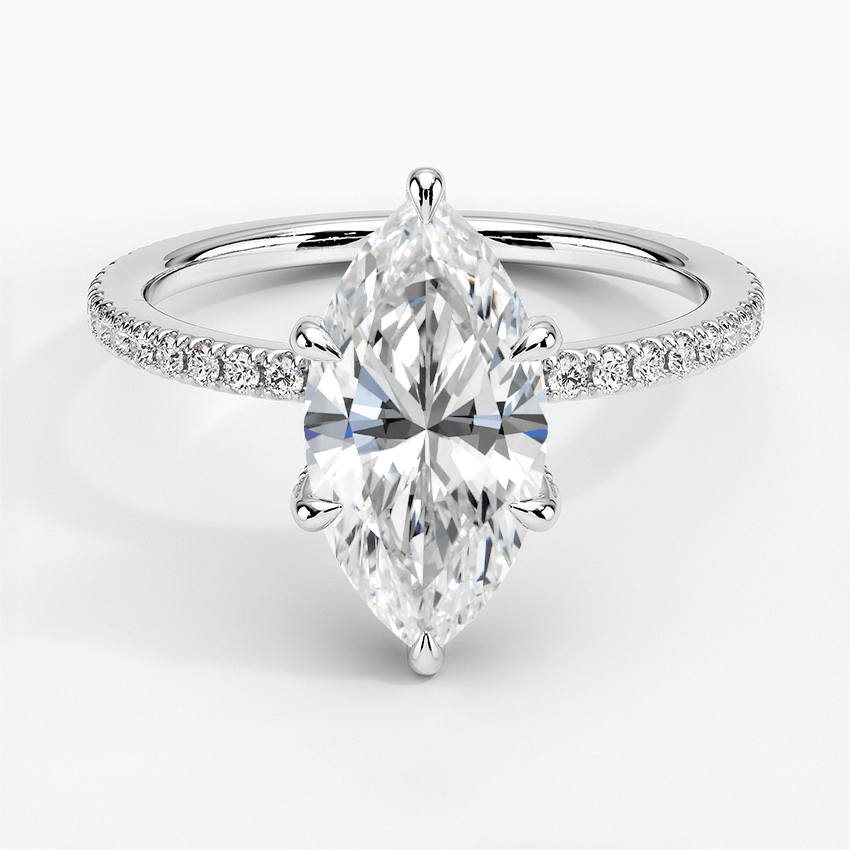 This classic engagement ring features sparkling scalloped pavé diamonds that extend three-fourths of the way around the ring. A diamond adorned gallery and graceful claw prongs embrace the center gem.
Secret Garden Diamond Ring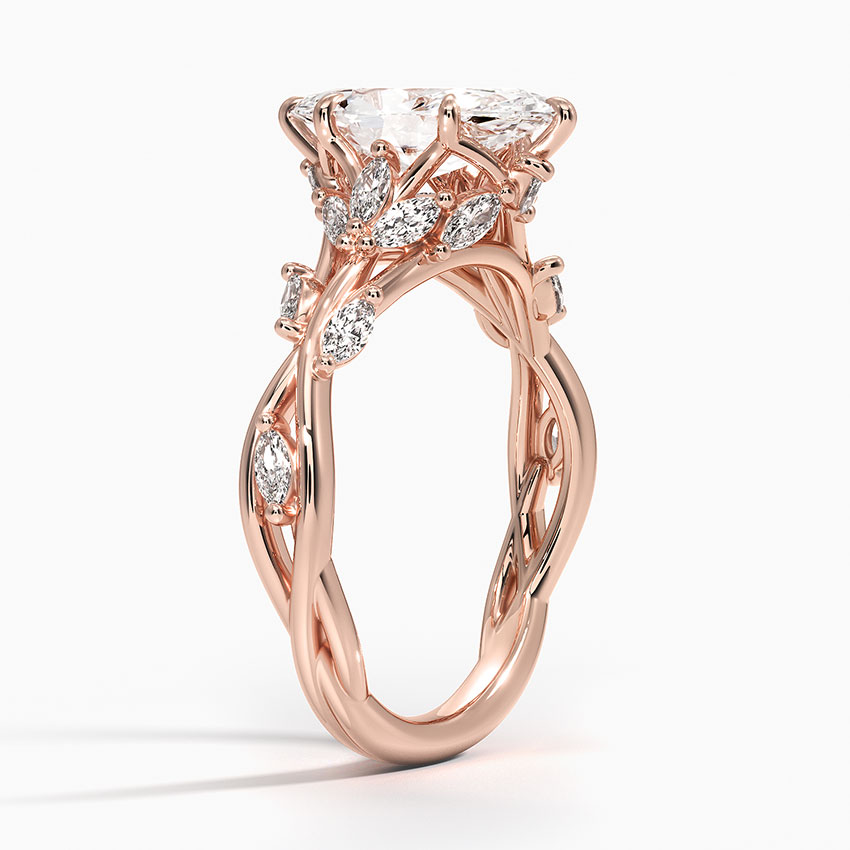 Glistening marquise-shaped diamond buds rest on whimsical vines of precious metal winding towards the center gem for a look of natural elegance.
Lotus Flower Diamond Ring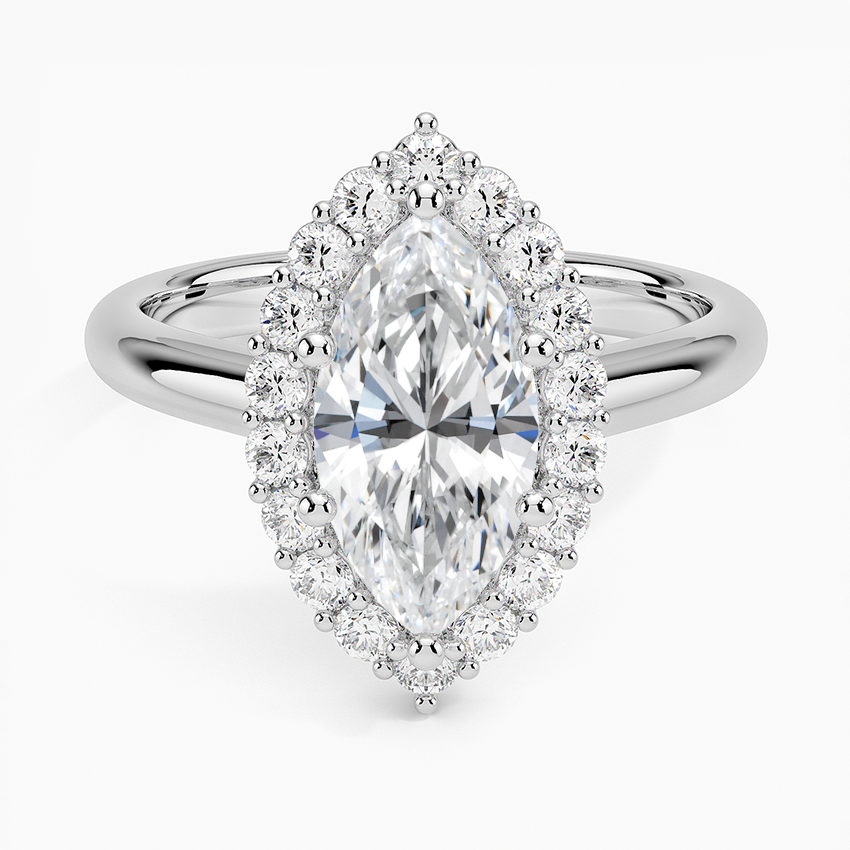 A subtle floral diamond halo blooms around the center gem in this exquisite ring.
Versailles Diamond Ring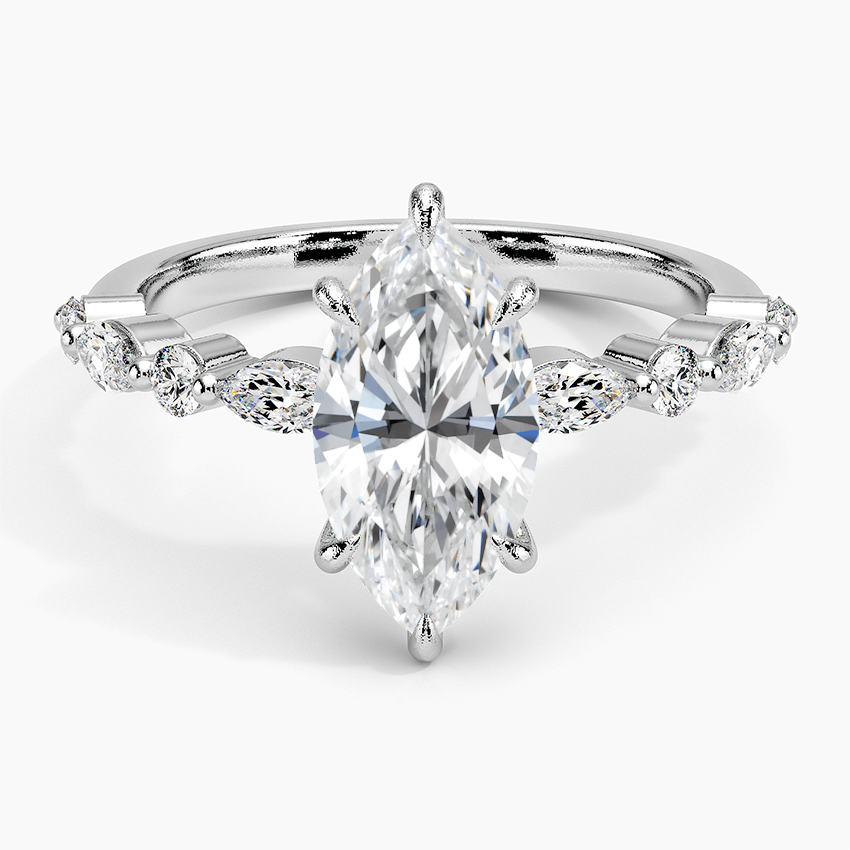 Alternating round and marquise diamonds create an alluring pattern in this chic and distinctive engagement ring.
Miroir Diamond Ring
Round and marquise diamonds are reflected on either side of the center stone in this unique five stone ring with a modern yet traditional feel.
Nouveau Diamond Ring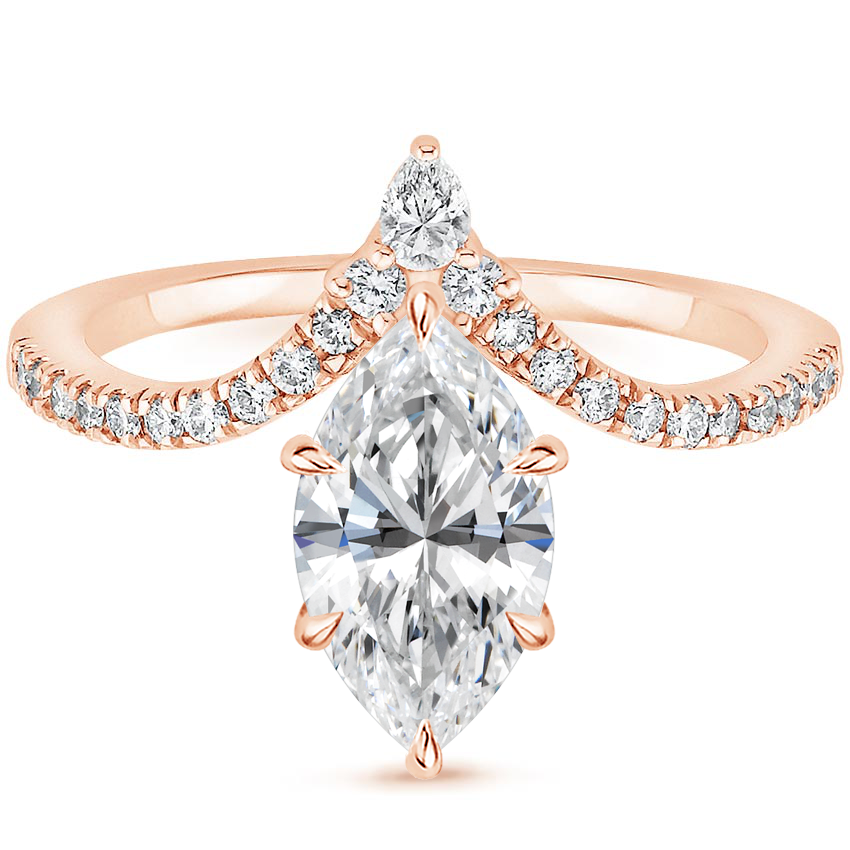 This exquisite ring features shimmering pavé diamonds that form a chevron-shaped band above the center gemstone. Claw prongs gracefully support the center gem beneath the band, creating an artistic look reminiscent of the Art Nouveau era.
Aberdeen Diamond Ring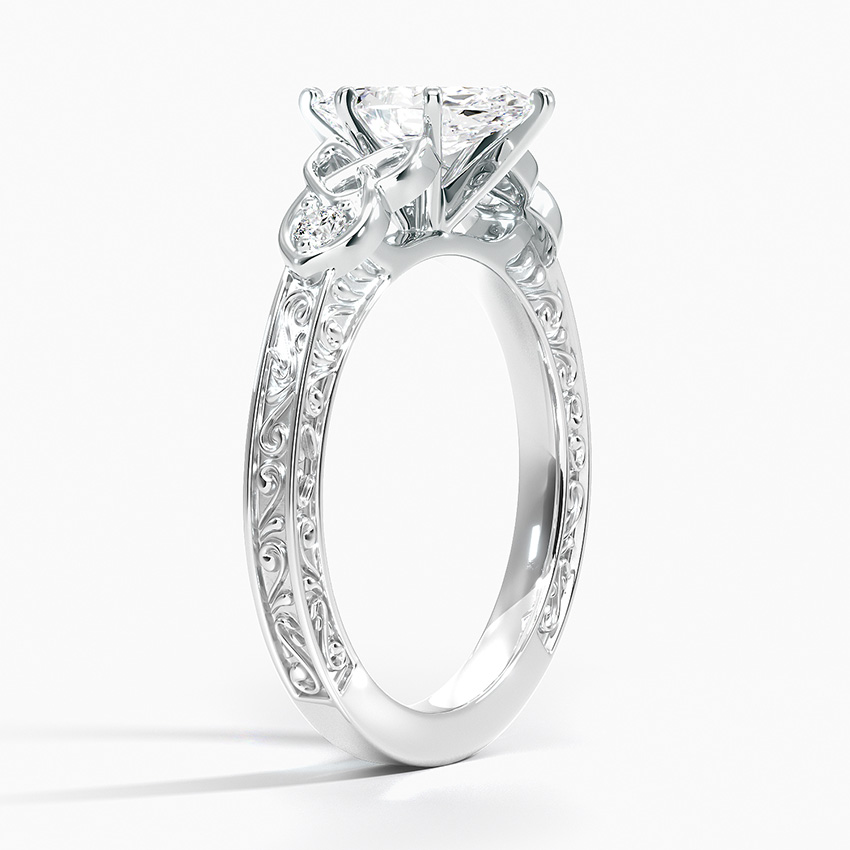 Celtic knots embrace diamond accents on the shoulders of this romantic ring while elegant scrollwork adorns the top and sides of the band.
Luxe Rhiannon Diamond Ring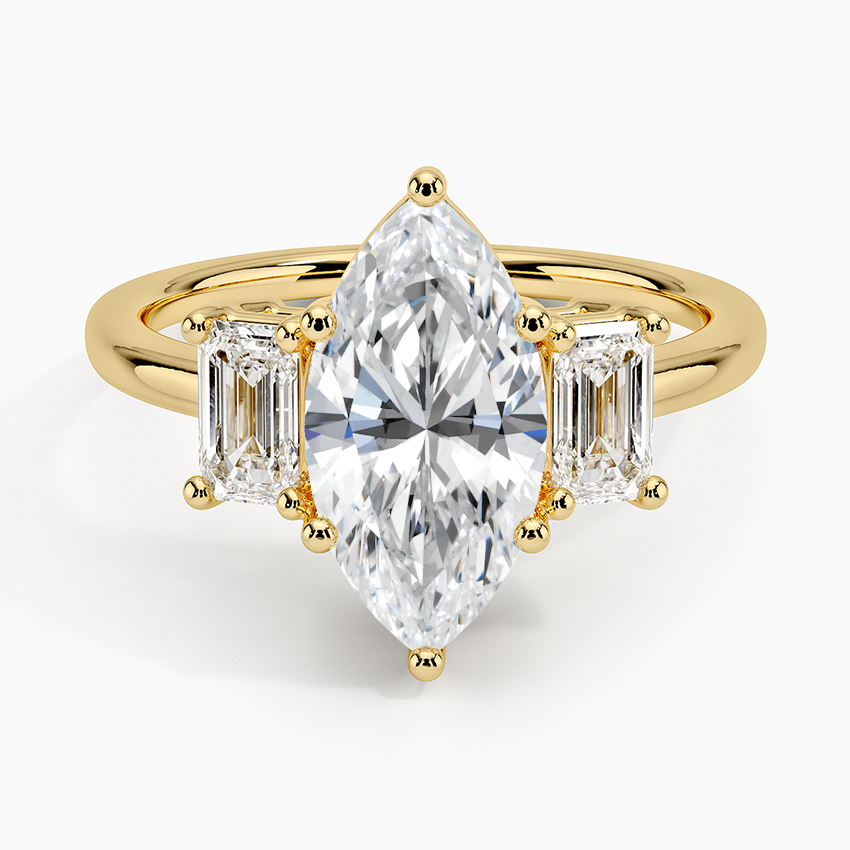 Two luxurious emerald-cut diamonds rest alongside the center gemstone in this classic, sophisticated ring.
East West Tapered Baguette Diamond Ring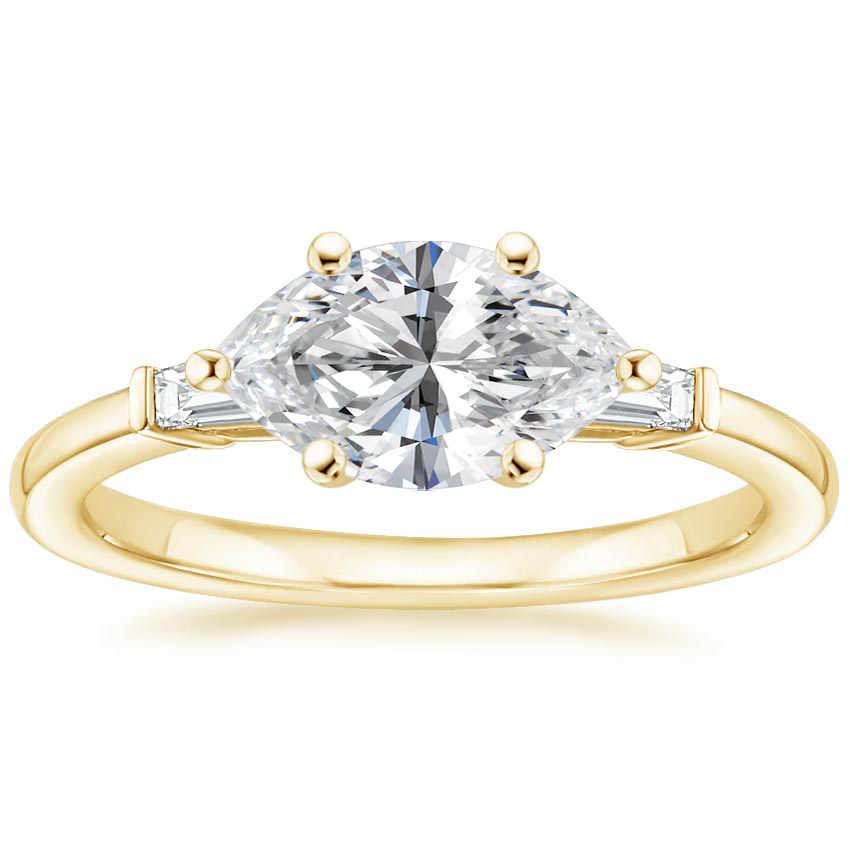 This modern ring takes a classic silhouette and elevates it with the addition of east west set tapered baguette diamonds that shine brightly, making this style the perfect choice for anyone looking for a three stone ring with a twist.
Lyra Diamond Ring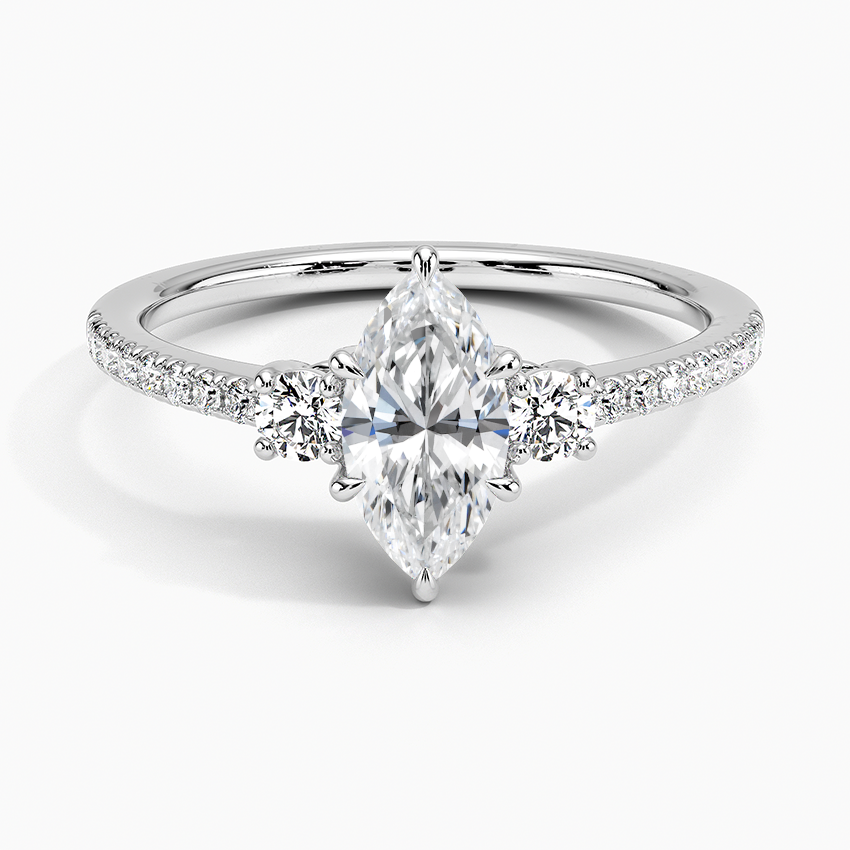 This chic new take on a classic three stone design features scalloped pavé diamond accents along the petite band and claw prongs embracing the center gemstone.
What Wedding Band Goes with a Marquise Engagement Ring?
Because of its unique shape, we often get questions on how to pair a wedding band with a marquise engagement ring. Because of it's length to width ratio, a marquise shaped diamond or gemstone can sometimes push out the basket of a ring, making it challenging to find a matching wedding band that will sit flush. While an engagement ring and wedding band certainly don't need to sit flush in order to look great together, choosing a unique contoured ring or open band can help you better achieve that cohesive look. Here are some of our top recommended wedding band pairings for a marquise cut engagement ring.
Nouveau Diamond Ring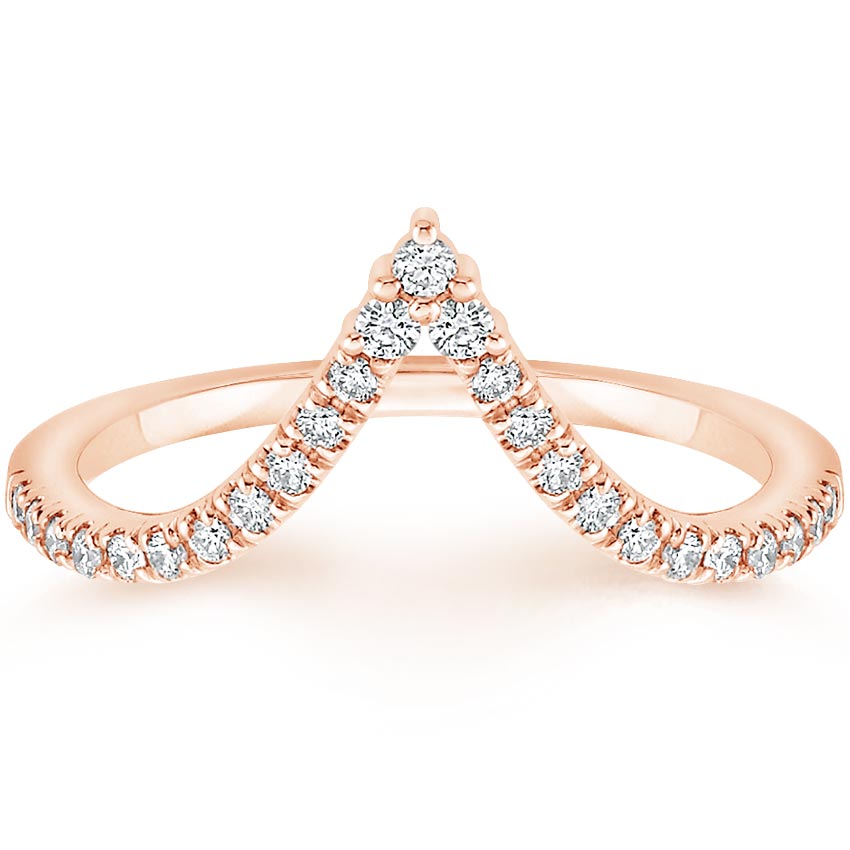 A match for the Nouveau Diamond Engagement Ring, this exquisite ring features shimmering pavé diamonds that form a chevron-shaped band reminiscent of the Art Nouveau era. Stack one on either side of the engagement ring for a striking nested look.
Elongated Lunette Diamond Ring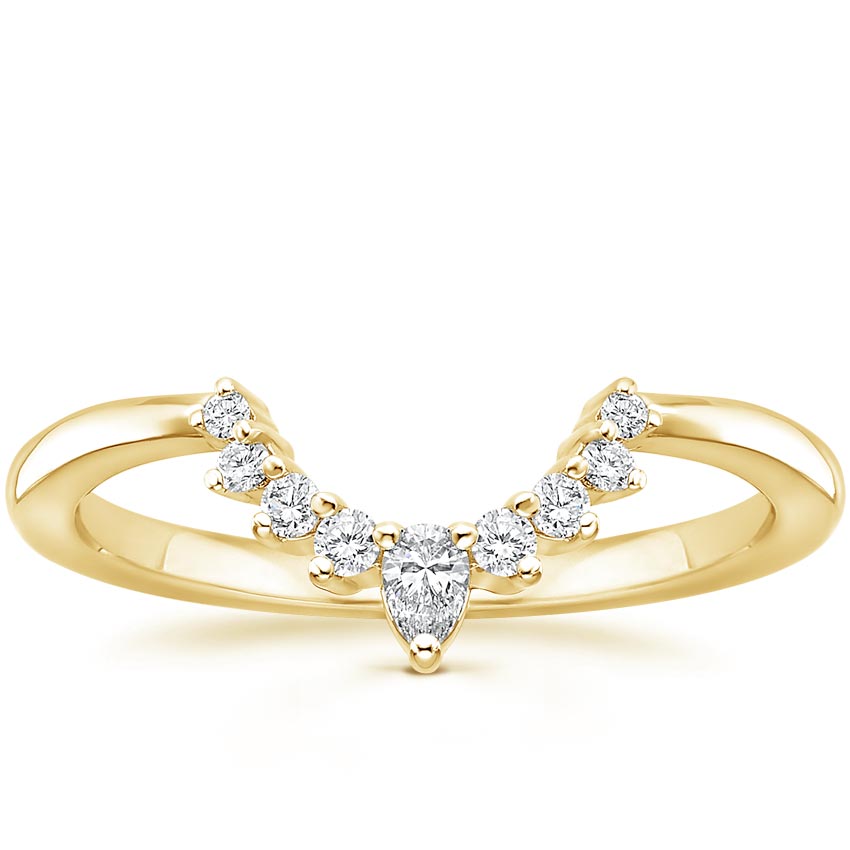 Sparkling diamonds that extend in a wide crescent meet at a point in this sleek ring, perfectly styled to complement an engagement ring, stack with other rings, or wear by itself. Accent diamonds, like pears or more marquise, that mimic the shape of your center marquise gem will also help create a beautiful cohesive look.
Zeta Diamond Open Ring
This petite diamond open ring features scalloped pavé diamonds in elegantly sculpted prongs that extend one half of the way around the band. The 6mm wide open design allows the ring to sit flush with many engagement ring styles, including larger marquise diamonds.
Elongated Chiara Diamond Ring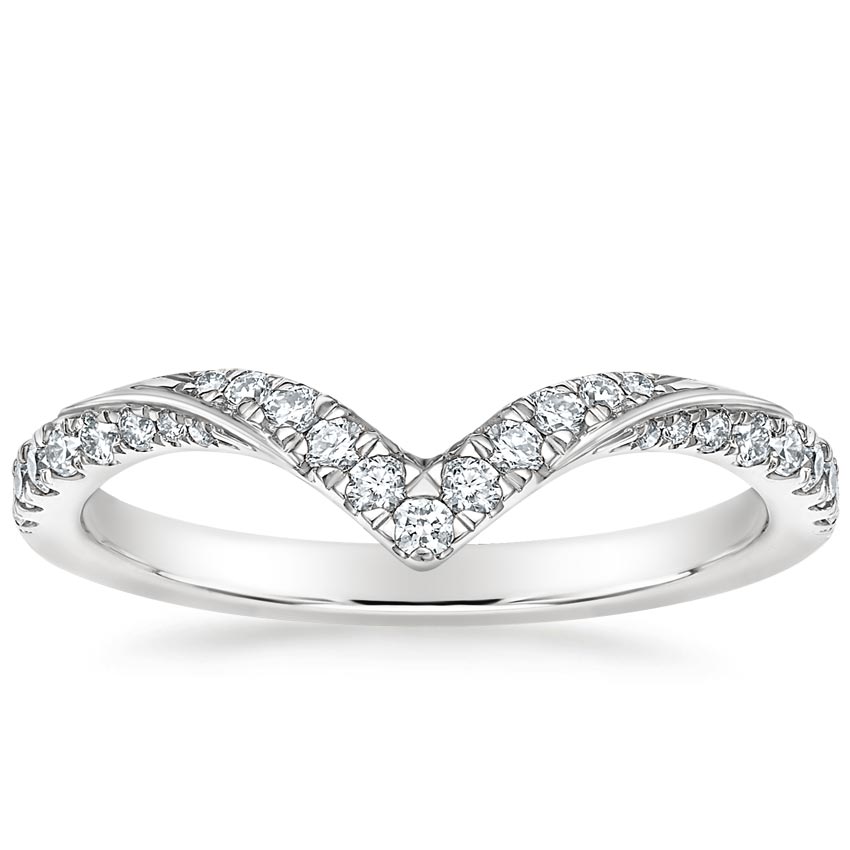 An elongated chevron pattern extends from a lustrous diamond-accented band, allowing many engagement ring styles with larger center stones to sit perfectly flush with this classy, glamorous band.
Crescendo Contoured Diamond Ring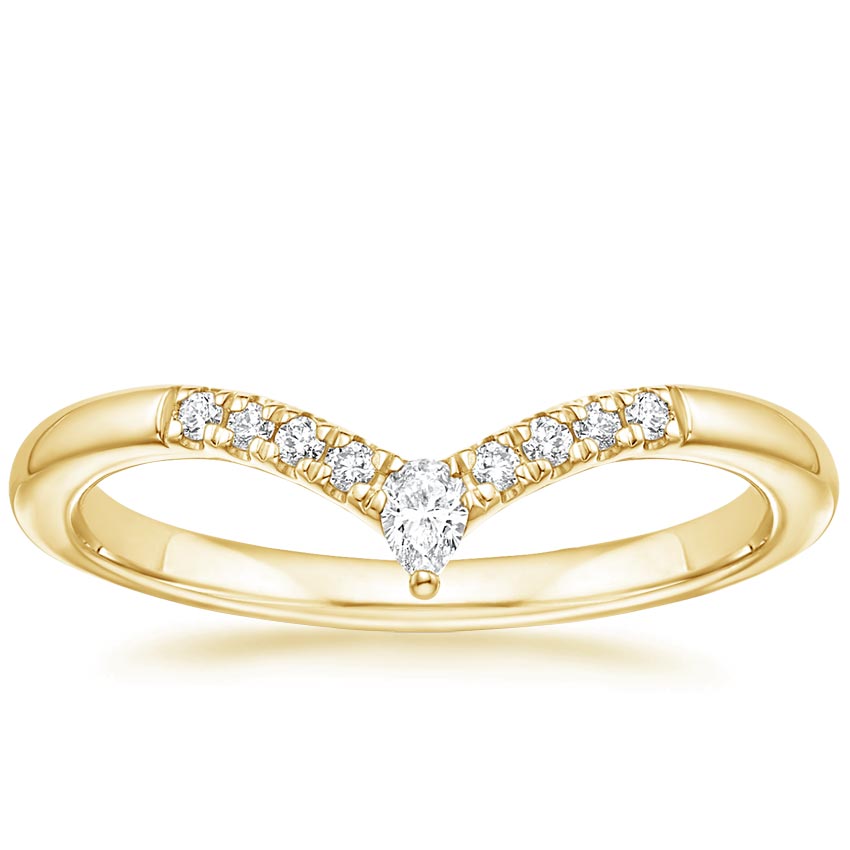 Glimmering round diamonds arc towards a single pear-cut diamond and the center of this contoured band. Made to sit perfectly flush with many engagement ring and other wedding band styles, this ring is the perfect addition to any stack.
Willow Diamond Open Ring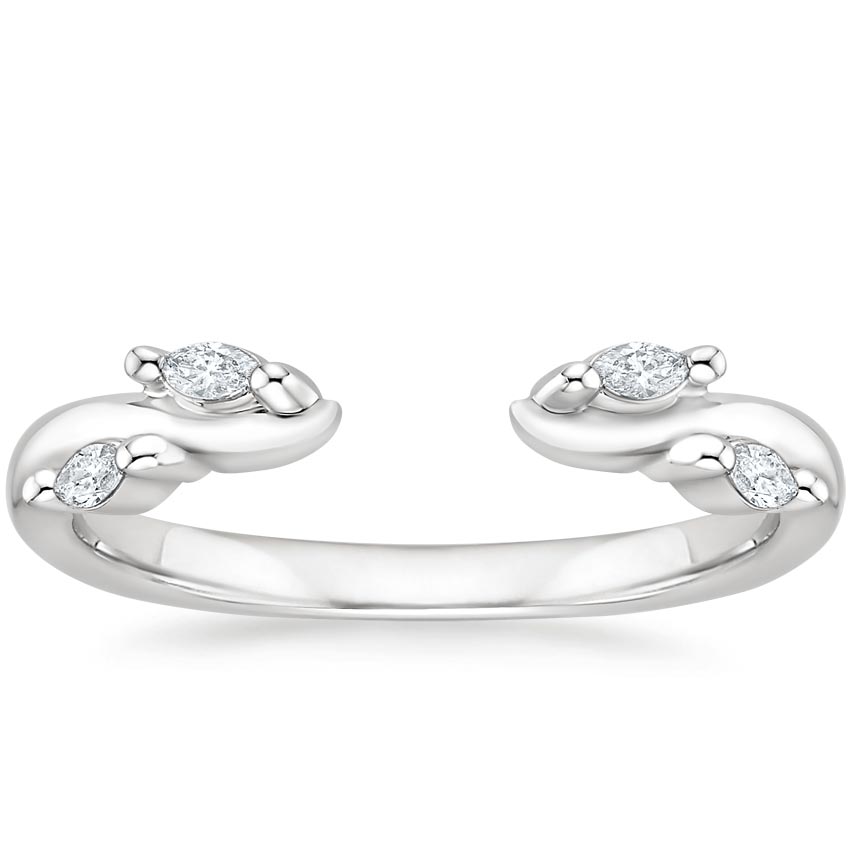 This delicately curved wedding band features marquise-shaped diamonds nestled within a beautifully sculpted metal vine for a nature inspired twist to a bridal stack.
Elongated Luxe Flair Rose Cut Diamond Ring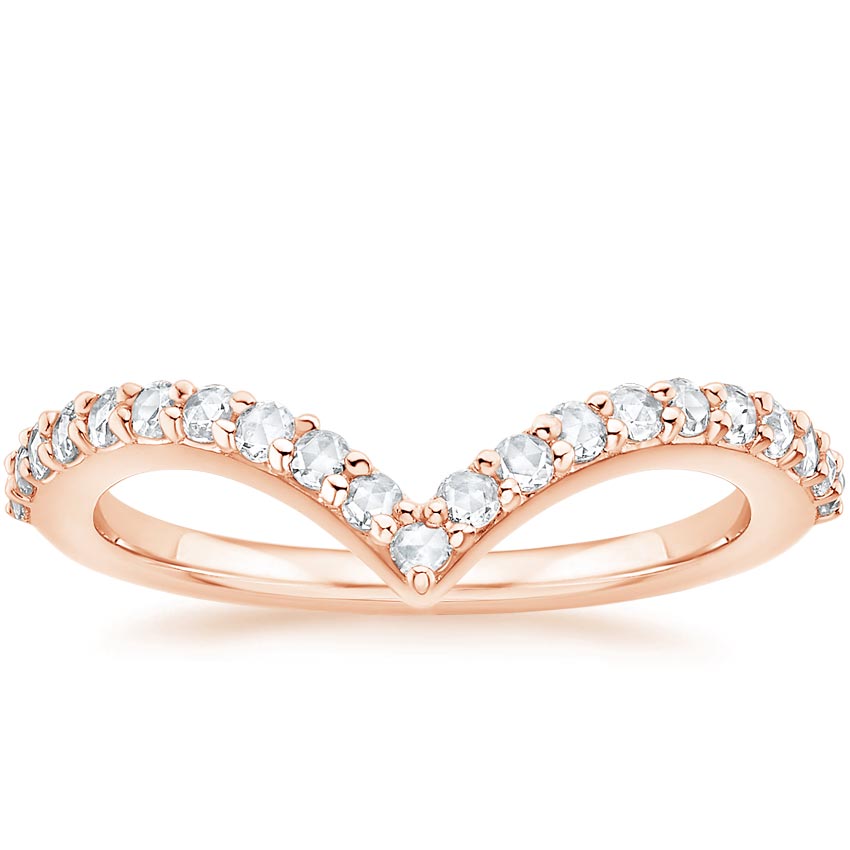 Another vintage diamond cut style, rose cut diamond accents will beautifully highlight a marquise gem's classic beauty. Shimmering shared prong pavé rose cut diamonds flow halfway down this band, creating a deeply curved chevron shape.
Rhône Diamond Open Ring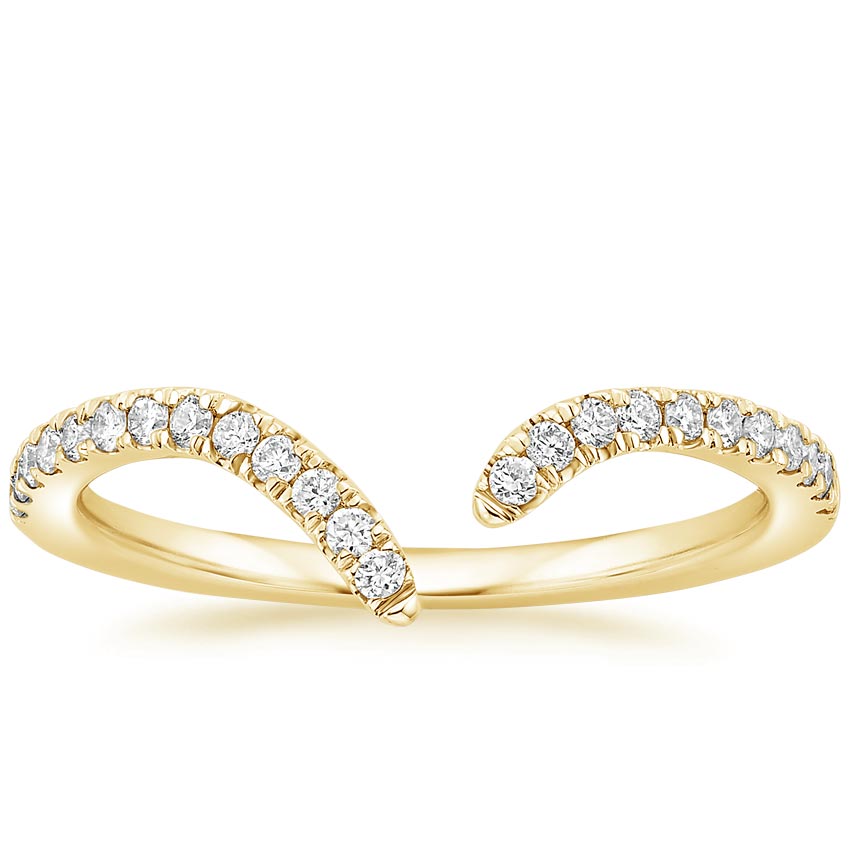 Unique, fluid, and trendy, this open ring features shining diamonds that adorn two organically shaped strands of precious metal for a bold, eye-catching look.
Final Thoughts
Which marquise cut engagement ring do you like best? What diamond shape is your favorite? Share with us in the comments below, or on our Instagram, Facebook, or Twitter!