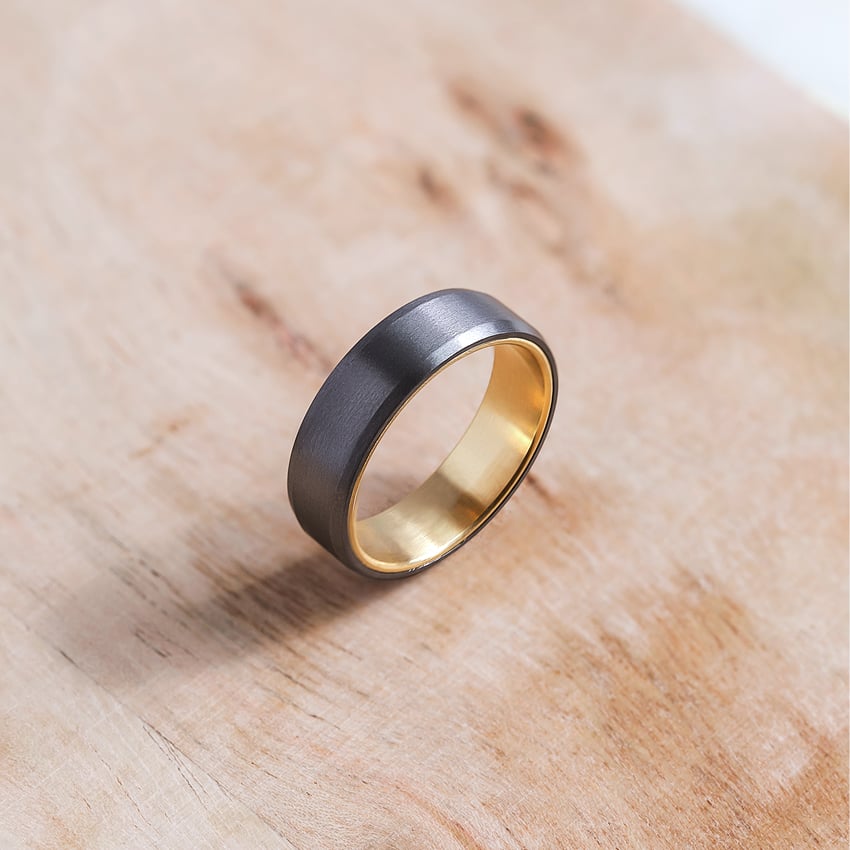 While a ton of thought and preparation is put into selecting an engagement ring for your fiancé, shopping for the groom's wedding band is a crucial and often overlooked step in the wedding planning process. When it is time to choose his own wedding ring, he may find that he is overwhelmed with options and does not know where to start.  
If that describes you, don't let your ring be an afterthought! Since you will be wearing it for the rest of your life, your wedding band should reflect your own unique personality and lifestyle. Read on to learn about the top eight things to consider when choosing wedding rings for men. 
1. Set a Budget
Depending on the style, metal, and finish you choose, there are a variety of men's wedding band styles for every price point. A wedding band is an important investment, and your budget will play a significant role in which ring you say "I do" with. Deciding on a comfortable budget early will allow you to fully explore your and feel confident with your purchase. The average price for a men's wedding ring ranges from $750 – $1,500, which is dependent on your style and metal choices. That being said, there are no rules on what the right amount is to spend on a wedding ring, the most important factor is that you and your partner are comfortable with how much you are spending!  
2. Choose a Style
Although some may think that shopping for a men's wedding ring is a straightforward process, the different styles of men's bands are ever growing and can easily cause you to be overwhelmed during the buying process. To make things simple, we have grouped distinctive styles into four categories.  
Classic 
Classic wedding ring styles typically feature an all-metal band that is either smoother or has a bit of texture. Timeless and traditional, classic wedding bands are one of the most popular options for a men's wedding ring.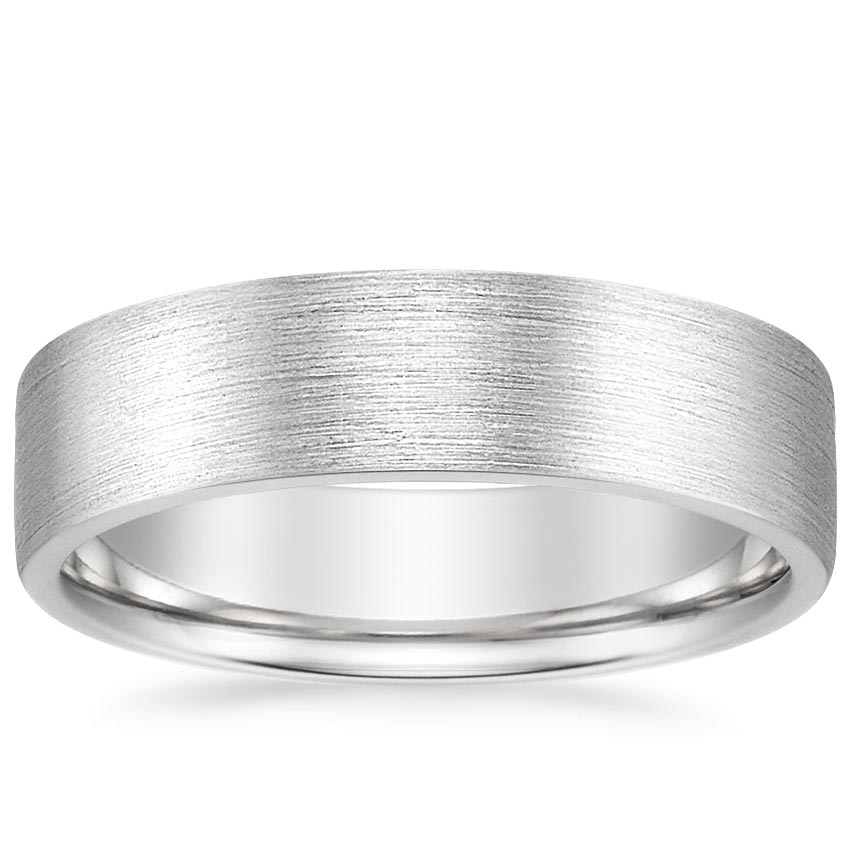 Curved 
Curved or domed wedding bands are one of the most classic and popular men's wedding ring styles that has stood the test of time. The curved edges allow for increased comfort and ease of taking your band on and off.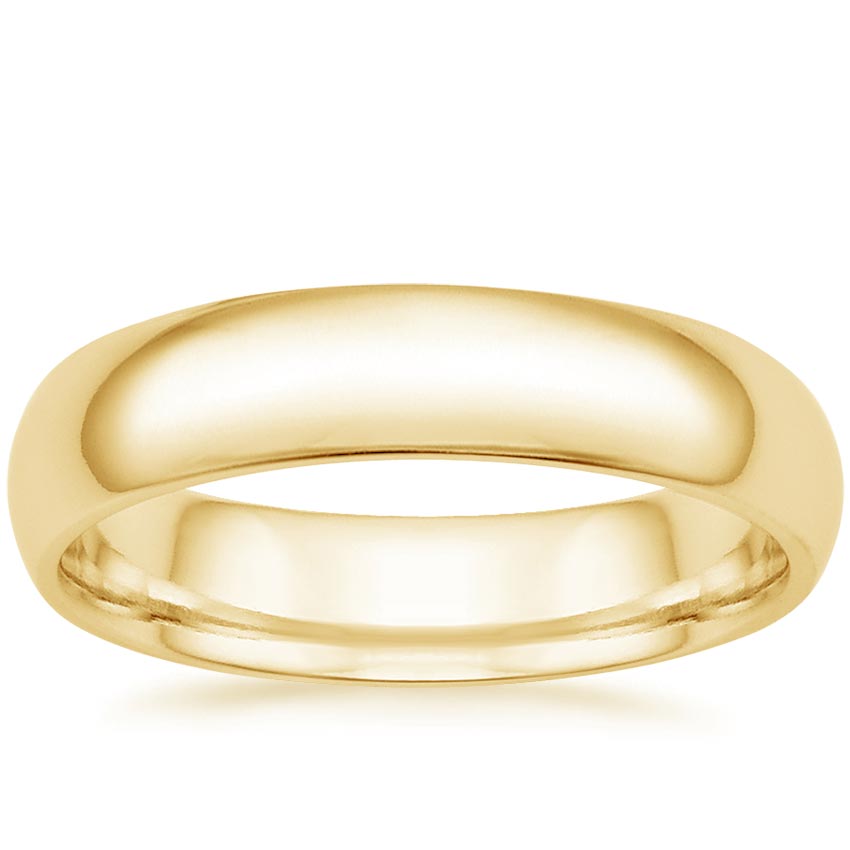 Diamond 
Men's wedding bands featuring diamond accents are a great way to add an extra pop to your ring. Whether a singular diamond like an engagement ring or several diamonds wrapped around the band, diamond accents are a great way to make a statement and add extra personality to your ring.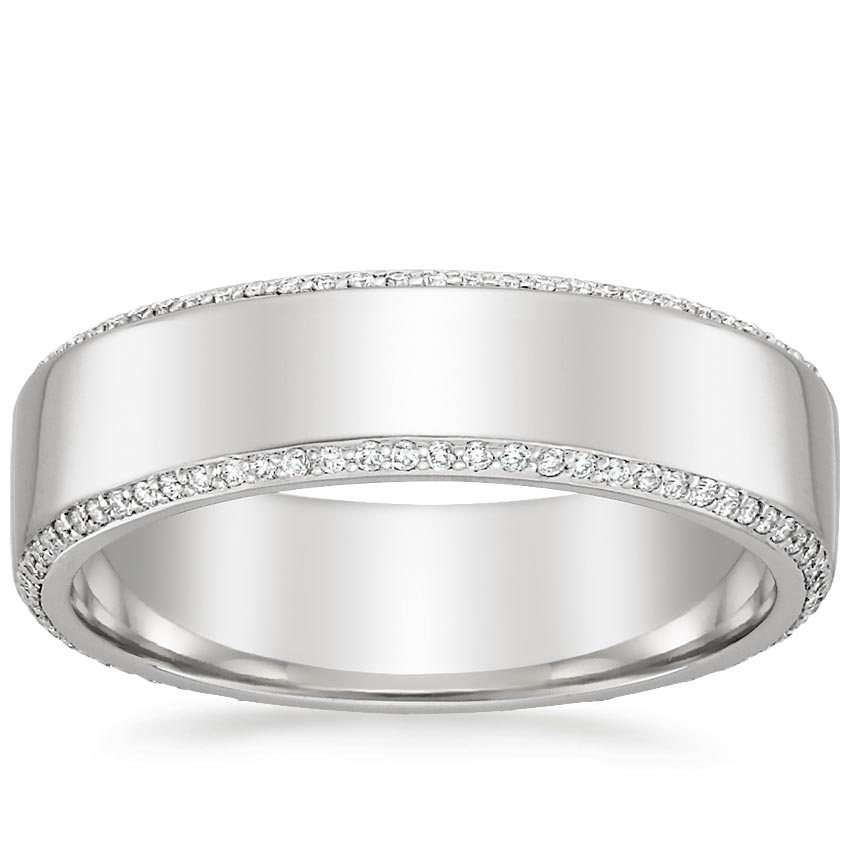 Gemstone
Many of our contemporary styles feature gemstone accents such as vibrant blue sapphires. For all our trend-setters, gemstone accented wedding rings are a great way to add personality and a pop of color to your wedding ring.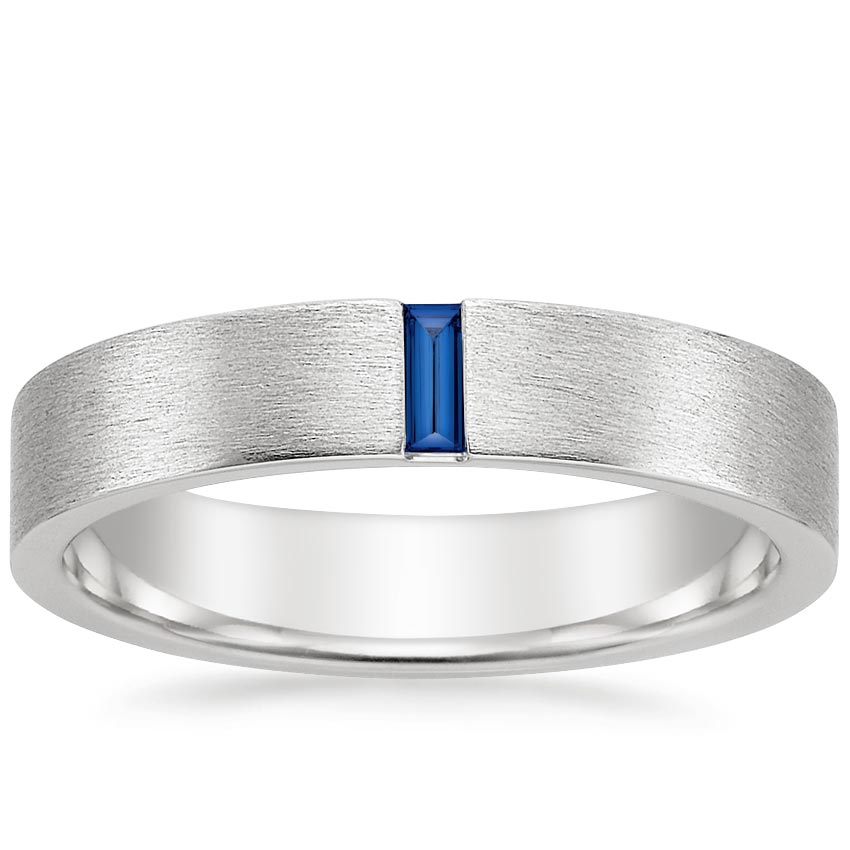 3. Decide on Shape
Classic 
The most common shape, classic wedding rings are rounded inside and out for a timeless look and increased comfort.  
Flat 
Flat wedding bands have a rounded or flat interior and a flat exterior. This style is a contemporary choice that is rising in popularity.  
Domed (or D-Shape)
Domed, or D-Shape wedding rings have a rounded outside and a flat inside, which allows for a closer fit on the finger.  
Beveled
Beveled wedding rings fall somewhere between domed and flat shapes. They feature three facets while traditional wedding rings have a continuous outer surface. These facets create a slightly rounded edge for increased comfort.  
Knife-Edge
Men's wedding rings featuring a knife edge are a contemporary style that has a flat inside and a pointed outside. The outer edge creates a "V" shape that points away from the finger.  
Coin
Coin edge styles feature a grooved pattern (resembling that of a coin) that goes around the entire edge of the wedding ring. These small notches on the outside of the band add a personalized touch. 
4. Determine a Width
How wide do you want your ring to be? We recommend trying on a few men's wedding bands in a variety of different widths to decide what you like best. The average width for a men's wedding band is 6 mm. Wider rings tend to be more expensive (since they require a larger quantity of precious metal), but you can balance size and price by choosing a metal that is within your budget. For example, white gold looks very similar to platinum, but costs less. 
5. Select a Metal Type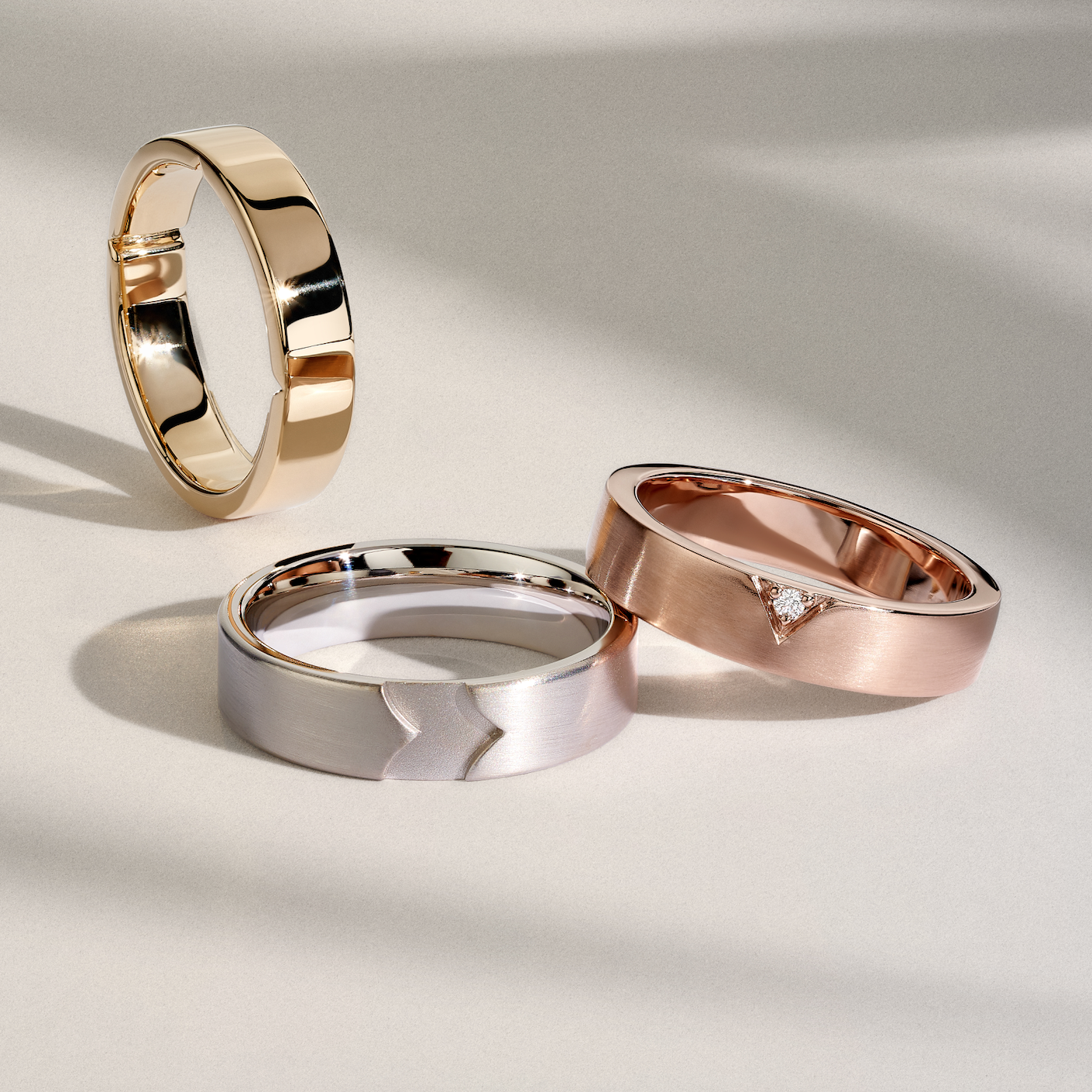 Platinum
Platinum is considered the most durable precious metal option and is among the rarest elements in the earth's crust. Platinum men's wedding rings are ideal for those that work with their hands, frequently encounter chemicals, or often do activities that might result in abrasion to the surface of the ring. It is also hypoallergenic and almost never causes skin reactions. 
White Gold
White gold wedding rings are gold plated in rhodium, a member of the platinum family, which gives it a brilliant white color like platinum's but at a lower price point (note: the rhodium plating on white gold jewelry may need to be replaced after a decade or so). 
Yellow Gold
Yellow gold is a classic metal choice that gives off a subtle, warm glow. Unlike white gold, our yellow gold wedding rings are naturally yellow in color and will not lose their color over time.  
Rose Gold
Rose gold wedding rings are a beautiful, less common choice and create a unique vintage effect. It is perfect for a groom who wants a more distinctive look. Unlike white gold, rose gold is alloyed with other metals like copper to create its unique color and does not require replating to keep its color.  
Palladium
Palladium is a less common metal used in men's wedding rings that resembles platinum. Palladium's rarity is due to being fifteen times more rare than platinum, making it one of the most expensive precious metal choices for a wedding ring. 
Titanium
Titanium is an extremely light metal that has the durability to withstand life-long wear. This metal will never fade in color over time and a relievedly affordable choice for a wedding ring. 
Stainless Steel
Stainless steel wedding rings are incredible durable and require little maintenance.  
Sterling Silver
Sterling silver is a very soft and malleable metal that can be prone to tarnishing. Although this metal holds up extremely well for many fine jewelry pieces, your wedding ring will undergo a lot of wear and sterling silver is more sensitive to water, chemicals, and surface scratching than most suitable metal choices for a wedding band.  
Cobalt
Cobalt wedding rings can be white in color – reminiscent of platinum or white gold. Cobalt is also hypoallergenic and light weight, making it an ideal choice for someone with sensitive skin.  
Tungsten
Tungsten is an alternative metal choice that is growing in popularity due to its strength, durability, and contemporary look. Tungsten is extremely durable and undoubtedly waterproof, making it an ideal metal choice for those who might be hard on their hands.  
Tantalum
Tantalum is another alternative metal choice that is arguably the most durable. Tantalum is loved for its unique black luster that will never tarnish or corrode. It also has a high resistance to surface scratching and is considered to be virtually shatterproof.  
Meteorite 
Meteorite is a distinctive metal choice, in fact, no two meteorite rings will look the same due to its unique pattern. This iron-based metal can corrode with prolonged exposure to moisture. Our meteorite rings are often complemented with tantalum to provide increased durability.  
6. Pick a Finish
High Polish
High polish is the most classically popular finish for a men's wedding ring. Polishing the ring smooths the surface of any texture or irregularities and gives it a highly reflective shine.  
Satin
Satin wedding rings have a smooth surface but are not reflective like a high polish finish for a more understated look.  
Matte
Matte wedding rings are low shine and give off a more subtle look. The slight texture also helps to mask any surface scratching or abrasions that may occur with everyday wear.  
Brushed
Brushed wedding rings have a look similar to a satin finish but have a slight texture that resembles brush strokes.  
Combination
Just like it sounds, combination wedding rings combine two or more finished or metal types for a unique and stylized look.  
Hammered 
Hammered wedding rings have a highly textured look that looks like dimples or dents on the surface.  
Sandblasted 
Sandblasted wedding rings have a unique frosted texture and sparkle.  
7. Find a Fit
The edges of men's wedding bands can be curved or flat, which affects the way the ring fits on your finger. 
Comfort Fit
Our popular Comfort Fit band has gently rounded edges, which provides increased comfort and a looser fit, making it easier for the ring to slip on and off your finger. This fit it ideal for those with larger knuckles or hands that swell easily.  
Standard Fit
Standard fit rings have a flat inside, allowing for a closer fit but less conformity to the finder. We recommend trying on both fits to discover which one best suits you.  
8. Figure Out Size
The easiest and most accurate way to find your correct ring size is to visit one of our showroom locations and meet with a Jewelry Specialist to find your perfect fit. You can also download our free ring size guide or sign up to have a free ring sizer sent to your home! 
Tips for Taking Care of Your Wedding Ring
Although each unique metal requires different care and cleaning which can be found in our guide to caring for metals, here are some general tips to keep your wedding ring in the best shape. 
Avoid harsh chemicals such as household cleaners and chlorine that can cause corrosion.

 

Remove your ring before doing activities such as working out or cleaning that could result in surface scratching.

 

When not wearing your ring, store it in a dry and soft location such as a cloth lined jewelry case.

 

Clean your ring using mild soap and water. Avoid harsh scrubbing and dry thoroughly with a soft cloth. 

 
Final Thoughts
It is a great time to be shopping for men's wedding rings—there are more options than ever, and today's grooms are going beyond the standard simple bands to choose styles that reflect their unique personalities and tastes. What's your favorite men's wedding band style? Let us know on Facebook, Instagram, Twitter or in the comments section!