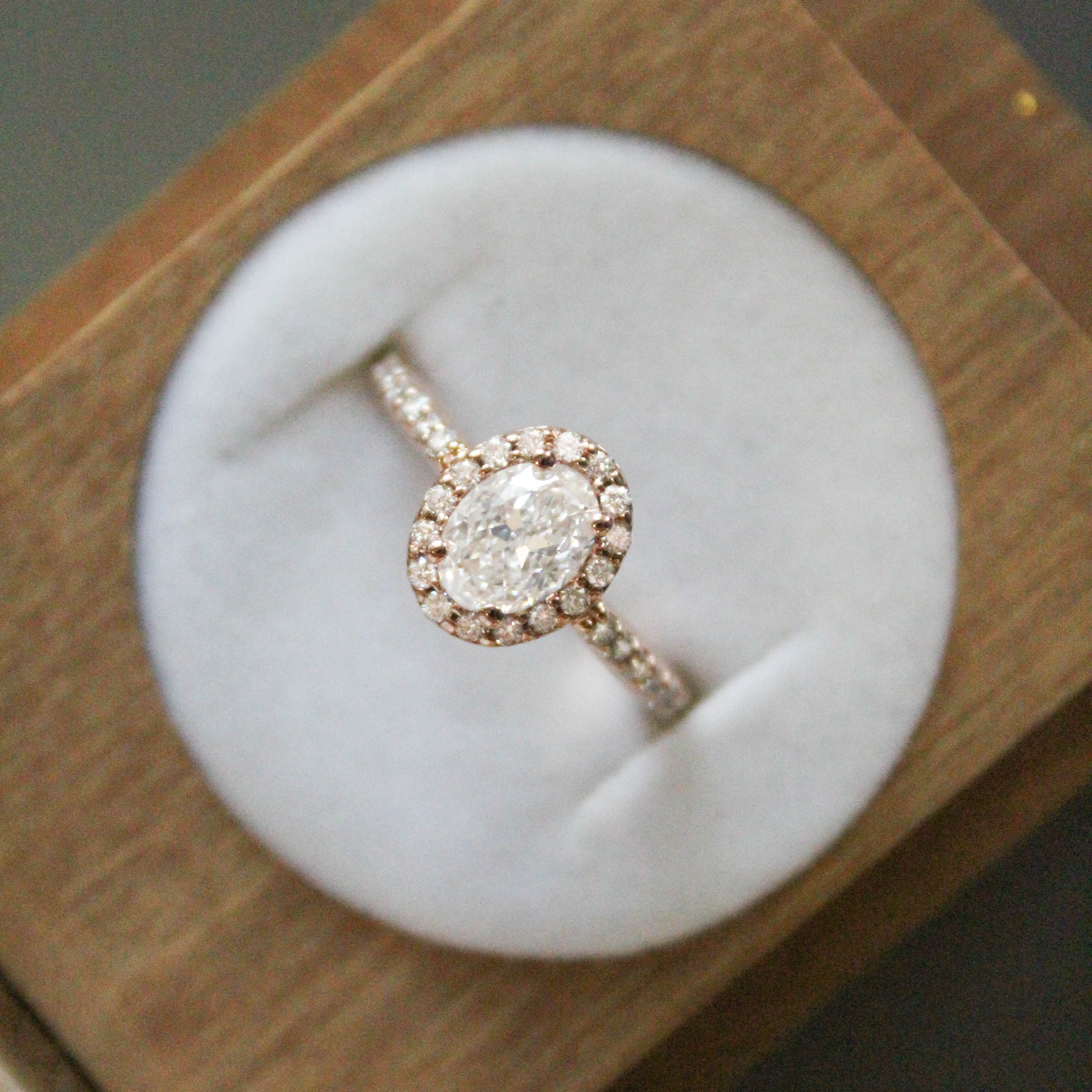 Halo engagement rings continue to be one of the most sought after styles for an unforgettable proposal.  A halo setting features a center gemstone completely encircled by smaller accent diamonds.
Halo engagement rings may feature any shape center diamond—a round brilliant with sparkle and fire; an asscher with mirrored shimmer; a decadent pear; a resplendent cushion; or even a fancy yellow radiant.  In fact, halo rings need not be limited to diamonds at the center: some of the most beautiful and unique halo engagement rings are set with colored gemstones, like a vivid blue sapphire. Probably the most famous sapphire halo engagement ring is the 14-carat stunner originally given to Princess Diana and now worn by Kate Middleton.
There are many options to customize your halo engagement ring. First, the center gemstone may be bezel set, which means precious metal completely surrounding the center gem, allowing it to sit flush with the diamond, or prong set, in which the center gem is secured by four prongs, elevating it just slightly above the glittering frame.  Second, there are many types of styles to consider for halo engagement rings, depending on your preferences.  A classic halo ring offers an enhanced take on a traditional solitaire, while a vintage-inspired halo ring highlights intricate micropavé and milgrain detailing along the band.  To maximize brilliance and glamour, you might consider our luxe halo ring, which features diamonds encrusted on three sides of the band.
Bezel set                                                      Classic Style                                     Vintage-Inspired                                   
One of the benefits of a halo setting is that it is a style that accommodates a range of gemstone sizes and budgets.  When you choose a larger center gemstone, halo settings provide a striking balance of boldness and delicateness, while a smaller center gem is made more prominent when framed by the additional sparkle.  In every case, a halo engagement ring offers eye-catching, feminine appeal.
Although they have been around since the Victorian era, halo engagement settings have been gaining in popularity in recent years, with a surge in celebrity interest. Natalie Portman, Carrie Underwood, Gwyneth Paltrow, Jennifer Hudson, and Katherine Heigl, all wear halo engagement rings.
At Brilliant Earth, our collection of halo rings offers many options for different aesthetics and tastes—from classic to contemporary, elegant to effervescent, subtle to sensational.  Many of our sparkling halo rings are exclusive Brilliant Earth halo engagement ring styles. Additionally, all of the Brilliant Earth halo rings are completely customizable—for center gemstone, accent diamond size, and much more.  View all of our halo rings.