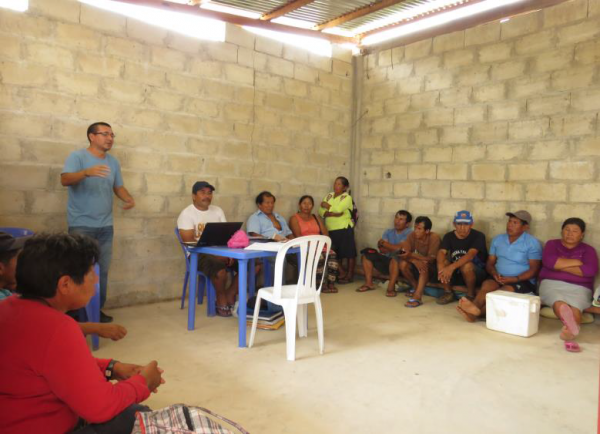 Brilliant Earth is proud to partner with Pure Earth to train 30 artisanal gold miners in Peru in a mercury-free gold mining technique, known as the Philippine method.
The initiative will benefit a community of 400 miners and their families in the state of Madre de Dios, where the miners are locally known as chichiqueros. The health impacts of transitioning to mercury-free gold mining will extend throughout the community, by protecting miners and their families from toxic mercury. The local environment will also benefit from reduced mercury emissions, and learning the Philippine method will allow miners to earn more for their work by using a cheaper (and safer) alternative to mercury to extract gold.
As part of our commitment to donate 5% of profits to benefit communities harmed by the jewelry industry, our contribution is helping to fund a yearlong program with three training sessions in the mercury-free gold mining method. With initial and follow-up sessions scheduled throughout the year, the miners will be able to develop and improve their skills to prepare them for success after the program completes. Peruvian miners trained in the Philippine method, which has been in use in the Benguet province of the Philippines for a century, will lead the lessons for the artisanal miners.
Why It Matters
Metal mining, and gold mining in particular, is one of the most environmentally destructive types of mining with 20 tons of ore required to produce enough gold for a single ring, which is why Brilliant Earth uses recycled precious metals in our fine jewelry. Gold mining is also among the largest sources of mercury pollution, contributing more than 30% of global mercury emissions—about 1,400 tons of toxic mercury—per year. Artisanal miners combine mercury with gold silt, which hardens together to form an amalgam, before they burn off the mercury—releasing toxic mercury fumes that the miners and their families breathe in. The fumes that don't get inhaled are absorbed into the local ecosystem or circulated to other parts of the globe.
The impacts of gold mining are especially dire in Madre de Dios, where a state of emergency was declared earlier this year due to wide-scale mercury pollution. Given the toll that mining has taken on the region, helping chichiqueros transition to mercury-free mining can go a long way towards eliminating health and environmental risks that put them and their families at risk.
How It Helps
Mercury-free mining can help improve miners' social and economic status. In Peru and other countries, poverty and a lack of job opportunities are driving more and more people into artisanal gold mining due to the high price of gold. The chichiqueros in Huepetuhe do not have licenses for mining certain land. Instead, they work in areas where larger mining operations have already been, sorting through the refuse to find smaller pieces of gold that others left behind. They want formal and legal recognition as artisanal miners, and improving their mining practices by adopting the Philippine method could aid them in that process. Additionally, the trainings will be co-led by a female miner with expertise in the Philippine method. The skills and leadership from the trainings will help empower women in gold mining, who often end up being marginalized.
Training the chichiqueros in the Philippine method will also help them to earn more for their work. Many mercury-free mining alternatives require expensive investments in equipment, as much as $5,000, but the Philippine method is even more affordable than using mercury to extract gold. The low cost makes this method easily accessible to small-scale artisanal miners, allowing more people to transition away from using mercury. By helping fund this project with the chichiqueros in Huepetuhe, we hope to encourage safe and sustainable gold mining practices in Madre de Dios and beyond.