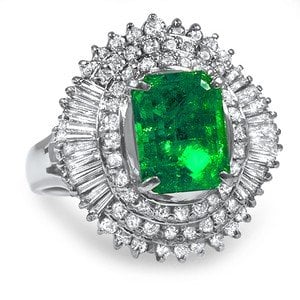 We hear a lot about celebrities wearing megawatt diamond engagement rings, but lately certain stylish stars are marking their betrothals with gorgeous emerald rings. Here's the scoop on the emerald jewelry trend.

Halle's Romantic Custom Ring

Last year, Oscar winner Halle Berry began wearing a custom-designed emerald ring given to her by French actor Olivier Martinez (now her husband and father to her baby boy). Her ring features a gorgeous center emerald with diamonds on each side. The jeweler who designed it told People Stylewatch that Halle's textured yellow gold ring contains "codes and symbols" that represent the couple's story, and which are so small that only the wearer can see them. He also said that the center emerald comes from the Muzo region of Colombia, the same region where Brilliant Earth's ethical emeralds are mined.

Olivia's Emerald Halo

When actress Olivia Wilde became engaged to funnyman Jason Sudeikis earlier this year he gave her a ring featuring a halo of emeralds encircling a round center diamond. The emerald halo and a very thin gold band make this gorgeous ring truly unique. Glamour magazine blogger Kim Fusaro commented that it's nice to see an engagement ring that's not a "generic Hollywood iceberg." Although an emerald halo is a fresh twist, diamond halo rings have been very popular for the past few years, both with celebrities like Natalie Portman and Gwyneth Paltrow and regular brides alike.

Zoe's Green Cabochon

Zoe Saldana and new husband Marco Perego, an Italian artist, marked their engagement with a ring featuring a super-sized pear-shaped emerald in a cabochon cut. By choosing not only an emerald but a cabochon in a pear shape, Zoe's man took an extra step to ensure that nobody else on the red carpet will have a ring like his bride's.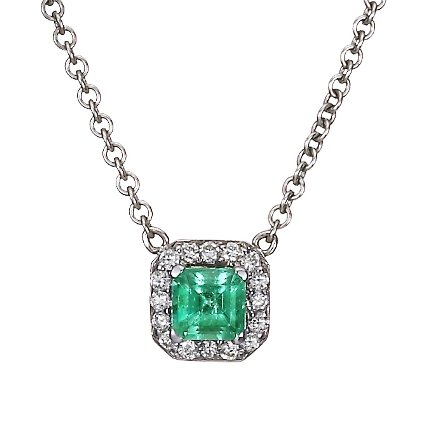 Other Stars Loving Emeralds

Engagement rings aren't the only way that stylish celebrities are wearing emeralds these days. At the Emmy Awards Sophia Vergara wore earrings and a ring featuring sparkling green emeralds (Colombian ones, naturally), and as Claire Danes held up her heavy gold trophy for the cameras a diamond and emerald bracelet dangled from her wrist. Other stars who've been spotted in emerald jewelry this fall include Jennifer Garner, Emmy Rossum and Taylor Schilling.

Emerald Rings: Trendy and Timeless Too

Perhaps the emerald ring trend should be no surprise—after all, the color forecasters at Pantone called emerald green as the top color trend of 2013. But we don't think emerald engagement rings are a passing fad, because gorgeous green gems are timeless.  At Brilliant Earth we offer emeralds from the Andes mountains region of Colombia, where the finest emeralds in the world are found. Our emeralds are sourced from mines that minimize environmental impacts and employ fair labor practices. Learn more  about our ethical origin emeralds, or shop for emerald rings.

What Do You Think?

Do you love these celebrities' emerald rings? Does your engagement ring contain emeralds, or are you hoping to receive an emerald ring one day?  Let us know, on Facebook, Twitter, or in the comments!