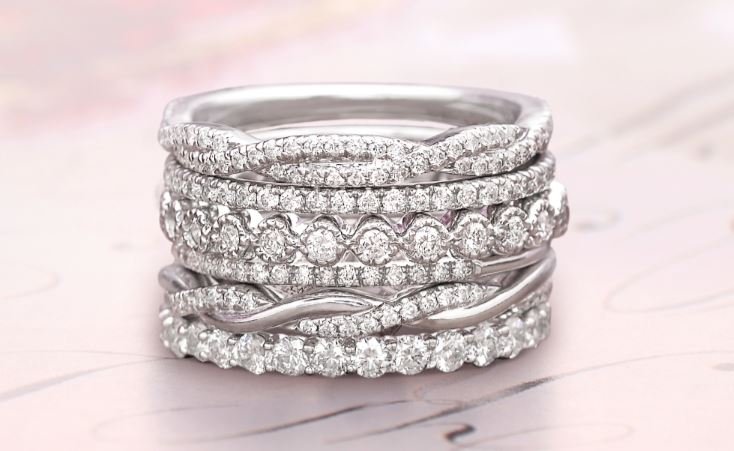 Though you may wish it otherwise, your wedding has a beginning and an end, for it lasts only one magical day. At midnight you take off your glass slippers, your gown, and maybe even your tiara, and you leave the title of bride behind. Your wedding band, however, will be with you forever, and when you catch its sparkle out of the corner of your eye, it should take you back to that amazing day when everything was perfect.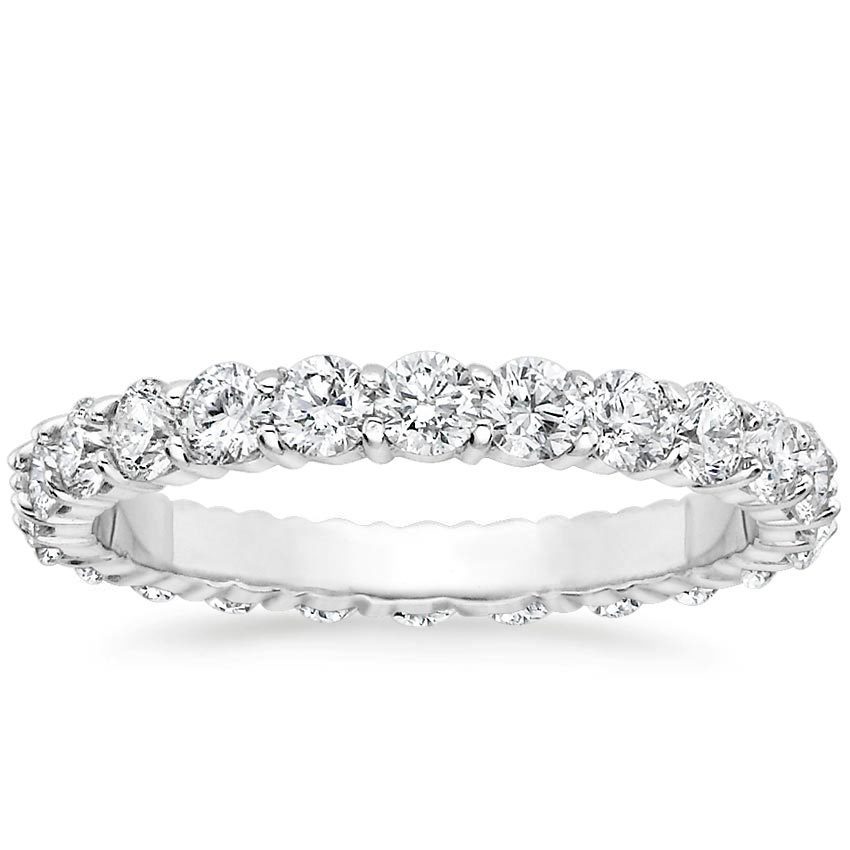 If you adore a wedding ring's inherent symbolism—that you are connected to your partner for as long as you both shall live—you will likely love the meaning behind diamond eternity bands. Diamond eternity bands have no beginning and no end, representing a wonderful wish for the longevity of your relationship.
If you like the symbolism, but you really, really like diamonds, then you will absolutely love diamond eternity bands! An eternity ring features diamonds that completely encircle your finger for an especially dazzling look. Non-eternity diamond bands generally have an adjustment bar in the back that allows for easier resizing, but can also become visible when the ring spins on your finger. This is why many people choose the brilliant beauty and uninterrupted sparkle of diamond eternity bands.
Diamond Eternity Band Settings
The visual appearance of a diamond eternity band is largely dependent on the setting style. Pavé, shared prong, channel, and bezel settings are all exceedingly beautiful choices. Pavé and shared prong settings are dazzling options because they expose more of the diamond surface area, allowing more light to reach the diamond.
Channel set diamond eternity rings have a classic appearance and a beautiful contrast of sparkling diamonds and gleaming precious metal. On the other end of the style spectrum, a modern bezel set ring produces a particularly fun, contemporary look, as the connected bezels create the look of an endless wave.
Eternity Diamond Band Detailing
To add a touch of romantic antique style to your diamond band, consider adding a milgrain border. These delicate beads of precious metal take a ring to the next level of sophistication. Similarly, many eternity rings feature filigree or hand engraved detailing on the sides, increasing the ring's visual interest.
Stacked Diamond Eternity Bands
If you are looking for something lovely and fashion forward, consider stacking multiple rings on one finger. This is a great option if you love contrast and flexibility. You can stack multiple diamond eternity rings, or you can mix diamond eternity bands with sapphire rings or plain precious metal bands. A stunning choice would be to stack prong set eternity rings on either side of a plain band, or one that has flush or bezel set diamonds. To create multiple looks, you can wear all of your rings together, mix up their order, or wear them individually. Your options are as great as your imagination!
Luxe Diamond Eternity Bands
Diamond eternity bands are so glamorous that many women are choosing to wear them as engagement rings. Oftentimes the carat weight of a luxe diamond eternity band is equal to a ring with a traditional center diamond—these bands can be upwards of one and a half carats! Luxe eternity rings are dazzling from every angle, and are a wonderful alternative to a traditional engagement ring.
Custom Diamond Eternity Bands
The best way to find truly unique diamond eternity bands is to create a custom design. If you are looking for a finely crafted custom ring that is both beautiful and ethical, consider working with Brilliant Earth's custom jewelry design team. We have designed thousands of custom rings, including numerous diamond eternity bands! Choosing a custom designed ring will allow your unique vision to come to life.
Here is a list of ways you can customize your eternity ring:
-Mix diamonds with sapphires or other unique colored gemstones
-Add multiple rows of diamonds to create a bolder look
-Use uniquely shaped diamonds, such as oval, princess, or marquise diamonds
-Consider incorporating organic shapes, such as flowers or vines
-If you love the look of one of our non-eternity rings, but have your heart set on an eternity band, we are often able to modify the ring to create an eternity version
-Set diamonds into all three outward facing sides of your ring, creating a three sided diamond eternity band
Final Thoughts
In his novel The Alchemist, Paulo Coelho speaks of eternity, saying, "Life is eternal. We have stopped for a moment to encounter each other, to meet, to love, to share. This is a precious moment." Celebrate this moment and the love that you have found with a stunning diamond eternity band. No matter the setting, size, or shape that you choose, your ring will be a perfect reminder of your wedding day and the long term commitment you have made.
Share with us your favorite diamond eternity band in the comments below, or on our Facebook, Instagram, or Twitter!