Jennifer Lopez's Engagement Ring via Instagram @people
At Brilliant Earth, we're always paying attention to the latest trends in engagement rings, and one that's recently caught our eye (and the eyes of many celebrities!) is emerald cut diamonds.
A sophisticated rectangular shape with geometric facets, emerald diamonds are treasured for their elegant silhouette. With celebrities like Jennifer Lopez, Jennifer Lawrence, Beyoncé, Amal Clooney, and more all wearing emerald cut engagement rings, it is the most sought-after step cut fancy shape.
Emerald Cut Diamonds
Like other square or rectangular shapes, emerald diamonds are known as a step cut diamonds, which offer a different type of appeal from a classic round cut diamond. Step cut diamonds offer exceptional clarity and a distinctive look when set in engagement rings. Instead of the brilliance typically offered by a round diamond, step cut diamonds produce a prismatic reflection which creates a mirrored staircase look – hence the name!
A striking and sophisticated choice, discover some of our favorite celebrity-inspired emerald diamond rings below!
Tapered Baguette Diamond Ring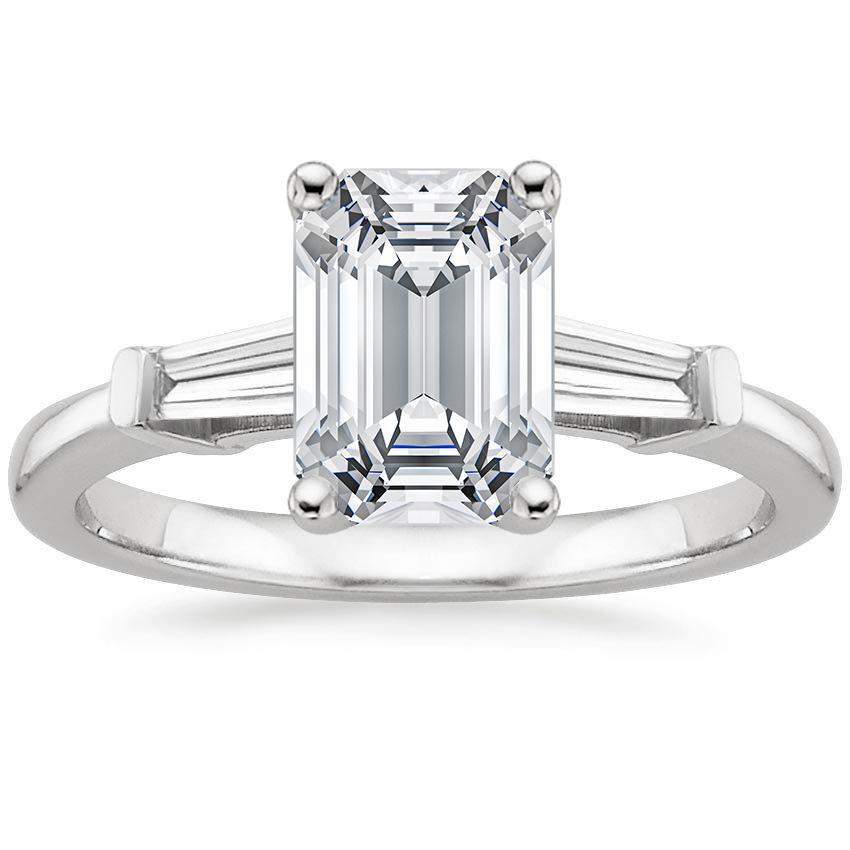 With a delicate band, the Tapered Baguette Diamond Ring evokes the classic beauty epitomized by women like Amal Clooney. Clooney's engagement ring features similar tapered baguette diamonds framing the center emerald diamond.
Horizontal Petite Comfort Fit Ring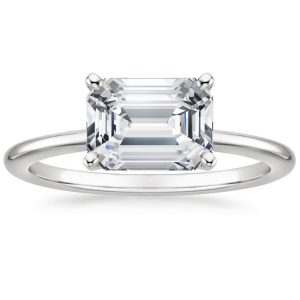 Petite and delicate, the classic Horizontal Petite Comfort Fit Ring features four prongs that cradle a horizontally set emerald cut diamond for a distinct look.
Piper Diamond Ring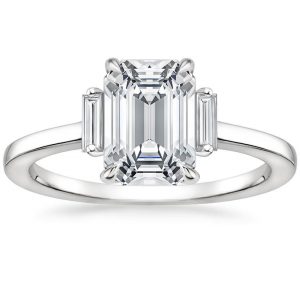 Captivating baguette diamonds are prong-set and vertically aligned in the elegant Piper Diamond Ring, brilliantly complementing the center emerald cut.
Waverly Diamond Ring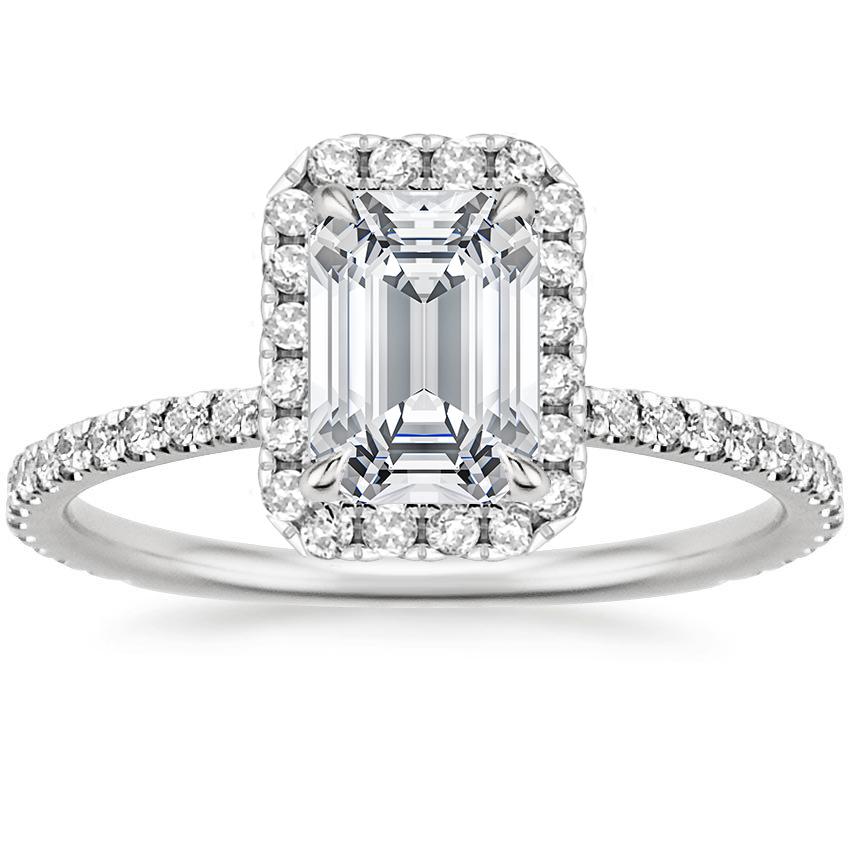 The sparkling Waverly Diamond Ring features beautiful scalloped pavé diamonds that encircle the center diamond and adorn the band. A diamond-encrusted gallery makes this ring truly spectacular.
Elodie Ring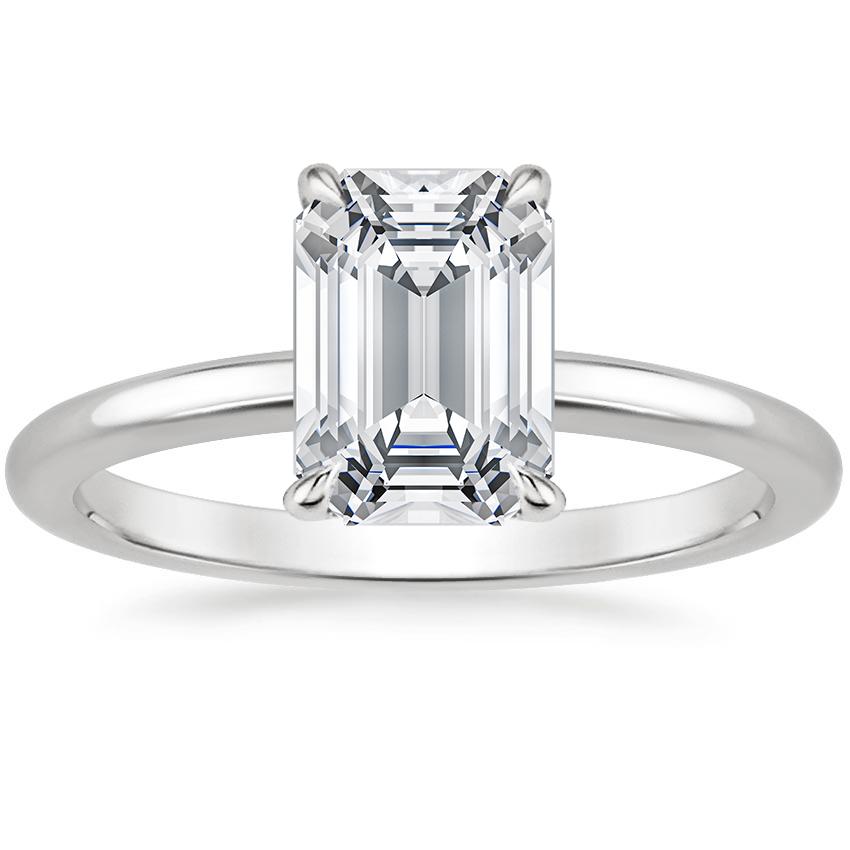 An elegant and timeless solitaire, the Elodie Ring features an open basket with claw prongs that cradle the center gem. The petite band adds to the sleek, classic look of this ring.  Plus, it resembles the new stunner that Jennifer Lopez just received from A-Rod!
Fortuna Diamond Ring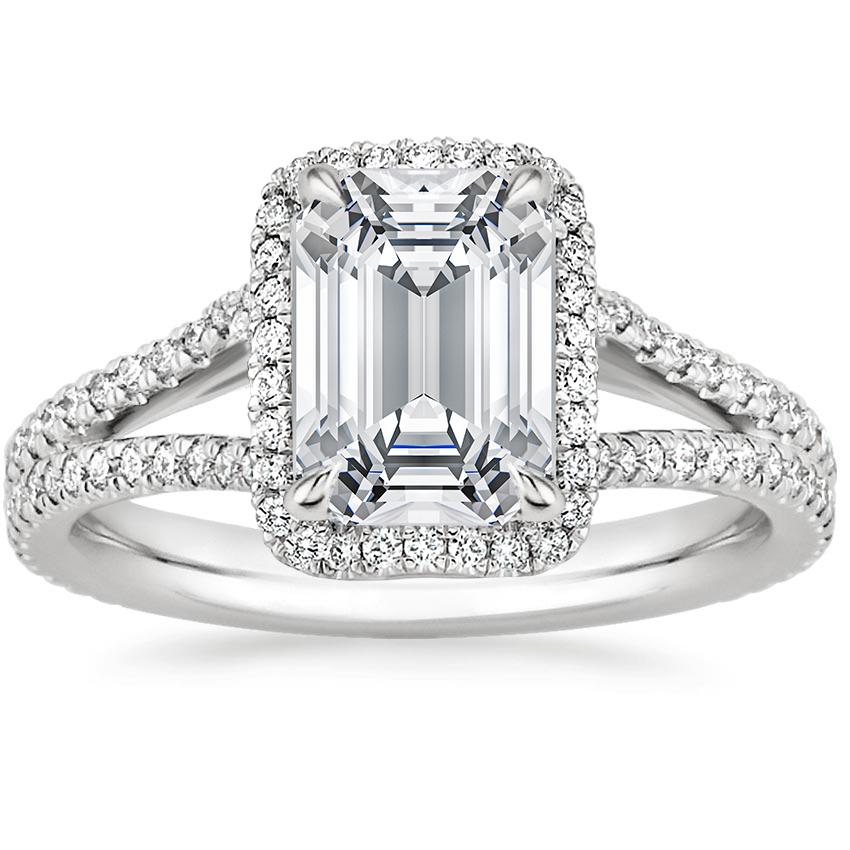 The exceptional Fortuna Diamond Ring features a halo of diamond accents that curve gently around the center diamond for a distinctive look. Two rows of pavé diamonds sparkle on the contemporary split shank band, while a surprise row of diamond accents on the bridge completes this glamorous look. Victoria's Secret model Josephine Skriver rocks a similar style ring!
Horizontal Petite Shared Prong Diamond Ring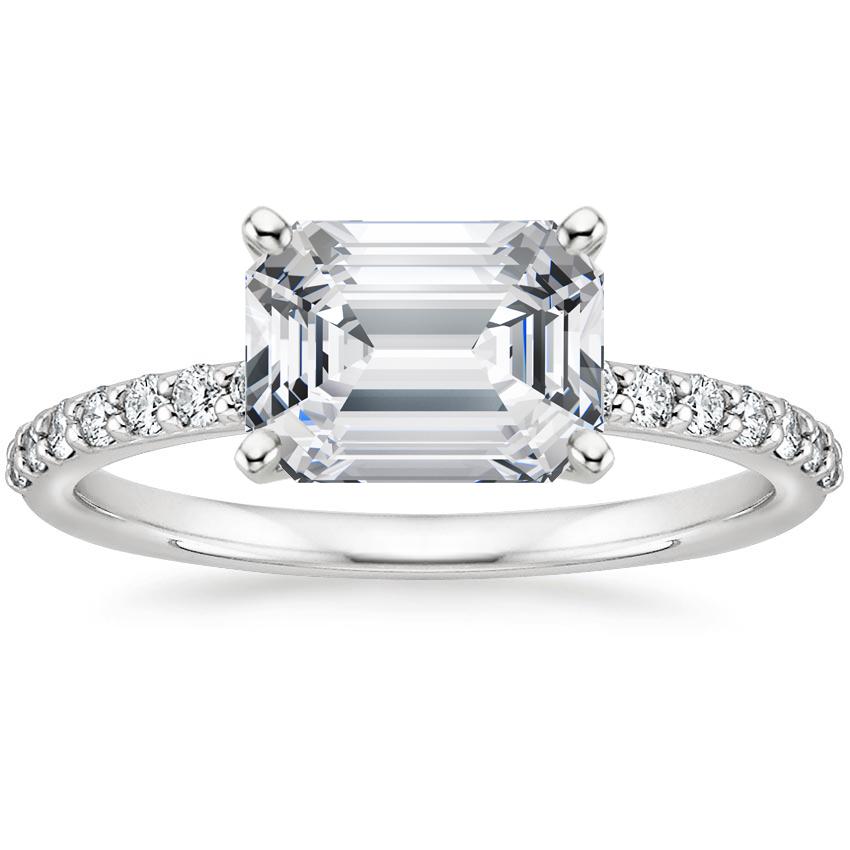 The dainty Horizontal Petite Shared Prong Diamond Ring features sheer sparkle that extends halfway around the ring with a horizontally set center diamond for a striking look.
Ballad Diamond Ring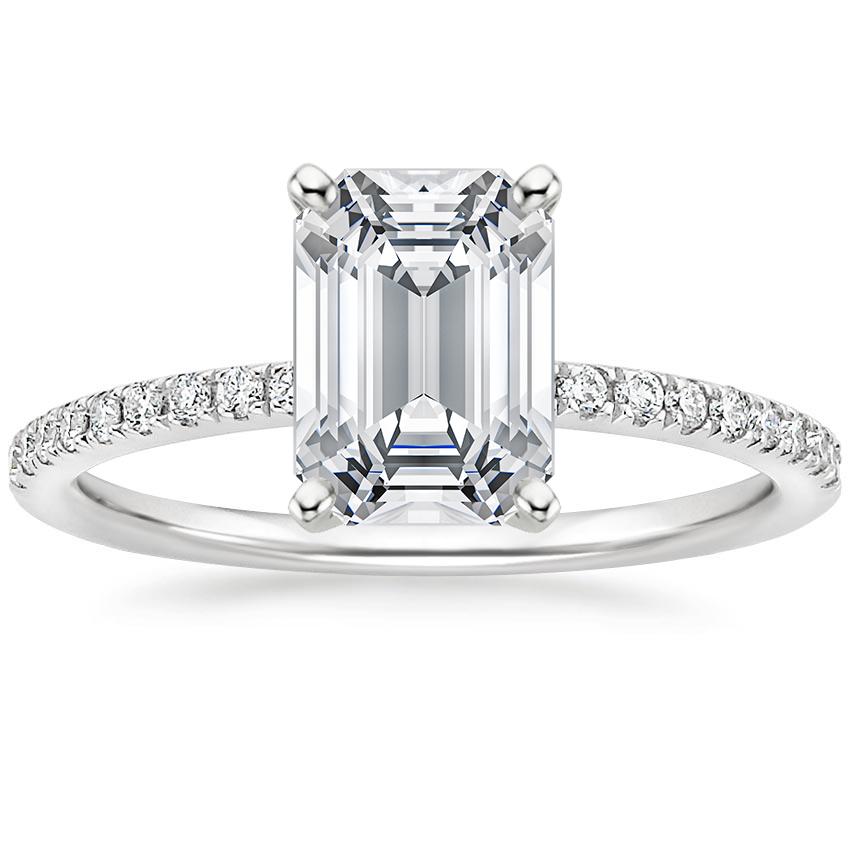 A classic engagement ring, the Ballad Diamond Ring features sparkling scalloped pavé diamonds that extend one half of the way around the ring. The center diamond appears to float above the delicate band.
Reina Diamond Ring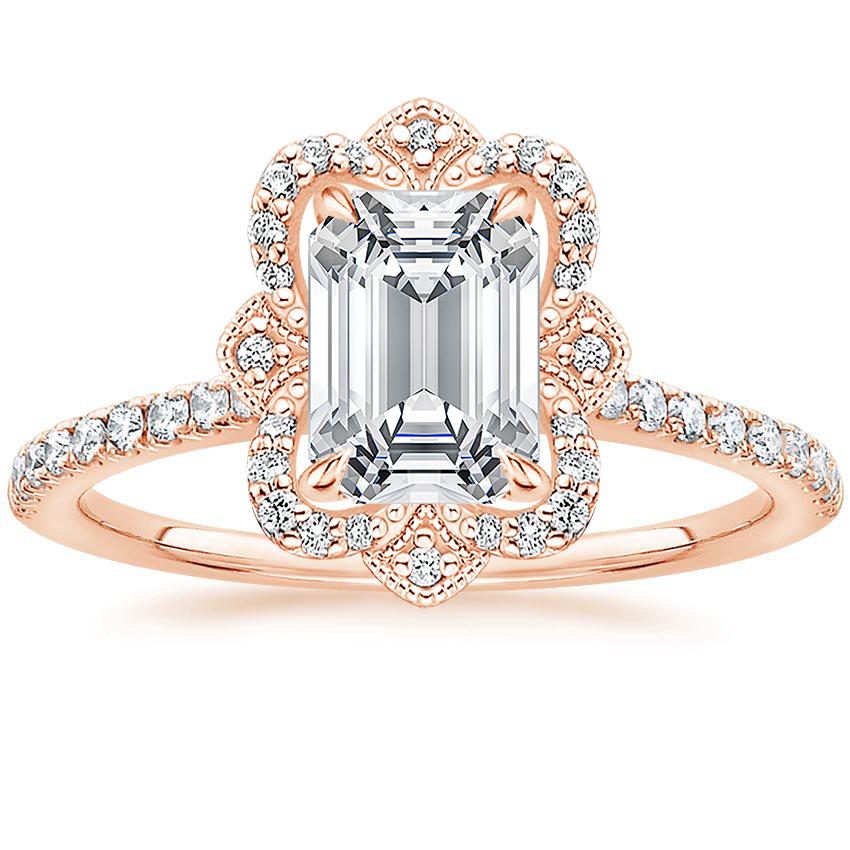 Unique and elegant, a regal halo of diamond accents surrounds a shimmering center emerald cut diamond in the dazzling Reina Diamond Ring.
Provence Diamond Ring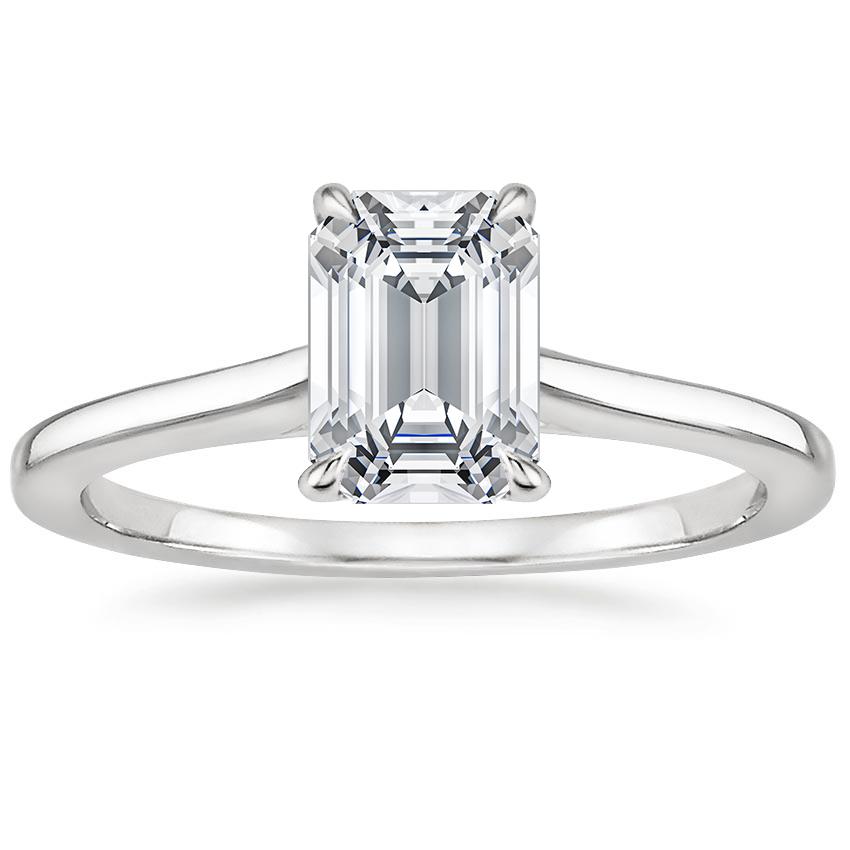 The timeless Provence Diamond Ring features a petite band that sweeps up to embrace the center gemstone in delicate claw prongs. This elegant style resembles the ring Jennifer Lawrence received from beau Cooke Maroney.
Emerald Eternity Diamond Ring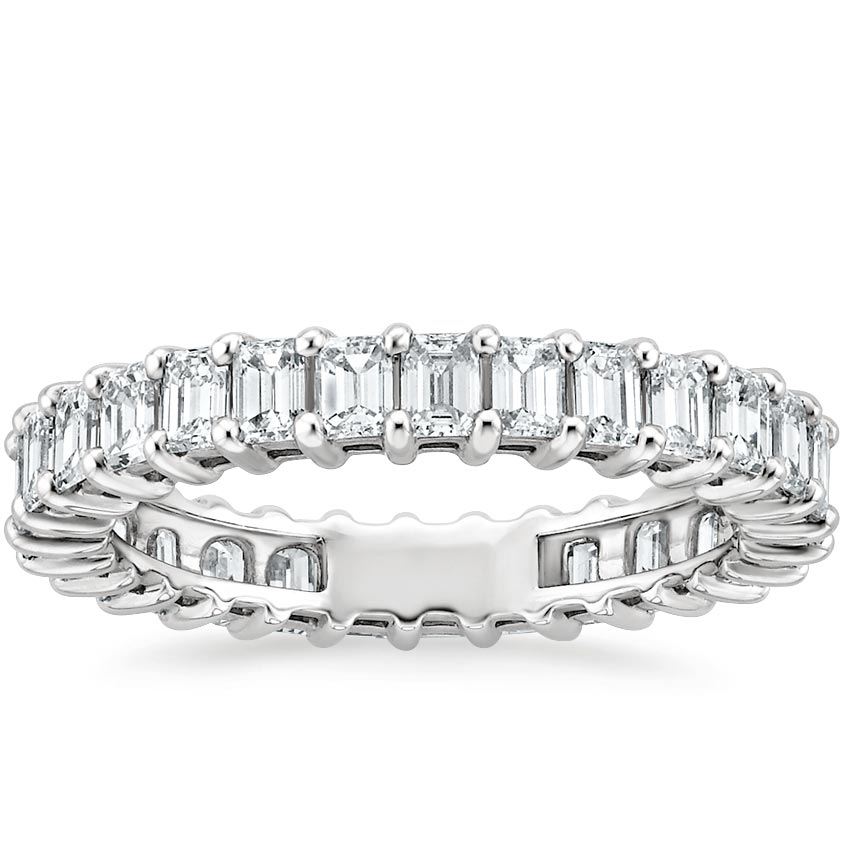 The dazzling Emerald Eternity Diamond Ring features prong-set emerald cut diamonds that encircle the finger for a timeless, eye-catching look. Queen Letizia of Spain wears a style that is similar!
Final Thoughts
Which of these emerald cut engagement rings is your favorite? Let us know on our Instagram, Facebook, Twitter, or in the comments below!