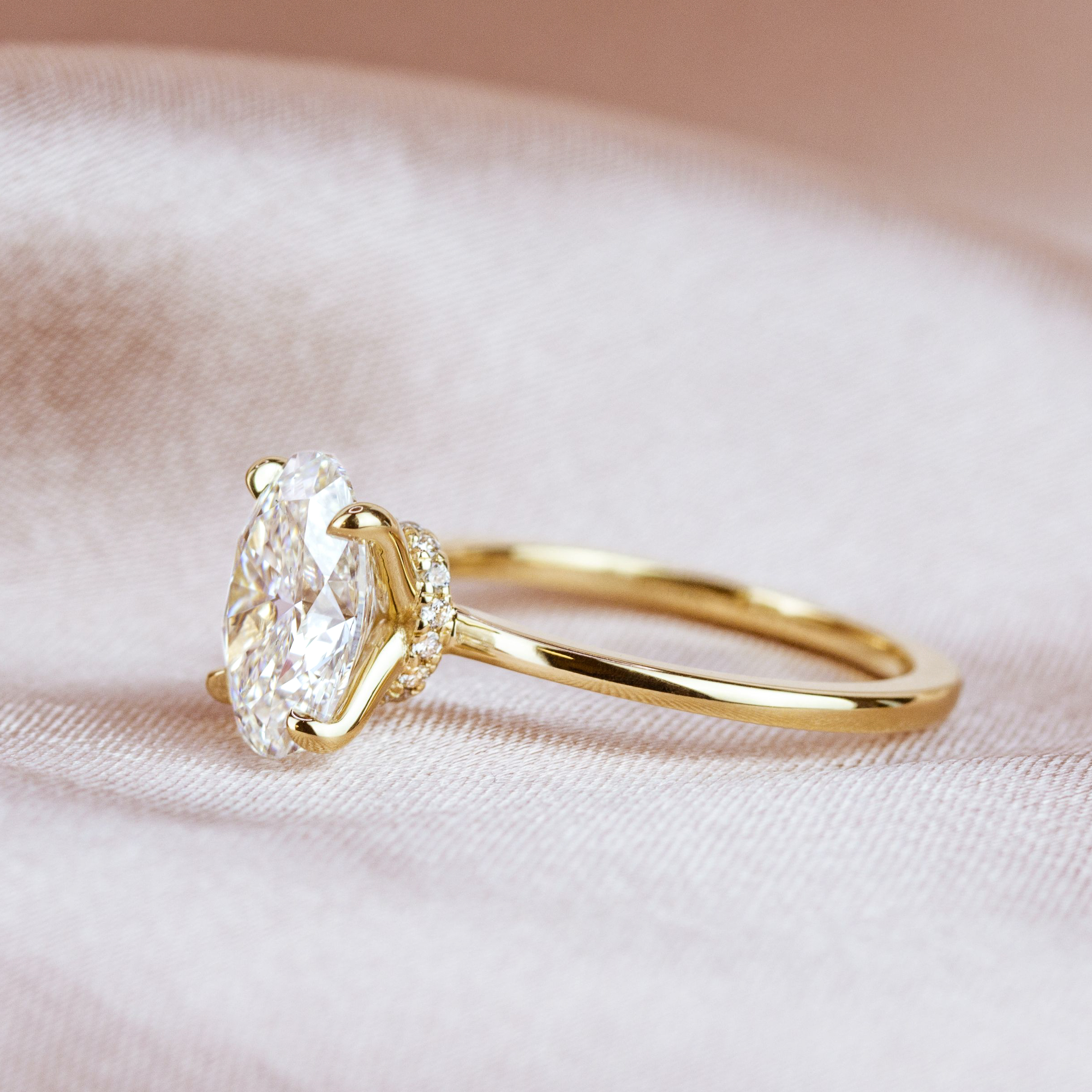 When it comes to predicting the engagement ring styles that will be the most popular in the next year, looking at the engagement rings celebrities are choosing is a great place to start!
In the last few years, we've seen definite trends in the types of engagement rings being sported by celebrities and influencers. Two of the biggest celebrity trends we've seen recently are yellow gold and elongated fancy shaped diamonds – particularly oval diamonds, emerald diamonds, and elongated radiant and cushion cut diamonds. These styles we first saw celebrities choosing have become our customer favorites as well.
Read on to discover some of our other predictions for celebrity engagement ring styles to watch for in 2021.
Surprise Diamond Accents and Dainty Bands
Engagement rings with petite bands featuring dainty pavé diamonds and surprise diamond accents are on trend for 2021. Supermodel Kate Bock was recently surprised with an engagement ring featuring a dainty band adorned with diamond accents, and Jourdan Dunn also received a stunning ring with unique diamond details. Surprise diamond details like hidden halos and diamonds on the gallery and prongs are expected to remain popular through 2021 and beyond.
Off-Set Center Stones
The most famous off-set engagement ring in the past year is Ariana Grande's unique engagement ring, which features a large oval diamond and pearl. Her brilliant oval diamond asymmetrically sits next to the delicate pearl on a simple and sleek band. Model and actress Emily Ratajkowski's diamond ring also features off-set fancy shaped diamonds – a large pear and princess cut diamond set next to each other on a thick gold band. We expect more taste makers and celebrities to be choosing asymmetrical and off-set styles in the future.
Beautiful Bezel Settings
Bezel settings are one of the most secure ring settings because the center gem is held in place by a ribbon of precious metal instead of individual prongs. The security of this type of ring made it the perfect choice for tennis star Maria Sharapova, who received a beautiful bezel set engagement ring this year. Her simple yellow gold solitaire featured a stunning bezel set emerald cut diamond. Lily Collin's rose cut diamond also came in a gold bezel setting that highlighted the unique beauty and old world charm of her center gem.
Specific types of bezel set rings like signet rings are also rising in popularity, and we anticipate more bezel set celebrity rings in the year to come.
Unique Gemstones
In the past few years, we've seen more and more celebrities opt for colored diamonds or gemstones for their engagement rings. Emeralds in particular are trending: celebrity chef Alex Guarnaschelli received a stunning deep green emerald in a three stone setting, Marvel star Elizabeth Olsen sports a gorgeous emerald in a halo setting, and comedian Jenny Slate also wears a beautiful vintage inspired halo emerald ring. Pearls are also starting to show up in celebrity rings like Ariana Grande's diamond and pearl two stone ring and Emma Stone's pearl and diamond halo ring. Of course, pink and blue gems like Blake Lively's pink oval diamond on a pavé band and Kate Middleton's iconic sapphire halo ring continue to be popular choices.
Three Stone Engagement Rings
Modern updates to the classic three stone engagement ring are definitely having a moment, but this style has been beloved by celebrities for decades. Styles similar to Grace Kelly's gorgeous emerald cut three stone ring with tapered baguette diamond accents have recently graced the hands of Demi Lovato and Amanda Bynes. Former Bachelor contestant Vanessa Grimaldi received a stunning yellow gold three stone ring set with an oval center diamond from her fiancé Josh Wolfe. Her beautiful ring embodies three extremely popular engagement ring trends: yellow gold, elongated fancy shaped diamonds, and dainty three stone settings. Both Priyanka Chopra and Meghan Markle wore unique three stone rings set with cushion diamonds for their spectacular weddings, and Australian model Jessica Hart recently received a contemporary update to the classic three stone ring featuring three large oval diamonds set on a wide yellow gold band.
These romantic and beautiful rings are here to stay, and are a look we expect more celebrities to receive in the next year.
Final Thoughts
Which trending celebrity engagement ring style do you love the most? Let us know in the comments below or on our Facebook, Twitter, or Instagram!