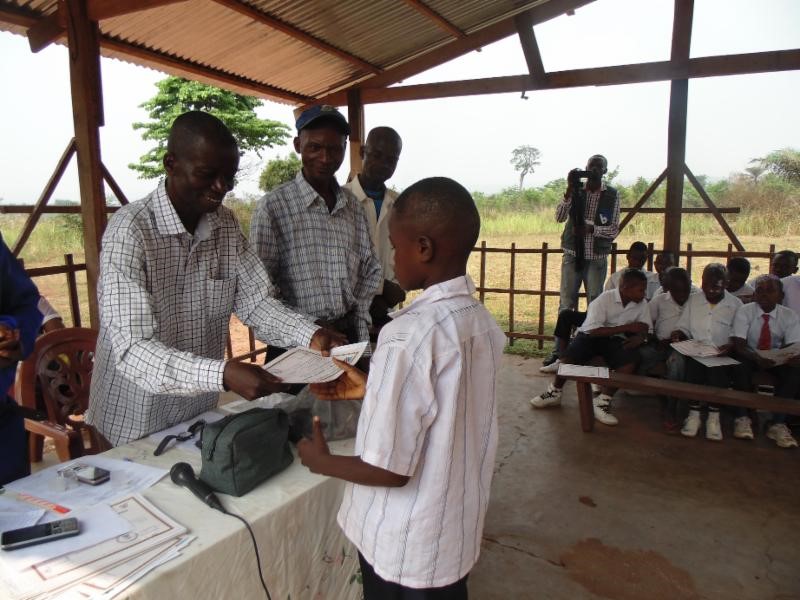 Fall 2018 Update: We're thrilled to extend our partnership with the Diamond Development Initiative and support our Brilliant Mobile School students in their second year of high school.
November 28, 2017:
The students of a primary school we co-founded in the Democratic Republic of Congo (DRC) continue on their quest for high school diplomas!
In 2015, Brilliant Earth partnered with Diamond Development Initiative (DDI) to launch the Brilliant Mobile School in Lungudi, a diamond-mining village in the DRC. Every child has the right to an education, but in many mining communities there are no local schools.  Many of the students attending would otherwise be forced to mine for diamonds and receive no formal education.
We were able to accept about 20 children into the initial class of students, and a second cohort of 20 students in the 2016 school term. Because there was previously no primary school in the village, most of the children had little to no formal education. The curriculum was designed to help the students catch up to their peers in the public school system and eventually attend a regional secondary school.
We were thrilled with the results: the village embraced the school. The students worked hard, studying French, math, civics, and other subjects. Parents supported their children's education and attendance was consistently high. The students began their studies in a temporary tent. But with a land donation from a local chief and Brilliant Earth funding, a more permanent structure was also built in 2016.
This past spring, after two years of study, the children sat for a national exam. Each child would need a passing score to enter high school. We were thrilled that 100% of the students passed their entrance exams to continue their education.
The students are now in the Seventh Grade, which is the first year of high school, or secondary school, in the DRC. The new goal is for these students to graduate with a high school diploma. We've again partnered with DDI to support the students during their high school journey.
Brilliant Earth funding will be used to pay for school fees, school supplies, and a daily meal. Students will each get a school uniform, boots, a raincoat, and other necessary clothing. They'll also receive tutoring in academic subjects and sex education training to reduce the risk of unintended pregnancies. Local civil society groups will monitor each student's attendance and performance. The monitors will hold monthly meetings with parents and keep in contact with teachers.
Only 54 percent of children in the DRC finish primary school. In rural areas of the DRC, graduating high school is an unusual educational achievement. But with support and perseverance, we know these students can do it. They've already made us proud of their achievements. We can't wait for graduation day!