A diamond-mining village in the Democratic Republic of Congo (DRC) has a new source of clean water, thanks to the generosity of the Brilliant Earth community.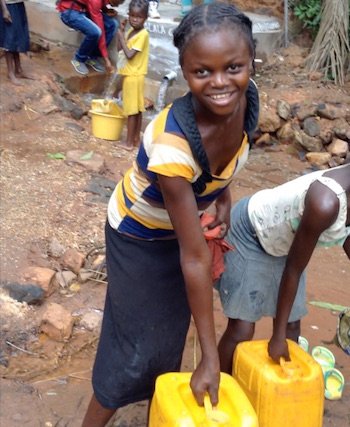 A Brilliant Earth fundraising drive raised enough money to build and maintain two new wells in the community of Lungudi, in southwestern DRC. We're pleased to announce that one of those wells has opened, bringing important health and safety benefits to local residents. When both wells are open, they will serve about 3,000 people.
We've gotten to know the community of Lungudi because Brilliant Earth has provided funding to start a primary school in the village. The school is part of a pilot program that aims to prevent child labor in diamond mining, and build a better future in mining communities, through education.
When our partner, the Diamond Development Initiative, opened the school, residents expressed that one of their most urgent needs was clean water. We decided to launch a Crowdrise campaign that would harness the enthusiasm of our team members and others in the Brilliant Earth community.  The response was amazing. With matching donations from Brilliant Earth, we quickly surpassed our goal of raising $10,000. That allowed work to begin on the wells—and now one well is operating.
The new wells will make a big difference in the lives of the people of Lungudi. Lack of clean water and sanitation can cause typhoid, cholera, polio, hepatitis, and other serious illnesses. Together with latrines that Brilliant Earth opened next to the school, the wells will improve public health. The convenience of the wells will also improve the security of women and girls who are responsible for fetching water. These benefits should last for years. The "spring box" design chosen for the wells makes them difficult to contaminate and easy to maintain.
One of the best ways to appreciate the importance of clean water to Lungudi is to see how local residents have greeted the well. See more in the video below.