When you're looking for an engagement ring, it's a good idea to keep in mind how it will pair with your wedding ring.
There are many ways you can wear your wedding jewelry, but most brides love to wear their rings together on the ring finger of the left hand in a beautiful bridal set.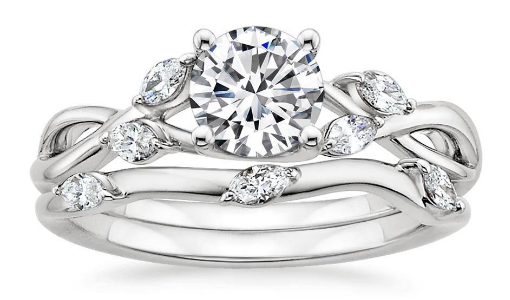 A wedding ring set can be comprised of matching engagement and wedding rings, or it can be two differently styled yet complementary pieces. Some stunning bridal sets contain striking contrast; for example, a glamorous engagement ring with a glittering diamond halo paired with a simple precious metal band.
Brilliant Earth offers a variety of gorgeous bridal sets—from classic to contemporary to vintage and beyond—in both matching and complementary styles. For inspiration, explore yellow gold bridal sets, rose gold bridal sets, white gold bridal sets, and platinum bridal sets.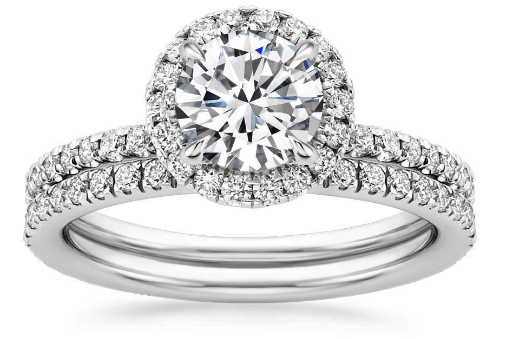 Matching Bridal Sets
Many brides and grooms love a bridal set that matches perfectly in every respect. In these pairings, the engagement ring and wedding ring contain all the same details—precious metal, diamond or gemstone accents and placement on the band, as well as overall width and height. These matching bridal sets will often sit "flush," with no gap when worn together on the same finger. Matched bridal sets are appealing in their symmetry and seamlessness and are a classic, timeless choice.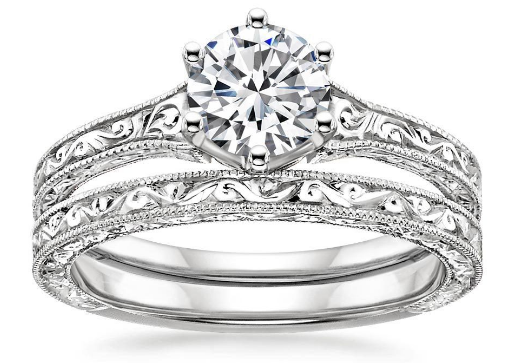 Complementary Bridal Sets
Bridal sets that are complementary rather than perfectly matched are special in the way the engagement and wedding rings play off of one another for an alluring effect. Bridal sets that feature coordinating details are ideally balanced for an eye-catching appeal. Even if some other details vary, it is a good idea to match the precious metal type and finish (high polish or matte, for example) when selecting a coordinating bridal set so that both the engagement and wedding rings wear in the same way over time.  We also recommend keeping the overall aesthetic of the two rings matching, so that there is a cohesive look.
For more details on coordinating your wedding ring with your engagement ring selection, take a look at our Wedding Ring Guide.
Contoured Wedding Bands
If you're taken with the idea of a perfectly matched bridal set and considering an engagement ring with unique curves in the band, you may want to consider a contoured wedding band for your bridal set. Contoured wedding bands—sometimes called "shadow bands"—contain a gentle curve to accommodate a larger center gemstone in the engagement ring, or the design of the ring itself. This subtle contouring allows the engagement and wedding rings to align beautifully and sit flush. These contoured bridal sets are stunning and can have a classic or contemporary look and feel, depending on your preferences and selections.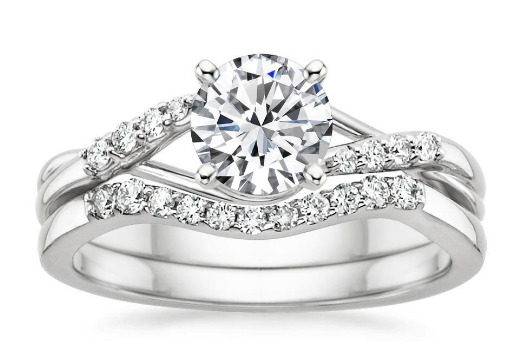 Other Considerations for Bridal Sets
There is so much you can do to create a personal and beautiful bridal set. Here are some additional ideas.
Add Color
If you want to amplify the uniqueness of your set, consider adding colored gemstones, such as rich blue sapphires, to your rings. Brilliant earth offers matching or complementary bridal sets for our collection of sapphire engagement rings.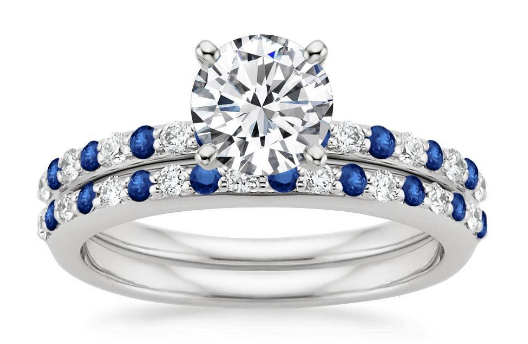 Customize
If you have specific ideas and inspirations from different styles of engagement and wedding rings you've seen, consider a custom designed bridal set. The Brilliant Earth custom jewelry design team will work with you to make your vision a reality, and the end result will be a bridal set that you helped create!
Seek Guidance
If you are looking for a truly distinctive bridal set that does not seem to fall neatly in either the "perfectly matched" or "complementary" category, please ask for help! Our jewelry experts can show you options you might never have considered and would love to help you select an extraordinary bridal set that exceeds your expectations.