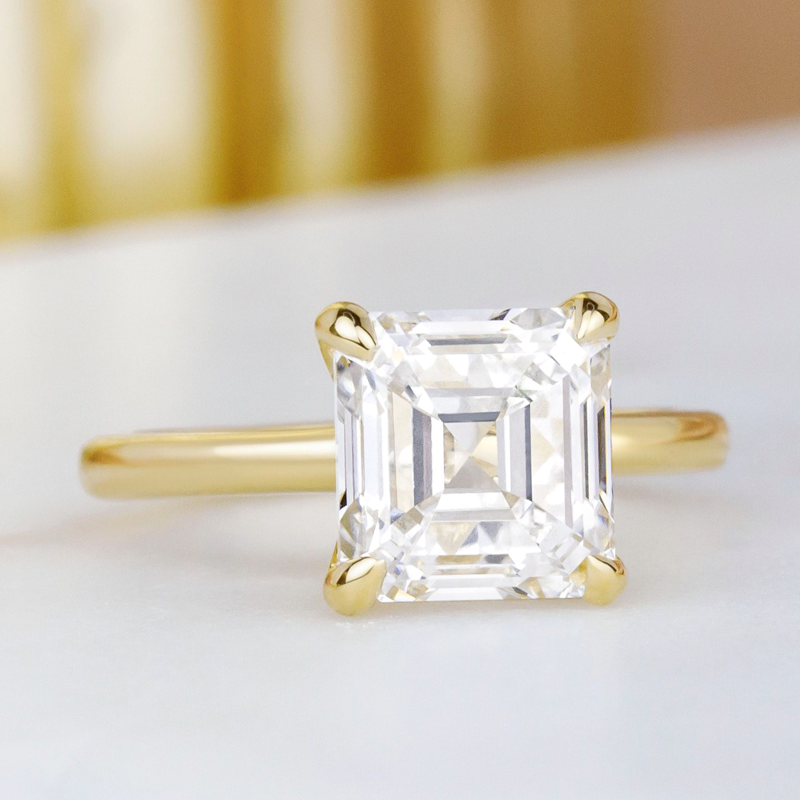 Strikingly beautiful, asscher cut diamonds offer the sensational shimmer of the emerald cut in a chic square shape.
Asscher cut gemstones gained popularity in the 1920s for their sleek geometric appearance and can be found in many engagement rings from the Art Deco era. Asscher cut diamonds create a timeless look in contemporary settings, perfect for today's bride.
What is An Asscher Cut Diamond?
Asscher cut diamonds are known as step cut diamonds. This cut offers a different type of beauty from a classic round cut diamond, offering exceptional clarity and a distinctive look when set in fine jewelry. Although similar in appearance to emerald cuts, they differ in both shape and cut.
Asscher Cut Diamonds vs. Emerald Cut Diamonds
Step cut diamonds are either found in square or rectangular shapes, like asscher and emerald cuts, and their facets are rectilinear (made up of straight lines). This cut's long, narrow facets produce a prismatic reflection as opposed to brilliance, evoking a house of mirrors or a staircase look—hence their name!
The most obvious difference between the two cuts is shape, asscher cut diamonds are square while emerald cuts are rectangular. The two stones are also cut differently. Emerald cuts have wider, more open tables than asschers. Asscher cut diamonds have more facets—this creates the "x" pattern seen when viewing an asscher from the top down.
Asscher Cut Engagement Rings
Once you've selected the right stone, the perfect asscher cut engagement rings look best in a setting that highlights their unique shape and beauty. Pavé bands with diamonds that wrap half of the way around the band are the most popular choice for an asscher cut engagement ring, but the options are limitless – choose an engagement ring setting that fits you and your partner's style and reflects the uniqueness of your love story.
Waverly Halo Diamond Engagement Ring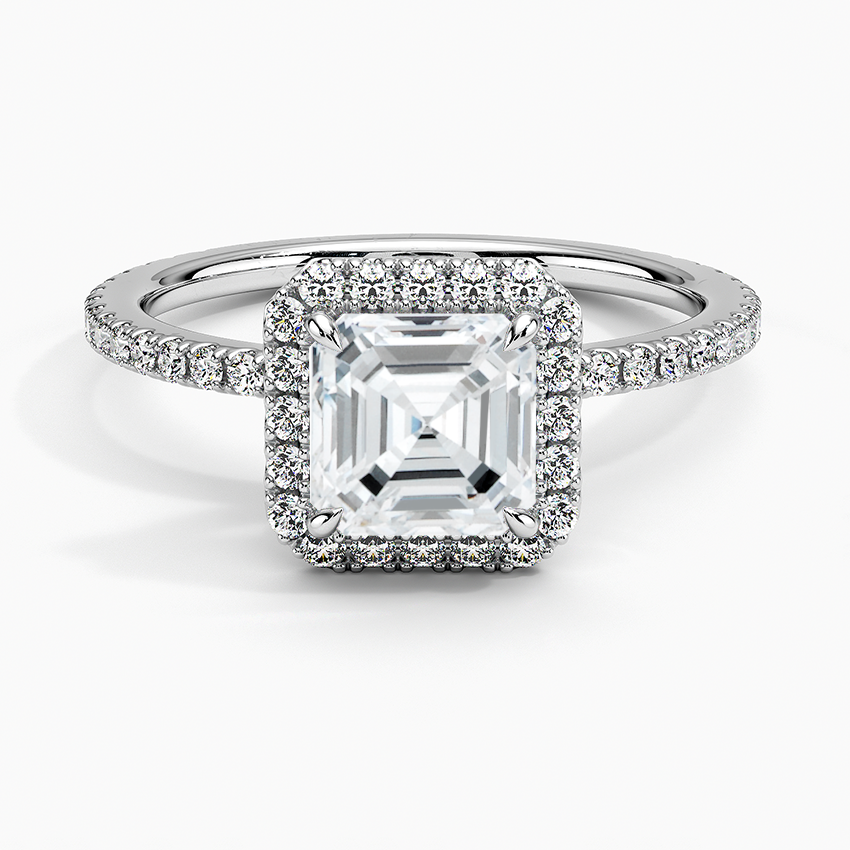 This sparkling halo setting features beautiful scalloped pavé diamonds that encircle the center gem and adorn the band. A diamond-encrusted gallery makes this ring truly spectacular.
Nouveau Diamond Engagement Ring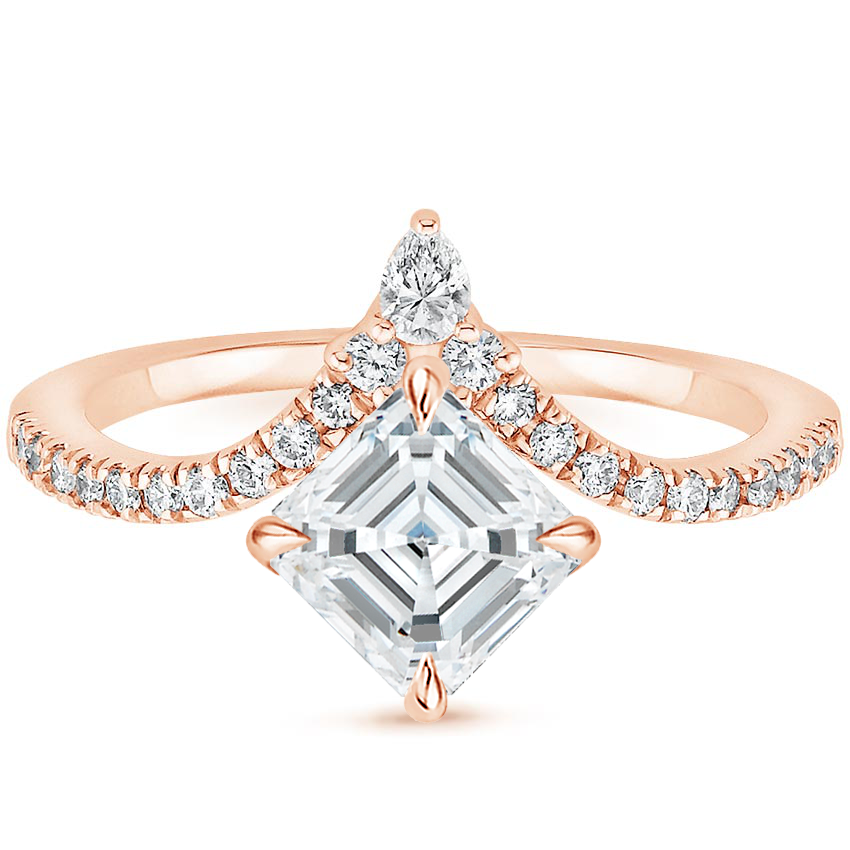 This exquisite ring features shimmering pavé diamonds that form a chevron-shaped band above the center gemstone. Claw prongs gracefully support the center gem beneath the band, creating an artistic look reminiscent of the Art Nouveau era.
Luna Bezel Engagement Ring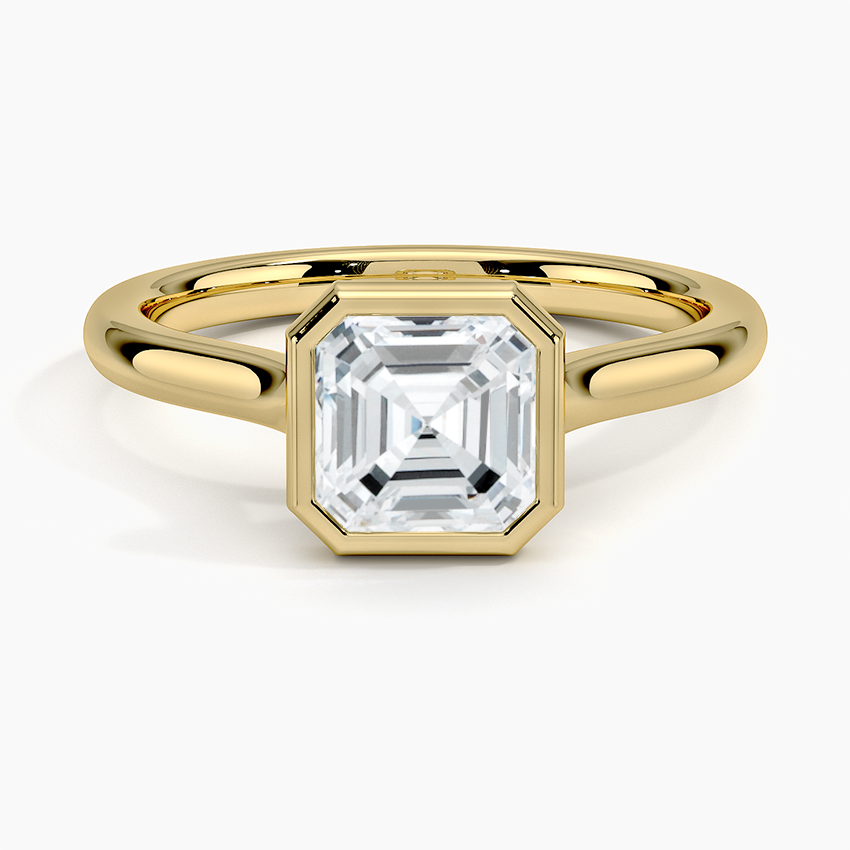 This beautiful, modern ring features a bezel-set center gem with a sleek band for a contemporary look. The elevated bezel allows for maximum light play and accommodates a variety of wedding band styles to tuck underneath.
Fiona Double Band Diamond Engagement Ring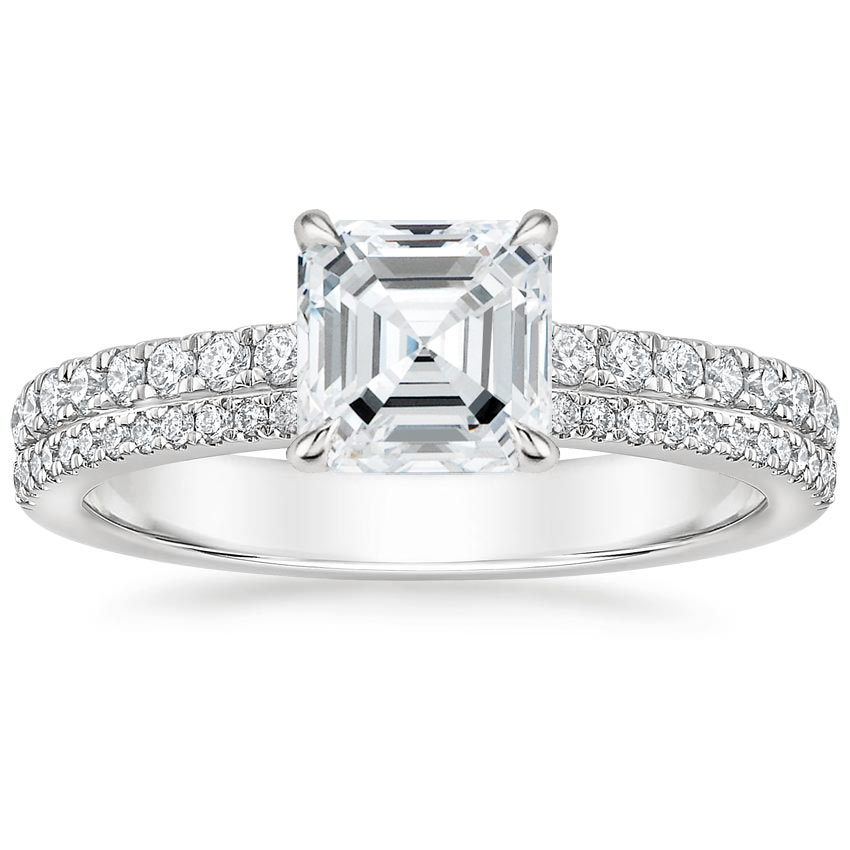 One strand of diamonds rests gracefully atop another strand of slightly smaller diamonds in this unique, trend-forward ring. Bead prongs secure the center gemstone in lustrous light to complete this eye-catching look.
Lena Diamond Engagement Ring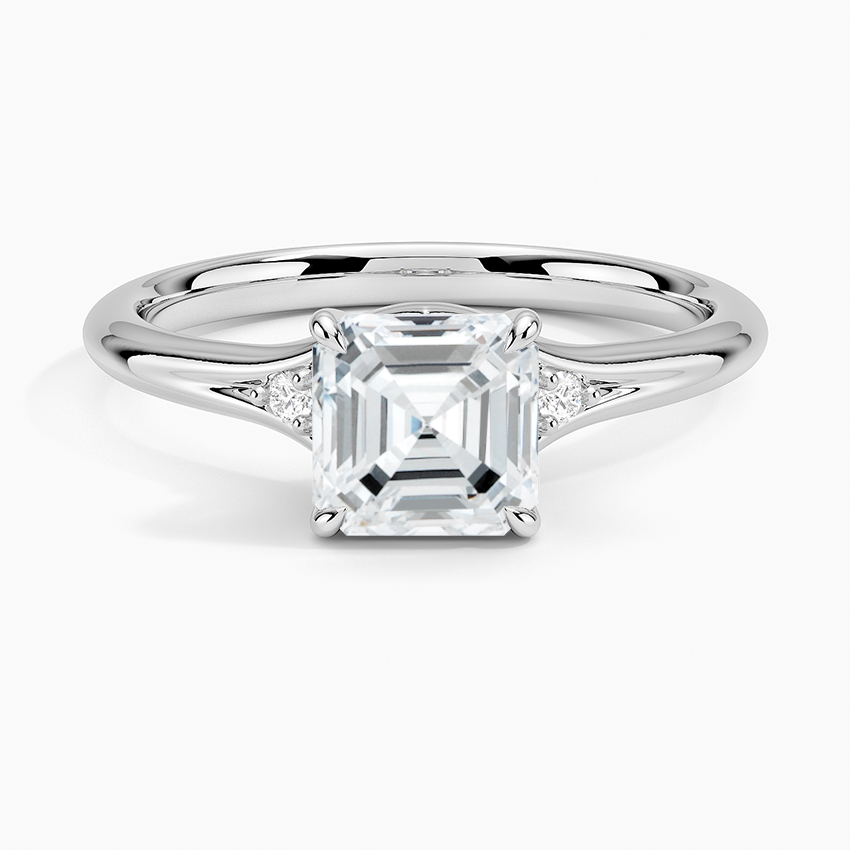 At once feminine and contemporary, this ring divides into graceful ribbons of precious metal that intertwine and embrace the center gemstone, securing it with claw prongs. Two glittering accent diamonds are nestled between strands of metal for a sophisticated and sparkling look.
Reina Halo Diamond Engagement Ring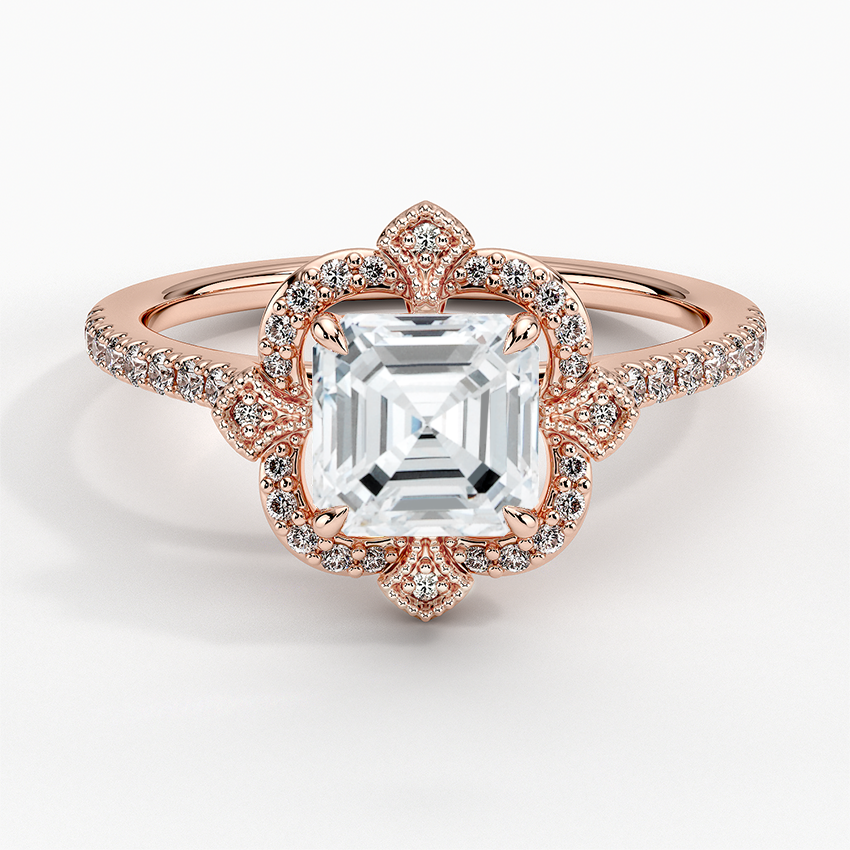 A regal halo of diamond accents surrounds a shimmering center gem in this dazzling ring for a distinctive and elegant look.
Dominique Diamond Engagement Ring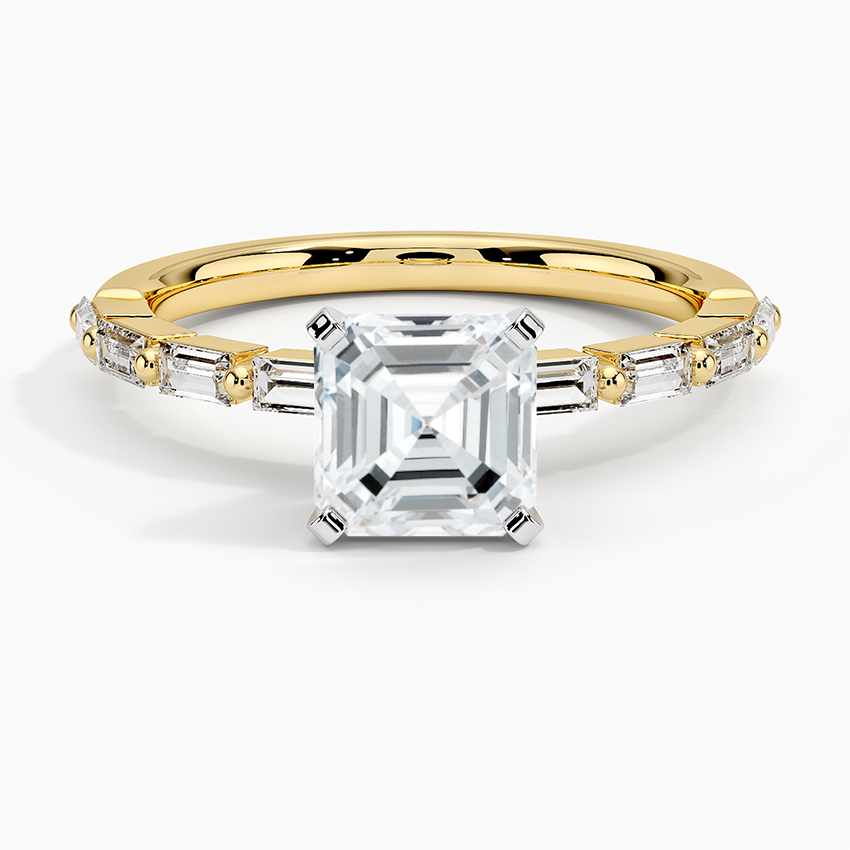 Shining baguette-shaped diamonds wrap half of the way around the band of this setting for a trendy yet classic look.
Faye Baguette Diamond Engagement Ring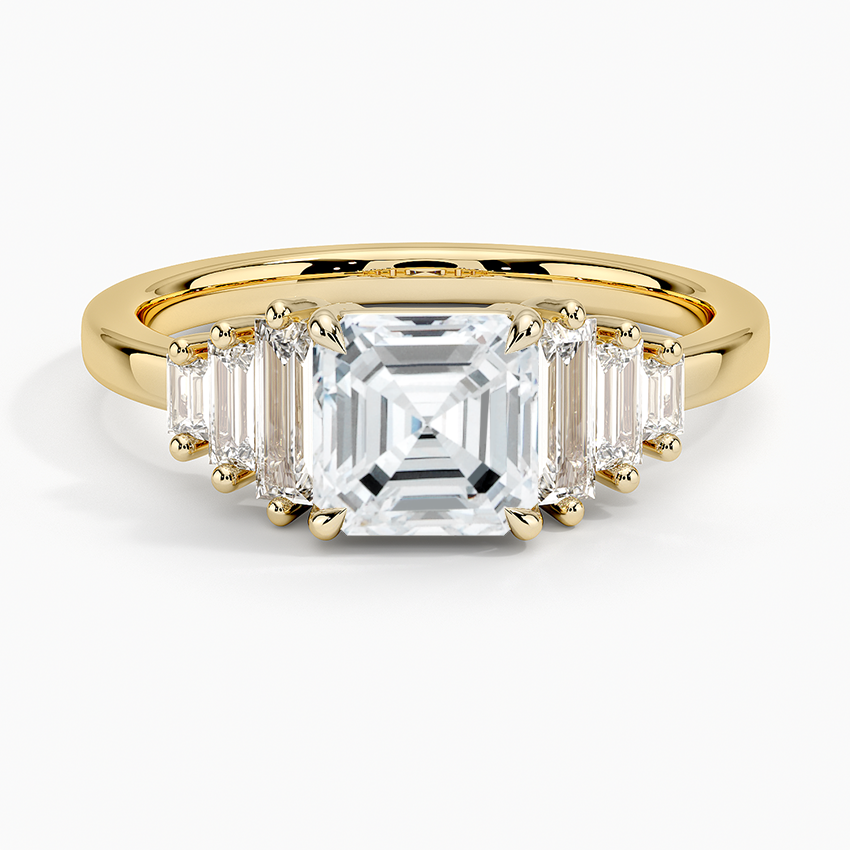 Three graduated baguette diamonds rest at either side of the center stone in this classic, timeless ring with a modern silhouette.
Sincelo Diamond Engagement Ring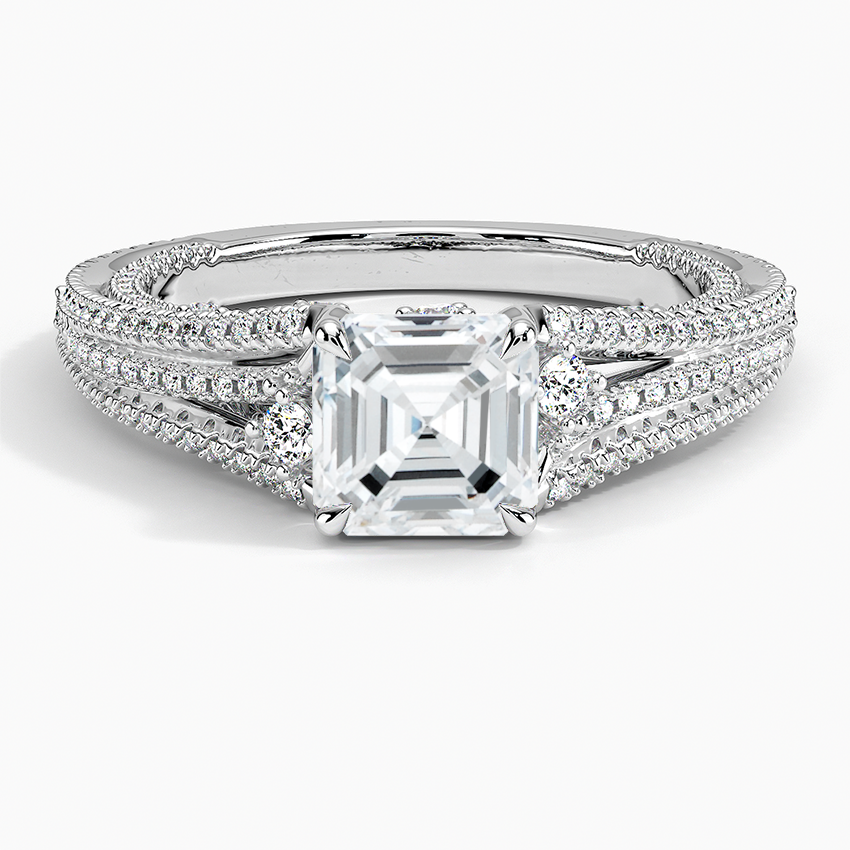 Undeniably glamorous, this ring combines weaving strands of diamond-accented precious metal and chic negative space for a spectacular look. Classic claw prongs secure the center gemstone for a hint of sophistication.
Sinclair Art Deco Diamond Engagement Ring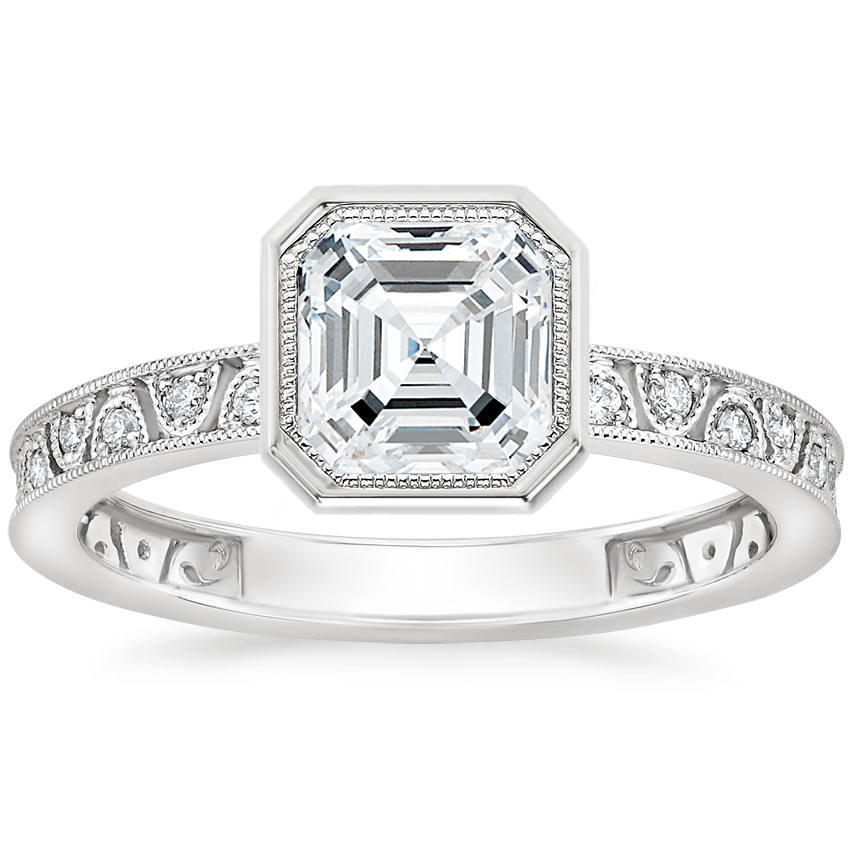 Shimmering diamonds rest at the center of trillion shapes formed by hand engraved details and milgrain accents in this Art Deco-inspired ring. A bezel cradles the center stone to complete the vintage look.
North Star Solitaire Engagement Ring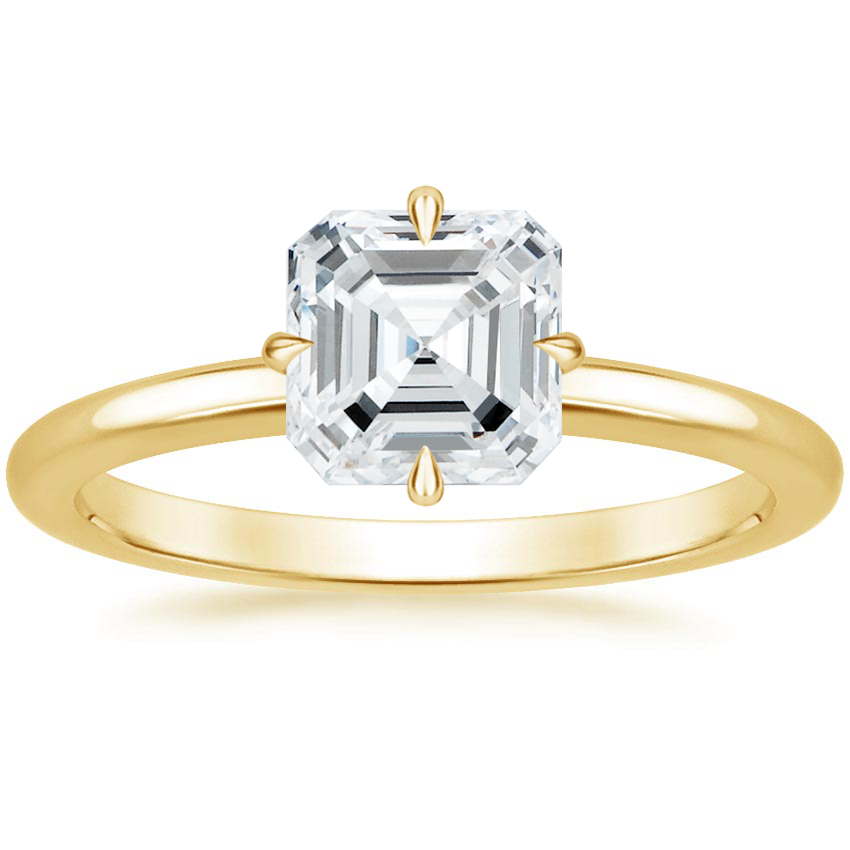 This sleek, timeless ring delicately cradles a beautiful center gemstone within four compass-point claw prongs. The open basket and petite band add elegance to the classic solitaire setting.
Mezzanine Diamond Engagement Ring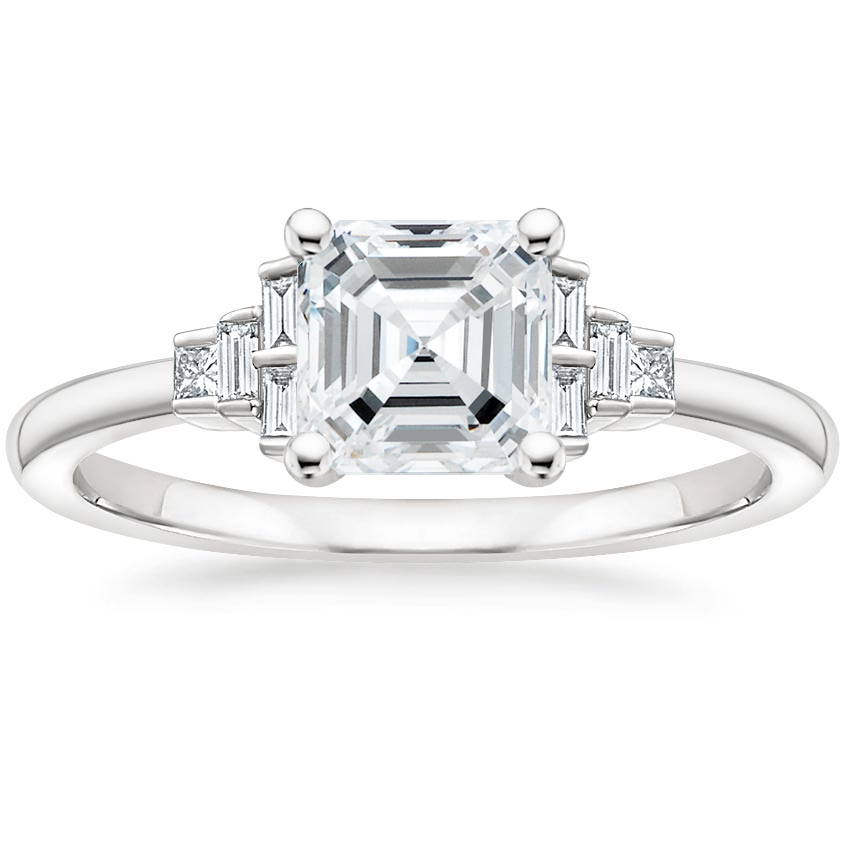 Glimmering baguette diamonds stack atop and around one another in this unique ring, forming a layered look that brilliantly sparkles. A simple, lustrous band balances the uniqueness of the design with a clean, elegant finish.
Quinn Three Stone Diamond Engagement Ring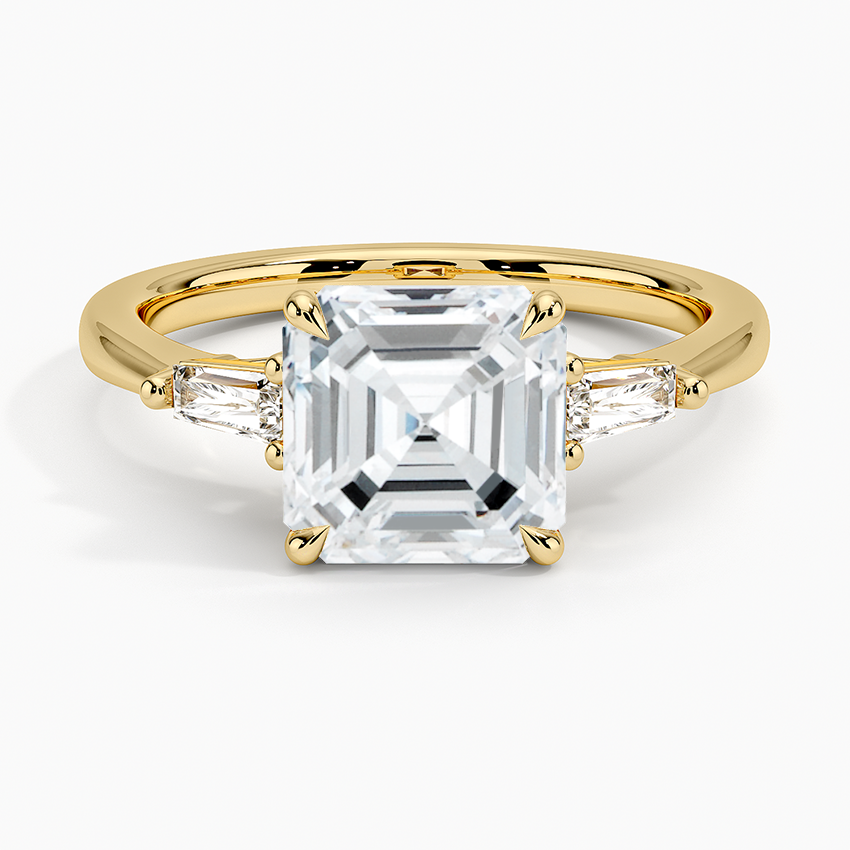 Captivating tapered baguette diamonds are prong set in this elegant ring, brilliantly framing the center gem. With a delicate band, this ring evokes classic beauty.
Soleil Halo Diamond Engagement Ring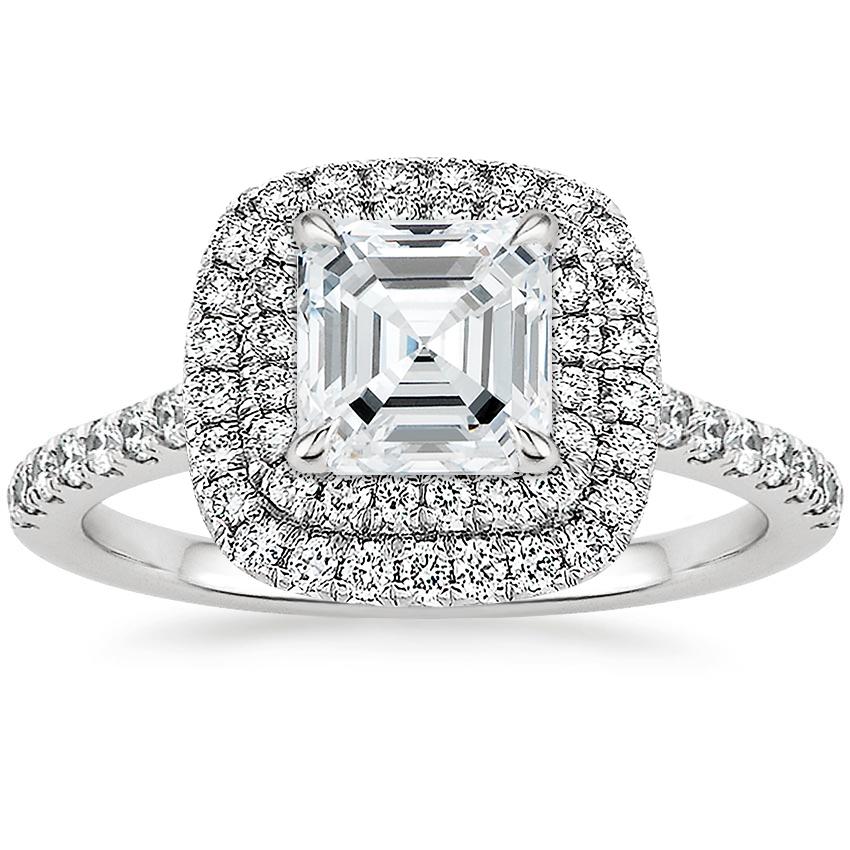 This sparkling setting features a double halo of beautiful scalloped pavé diamonds that encircle the center gem and adorn the band. A diamond-encrusted gallery makes this ring truly spectacular.
Lissome Diamond Engagement Ring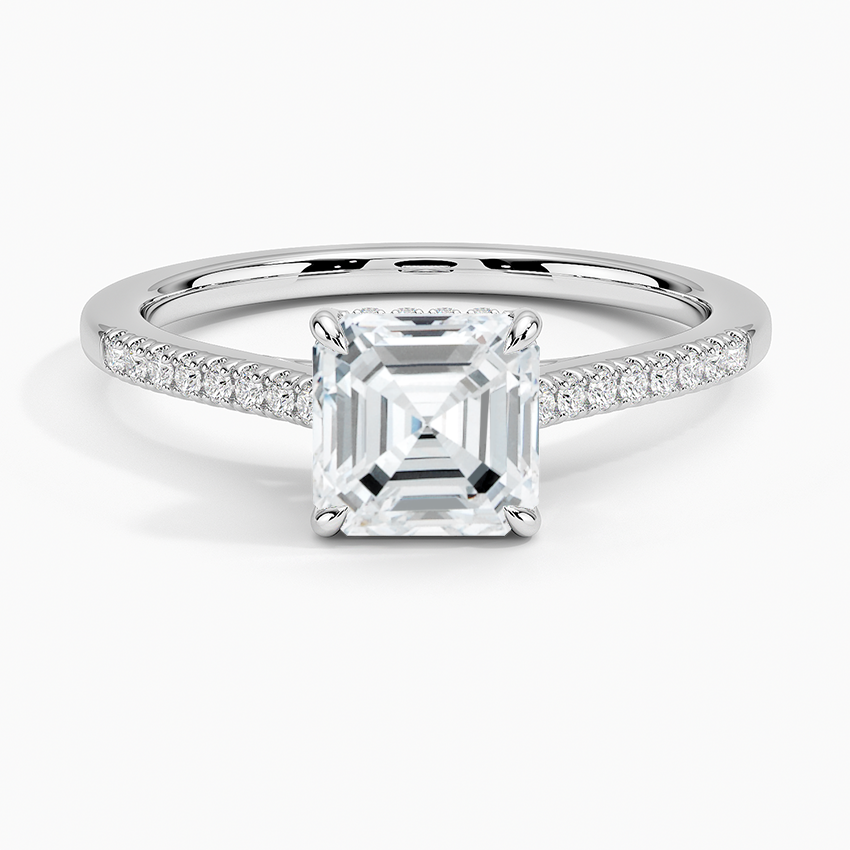 Scalloped pavé diamonds embellish the top of the band and gallery in this classically beautiful engagement ring. The shoulders rise to a cathedral setting and showcase a center gemstone secured by chic claw prongs.
Final Thoughts
Do you love asscher cut engagement rings? Which dazzling setting is your favorite? Let us know in the comments below, or on our Instagram, Facebook, or Twitter!