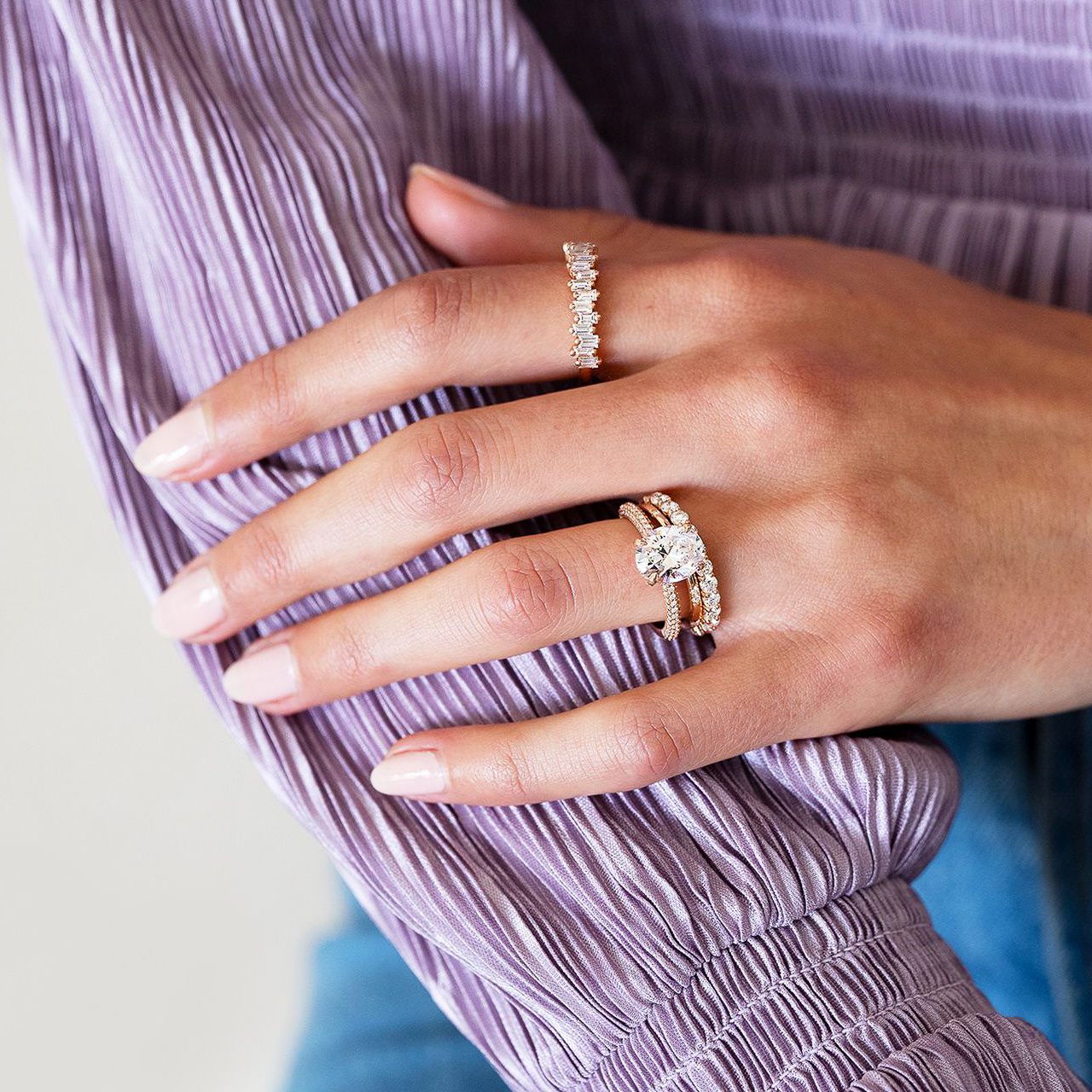 After five or ten years of marriage (or even just one) many couples choose to celebrate their anniversaries with special gifts. An anniversary ring is a way to signify the love and commitment that you share. Depending on the milestone, anniversary rings are often bands embellished with diamonds or gemstones. Though there are no set rules – make sure to choose a design that fits your partner's personal style and celebrates your unique relationship. 
What is the purpose of an anniversary ring?
An anniversary ring symbolizes a milestone in a marriage and is typically gifted on a wedding anniversary. Anniversary rings are typically worn stacked with your wedding and engagement ring. Anniversary bands serve as an opportunity to celebrate your commitment to one another now, and your years to come!  
What kind of ring is for an anniversary?
Anniversary rings are typically in the form of a band or eternity style ring rather than having a focal center gem like an engagement ring. Although distinctive styles of anniversary bands are traditionally associated with different anniversary milestone gifts, there are no fixed rules when it comes to the style of your ring. Anniversary bands are meant to celebrate your unique relationship and should represent your own unique style – whether that be with diamonds, colorful gemstones, or all– metal designs.  
What year do you get anniversary bands? 
Fine jewelry is typically gifted on the first, fifth, tenth, and twentieth anniversary. We say: buy an anniversary band whenever it feels right as all relationships celebrate milestones differently. With that being said, guidelines can sometimes prove helpful. Here are our suggestions: 
Anniversary by Year: Milestones, Traditional Metals, and Gemstones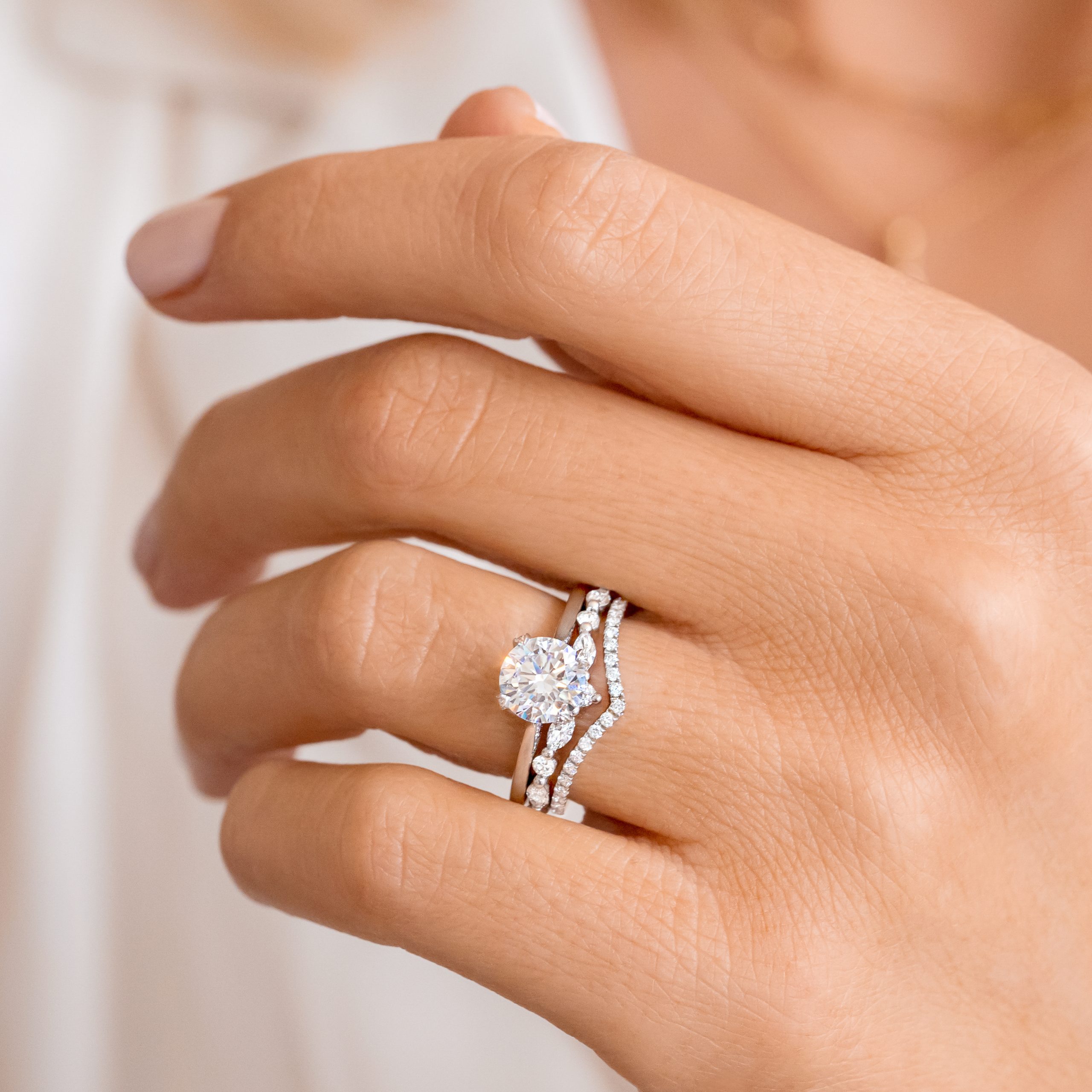 Anniversary Gifting Years at a Glance: 
Year 1: Gold 
Year 2: Garnet 
Garnet comes in an array of colors, but its most famous hue is a deep red. Our garnet pendants and earrings are beautiful choices for a second-year anniversary gift.

 
Year 3: Pearl 
Pearl earrings and pendants are among the most classic jewelry pieces, ensuring your third anniversary gift is a piece she can wear forever.

 
Year 4: Blue Topaz 
Blue topaz is the traditional gem of the fourth-year anniversary. This blue gemstone has high clarity and brilliance, making a stunning statement in the center of rings, necklaces, and earrings.

 
Year 5: Sapphire 
Available in nearly any hue, from regal blues to feminine pinks, sapphires can suit many styles and personalities. 

 
Year 6: Amethyst 
Prized by royalty for thousands of years, this regal purple gemstone is the traditional gift for celebrating a sixth-year anniversary.

 
Year 7: Onyx 
This mysterious gemstone belongs to the 7

th

year anniversary and is a mineral often used in men's jewelry.

 
Year 8: Tourmaline
Gorgeous pink tourmaline pendants and earrings make the perfect gifts to celebrate your eighth anniversary.

 
Year 9: Lapis Lazuli 
Lapis lazuli is a deep-blue semi-precious stone that has been prized since antiquity for its intense color and spiritual meaning. 

 
Year 10: Diamond 
Diamond jewelry is reminiscent of the day you exchanged rings years before. We suggest gifting a diamond eternity ring for this truly milestone occasion. 

 
Year 11: Turquoise 
This vibrant teal gemstone symbolizes prosperity and health for the future, making it the perfect gift to celebrate your years to come.

 
Year 12: Jade 
Jade is a semiprecious stone that has be prized throughout ancient history for its healing properties, smooth texture, and vibrant green color.
Year 13: Citrine 
Citrine, a bright orange-yellow form of quartz, is the traditional gemstone to celebrate the thirteenth-year anniversary.

 
Year 14: Opal 
The enchanting gemstone catches the eye with its incredible range of fiery colors. Opal can come in a variety of colors, ranging from a deep orange to the white and blue fire for which it is well known.

 
Year 15: Ruby 
Rubies are prized for their vivid red hues and incredible shine. Rubies are a variety of the mineral corundum and are known to bring good health and fortune to wearers, making them a fitting gift to celebrate this hallmark anniversary year.

 
Year 20: Emerald
What better way to celebrate two decades of marriage than with the lustrous green gemstone that represents positivity and renewal of life?

 
Year 25: Silver Jubilee 
A twenty-five-year wedding anniversary is truly a milestone occasion and is celebrated with the gift of silver jewelry. This jewelry can be set with any variety of diamonds or colorful gemstones. Throughout history, jubilees were celebratory events held by royalty to honor major milestones in a marriage or a king's reign.

 
Year 30: Pearl Jubilee
Also the gemstone for the third-year anniversary, our selection of stunning pear jewelry is sure to make a stunning thirtieth anniversary gift. 

 
Year 35: Emerald 
Valued throughout history for their rich color, emerald jewelry makes a beautiful and timeless gift. We recommend creating your own emerald gemstone ring using our Create Your Own feature.

 
Year 40: Ruby
One of the most valued gemstones throughout history, rubies make truly timeless gifts. What better way to celebrate your fortieth anniversary than with a stunning vintage ruby ring?

 
Year 45: Sapphire
Sapphires dazzle with their incredible luster and deep velvety-blue hue. We recommend gifting an iconic sapphire pendant or eternity ring.

 
Year 50: Golden Jubilee 
Starting back where it all began, gold is also the traditional gift of the first-year anniversary. Whether white, yellow, or rose gold, our selection of lustrous gold jewelry is sure to make a stunning gift. 

 
Year 55: Alexandrite
Considered the gemstone of good fortune, alexandrite gemstone jewelry is the perfect gift to celebrate this wonderful anniversary.

 
Year 60: Diamond 
This ever strong and timeless gemstone marks the sixtieth year of marriage. With a love lasting this long, perhaps you can hand over the gifting reigns from your spouse to your children or grandchildren!

 
A Closer Look at Anniversary Milestone Gifting Years 
1st Anniversary: Gold
The first year of marriage is filled with precious memories, and the gift of something gold is a fitting way to commemorate them. For a classic first anniversary present, choose a yellow gold, white gold, or rose gold anniversary band. While some may prefer to have their anniversary band match the metal type of their engagement or wedding ring, it is becoming increasingly popular to opt for a mixed metal look.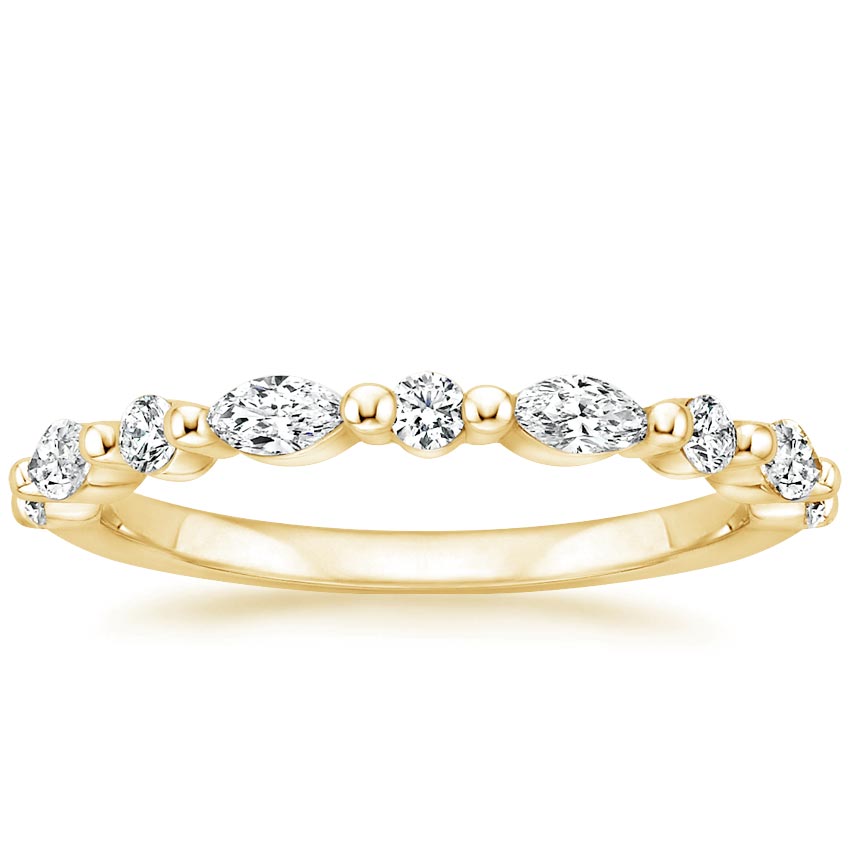 5
th
 Anniversary: Sapphire
Sapphires, which have historically symbolized truth and loyalty, are the traditional gemstones of fifth year wedding anniversaries. While we typically think of sapphire being royal blue in color, sapphires come in virtually every color of the rainbow including pink, purple, green, and red. Sapphire anniversary bands are not only a classic gift but are a unique way to add personality and make a colorful statement with your ring stack.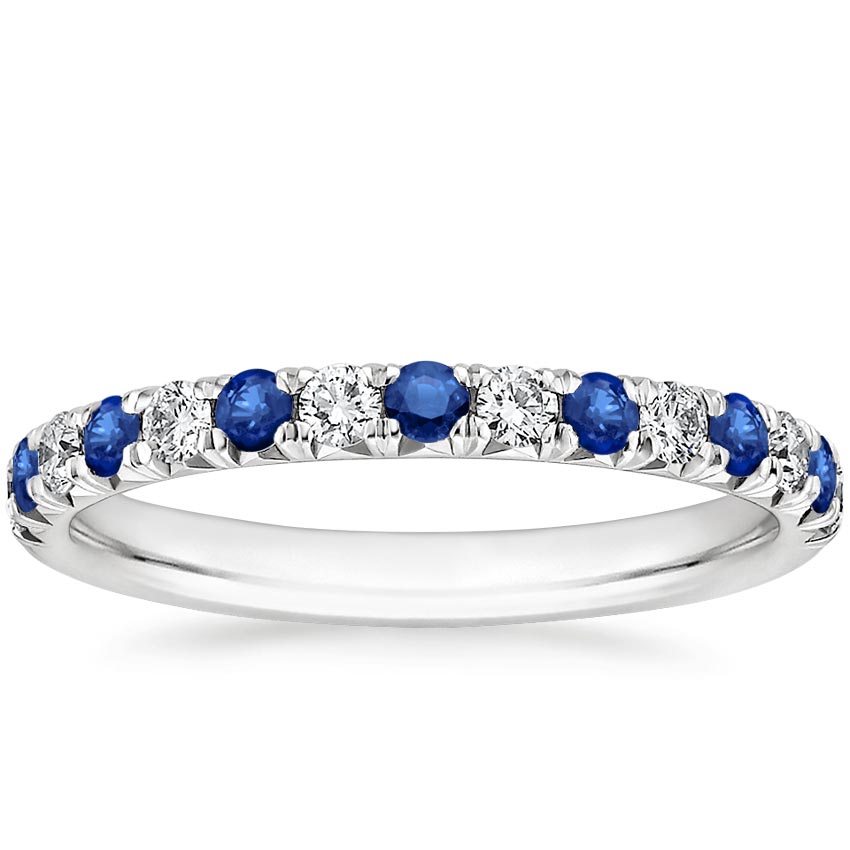 10
th
 Anniversary: Diamonds
A ten-year wedding anniversary is truly a milestone occasion, so it naturally follows that the traditional gemstones for the occasion are diamonds. Prized for their brilliant sparkle and superior hardness, diamonds adorn many of our most sought-after anniversary rings. A diamond ring is both sentimental and beautiful, often reminiscent of the day you exchanged rings years before. Although diamond eternity bands make a stunning statement, diamond jewelry such as classic stud earrings also make a beautiful choice for an anniversary gift.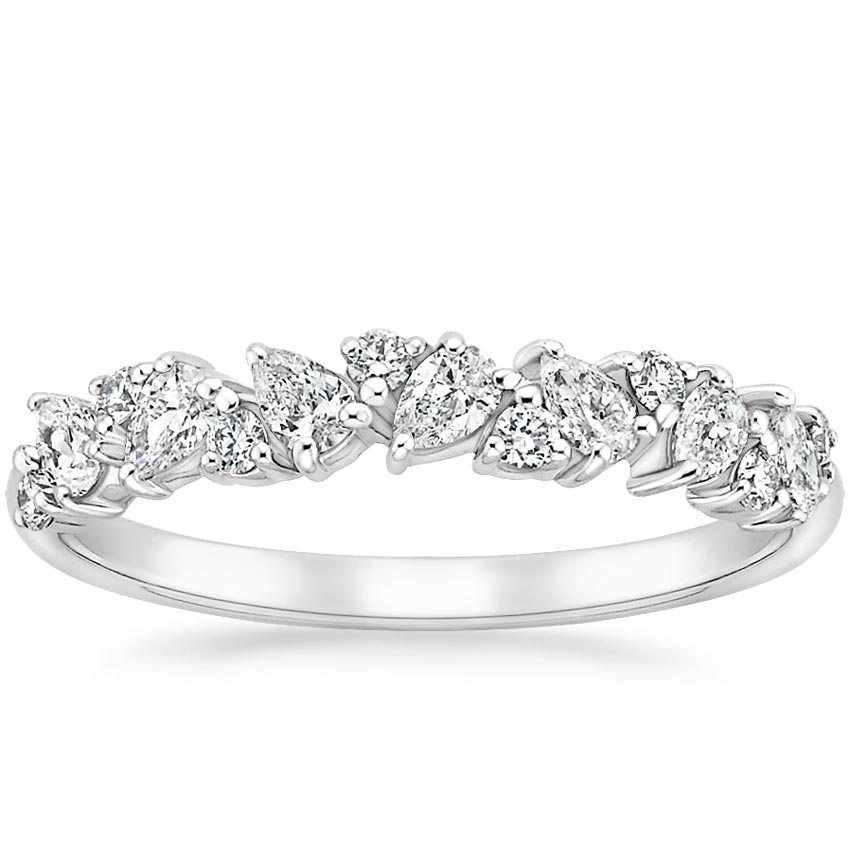 20
th
 Anniversary: Ruby
Rubies, which are the symbol of love, passion, and prosperity, are traditionally considered the gemstones or celebrating twenty-year wedding anniversaries. Twenty years wed is truly a milestone occasion to be celebrated. Vibrant red ruby gemstone anniversary bands and fine jewelry are sure to make a stunning anniversary gift.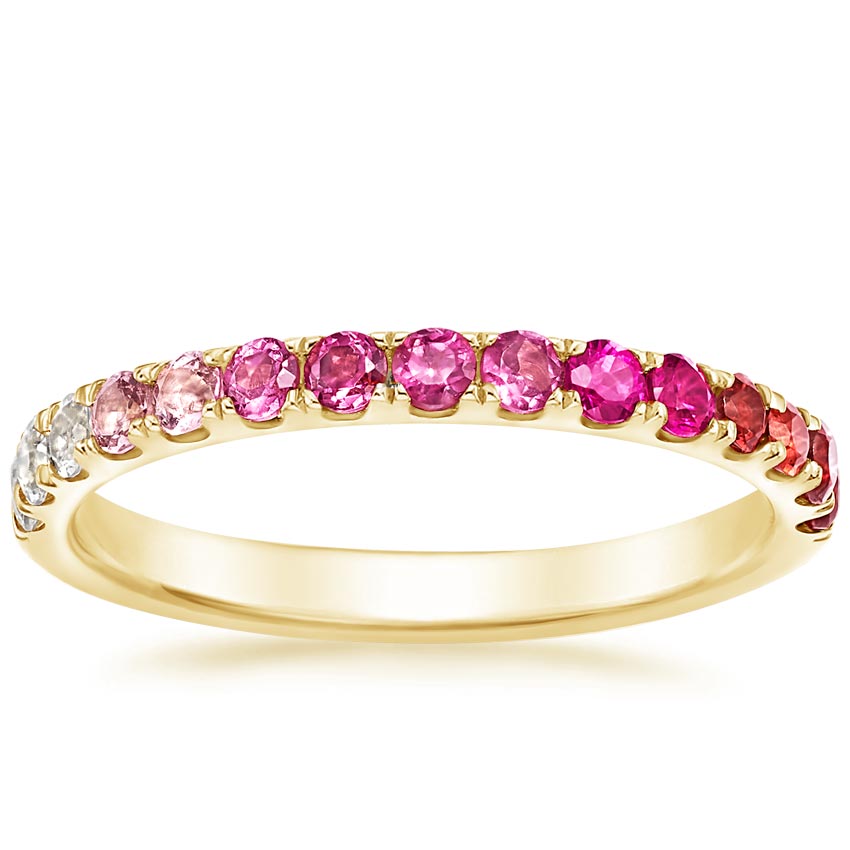 Anniversary Rings vs. Wedding Bands: What is the Difference?
A wedding ring stands for the official symbol of union and marriage on your wedding day while anniversary rings are a way to celebrate milestones of that same commitment you made so many years ago! The years of commitment towards nurturing your relationship with your partner is most definitely something to be celebrated. Wedding and anniversary rings also differ in how you wear them. While wedding rings are traditionally stacked with your engagement ring, anniversary rings can be stacked alongside them on the same finger, worn on a different hand, or sometimes even replace your original wedding band.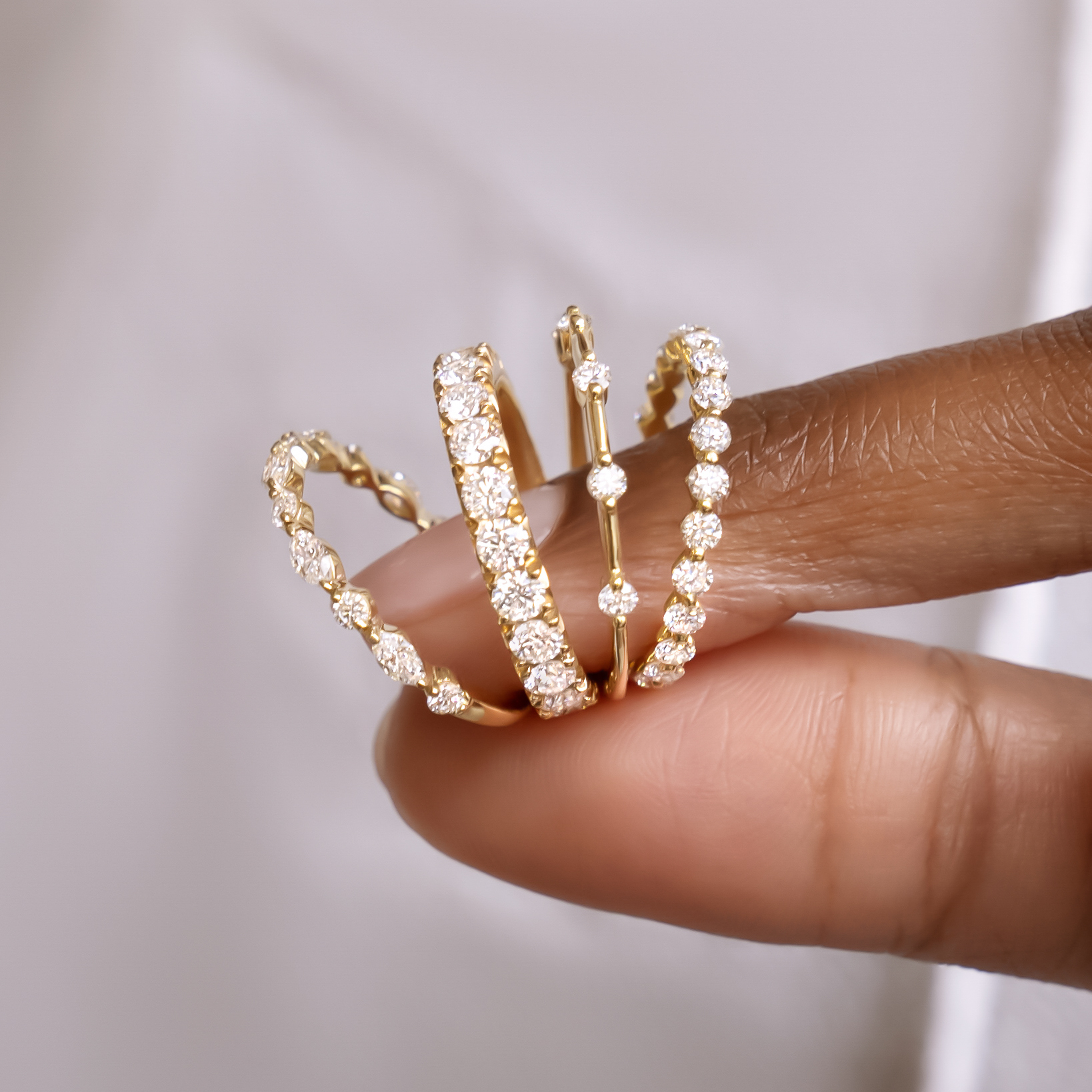 How to Choose an Anniversary Ring
The first thing to consider is whether you want your 

anniversary ring

 to be similar in style to the wedding and 

engagement rings

. While some opt for anniversary rings that are the same precious metal type as their engagement and wedding band, some may prefer a mixed metal look. Often when someone has a simple wedding band, the couple opts for an anniversary band with more embellishment.

Eternity bands

,

 featuring diamonds or other precious gems encircling the finger, are one popular choice, or you might choose a ring featuring the same number of diamond accents as years you have been married (a 

band with five diamond accents

  for your fifth anniversary, for example).

 
It is important to consider how you are going to style the anniversary band. If it is going to be stacked with your engagement and wedding ring, it is best to opt for a complementary style for your stack. Our 

Ring Stacking Tool

 is a great place to get inspiration as it allows you to see your engagement ring stacked with up to 4 additional stacking and anniversary rings.

 
If your wedding ring already contains precious gems, consider an anniversary band in a similar style but with different gems—the birth stones of your children perhaps? If your rings contain different gemstones, we typically recommend wearing them on different fingers for a complementary look.

 
If you are choosing to use your anniversary band to replace and upgrade your current wedding ring, our Jewelry specialists are happy to assist you in finding the perfect match. 

Our Find My Matching Wedding Ring Tool

 is also a great resource to explore your styling preferences and get inspiration for your new bridal set. 

 
Anniversary Ring Etiquette: How to Wear an Anniversary Ring
Which finger should wear an anniversary ring? One modern styling technique for your anniversary band is to wear it in a stacked or nested look on the same finger as your engagement and wedding rings for a full sparkling look. Stacking your anniversary provides an opportunity to repeatedly update the style of your stack for an upgraded look. We suggest starting with our Ring Stacking Tool to explore our style preferences and gather inspiration for curating your unique stack.  
It is also common to wear an anniversary ring on the right hand, or any other finger besides the same as your engagement and wedding rings. Some may choose to wear an anniversary ring on their right hand so that it does not compete with their engagement ring or for a more stylized look. 
Although it is becoming increasingly less common, some choose to wear their anniversary ring instead of their wedding ring. Couples may choose to trade in their wedding band to put the value towards a new anniversary band, while others would not consider removing the band they slipped on their fingers at their weddings. This is an approached to consider if you are looking to modernize or upgrade the overall style of your bridal look. 
Final Thoughts 
Are you shopping for an anniversary band, or hoping to receive one? What is your favorite style? Let us know on Facebook or Twitter, or in the comments section! To explore all of Brilliant Earth's anniversary styles, shop our Anniversary Collection and Anniversary Gift Guide!