From engagement rings to fine jewelry, diamonds have stood the test of time. For years, many women have enjoyed adding that extra element of sparkle to their look, and we think they always will. While some jewelry pieces such as diamond studs are classics that will never go out of style, other trends seem to fall in and out of the spotlight.
Intrigued by the cyclical nature of certain jewelry trends, we decided to do a little research. By reviewing Google Trends for popular jewelry search terms from 2004 to today, we were able to track the popularity of different jewelry styles, like rose gold and opal rings. Seeing these results made us wonder what (or who) has the biggest influence on these changing trends. So we did some digging to uncover possible explanations for the spikes in interest for these search terms.
Check out the graphs below to see how your favorite jewelry styles have ranked over the past 13 years!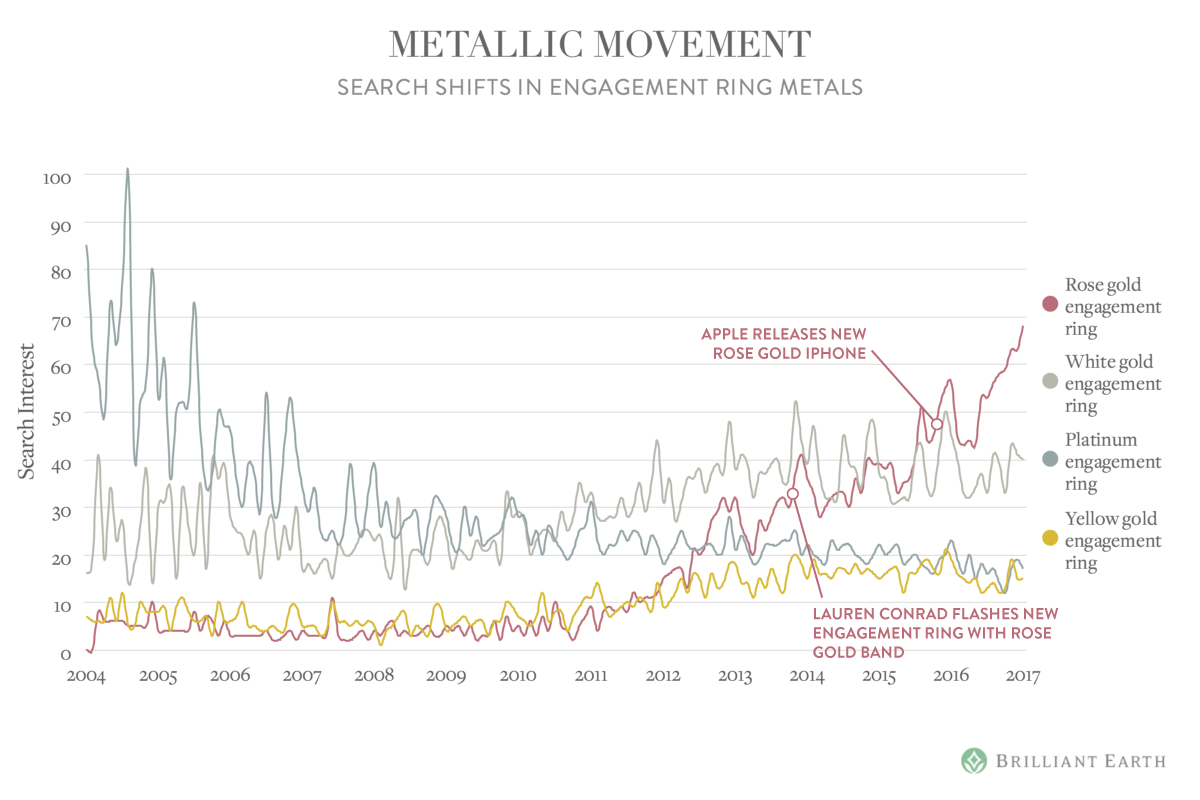 There's no denying the fact that rose gold has soared in popularity over the last few years. In 2015, this metal surpassed platinum, yellow gold, and white gold to become the most sought after engagement ring metal. Its continued rise may be a reaction to many trend-setting celebrities, like Lauren Conrad, receiving rose gold engagement rings. View our collection of rose gold engagement rings.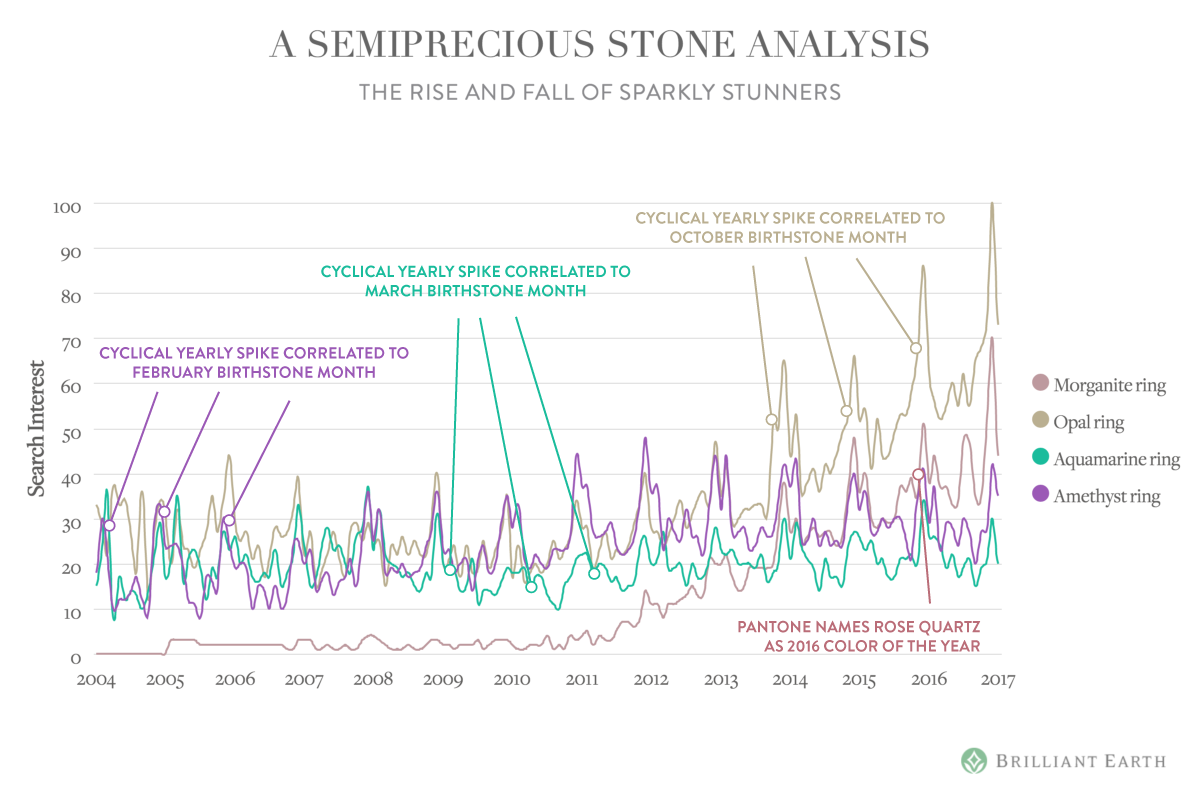 Blush-hued morganite has stepped into the spotlight in recent years. Many women are now opting for this semiprecious gemstone for the centerpiece of their engagement rings. We wonder if it will surpass opal searches in 2017!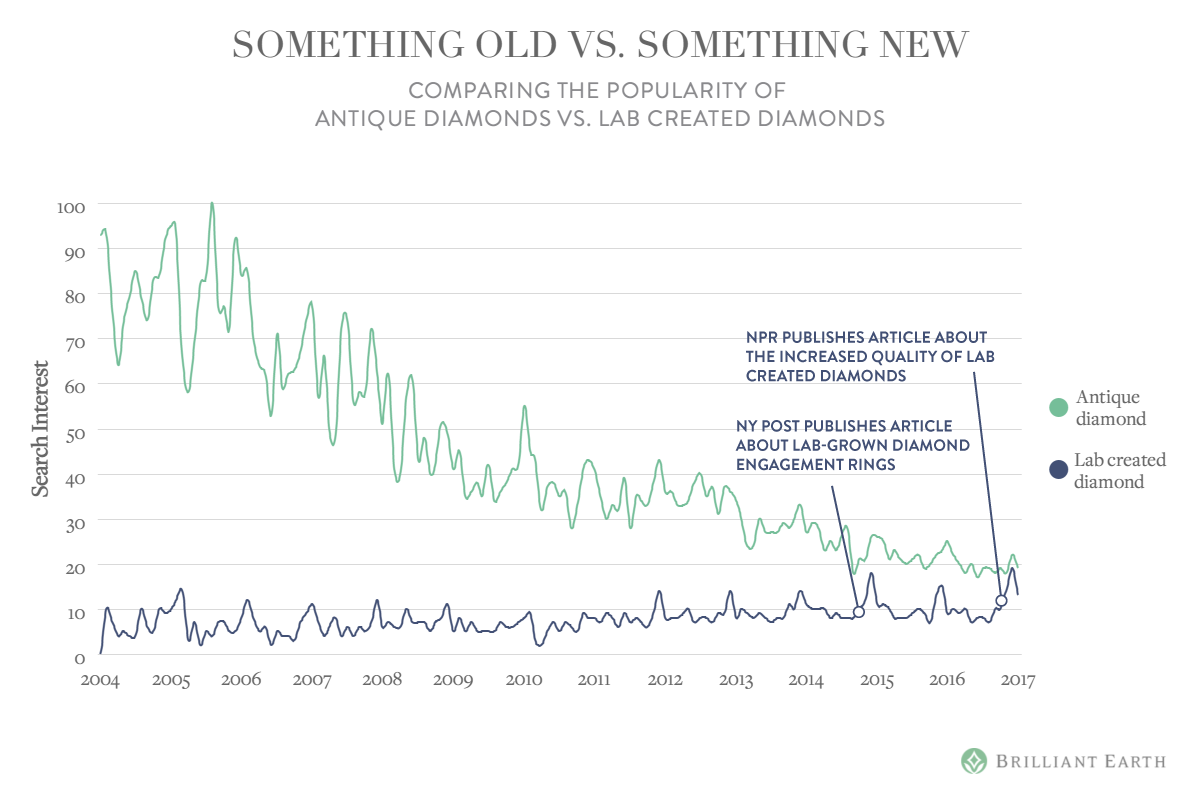 While interest in antique diamonds seems to be falling, lab created diamonds are gaining more and more attention each year. This could in part be due to more media exposure from large publications such as the New York Post and NPR.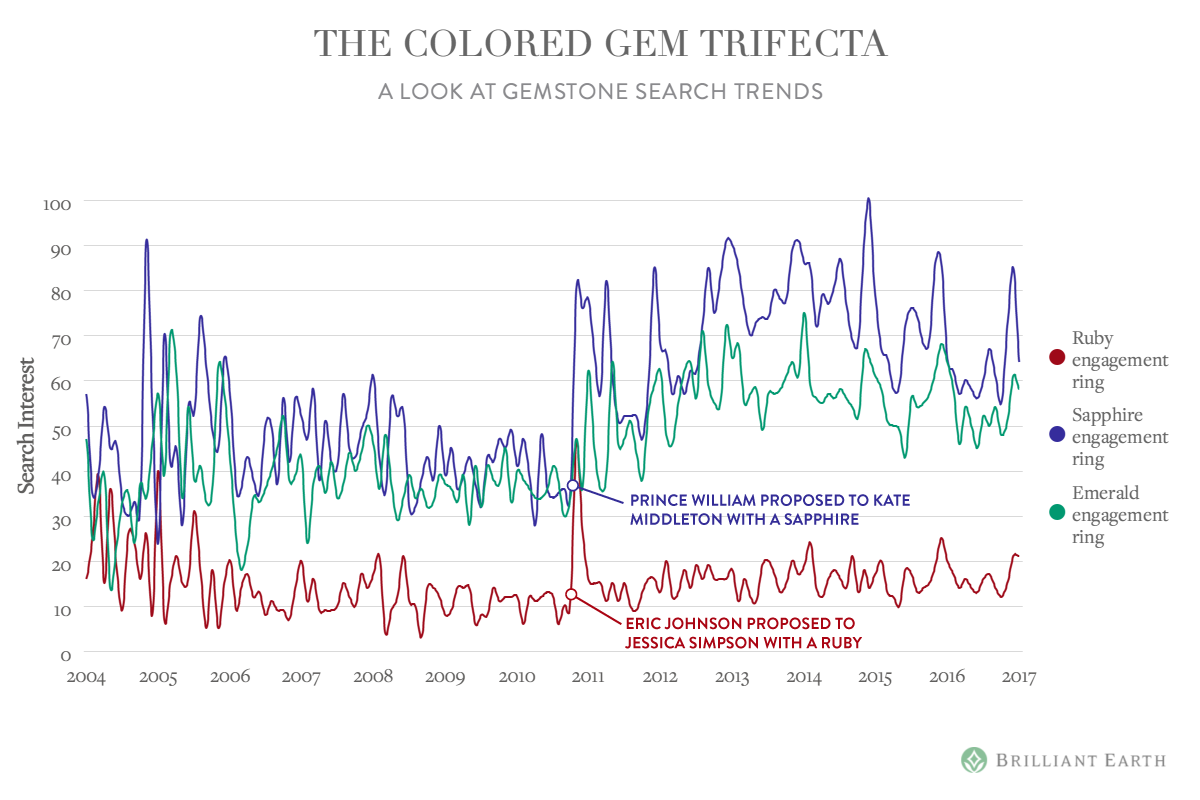 Jewelry retailers will all agree, more and more couples are branching out from diamonds and opting for engagement rings with colored gems. As seen in the graph above, sapphire engagement rings are especially popular. Women around the world admired the beautiful ring given to Kate Middleton from Prince William, and we have a feeling this is the reason for its increase in popularity.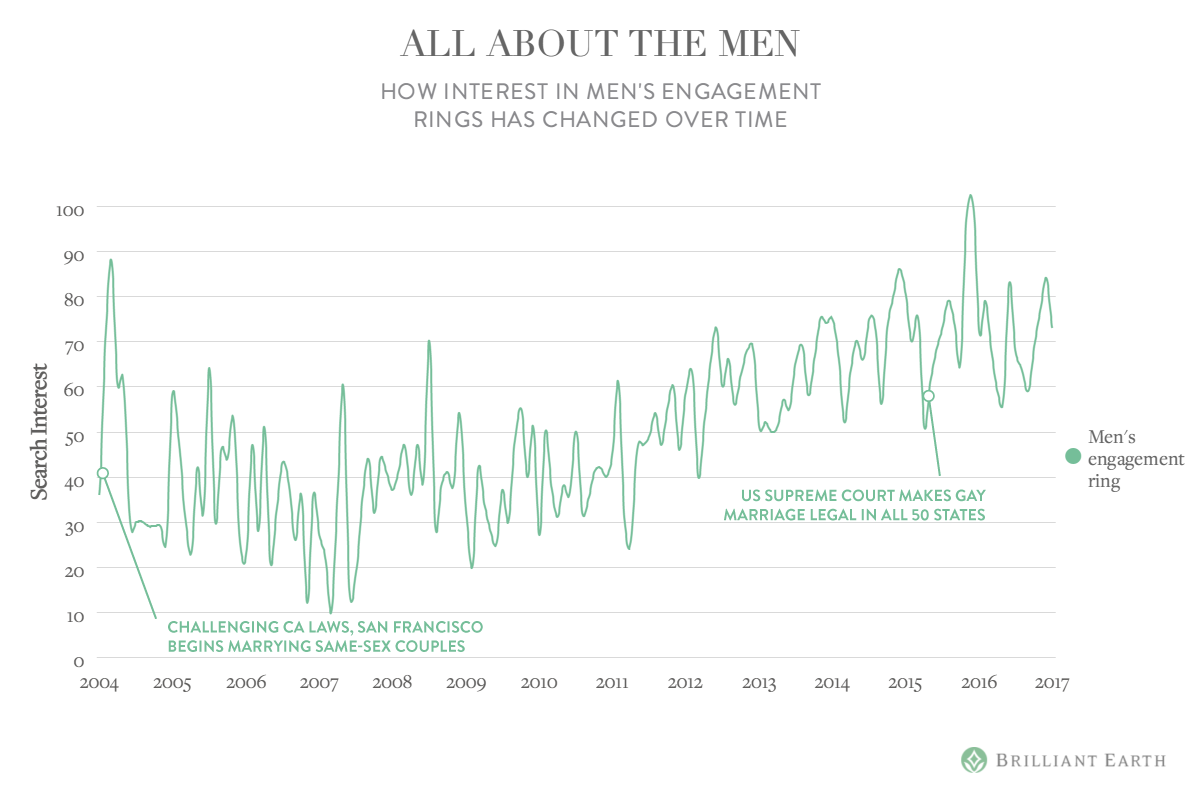 Interest in men's engagement rings has certainly seen its ups and downs since 2004, but we are happy to see that enthusiasm seems to be on the rise. This upward trend could be due to the legalization of gay marriage, leading to more engagements!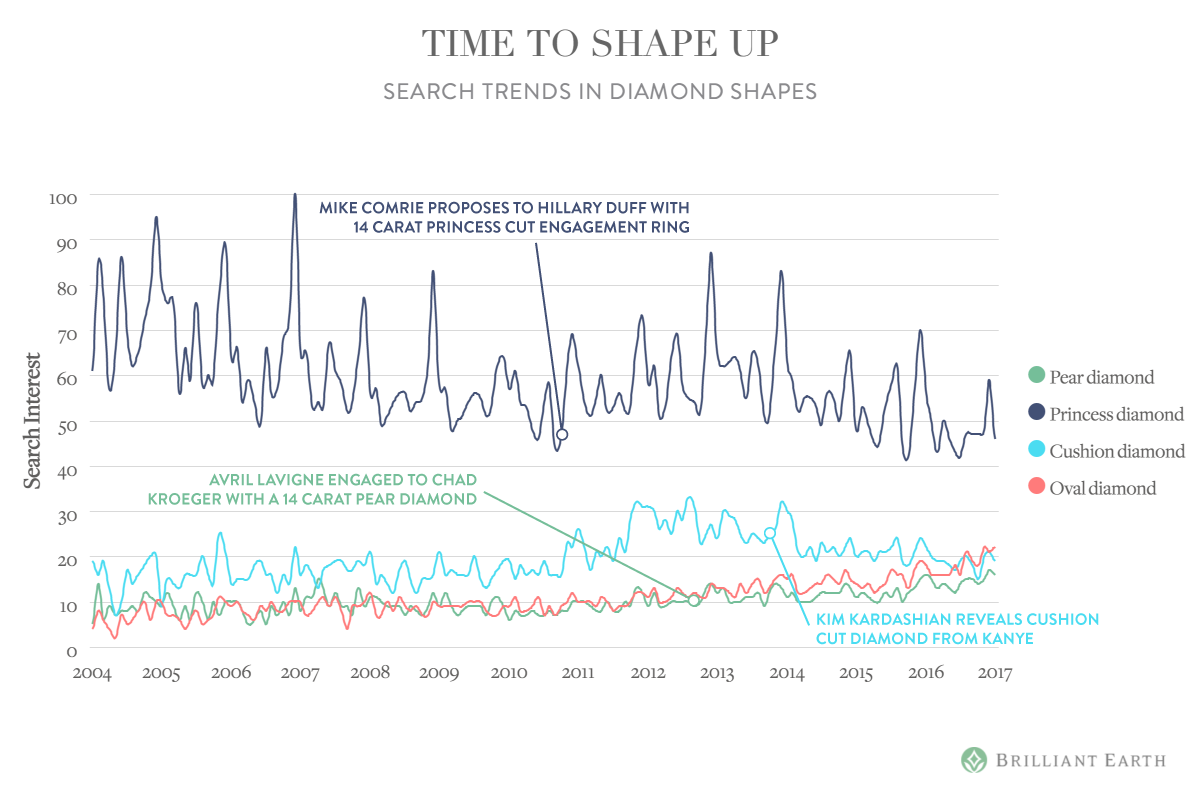 While some women will always have a particular preference, certain shapes tend to become more popular after celebrity engagements. When Kanye gave Kim her stunning cushion cut ring, interest in this cut reached its highest point in the last decade.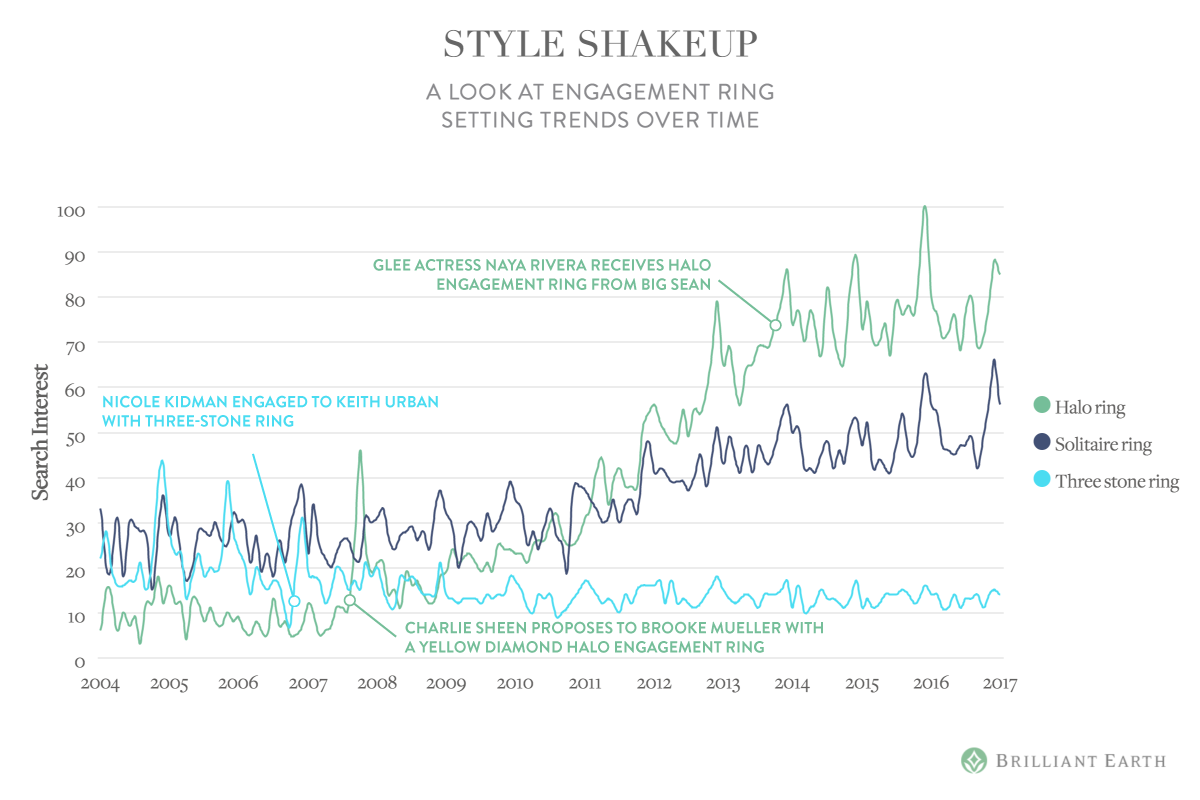 Over the last ten years, more and more women have been seen donning beautiful halo engagement rings. We suspect this might also be due to popular celebrities' influence, such as Naya Rivera and Brooke Mueller who were both given these rings from their S.O.'s.
Final Thoughts
What jewelry trends are your favorite? Were you surprised by any of these findings? Let us know on our Instagram, Facebook, or Twitter, or in the comments below. Make sure to browse our selection of engagement rings to stay ahead of the trends!