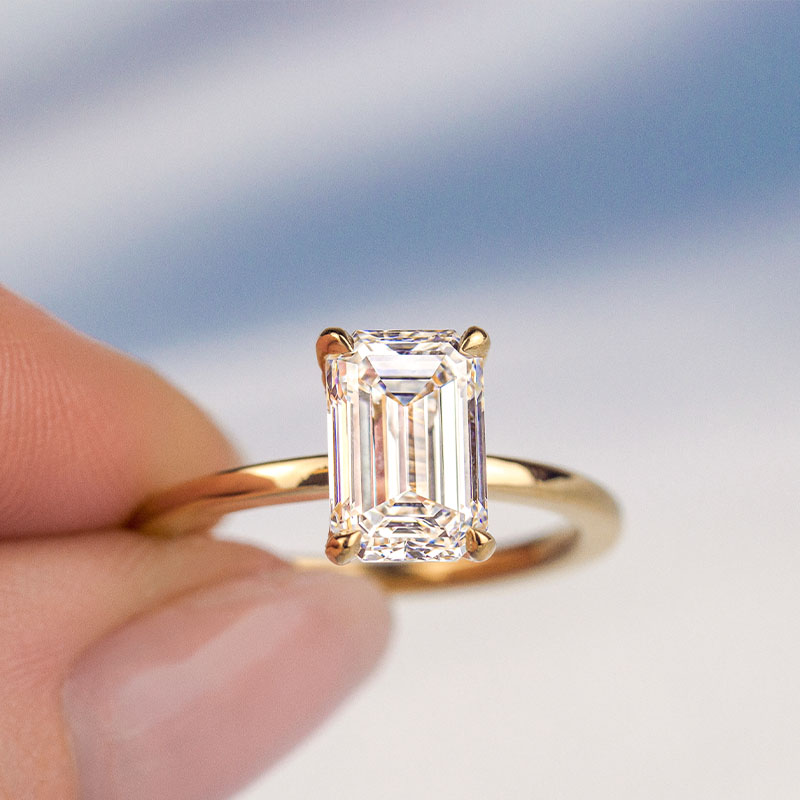 Cut to showcase diamonds' spectacular clarity, the emerald cut is the most celebrated step-cut gemstone shape.
Step cut diamonds are typically square or rectangular diamonds that have been cut in long parallel facets that prioritize a diamond's spectacular depth and clarity over sparkle. This sleek diamond shape has long been celebrity favorite, and icons like Grace Kelly, Jennifer Lopez, Amal Clooney, Victoria Beckham, and Jennifer Lawrence have all sported stunning emerald diamond rings.
Because of their elongated shape and distinctive faceting, emerald diamonds are universally flattering and work well with many engagement ring styles. For example, solitaires emphasize the clean lines of the emerald cut, while pairing with baguette diamonds or pavé side stones with an emerald diamond maximizes sparkle.
The rectangular facets of emerald-cut gemstones create a chic and elegant look, which is perfectly complemented in these ring styles. Read on to discover some of the emerald cut engagement rings we are loving lately!
Crossover Diamond Ring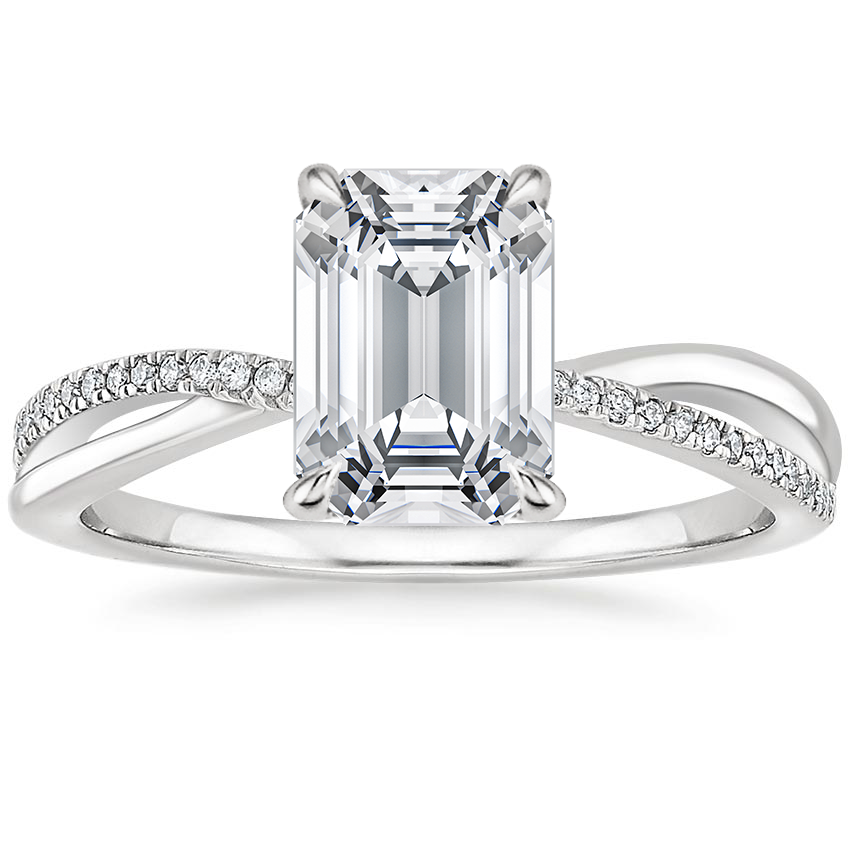 In this sophisticated ring, a diamond accented strand weaves with a strand of simple lustrous precious metal, leaving a pocket of chic open space. Classic with a twist, this ring is perfectly contemporary.
Demi Diamond Ring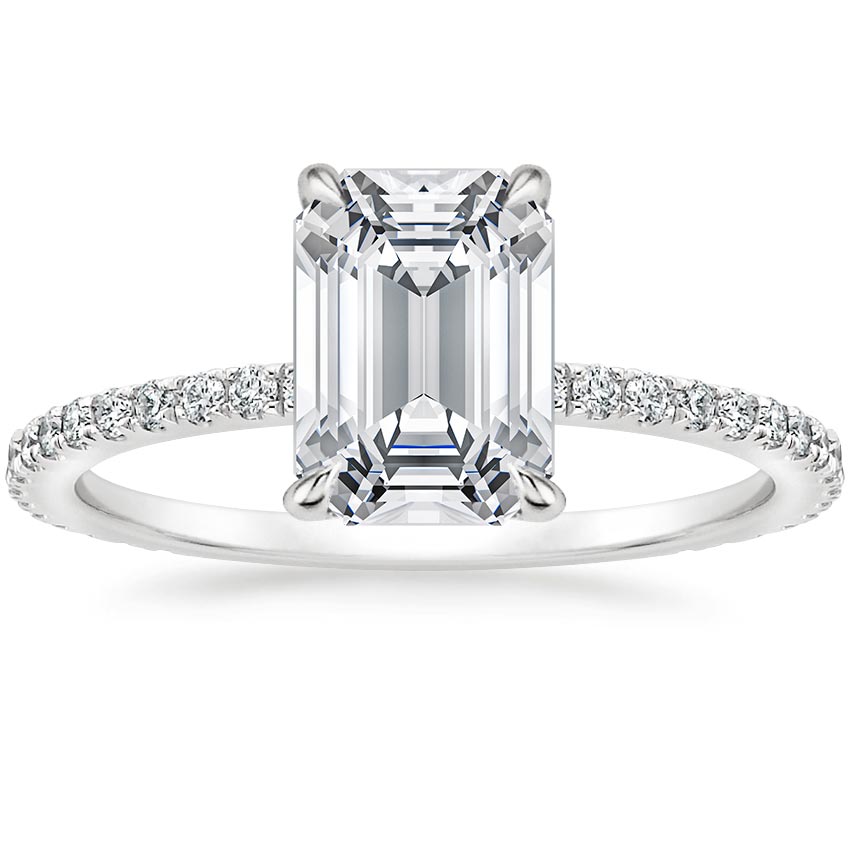 This elegant engagement ring features a glittering hidden halo of diamonds that wraps around the center gem. A sparkling surprise that adds extra brilliance to this dainty and sleek ring!
Embrace Diamond Ring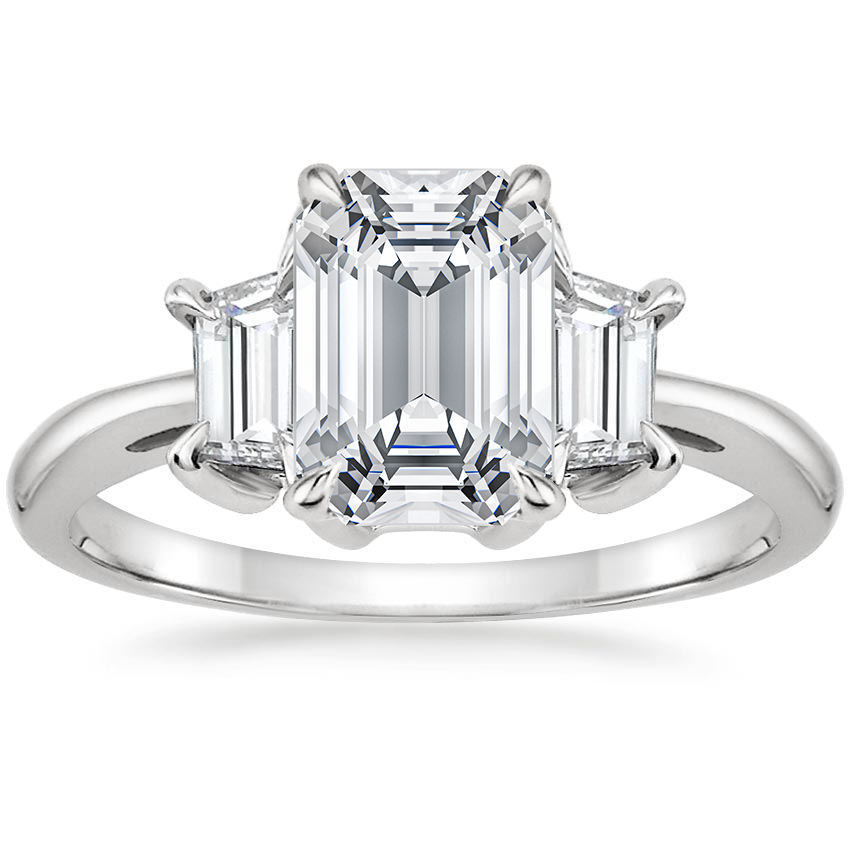 Three stone emerald diamond rings with trapezoid diamond accents are definitely a celebrity trend with Paris Hilton, Demi Lovato, and Bethenny Frankel all receiving this style in the last year. A distinctive trapezoid-shaped diamond sits on each side of the center gemstone in this captivating and contemporary three stone ring.
Esprit Diamond Ring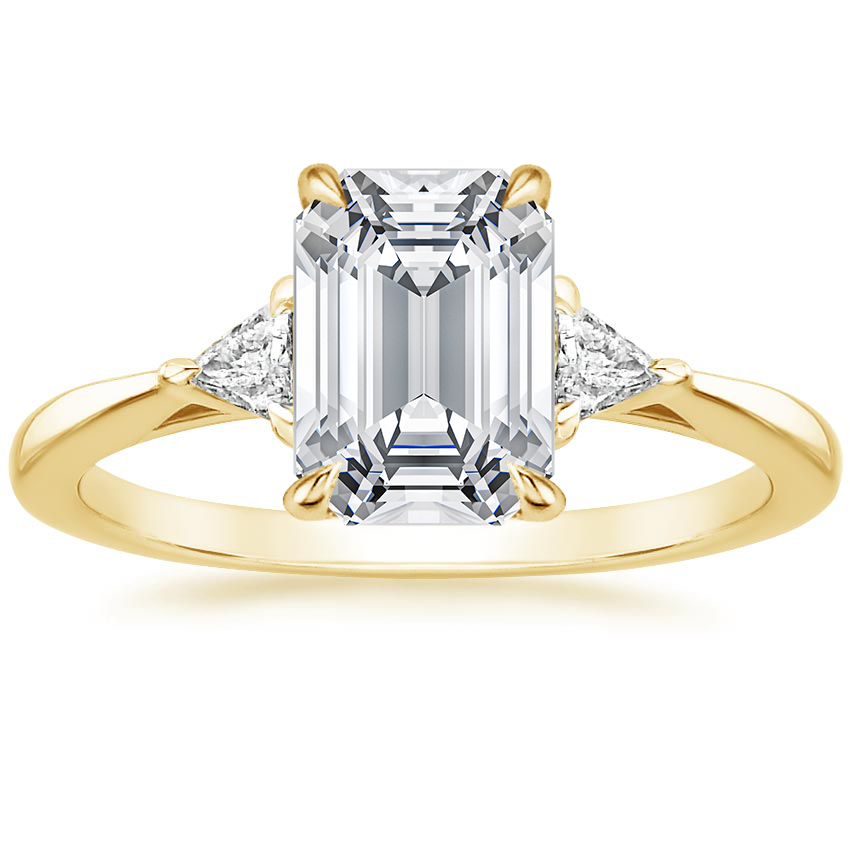 Modern three stone rings with unique fancy shaped side stones are a unique twist on a classic style. Captivating trillion shaped diamonds brilliantly frame the center gem in this geometric ring.
Everly Diamond Ring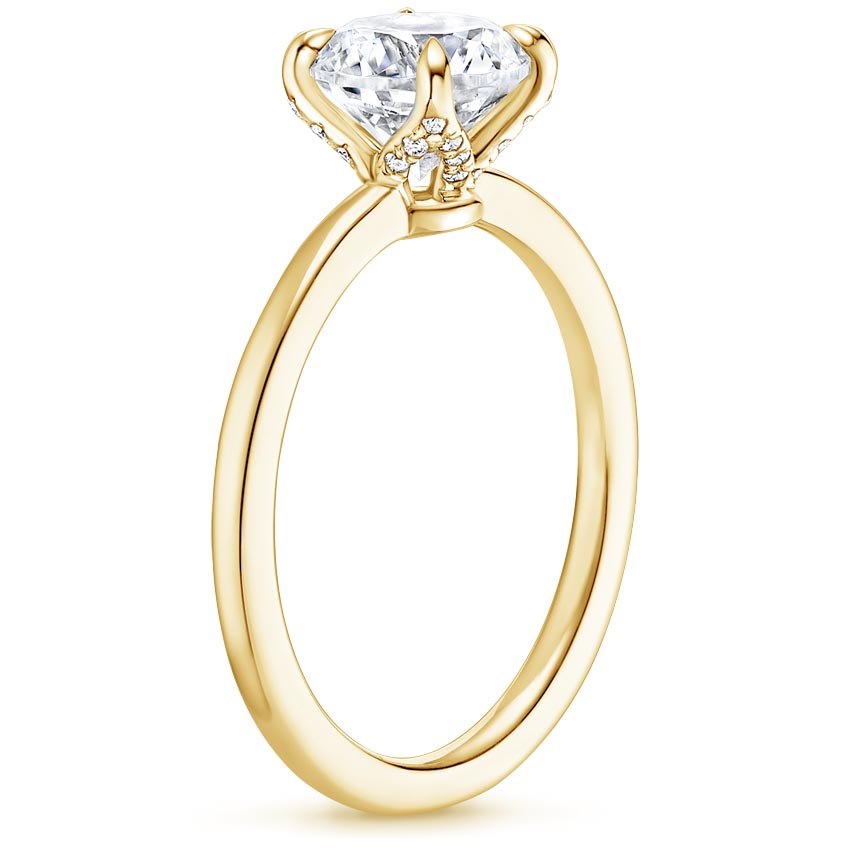 This elegant solitaire features an open basket with claw prongs that cradle the center gem. A diamond adorned gallery adds to this classic, yet radiant ring.
Fortuna Diamond Ring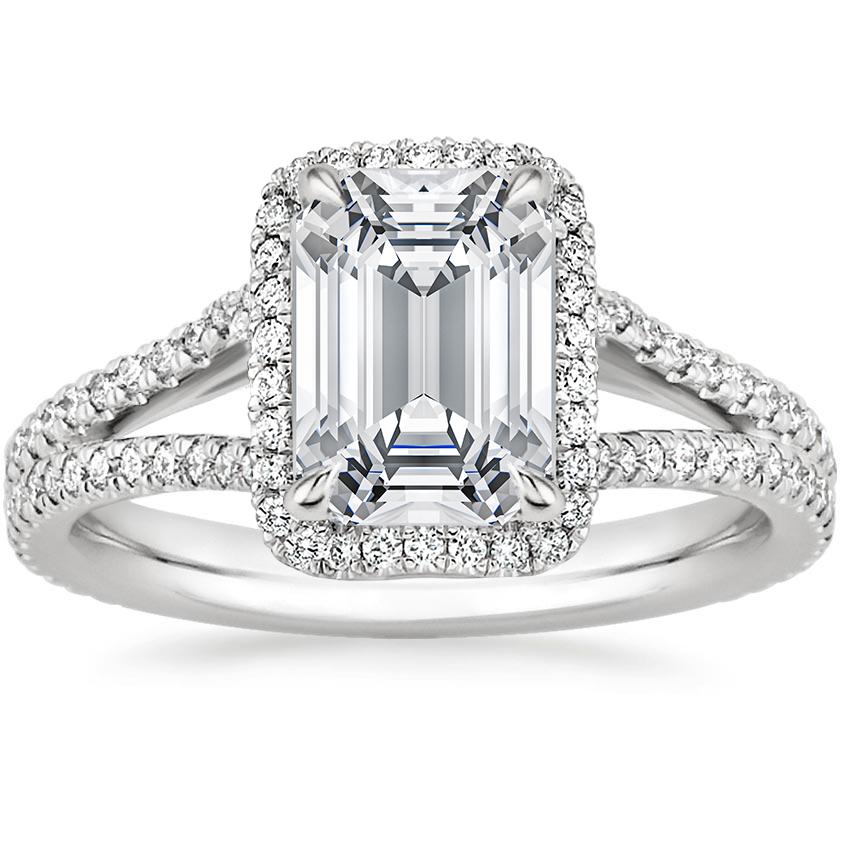 This exceptional setting features a halo of diamond accents that curves gently around the center gem for a distinctive look. Split shank emerald cut engagement rings like this one offer a glamorous and elevated style that highlights your center gem.
Horizontal Petite Comfort Fit Ring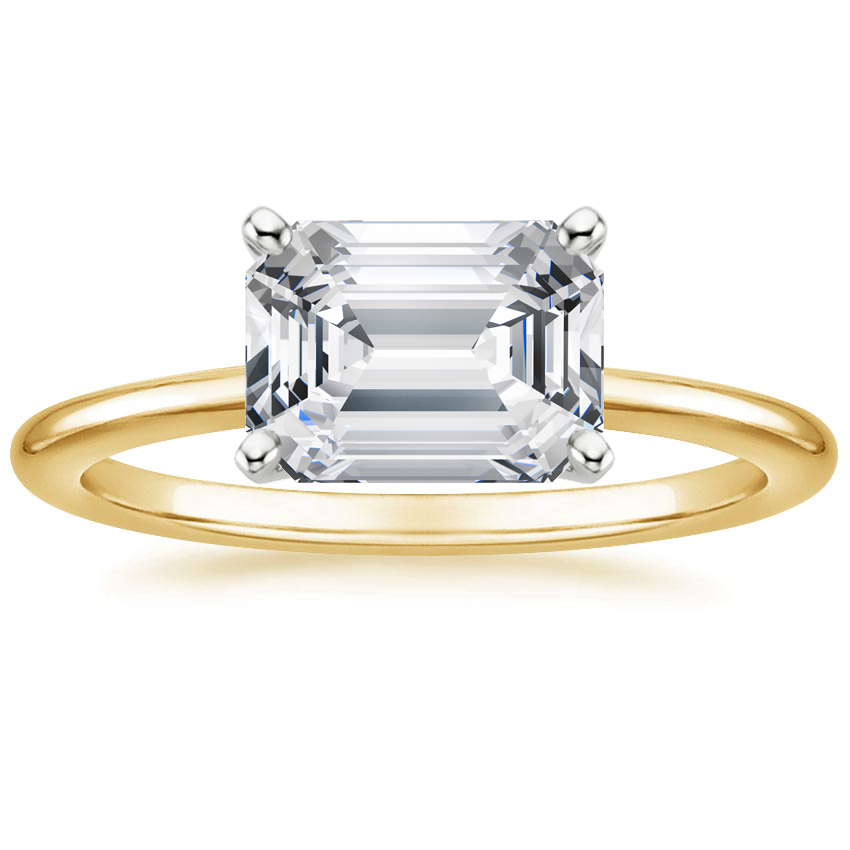 Petite and delicate, this classic four-prong setting gets an update with a horizontally set gemstone and has a rounded inside edge for increased comfort. Horizontal emerald cut engagement rings like this one are rising in popularity, and this specific solitaire ring setting was even featured in the holiday movie The Happiest Season!
Reina Diamond Ring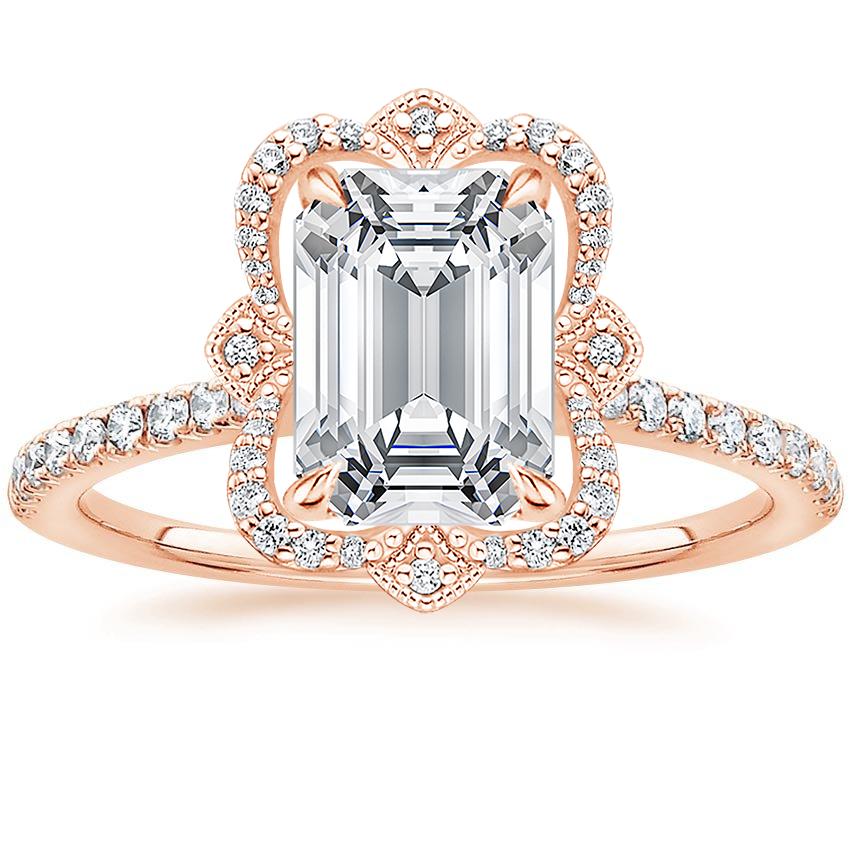 A regal halo of diamond accents surrounds a shimmering center gem in this dazzling ring for a distinctive and elegant look.
Tapered Baguette Diamond Ring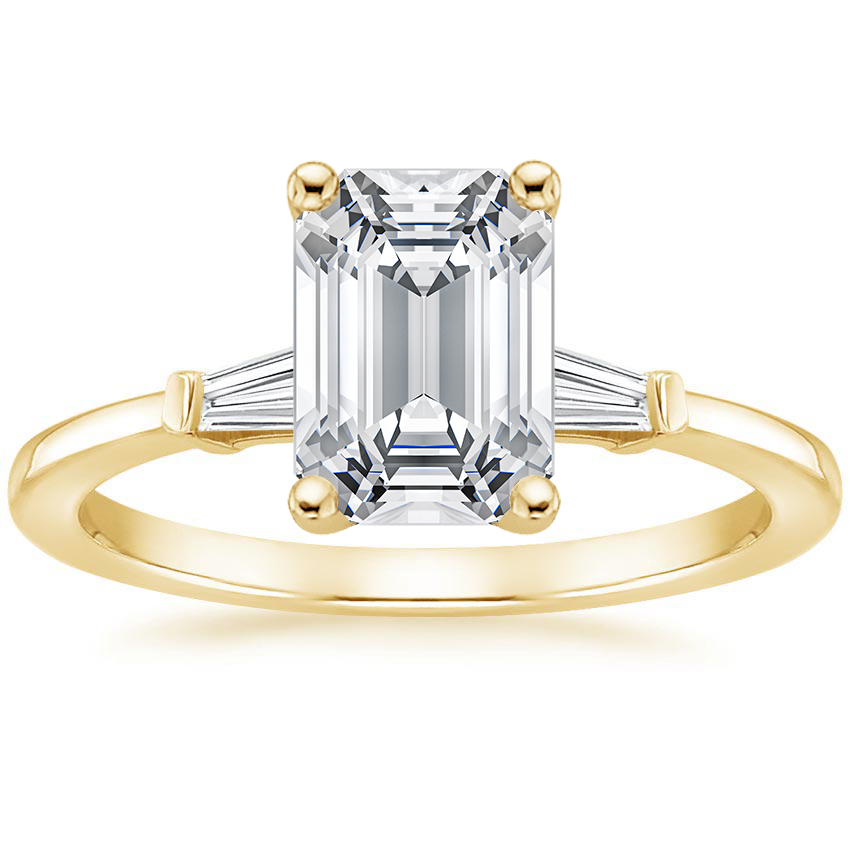 Captivating tapered baguette diamonds are bar-set in this elegant ring, brilliantly framing the center gem. With a delicate band, this ring evokes classic beauty.
Vesper Ring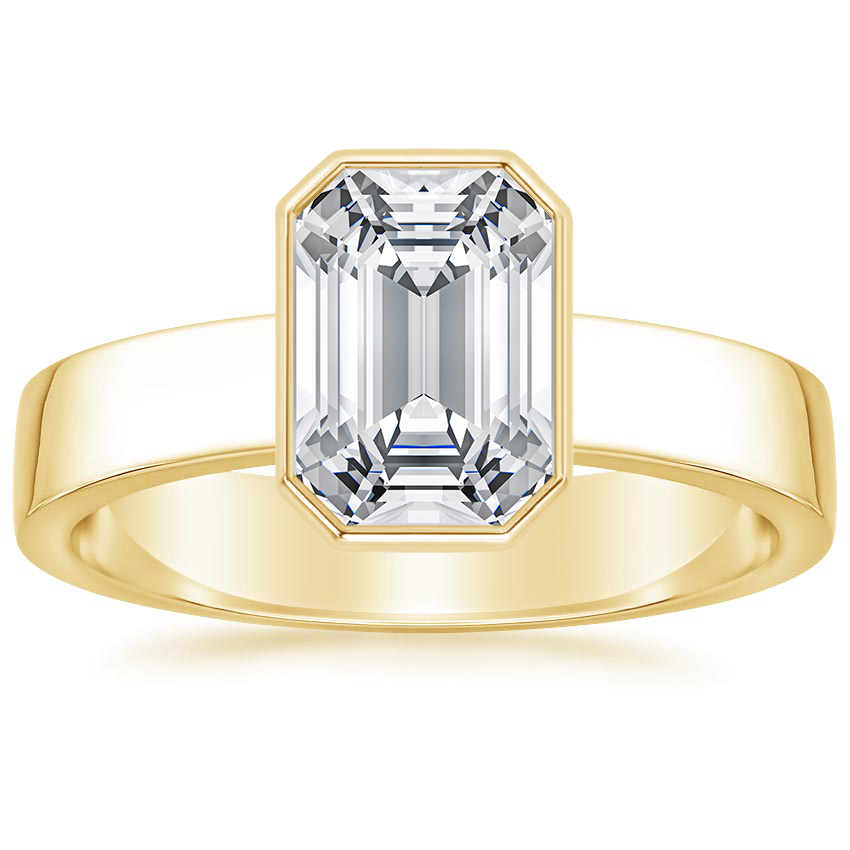 This captivating solitaire features a bezel-set center gem cradled by a beveled, bright-cut border. The lustrous precious metal band has a rounded inside edge for increased comfort.
Final Thoughts
Do you love the look of emerald diamonds? Let us know which style is your favorite in the comments below or on our Facebook, Twitter, or Instagram!