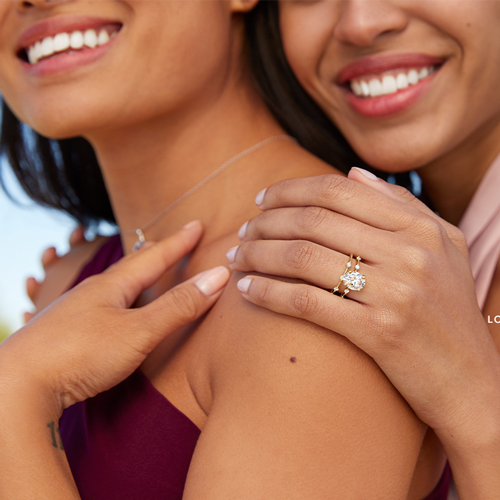 Your bridesmaid proposal should celebrate the support of your loved ones and their involvement in your life up to this point. When your bridesmaid proposal is charming and personal, that careful consideration will make your friends and family feel honored to be included in your big day. You're also much more likely to get a "yes" when the ask feels intentional and special. Explore our bridesmaid proposal ideas to pop the question to your future wedding party.
What is a Bridesmaid Proposal?
A bridesmaid proposal is a playful or elegant way for a newly engaged person to ask their inner circle to be a part of their big day. You could say it's a gesture so that your maid of honor will be made to feel honored (insert smirk emoji).
From customized puzzles and piñatas, to baked goods and bouquets of flowers, there are creative and classic bridesmaid proposal ideas to add an extra layer of excitement to the whole wedding experience. You can propose to your bridesmaids individually or as a group; you can send a quick, clever keepsake, or make a whole day of the reveal by throwing a brunch or visiting a winery. And while gifts are not a required part of the tradition (wedding party gifts are more common for the whole crew), some bridesmaid proposals even involve their own wedding rings.
 When Should You Send a Bridesmaid Proposal?
Start recruiting your wedding party within 2-3 months of getting engaged. It not only provides you with enough time to plan a meaningful bridesmaid proposal, but also gives your loved ones plenty of heads up about their role in your nuptials.
While the surprise is part of the fun, your future bridesmaids should be granted the time to make preparations. Between your bridal shower, the dress shopping, hair appointments, and rehearsal dinner, being a bridesmaid can be a big time commitment and financial investment. An early ask allows your friends and family to mark their calendars and set aside some spend. This helps ensure that they can be present for all pre-wedding plans (or decide which obligations to opt out of). They need to arrange and coordinate their own affairs before yours.
And just like a marriage proposal, a well-thought-out bridesmaid proposal makes the request that much more heartfelt, rather than seeming like a decision that was rushed or desperate.

How Should You Propose to Your Bridesmaids?
Your bridesmaid proposal can be a face-to-face conversation, a letter or postcard — even a gift if you're not one for words (or tears). A gift box can be stylized with your wedding theme and colors. Or you can choose something sentimental and/or celebratory to send each member of your intended bridal party. When the gifts are similar, they can still reflect the individual bridesmaid's tastes, or personalized with a quote or phrase unique to each bond that you share, or be monogrammed with their initials (adding their name makes it clear they were a conscious choice). Differentiating the requests can feel extra thoughtful and sweet, with a fun opportunity to show all of your pals how much they mean to you. You can also decide to make your bridesmaid proposal an experience vs. an object. Decide what makes sense for your budget and what the bridal party member would enjoy. When you're trying to communicate how much you appreciate this person, factoring in what makes them who they are will drive the message home.
How Much Should You Spend On a Bridesmaid Proposal?
Anywhere from $5-50 is the typical range for a bridesmaid proposal. Your bridal party is usually made up of your best friends and family. In other words, people that are worth a lot, but also know you inside and out. So they most likely won't be shocked by how much you spend (unless you want them to be). And since a bridesmaid proposal is already going the extra mile, it's not offensive to make it modest.
Your bridesmaid proposal can be "cost efficient" (aka cheap), as long as it represents your personality and embodies your connection with the bridesmaid-to-be. Each proposal can be specific to each bridesmaid and what you love about them, meaning you can spend different amounts (as long as you're tactful and you don't disclose these discrepancies — social media can be a dead giveaway and lead to hurt feelings when it comes to exposing price points). Identical or group gifts save time and money and there's no shame in that. You can up the ante with tiny touches like the quality of paper or packaging around the request, so that even if the proposal is "small," it has the big impact of a grand gesture. Your bridesmaid proposal doesn't have to cost a fortune to express how much the members of your bridal party enrich your life. You're asking them to be a part of a major milestone, and sometimes it's the thought that counts. 
When Did Bridesmaid Proposals Become Popular? 
Wedding witnesses have been legally required since ancient times. But the evolution of social media trends in the last decade has kicked wedding customs up a notch. Modern takes on wedding party invitations are inspired by Pinterest, Instagram, and other visual, shareable platforms. Because everything can be documented, it's worthy of escalating. It's now become part of our culture to commemorate every minor moment and put our own branded twist on experiences.
Recruiting wedding parties has graduated from snail mail or a quick text to a more elaborate effort (especially as it's become more common for people to spread out geographically). It's all to make the wedding experience that much more memorable. Technically, a bridesmaid proposal is not a necessary ritual, and it might even feel silly (or intense), but it's a fun way to treasure the beginning stages of wedding planning and express gratitude and value to the people that will be part of it. And no one likes a wedding Grinch.

Bridesmaid Proposal Ideas
A little pomp and circumstances makes your bridesmaid's affirmation that much more meaningful when they're standing at your side. Confetti, balloons, and ribbons can all adorn each of these bridesmaid proposal ideas to add to the sense of occasion.
Travel Bag: Your bridal shower favors can indicate the fun to come. If you have a destination wedding, your bridesmaid proposal can be travel-themed, with a stylish passport holder and pair of sunglasses, or monogrammed beach towel or flip flops if it's a seaside escape. If you're feeling generous and splurge for a party-ready gift set, you can bundle up all the travel essentials in a beach tote.
Spa Day: Propose to your bridesmaids with luxuriant goodies that indulge their senses. It's a generous way to pamper your future bridesmaids before they fuss over you, even if their only bridesmaid duty is a positive attitude. Throw in everything they need to unwind, like fancy soaps or bath bombs, scrubs and body butters, fun face masks or satin sleep masks, and sweet-smelling candles. Chocolates, soothing teas, or their favorite wine can seal the deal. Monogrammed bags of cosmetics can top off this bridesmaid proposal if you're willing to go all out. Enjoy your spa day together or apart with those who accept.
Movie Night: This invitation can be loaded up with each bridal party member's go-to theater treats, like candies and gourmet popcorns. Depending on the size of your party, you can send each bridesmaid their favorite movie in the gift basket (bonus points for romance). Then once they've accepted, you can gather up all your bridesmaids and binge watch a mini film fest.
Meaningful Mementos: Nostalgic photos of you with your nearest and dearest can be a symbolic reminder of what you've experienced together and why it's important to you to have them there on your big day. Whether it's a full photo album or a few chosen favorites, add a personal message in a handwritten note, on the back of the pics, or even on a cute frame (the frame can be swapped with wedding pics once you're hitched). In your note, you can reminisce and give your reasons why you want them to join your bridal party.
Matching Outfits: Customizable clothing is one way to unite your bridesmaids from the get-go. Embroidered jackets or hoodies for squad members are often worn out for a night on the town, especially the bachelorette party. If you're more for cute and cozy, consider adorable pajama sets for the group, especially if you throw a slumber party to celebrate everyone's accepted wedding party status. Or combine bridesmaid proposal ideas by capitalizing on the spa day gifts: send your future bridal party matching robes, slippers, and cozy socks (sherpa lining is always a plus).
Dazzling Jewelry: Handmade or designer jewelry are sure to be worn by your bridal party well after your wedding day, and the flashy, sparkly quality of the gift will flatter the wearer. Jewelry offers an opportunity to personalize the proposal and show your loved one you know their preferences via the band, stone, or type. You can get all of your bridesmaids pieces that match (eg identical friendship bracelets for everyday accessories) or have one element in common to complement one another (eg: earrings for one bridesmaid and a bangle for another). You can even get engravings, such as "Will you be my bridesmaid?" or your save the date. If the jewelry is part of the bridesmaid ensemble for the wedding, it also helps make sure your bridesmaid proposal gift doesn't immediately get stashed away and forgotten about in a drawer.

Bridesmaid Proposal Gift Ideas
A gift is not a required part of a bridesmaid proposal, but if you do include one, choose something chic, rather than gimmicky. It's a kind gesture when the gift is something your bridesmaid-to-be would actually use and keep. Avoiding knickknacks also makes it well worth the time and money you spent put into the proposal. And since you're asking for their (helping) hand in your wedding preparations, it's decent etiquette to lean towards classy over tacky. Anything too lavish might set up the wrong impression of what they're expected to put in. Here are a few bridesmaid proposal gift ideas that will stun the recipients without scaring them off.
Engravable Bar Bracelet in Silver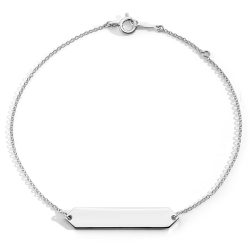 Rose Freshwater Cultured Pearl Stud Earrings in Silver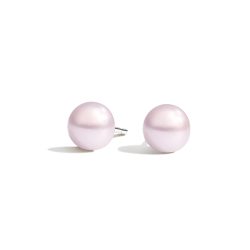 Diamond Bezel Bracelet in Silver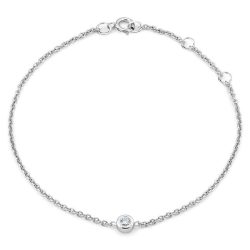 Petite Diamond Huggie Earrings in Silver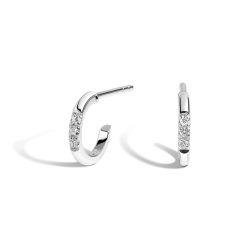 Bar Diamond Earrings in Silver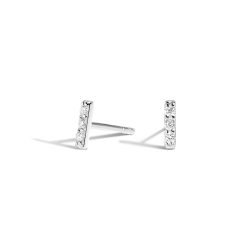 April Birth Flower Diamond Pendant in Silver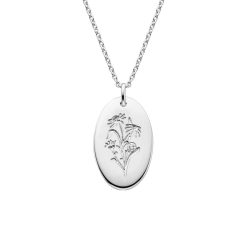 Solidarity Diamond Bracelet in Silver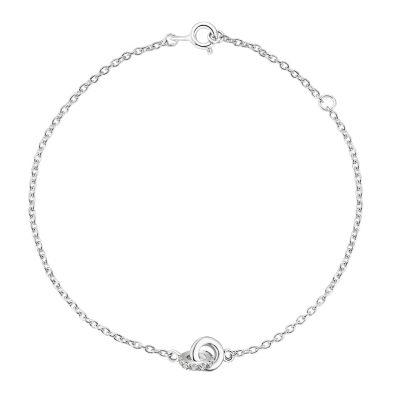 Brisa Diamond Cuff Bracelet in Silver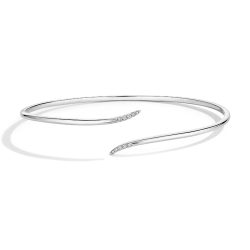 Lab Diamond Stud Earrings in 14K White Gold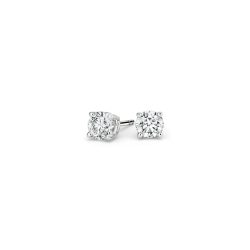 Final Thoughts
Whether it's whimsical or weepy, you can make your bridesmaid proposal your own (even if it's not original). Shop Brilliant Earth for one-of-a-kind jewelry to wow your future wedding party and create another shared memory you both can cherish.