Gemology Training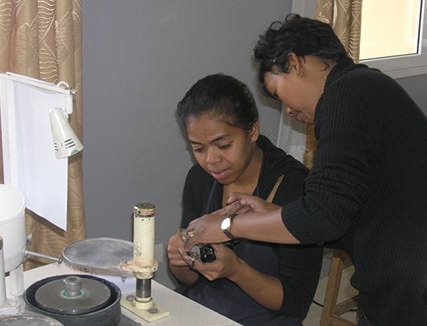 One of the scholarship recipients
receives gemology training.
Brilliant Earth has teamed up with the Institute of Gemology of Madagascar (IGM) to help fund two full scholarships for disabled students to learn the art of gemstone cutting, also known as lapidary.
A highly prized skill, lapidary transforms rough stones into valuable polished gems. The scholarships will fund the training, equipment, and supplies needed for recipients to setup their own workshops and launch their new professional lives.
The recipients, Mr. Andry Tahiry Rajaonariniaina Camara and Ms. Sendraharisoa Lydia Rabendrainy, were selected by the National Collective of Organizations Working for Disabled Persons in Madagascar. This training program was from June to September of 2008.
"Professional gemstone training, for success in the
gemstone trade."
—Christopher Gill Institute of Gemology of Madagascar
Institute Of Gemology Of Madagascar
Despite living in one of the world's leading producers of rubies and sapphires, over two-thirds of Madagascar's residents live in poverty. The IGM is hoping to change that through community development and job training. Founded in 2003 and funded by the World Bank and the Malagasy Government, the IGM is one of the premier gemology training institutes in Africa.
The IGM aids long-term economic development in Madagascar by enabling a self-sustainable national gem cutting industry. By exporting cut and polished gemstones rather than rough stones, Madagascar is able to retain more of the value of its natural resources. Madagascar is then able to re-invest the profits from gem sales back into the community, which helps boost economic growth on a local and national scale. Developing the gem cutting industry is a lasting way to help the people of Madagascar overcome poverty and attain stable jobs with greater earning potential.