Sunny San Diego offers all the laid-back California vibes you would expect of a city bordered by the Pacific on one side and Mexico on another: Sea breezes scented with orange blossoms, the chance to wear sandals year round, and an enviable number of microbreweries per capita.
But perhaps because it is home to large Navy and Marine bases, San Diego feels a little more traditional than other west coast cities. Engagement ring trends in San Diego subtly reflect that special mix. To celebrate the opening of the Brilliant Earth San Diego showroom, we are sharing our expert observations about engagement rings in San Diego:
Romantic and Classic Designs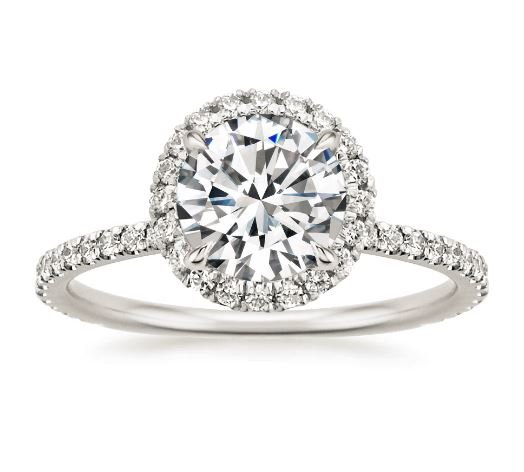 San Diego couples are drawn to glamorous, vintage-inspired halo engagement rings as well as elegant solitaire styles. All of these designs have a classically romantic allure. The Waverly Ring, above, features French pavé set diamonds encircling the center diamond and embellishing the band.
Fancy Diamond Shapes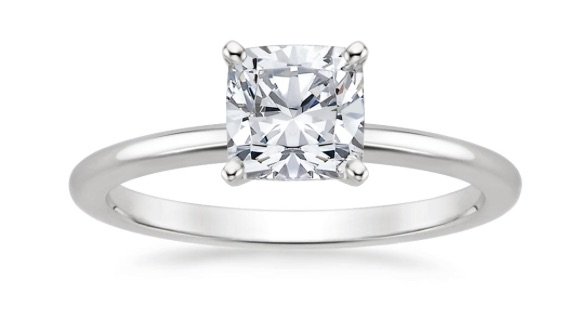 In San Diego, a fancy shaped diamond is especially likely to be the focal point of one of those classic feminine silhouettes. Although round brilliant diamonds are still the most sought after choice, cushion, emerald, radiant, and asscher cut diamonds are also especially popular in this southern California area. Our classic solitaire Four-Prong Petite Comfort Fit Ring makes an elegant showcase for a cushion cut diamond, above.
Going for the Gold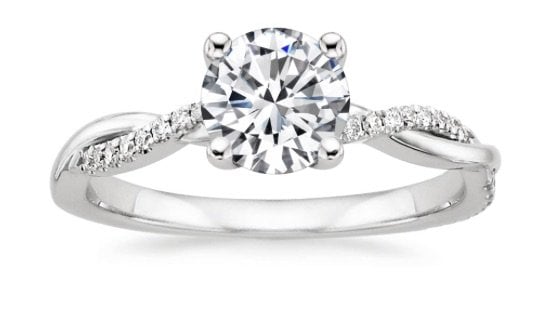 Gold is the precious metal of choice for San Diego couples. The majority of engagement rings sold there are made of classic white gold, and yellow gold engagement rings are slightly more popular in San Diego than in other regions of the country. The Petite Twisted Vine Diamond Ring, above, is beloved with San Diego couples and looks cool and elegant in white gold.
Vibrant Colored Gemstones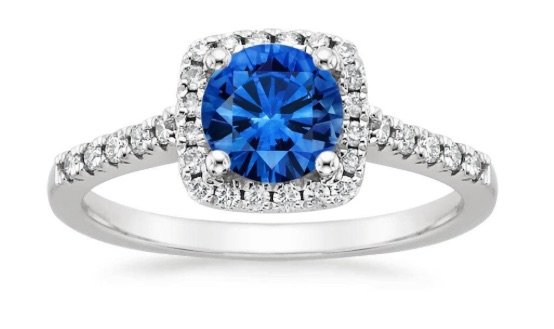 When they opt for a center gemstone other than a diamond, San Diego couples are most likely to select a deep blue sapphire. And when they go with a more unexpected look, they are likely to choose an emerald, morganite, or moissanite center. Those three gemstones are especially sought after in the San Diego area, as are white sapphires. The Sapphire Odessa Diamond Ring, seen above, is a frequent choice of San Diego couples. View our collection of sapphire engagement rings.
Attention-Grabbing Diamonds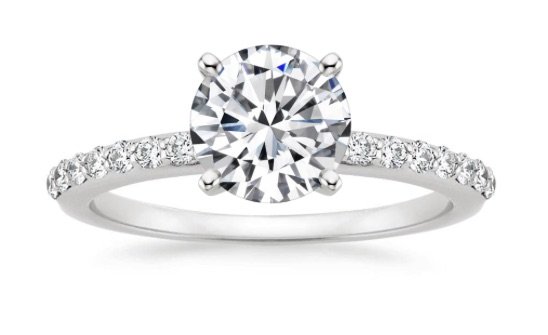 Although a bit more low-key and laid-back than their neighbors to the north in Los Angeles, San Diego still has a glamorous side, and the size of their diamond engagement rings reflects that. Diamonds in the 1.5 to 2 carat range are more sought after in comparison to the country as a whole, and smaller diamonds in the half carat and below range are purchased less often. The understated elegance of the Petite Shared Prong Ring, above, pairs beautifully with a larger center diamond.
Love for Lab Diamonds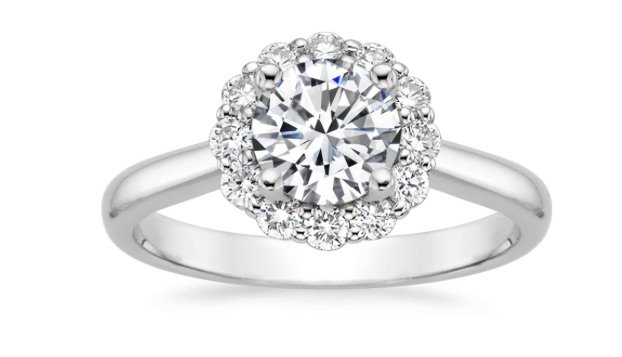 Many scientists and researchers call the San Diego region home, thanks to the Scripps Institute and multiple universities. Perhaps that is why lab created diamonds are more sought after in this corner of the country. Lab created diamonds are an impressive scientific feat, as they are made of the same chemical crystal as mined diamonds and exhibit the same fire, scintillation, and sparkle, but are created in just a few months rather than over billions of years. Lab diamonds, like the one seen above in the Lotus Flower Diamond Ring, are a beautiful and eco-friendly choice.
Final Thoughts
Do you live near San Diego? What do you think of these San Diego engagement ring trends? Let us know on Facebook or Twitter, or in the comments section!