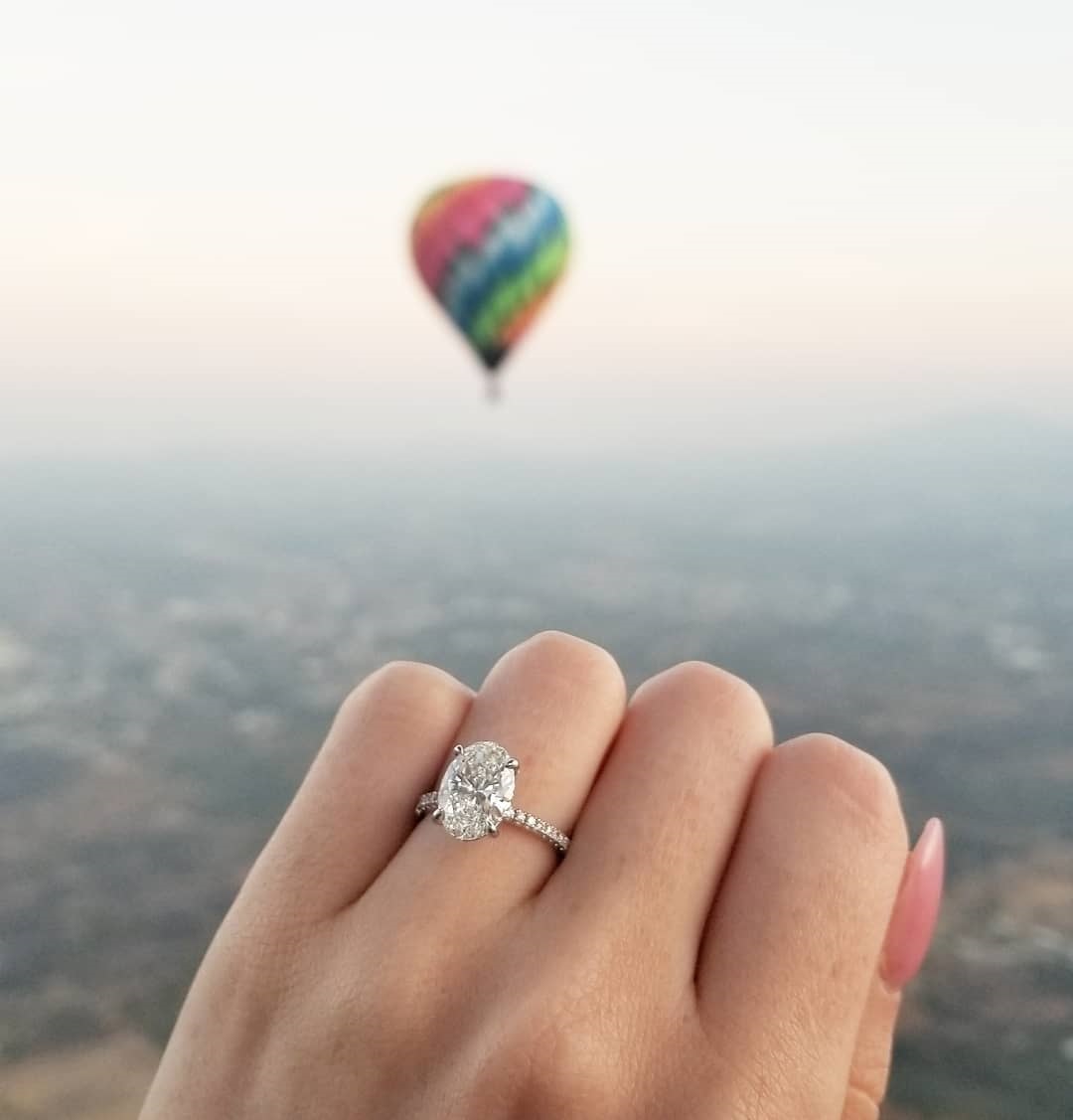 Whether you're single, in the market for an engagement ring, or already have one of your own, we know how hard it is to resist gazing at (and liking!) a gorgeous glittering ring when it pops up on your Instagram feed.
With this in mind, we scrolled through our own Instagram feed to see if we could uncover which of our engagement ring styles were your favorites.
Your double taps have spoken! Here are the top 12 Brilliant Earth engagement rings according to Instagram:
12. Aria Diamond Ring
15.2k likes
View this post on Instagram
Three words: oval engagement rings.  Oval engagement rings like this white gold Aria Diamond Ring setting is one of the most sought after engagement trends we're seeing on Instagram—and we don't foresee this fading anytime soon! Three stone engagement rings featuring fancy shaped side stone accents are also majorly on trend – and the likes reflect that.
11. Four-Prong Petite Comfort Fit
15.3k likes
View this post on Instagram
Petite and delicate, classic solitaire settings like the Four-Prong Petite Comfort Fit Ring will always be in high demand. Solitaire settings featuring fancy shaped diamonds like ovals, pears, emeralds, radiant, and cushion diamonds add modern distinction to this classic style.
10. Peach Gemstones
15.4k likes
View this post on Instagram
The soft peaches and pinks of morganite or sapphire gemstones are a beautiful way to make an engagement ring look modern and unique, like this Aria Diamond Ring set with a peach emerald morganite. Browse our selection of colored gemstones here.
9. Surprise Details
15.5k likes
View this post on Instagram
Our audience is loving surprise and hidden diamond details, like the sparkling hidden halo of the Secret Halo Diamond Ring. Diamond accents that peek out from under the center gem add something special to classic solitaire ring settings.
8. Six-Prong Classic Ring
15.9K likes
View this post on Instagram
Who doesn't love a classic solitaire diamond ring (especially when positioned next to a cute dog nose!)? It's hard to tell whether it was the dog or the Six-Prong Classic Ring that everyone loved, but we like to think it was both!
7. Pear Shaped Diamonds
16.3K likes
View this post on Instagram
Pear cut diamonds, also known as "teardrop" diamonds, add an element of distinction to any ring. The shape has long been favored by style icons, including Victoria Beckham, Katherine Heigl, and Elizabeth Taylor — who famously received a 69.42 carat(!) pear shaped diamond from her then-husband Richard Burton. The diamond halo and delicate accented band of the Waverly Diamond Ring in this Instagram post highlight the sparkling center pear shaped stone.
6. Petite Elodie Ring
16.9k likes
View this post on Instagram
Gorgeous oval diamonds paired with delicate solitaire setting are a common theme in this list. A classic #ringselfie pose like this one is also a surefire way to rake in the likes on Instagram.
5. Fiorella Diamond Ring
17k likes
View this post on Instagram
This nature-inspired engagement ring features floral booms and delicate petals surrounding a gorgeous oval center diamond. Set in beautiful rose gold and surrounded by shimmering diamond details, the Fiorella Diamond Ring is hard to resist!
4. Rose Gold Engagement Rings
18.5k likes
View this post on Instagram
At once modern and vintage in feel, rose gold engagement rings make a distinctive, beautiful choice. This warm hued precious metal has been rising in popularity, and is flattering to many skin tones. This Lumiere Diamond Ring pictured here embodies some of our most popular engagement ring photo trends: rose gold, oval diamonds, hidden diamond details, and an adorable puppy!
3. Luxe Ballad Diamond Ring
18.7k likes
View this post on Instagram
When looking at our most loved Instagram posts, it's clear to see that oval diamond engagement rings with delicate diamond details are a winning combination! This classic engagement ring features sparkling scalloped pavé diamonds that extend three-fourths of the way around the ring.
2. Haven Diamond Ring
20.7K likes
View this post on Instagram
Hidden halo engagement rings are definitely a fan favorite! The Haven Diamond Ring features a glittering hidden halo of staggered diamonds that wraps around the center gem while a petite band complements the gallery for a chic look
1. Ballad Diamond Ring
27k likes
View this post on Instagram
Even in the dim glow of twilight, the fire and brilliance of the oval center diamond of this Ballad Diamond Ring can't be hidden! As you can tell by their inclusion in the majority of our most loved Instagram photos, oval shaped diamonds are extremely popular, and we anticipate this trend will stay strong for years to come. Oval diamonds cover more surface area, which can make your center diamond appear larger than a round diamond of similar carat weight. You can browse our current selection of oval cut diamonds here!
Final Thoughts
Do you agree with our followers? If not, which Brilliant Earth engagement ring is your favorite? Let us know on our Instagram, Facebook, Twitter or in the comments below!