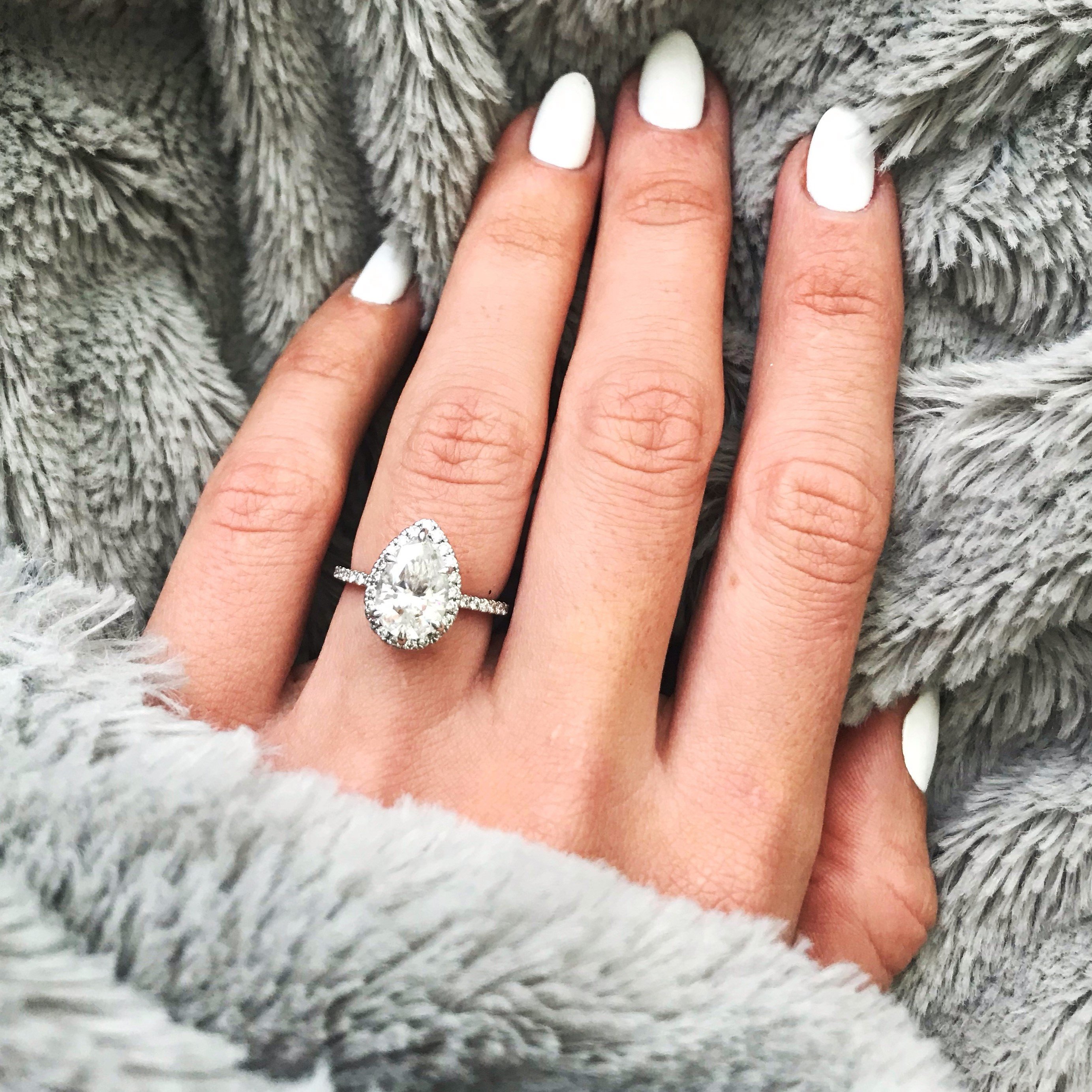 Whether you're single, in the market for an engagement ring, or already have one of your own, we know how hard it is to resist gazing at (and liking!) a gorgeous glittering ring when it pops up on your Instagram feed.
With this in mind, we scrolled through our own Instagram feed to see if we could uncover which of our engagement ring styles were your favorites.
Your double taps have spoken! Here are the top 10 Brilliant Earth engagement rings according to Instagram:
10. Peach and Pink Gemstones
15.3k likes
View this post on Instagram
Beautiful pink and peach gemstones are definitely seeing the love from our Instagram audience! Beautiful pink and peach gemstones pair beautifully with the warm hues of rose or yellow gold, and add unique distinction to an engagement or "just because" ring. We recommend pink diamonds or sapphires as durable and stunning alternatives to traditional white diamonds as an engagement ring center gem.
9. Fiorella Diamond Ring
16.9k likes
View this post on Instagram
This nature-inspired engagement ring features floral booms and delicate petals surrounding a gorgeous oval center diamond. Set in beautiful rose gold and surrounded by shimmering diamond details, the Fiorella Diamond Ring is hard to resist!
8. Petite Elodie Ring
17k likes
View this post on Instagram
Gorgeous oval diamonds paired with delicate solitaire setting are a common theme in this list. A classic #ringselfie pose like this one is also a surefire way to rake in the likes on Instagram.
7. Rose Gold Engagement Rings
18.6k likes
View this post on Instagram
At once modern and vintage in feel, rose gold engagement rings make a distinctive, beautiful choice. This warm hued precious metal has been rising in popularity, and is flattering to many skin tones. This Lumiere Diamond Ring pictured here embodies some of our most popular engagement ring photo trends: rose gold, oval diamonds, hidden diamond details, and an adorable puppy!
6. Luxe Ballad Diamond Ring
18.6k likes
View this post on Instagram
When looking at our most loved Instagram posts, it's clear to see that oval diamond engagement rings with delicate diamond details are a winning combination. This classic engagement ring features sparkling scalloped pavé diamonds that extend three-fourths of the way around the ring.
5. Lumiere Diamond Ring
19.2k likes
View this post on Instagram
This is the second time the Lumiere Diamond Ring set with an oval diamond appears on this list! This delightful engagement ring features a glittering diamond gallery that wraps around the center gem. The petite band complements the gallery for an elegant, chic look.
4. Three Stone Engagement Rings
19.5k likes
View this post on Instagram
Our Instagram audience is loving the look of classic three stone engagement rings, particularly when they feature trending elongated fancy diamond shapes and 18K yellow gold hues. This style's beautiful meaning and unique look makes a three stone ring a striking and romantic choice.
3. Surprise Details
20.9k likes
View this post on Instagram
Our audience is loving surprise and hidden diamond details, like the sparkling hidden halo of the Secret Halo Diamond Ring. Diamond accents that peek out from under the center gem add something special to classic solitaire ring settings.
2. Moissanite Engagement Rings
28k likes
View this post on Instagram
Moissanites are becoming an increasingly popular and sought-after diamond alternative. Their durability and unique rainbow refraction makes them stunning choices for the focal point of an engagement ring. Additionally, because moissanites are typically more affordable than diamonds of comparable dimension and carat weight, they are an excellent option for those looking to optimize on a larger center stone size within their budget. We receive a lot of requests to post images of moissanite rings on our Instagram, so it's no surprise that this stunning moissanite ring is one of the most loved on our list!
1. Ballad Diamond Ring
33k likes
View this post on Instagram
Even in the dim glow of twilight, the fire and brilliance of the oval center diamond of this Ballad Diamond Ring can't be hidden! As you can tell by their inclusion in the majority of our most loved Instagram photos, oval shaped diamonds are extremely popular, and we anticipate this trend will stay strong for years to come. Oval diamonds cover more surface area, which can make your center diamond appear larger than a round diamond of similar carat weight. You can browse our current selection of oval cut diamonds here!
Final Thoughts
Do you agree with our followers? If not, which Brilliant Earth engagement ring is your favorite? Let us know on our Instagram, Facebook, Twitter or in the comments below!