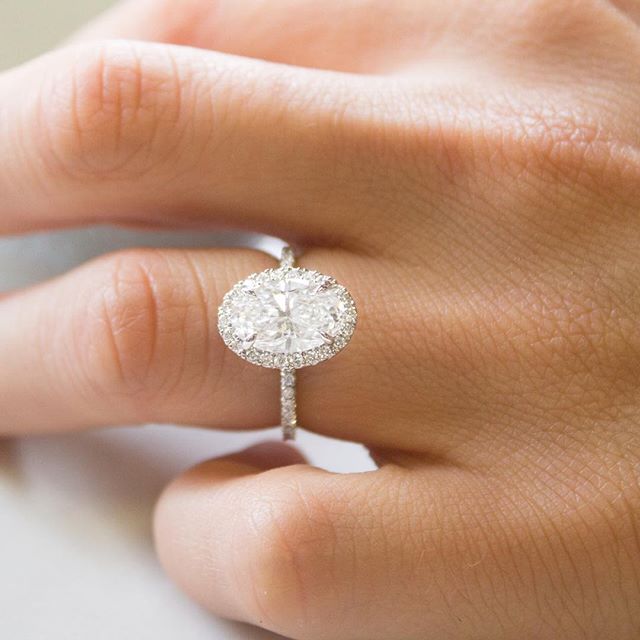 Whether you're single, in the market for an engagement ring, or already have one of your own, we know how hard it is to resist gazing at (and liking!) a gorgeous glittering ring when it pops up on your Instagram feed.
With this in mind, we scrolled through our own Instagram feed to see if we could uncover which of our engagement ring styles were your favorites.
Your double taps have spoken! Here are the top 10 Brilliant Earth engagement rings according to Instagram:
10. Elodie Ring and Luxe Shared Prong Eternity Diamond Ring
8.6k likes
Made for each other! Set in beautiful rose gold and complemented by a diamond accented band, the Elodie Ring is the epitome of classic elegance.
9. Sunburst Diamond Ring
9k likes
A dazzling diamond halo and a light-catching marquise diamond make this rose gold ring truly unforgettable… but you'd better double tap the Sunburst Ring just in case!
8. Nouveau Diamond Ring
9.3k likes
What's not to like about this ring? Featuring a white gold setting and sparkling pavé diamonds, the Nouveau Diamond Ring creates an enchanting chevron of sheer shimmer.
7. Fancy Halo Diamond Ring and Wren Diamond Ring
9.3k likes
It's clear that the pear obsession is real! This pear cut Fancy Halo diamond engagement ring is perfectly complemented by the Wren diamond wedding ring, both in glistening rose gold. We think this set is pear-fection!
6. Petite Quattro Ring
9.4k likes
It's hard not to zero-in on this stunning Petite Quattro Ring. Talk about engagement envy! Can someone say "yes"?! View our collection of oval engagement rings to see more.
5. Three Stone Petite Twisted Vine Diamond Ring
10.1k likes
A nature-inspired engagement ring with a glamorous twist! The two accent diamonds perfectly frame the center emerald diamond in this unique Three Stone Petite Twisted Vine Diamond Ring, making for additional interest.
4. Valencia Diamond Ring 
10.1k likes
Three words: rose gold ovals. We've asked and you've double-tapped! Rose gold oval engagement rings like our Valencia Diamond Ring are the most sought-after engagement trend we're seeing on Instagram—and we don't foresee this fading anytime soon!
3. Fiorella Diamond Ring 
10.8k likes
This nature-inspired engagement ring features floral booms and delicate petals. Set in beautiful rose gold and surrounded by shimmering diamond details, the Fiorella Diamond Ring is hard to resist!
2. Yellow Gold Solitaire
11.2k likes
It looks like this yellow lab knows yellow gold is his color! Classic and eternally popular, solitaire engagement rings like the Elodie Diamond Ring put the focus on a single dazzling center gem.
1. Six-Prong Classic Ring 
15.9k likes
Who doesn't love a classic solitaire diamond ring (especially when positioned next to a cute dog nose!)? It's hard to tell whether it was the dog or the Six-Prong Classic Ring that everyone loved, but we like to think it was both!
Final Thoughts
Do you agree with our followers? If not, which Brilliant Earth engagement ring is your favorite? Let us know on our Instagram, Facebook, Twitter or in the comments below!