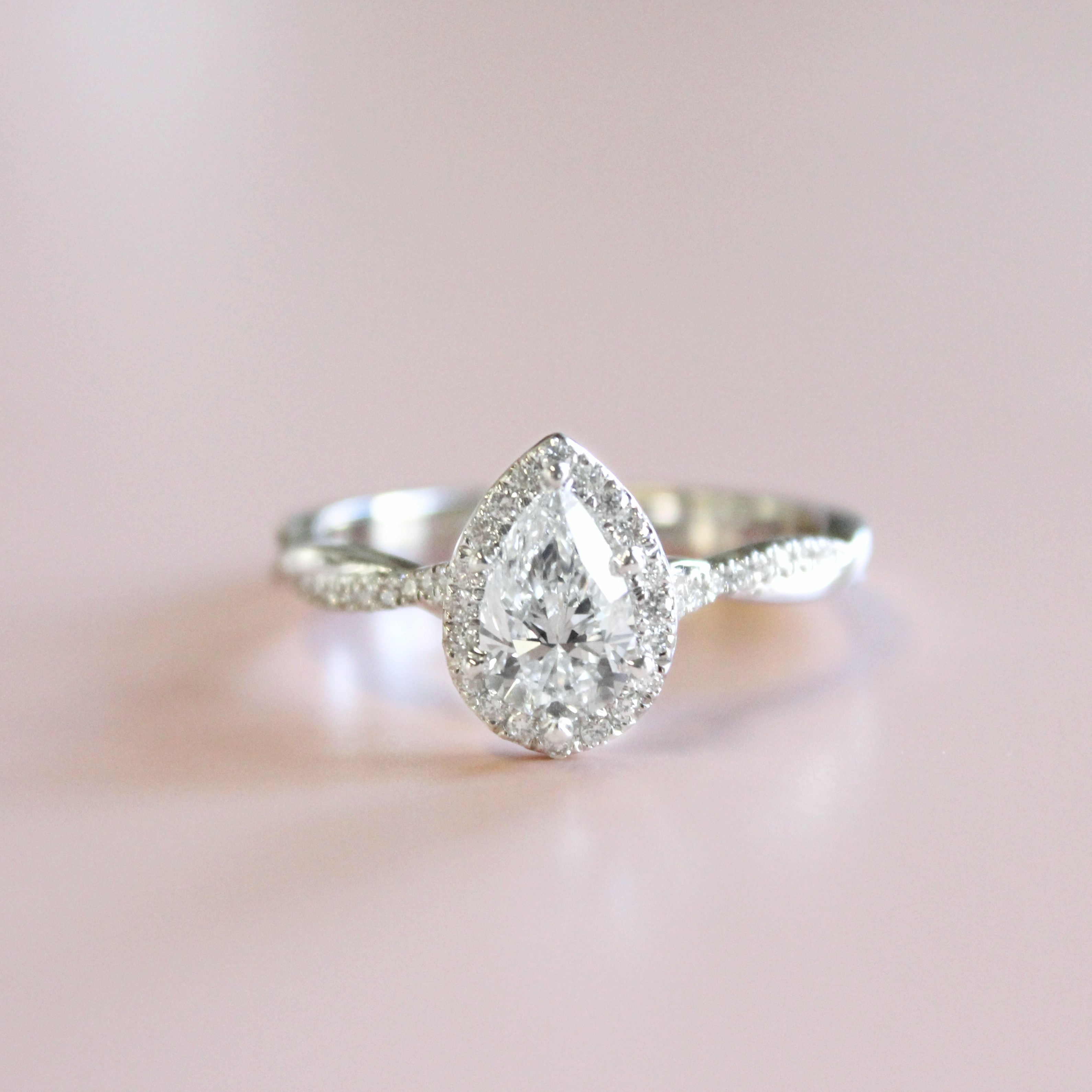 Whether you're single, in the market for an engagement ring, or already have one of your own, we know how hard it is to resist gazing at (and liking!) a gorgeous glittering ring when it pops into our Instagram feeds.
With this in mind, we scrolled through our own Instagram to see if we could uncover which of our engagement ring styles was your favorite.
Your double taps have spoken! Here are the 10 favorite Brilliant Earth engagement rings according to Instagram:
10. Circa Diamond Ring
6.3k likes
Two sparkling halos, a diamond gallery, and a slight split-shank band work to make the Circa Diamond Ring perfectly insta-worthy.
9. Ballad Diamond Ring
6.5k likes
Oval diamonds are becoming increasingly sought after, and the shape looks great set in the classic Ballad Diamond Ring design. Pavé diamond accents add an irresistible sparkly touch! View our collection of oval engagement rings.
8. Hand-Engraved Laurel Ring
6.5k likes
The Hand-Engraved Laurel Ring is the epitome of vintage meets modern. Its ornate scroll engravings and delicate milgrain on the top and sides of the band make for a beautiful light-catching effect.
7. Morganite Selene Ring
7.3k likes
There's something about morganite we can't stop liking! Set in beautiful rose gold and framed by two diamond accents, the Morganite Selene Ring could make anyone blush.
6. Custom Cadenza Halo Diamond Ring
7.6k likes
Dazzling diamonds and light-catching milgrain make this peachy gemstone ring unforgettable… but you'd better double tap the Morganite Cadenza Halo Ring just in case!
5. Petite Taper Ring
7.8k likes
It's hard to not zero-in on the stunning Petite Taper Ring. Talk about engagement envy! Can anyone say "yes!"?
4. Petite Twisted Vine Diamond Ring
7.9k likes
What's not to like about this ring? With entwined strands of diamonds and lustrous rose gold, the Petite Twisted Vine Diamond Ring creates an enchanting nature-inspired pattern of sheer shimmer.
3. Lissome Diamond Ring
8k likes
It's clear that the oval obsession is real. This Lissome Diamond Ring perfectly catches the light from its shiny rose gold cathedral setting. Scalloped pavé diamonds embellish the top of the band and gallery, making it hard to take your eyes off it!
2. Petite Twisted Vine Halo Diamond Ring
9.2k likes
This nature-inspired ring takes a glamorous twist in the Petite Twisted Vine Halo Ring. The halo accent diamonds add additional interest.
1. Six-Prong Classic Ring 
10.3k likes
Who doesn't love a classic solitaire diamond ring (especially when positioned atop a cute dog nose!)? It's hard to tell whether it was the dog or the Six-Prong Classic Ring that everyone loved, but we'd like to think both!
Final Thoughts
Do you agree with our followers? If not, which Brilliant Earth engagement ring is your favorite? Let us know on our Instagram, Facebook, Twitter or in the comments below!