Los Angeles is known as the "City of Angels" for good reason – it nears heavenly perfection with gorgeous sunny weather almost year round. But while the city's reputation as a 75 degree paradise holds true, other stereotypes about Los Angeles are incomplete.
While it is the celeb-spotting capital of the world, Angelenos know that there is more to their hometown than starlets preening for paparazzi outside of velvet rope-gated events. This sprawling city also includes laid-back beach communities, rustic canyons where you're more likely to see a coyote than a celebrity, boho enclaves like Venice Beach and Echo Park, and neighborhoods where Spanish is the unofficial language and taquerias are always the hottest restaurants.
What holds true in every corner of this diverse city is that people take style very seriously, and love to express themselves through their clothing and jewelry—something we know well at Brilliant Earth, because we have many Los Angeles customers. These statistics tell the story of the current trends in Los Angeles engagement rings and jewelry:
LA loves nature-inspired engagement rings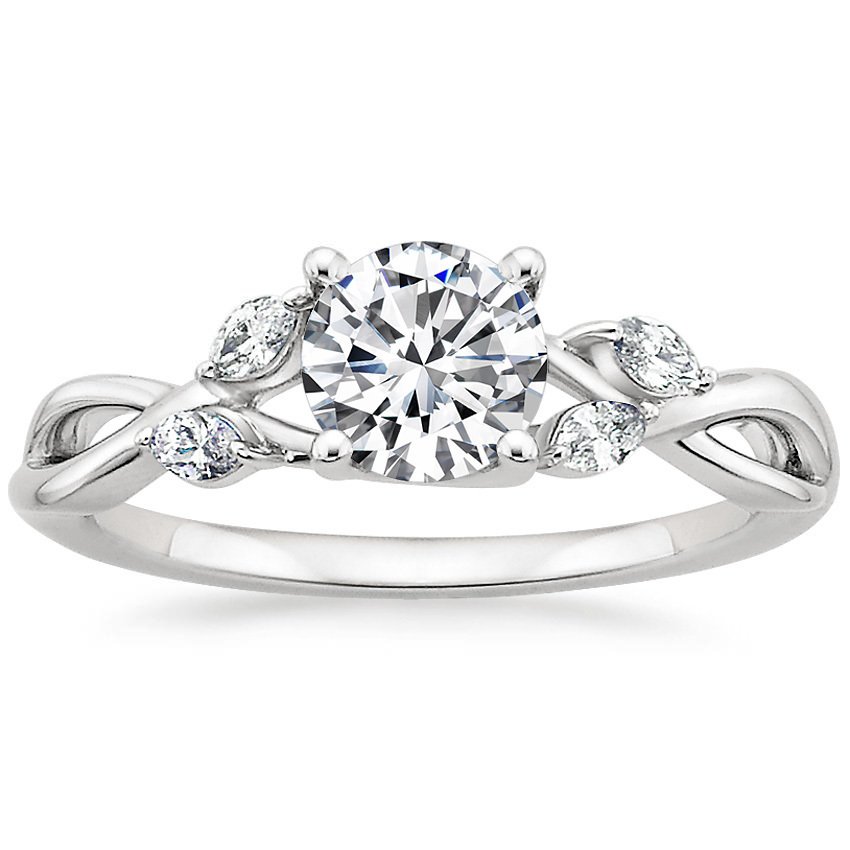 The engagement rings most often selected by Los Angeles couples are nature-inspired designs— the Petite Twisted Vine Ring and the Willow Ring. Both of these designs feature subtle curving, nature-inspired lines.  Many nature-lovers are drawn to LA to surf at its beaches and hike or bike in its mountains, and the popularity of these rings reflects that.
Classic solitaires are the second most popular style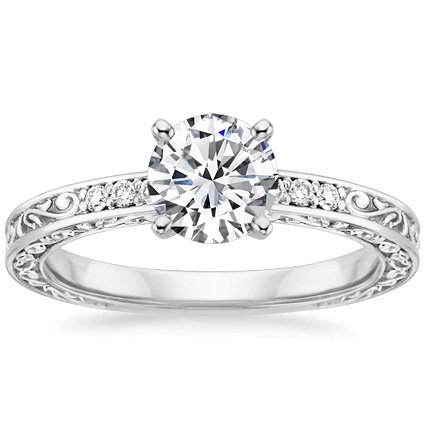 Although their city may be considered a capitol of glitz and glamour, Brilliant Earth's Los Angeles couples are drawn to the understated elegance of classic four- and six-prong solitaire engagement rings, our second most popular design style in LA. The 2mm Comfort Fit Ring and the Petite Comfort Fit Ring are timeless classic that will blend seamlessly with whatever other jewelry a woman chooses to wear.  LA couples seeking a bit of embellishment on a solitaire style choose our Delicate Antique Scroll Ring, above.
Some LA couples go for glamour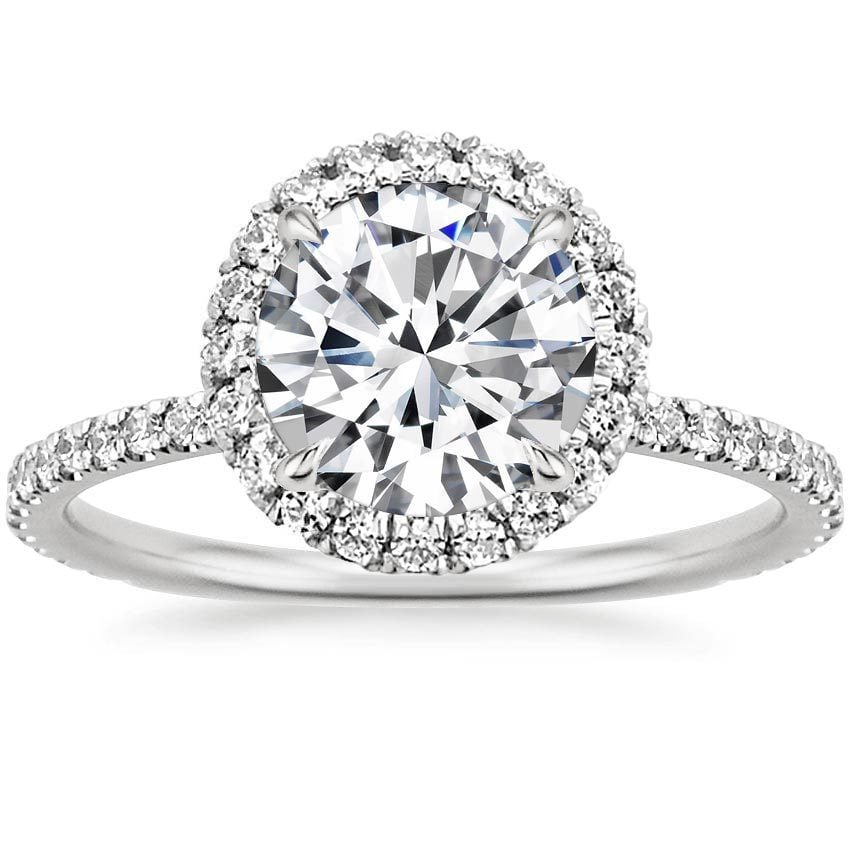 Unsurprisingly, another very popular type of engagement ring for our LA ladies is eye-catching halo styles. The Halo Ring, Waverly Ring, and Lotus Flower Ring are three top-selling styles that feature glittering diamond halos encircling the center gem. Perhaps customers who love the bright lights and celebrity culture of Los Angeles are drawn to these luxurious, captivating rings.
LA loves less traditional engagement rings too
Although new diamond rings are still the best-selling styles, in Los Angeles more than one third of the engagement rings we sell feature a unique element—these rings either showcase a center sapphire instead of a diamond (as seen on the Sapphire Fancy Halo Engagement Ring, above), are vintage rings from past eras, or are completely unique custom designs.
White gold wins hearts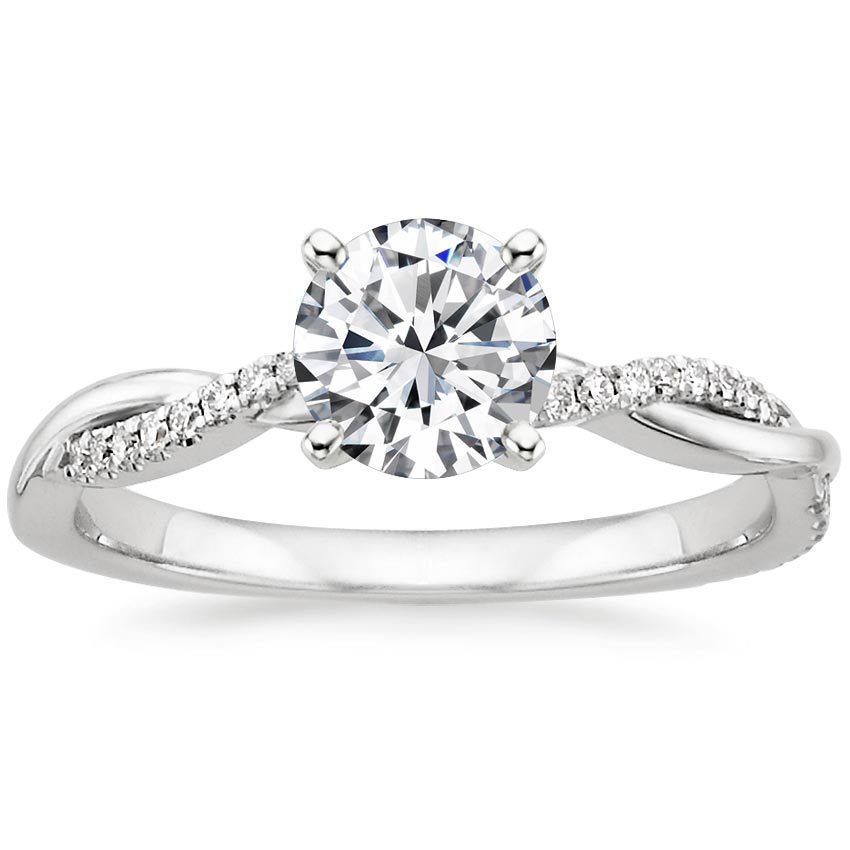 Los Angeles couples love the elegant, chic look of white gold for engagement rings, with platinum coming in second place and yellow and rose gold slightly less sought after. The culture of Los Angeles celebrates the youthful and contemporary, so perhaps it's no surprise that its couples choose precious metals that echo the futuristic sheen of skyscrapers and modern sculpture. One of LA's favorite rings, the Petite Twisted Vine Ring, can be seen above in white gold.
LA accessorizes with silver pendants and glittering studs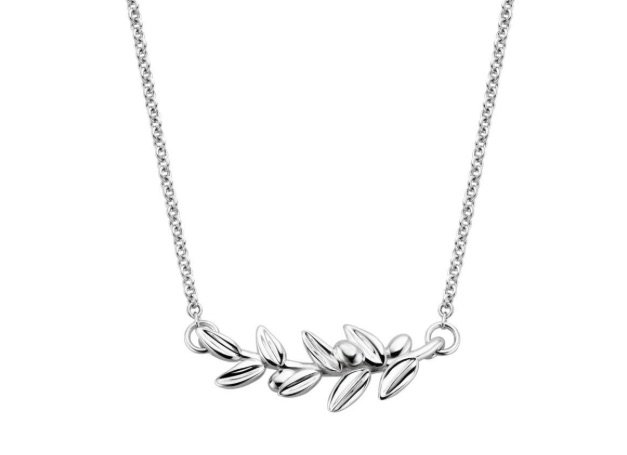 Just as white gold and platinum are the most popular precious metals for LA engagement rings, silver pendants are the most beloved necklaces in the LA region. Our Silver Olive Branch Pendant (above), Silver Infinity Pendant, and Silver Wave Pendant are three hot styles. Two top-selling earring styles are the luxurious but classic Diamond Stud Earrings and vibrant blue Sapphire Stud Earrings.
We invite you to schedule an appointment at our LA showroom, located in the bustling Robertson Boulevard shopping district, to view these styles and more in person.
Final Thoughts
What do you think of these Los Angeles engagement ring and jewelry trends?  If you live in LA do they fit with your personal style?  Let us know on Facebook or Twitter, or in the comments section!