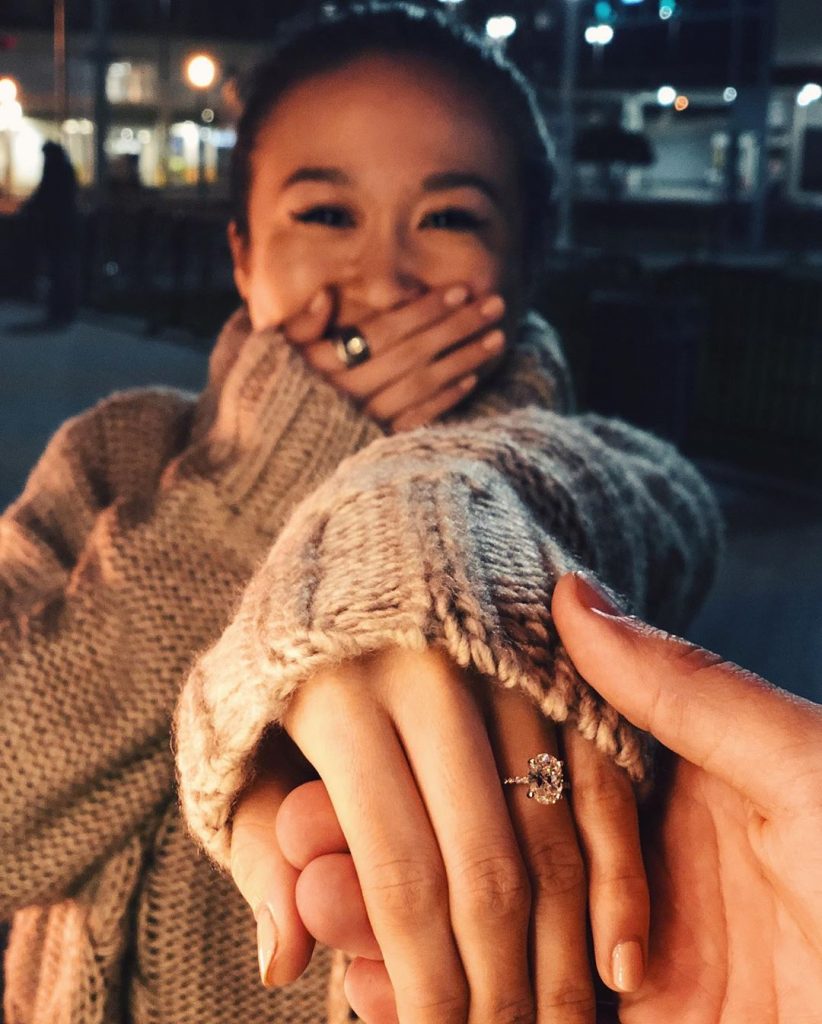 What's the first thing most people today do when they try on their engagement ring for the first time? Share pictures of it with their friends and family in texts and on social media!
We know your friends and family will be excited about your engagement and proposal pictures no matter what, but we've seen a trend in engagement poses that get the most likes overall. Looking at our Instagram posts that receive the most likes and engagement, we've determined some top tips for making your engagement announcement the most 'grammable it can be. Read on for how to get #RingSelfie ready!
Tip #1: Feature Furry Friends
View this post on Instagram
This is a two-for-one special of Instagram-able pictures: sparkling rings and adorable pets! If you have a sweet dog or cat who loves to be in the spotlight, consider including them in your special moment as a cute way to announce your engagement.
Tip #2: Take a Video
View this post on Instagram

A short video is a great way to show off your engagement ring's beautiful sparkle and capture its unique details from all angles.
Tip # 3: Use an Eye-Catching Backdrop
View this post on Instagram

This couple proposed in Japan's famous Fushimi Inari Shrine, and the bright orange gates created a gorgeous backdrop for her stunning oval diamond engagement ring. Although not everyone can travel to famous landmarks to take proposal pictures, a funky mural, natural vistas, or even just a colorful wall where you live can make your pictures pop!
Tip #4: Have a Fresh Mani
View this post on Instagram

Of course, if your proposal is a surprise you may not be prepared with a salon-fresh manicure for your proposal pictures, but if you have a feeling a proposal might be coming, well manicured hands and nails will really set off your ring to its full advantage. Even if you are not a nail polish person, we highly recommended making sure your hands are moisturized and your nails are clean and trimmed before snapping your pics!
Tip #5: Tell Your Unique and Authentic Story
View this post on Instagram

In the example above, the newly engaged Libby Vilner wrote, "a fiancé that has 2 brothers means new lifelong bonds with their beautiful wives." Our audience really resonated with her authentic friendship for her new future sisters-in-law and the bond they share as family. Celebrate what makes your history and future as a couple special and important to you; people will love to see your unique love story in your engagement announcement caption!
Tip # 6: Optimize for Sparkle
View this post on Instagram
With natural sunlight, no filters are needed! Allowing sunlight or other focused light to filter and refract into your center diamond or gemstone will show off its clarity and brilliance.
Tip # 7: Play With Focus
View this post on Instagram

Finally, this particular pose is by far the most popular with our Instagram audience. The majority of our most engaged-with customer pictures feature some variation of this format. The secret ingredients for this popular look seem to be: having the ring hand held by the person's partner who is off-camera, and having the arm extended with the ring in focus in the foreground and the wearer slightly out of focus in the background. We're not sure if it's the way this pose highlights the beauty of the ring, draws attention to the fact that you are newly engaged(!), or something else, but something about this format makes it a fan favorite!
Final Thoughts
Do you have a favorite picture from your engagement? Share yours with us on Facebook, Instagram, or Twitter!