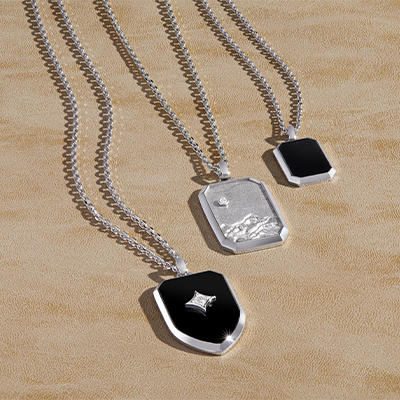 Jewelry is an important element of style and personality to any man's wardrobe. Selecting the right necklace length is a key aspect when choosing jewelry. Read on to discover what chain and chain length can style the perfect look from our men's jewelry line.
Different Types of Chains
Men's chain necklaces come in a variety of types, lengths, and metals. The most common chains are available in yellow gold, white gold, and silver. Chains are a foundational piece of men's jewelry that not only step up your style, but also enhance your look. Here are a few different types of men's chains:
Box Chains: square chain links made from square or box shaped wires, each box is cut into four equal sides with a flat surface
Figaro Chains: classic piece of jewelry designed with a single elongated rectangular link followed by two or three smaller round links
Cuban Link Chain: Cuban link chains are very sturdy and tend to be much heavier because of thicker, rounder walls
Cuban Link Chain: curb chains are made up of oval links and have a flatter appearance
Cable Chain: popular chain typically meant for holding pendants or charms, made up of oval rings linked together
Rope Chain: series of links carefully woven together forming a twisted appearance or look
Snake Chain: closely resemble a snake's skin, with small rings, plates, or bands joined tightly together forming a continuous chain
How to Choose a Chain Length
It is important to keep in mind height, body type, and neck size when choosing a chain length. A man's neck size is the same size as a shirt's collar size which is very important to know prior to making a purchase. The average length for most men's chain is 20in, which falls at the collarbone. A helpful visual of where the average chain falls is between the top two buttons on a shirt, just below where the collarbone sits.
Overall, chain lengths range from 18in – 30in with each size corresponding to the look you are going for. Multiple chains of varying lengths can be worn for a layered look. If the chain includes a medallion, cross, or dog tag, a slightly longer length is recommended.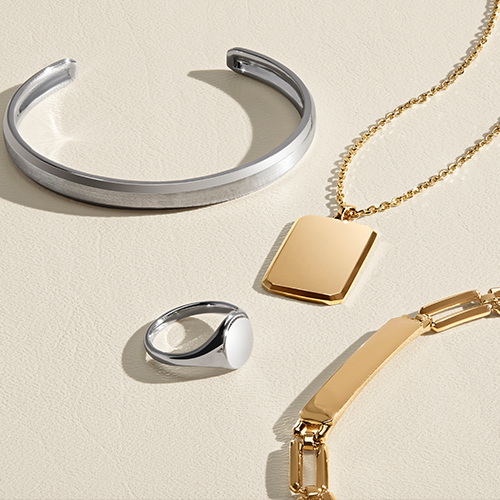 How to Choose a Chain Width and Thickness
There are a variety of chain width and thickness options for men. The most common are between 2mm – 6mm, corresponding to a man's neck size, body type, and the purpose of the chain. Chain width is tied to how a chain will be styled (i.e. medallion, pendant) or if the chain will be worn by itself.
A 2mm width has a thickness on par with a small headphone cord, while a 6mm width has a thickness similar to a pen/pencil. A width length between 6mm – 10mm works for pendants and chains worn outside of the shirt. Anything above a 10mm length is a statement piece to draw all eyes on your chain.
Common Chain Lengths for Men
18 inch
An 18in chain length is meant for smaller neck sizes. This is generally the shortest chain length for men. At this shorter length, necklaces tend to be very tight and fall right around the base of the neck. This can be a good option for men wanting their entire chain visible without being covered by a shirt collar.
20 inch
A 20in chain  is the most common length for men, falling right beneath the collarbone. When wearing a shirt, the chain falls between your shirt's first and second button and can also be worn inside or outside a shirt based on your preference.
22 inch
A 22in chain is the other common chain length for men. This chain necklace falls a few inches below the collarbone. At this length, other pieces of jewelry like a medallion or pendant can be added foradditional styling. It can also be worn inside or outside of a shirt depending on your preference.
24 inch
A 24in chain is another great length for men, as the chain length falls right in the middle of the sternum or several inches higher. If you plan to wear pendants like dog tags, crosses, or medallions this is a great length to maximize visibility. It is common for men to wear 24in chains outside the shirt since other pieces are attached to the chain.
30 inch
A 30in chain is the longest standard chain length for men. This length falls right at the base or just below the sternum, and is meant to be worn outside of the shirt. A 30in chain is generally paired with a larger pendant, medallion, cross, or dog tag along with a thicker chain width. These chains are worn as statement pieces and are attention grabbing.
How to Style Chains
When styling chains, have a primary chain serving as the attention-grabber. The primary necklace serves as the focal point, with the other chains are for support. Creating a distance of 2-4in between chains allows for better viewability.
If you like wearing two chains, the thicker one will usually serve as the primary piece followed by a thinner chain above. If you're mixing pendant necklaces and chains, the pendant will get the most attention, and a thinner chain can complement a pendant well.
How to Clean Chain Necklaces
Caring for your jewelry will help preserve and protect your jewelry for years to come. You can clean a chain necklace with warm water and detergent-free soap, and a bristle-free brush to gently remove any debris. This can be followed up by using a soft cloth to buff and air dry the necklace.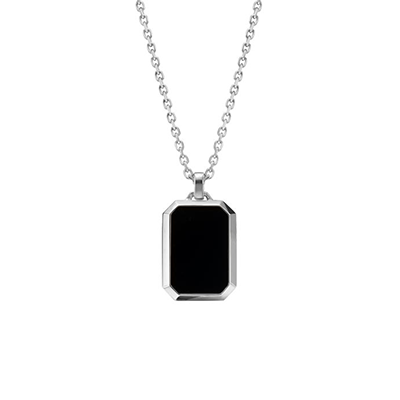 Men's Chain Length FAQs
What is a good chain length for a man?
When choosing a chain length, height, body type, and neck size are very important factors to know. Most chain lengths chosen for men typically fall at the collar bone, which is usually 20 inches in length.
Is a 20 inch chain too short for a man?
The most common chain length for men is 20in and not too short. When deciding on a chain length, it is important to know your neck size and how far down you want your chain to fall.
Is a 24 inch chain too long?
A 24in chain is not too long and another great length for men who plan to wear other items such as pendants, dog tags, crosses, or medallions on the chain itself. The chain length falls right in the middle of the sternum or several inches higher on most men.
Are chains unisex?
Certain chains are unisex, however this varies on the necklace itself and the neck size of the individual. Men's chains tend to be thicker and heavier in weight than a women's chain which is more delicate and lighter.
Can men layer chain necklaces?
Layering chain necklaces is a statement men can make to enhance any outfit. To pull of layering, is to stick with 2-3 necklaces each varying length so they are not bunched up or close together. Having a base necklace followed by a longer necklace with a pendant is a common layering style.
What type of chain is the most durable?
Durability is impacted by shape and size of the chain links and patterns on a necklace. The wheat chain is considered the strongest chain, which is made up of 4 strands of intertwining oval links.
Can chain necklaces get wet?
Necklaces can get wet, however use caution when being active so no damage is done to your jewelry. For lighter weight chains and chains with pieces, taking these off prior to physical activity or going into water is a good idea to prevent any damage. Hot and humid temperatures may cause tarnishing to sterling silver, leading to additional upkeep over time.
Final Thoughts
Mix it up with with bold bevels, onyx inlays, and pieces that stand out from our necklaces and mens jewelry available at Brilliant Earth.