Bostonians take style very seriously—we know because we are lucky to work with many customers from the Boston area and thrilled to announce the opening of our first Boston showroom in January 2016.
When it comes to engagement and wedding rings, Boston couples go for quality and favor classical beauty with subtly creative twists. Here's a look at the trends in engagement and wedding rings in this historic city:
Elegant, Feminine Engagement Rings
Women in Boston are more likely to choose engagement rings that are timelessly beautiful. Solitaire styles are sought after here compared to other cities, as are rings with delicate and gently curving bands. While super-sparkly halo styles are popular in other parts of the country, Boston brides-to-be are more likely to wear engagement rings featuring just a few glittering accent diamonds. The nature-inspired Willow Diamond Ring (seen above) and Petite Twisted Vine Ring feature curving bands and are among the most sought after styles with our Boston couples. Elegant, classic solitaires like the 2mm Comfort Fit Ring are also especially popular in Boston.
High-Quality Diamonds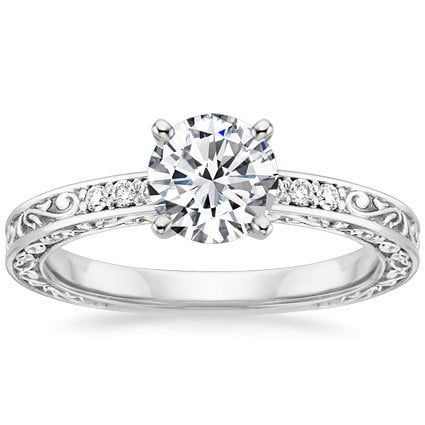 Boston couples don't tend to choose the biggest diamonds within their budgets. Instead they're more likely to select a diamond of higher quality, even if that means slightly smaller carat weight. They're likely to showcase a mesmerizing, high-quality center diamond in a delicate setting featuring subtle embellishment, such as the scrollwork and diamond accents in the Delicate Antique Scroll Ring, above.
Precious Platinum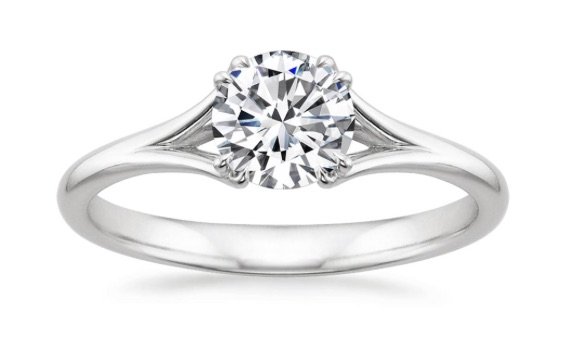 Platinum is the most strong and enduring precious metal, and also the most expensive. In keeping with their preference for high quality diamonds, Bostonians are about 10% more likely to choose platinum for their engagement and wedding rings when compared to couples in other parts of the country, who more often choose gold. The platinum Reverie Ring, above, is very sought after in Boston. It updates the classic solitaire design with a split shank and double claw prong setting.
Traditional Grooms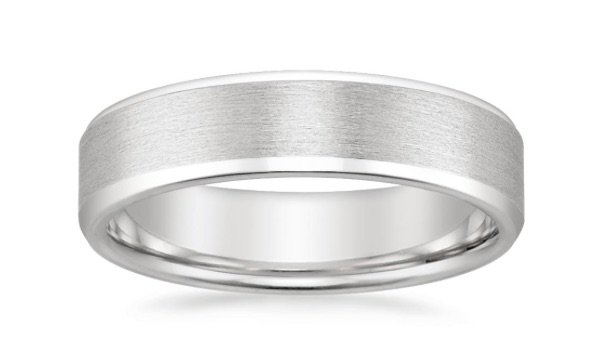 Perhaps unsurprisingly, men in this historic city love the classics. For wedding rings that means narrower bands like the 4mm Comfort Fit Wedding Ring, and matte or high polish textures and subtle details, as seen above in the Beveled Edge Matte Wedding Band. While white gold remains the most popular, Boston grooms are more likely than other grooms to select rose gold for a contemporary twist on a classic style. Although they still have their fans, distinctive etching and patterns aren't as sought after by Boston grooms.
Timeless Wedding Rings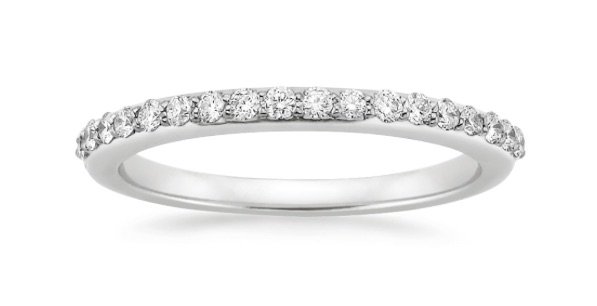 Similar to their partners, Boston brides more often select delicate and traditional wedding rings, such as the 2mm Comfort Fit Wedding Band and the Petite Shared Prong Diamond Ring, above.
Final Thoughts 
Do you live in Boston? Do these observations about Boston style ring true to you?  Let us know on Facebook, Twitter, or in the comments!