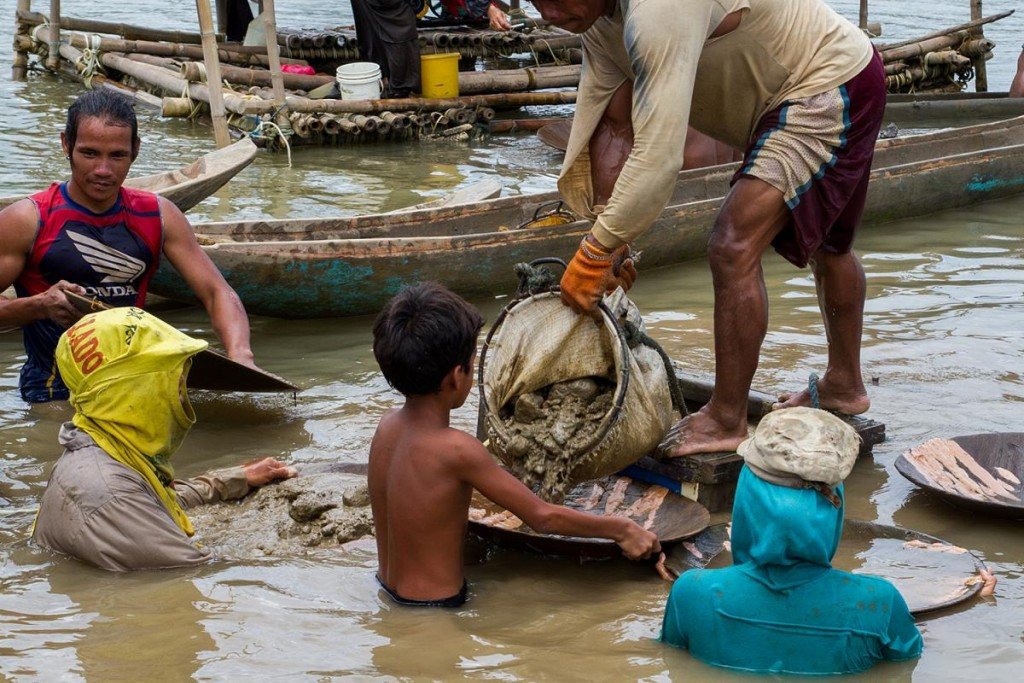 Dirty gold is illegally mined gold, bad for the planet and bad for the soul. Gold is available (for now), but getting ahold of it is increasingly difficult, especially by modest means. That price tag comes with social and environmental costs, and with no visible difference between recycled gold, ethical alternatives are the way to go. Knowing the source of your jewelry can help you shop responsibly. Here's what's at stake with mining dirty gold and how to seek out clean gold for a clean conscience.
What is dirty gold?
Unlawfully obtained gold. The gold mining process scorches everything in its wake, which is why there's strict protocol for extracting the precious metal from its dwindling reserves. Dirty gold sacrifices the integrity of pristine environments and public health, jeopardizing the surrounding people, water, air, and soil.
But the good news is you can shop for gold jewelry that respects local communities and supports sustainable operations. Brilliant Earth offers 97% recycled gold as well as Fair-mined jewelry so you can sort your accessories by eco-conscious efforts.
What are the problems with gold mining?
Metal mining is far from an innocent industry, and dirty gold profits off the exploitation and contamination of local communities. It ignores the standards of safe extraction in favor of pollution. Between mercury and cyanide release, dirty gold endangers entire ecosystems, and often displaces the people that once lived there to build mines. But you can trace the origins of your gold to help prevent immoral mining. When you shop for gold jewelry online, it's easier than ever to ensure that your pieces have been audited by experts for social and environmental safety (see our own 2022 Mission Report for examples).
Here's how gold mining impacts the environment:
1. Pollution
The high temperatures required to extract gold from ore create tons of toxic waste. It gets dumped into major waterways directly by mining companies or pollutes them by breaking through failing dams built for mine waste. Either way, gold mining pollutes rivers and oceans with hazardous chemicals, including arsenic, lead, mercury, petroleum, acids, and cyanide.
2. Environmental Destruction
Dirty gold dishonors the earth. All that shifted rock from digging means biodiversity is disrupted, with oxygen inspiring the rock to react with sulfuric acid. Any runoff into water streams then harms the health people that rely on them, causing skin cancer, tumors, and learning disabilities. It also impacts tourism by making the water turn orange and reek of rotten eggs. Open pit mining and heap leaching also create a toxic gray sludge that destroys life wherever it's dumped, and once the damage is done, it takes generations to reverse, if it's at all possible. Conservation is thrown out the window with dirty gold mining because most of the ore extracted will be laid to waste (the amount of metal recovered by comparison is miniscule).
3. Poor Safety
Dirty gold comes from corrupt, negligent mining companies that pay low wages and enforce dangerous working conditions, including exposure to illness-inducing toxins. Vision, muscles, and nerves are all at risk for miners due to poisoning from mercury, arsenic, and more.
4. Rights Violations
Mining should consider and cooperate with the people in the area. That's rarely the case. Many countries evict indigenous landowners to create gold mines, sacrificing their spiritual and cultural connections to a "mining" area for their own business development.
Why it's Getting Harder to Mine Gold
Covid-19 wrecked supply chains and the strength of currencies. While gold has always been valued for its scarcity and the fact that it plays hard to get (as far as mining goes), environmental regulations are making it more difficult than ever to extract. Ergo dirty gold. Any gold that was easily accessible is already being worn. There's a finite amount of gold left, and many barriers to getting the rest remain, which is why recycling jewelry is going to be the future of buying gold jewelry.
How to Combat Dirty Gold: Recycled Gold Jewelry
Dirty gold is criminal. If it's untraceable, it's unethical. A lack of a paper trail means that the gold may have incited violent conflict, whether a corporation clashed with a community over its land, or it encouraged armed forces to run mines that value human life less than precious metal. The gold is then most likely sold into the supply chain of smugglers. It's extraction by extortion. From start to finish, dirty gold ravages landscapes and the lives of locals.
But there's been progress. Organizations such as the Responsible Jewellery Council, Responsible Minerals Initiative, and London Bullion Market Association are discrediting illegal mining and putting a stop to the destruction of dirty gold.
And recycling gold has reduced the need for mining. Rather than being discarded into a landfill, recycled gold retains the quality of a piece. You hand your tarnished jewelry to the pros and they melt it down for reuse.
Which is why you should buy from Brilliant Earth. Our partnership for positive social impact ensures that our gold jewelry is recovered at the end of its life. Once gold has made it into the industry, we make sure it stays there.
What is recycled gold jewelry?
Recycled gold is giving the jewelry industry an ethical upgrade. This type of gold is just as valuable, and it isn't diminished in any noticeable way. In terms of quality, there's no loss, only a moral gain. Recycling gold is a simple process, melting down unused scraps and discarded pieces, potentially remixing them with new materials. Refining and recasting the precious metal gives gold a chance to continue its story.
7 Reasons to Choose Recycled Gold Jewelry
For starters, recycled gold isn't degraded because gold doesn't oxidize or corrode. It has lifelong purity from the moment it's mined, and recycled gold has the same look. Here's the big reasons why you should go green:
Dirty gold mining ruins a landscape. "Open pit" mining often uses dynamite to blow existing ecosystems to bits, replacing as much as 20 tons of rock and soil with an empty crater. And all that decimation, from soil erosion to diverted (or obstructed) waterways, usually results in one gold ring.
Gold mining produces toxic waste. In a process called "heap leaching," cyanide (yes, that cyanide) is intentionally spilled over massive mounds of ore. It encourages gold to latch onto the poison and come out of its recesses. Even more toxins are then required to get the gold on its own. Recycling gold means fewer chemicals.
Gold mining creates mercury pollution. In fact, it's the leading contributor. Mercury is used to pry gold free from ore piles, but as a poison, it obviously must then be dissolved. Unfortunately, that leaves behind mercury vapor (about 400 metric tons every year), which becomes part of the air and causes neurological damage in the miners and surrounding locals who are forced to breathe it in.
Dirty gold mining contaminates water. About 180 million tons of annual toxic waste is either directly dumped into waterways after jewelry is discovered, or is placed in a dam, where it can still seep into soil and occasionally break free altogether. Gallons of poison infiltrate the environment, wreaking havoc for generations.
Mining destruction is ongoing. Whether it's airborne or flowing through streams, the generational damage of toxic waste stretches beyond the closure of a mine.
Gold mining destroys habitats, from complete removal to the decades of aftereffects. Animal and plant diversity is endangered by the deforestation and pollution that result from introducing a mine to an ecosystem.
Gold mining is often the product of child labor. All over the world, children are exchanging education for exposure to dangerous, life-altering chemicals and hazardous working conditions, including deep diving into underwater mines.
FAQs
What is dirty gold mining?
Dirty gold mining references mining that ignores social and environmental safety. It leads to the unregulated release of cyanide, mercury, and other toxic substances.
Is recycled gold real gold?
Yes! Recycled gold is melted down from a former piece of gold jewelry. It's refined and recast for a fresh start, ready to be worn again.
Does recycled gold have value?
Yes! As many times as you melt down your metal, gold will never sacrifice its value. Recycling does not affect purity.
Is recycled gold better?
Recycled gold wins out over regular gold as far as standards for ethics and sustainability. Same quality, easier on the soul. No need for new alloys when recycled gold has limitless redos.
What is certified recycled gold?
The real deal. A third party, SCS Global, has verified that your gold is clean and conflict-free. Real gold, remade.
Is recycled gold lower quality?
No! Recycling doesn't degrade your gold. It's just a sustainable solution to encourage less mining.
How Brilliant Earth is Driving Industry Change
Brilliant Earth recycles precious metals, including gold. We're committed to curbing the demand for new minerals. Dirty gold has no place in our business as we work to fight abuses of environmental and human rights. Instead, we source our recycled metal from existing jewelry, electronics components, product manufacturing, and investment gold products, such as gold bars.
We also endorse programs that are holding mining companies accountable for responsible extraction. Our own suppliers must meet the strict sourcing guidelines of our Recycled Precious Metals Policy, which includes a tight list of approved small-scale mines, reviewed on an ongoing basis. We want to ensure the lowest environmental impact possible, using little to no chemicals. Our offering of Fairmined gold helps empower miners with a sustainable mining framework to prioritize the health of their environmental and social community, as well as an economic incentive for adhering to those standards. We respect workers' rights during the mining and the land restoration afterward.
And to reduce the need for mining, we focus on more than materials. Our quality craftsmanship means longer-lasting pieces. All of our jewelry is durable and comes with a free lifetime warranty.
Our initiatives for responsible recovery can help limit the destruction of dirty gold. When you shop with Brilliant Earth, you endorse our mission of a safer supply chain. See our 2022 Mission Report for the full recap of how far we've come and how far we aim to go.
Title photo courtesy of Mark Z. Saludes for Human Rights Watch.