Choose
the

Right Sapphire

Sapphires are an alluring alternative to diamonds. They come in every color of the rainbow, from vivid blues to feminine pinks. Another reason to consider sapphires: they're more affordable, which allows you to buy a larger sapphire on the same budget.

When selecting the perfect sapphire, the most important factors to consider are color, shape, and size. There are no standard measures like the 4C's for diamonds. Rich, deep blue is the most beloved sapphire color, and is the color most people prefer. The saturation of the color is also a key indicator of the quality of a sapphire. Sapphires with an even coloring command a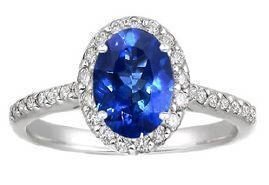 premium over lighter, less saturated sapphires or darker, inkier ones. In addition, make sure the sapphire you select has no inclusions, or tiny imperfections, visible to the eye.
For sapphire center gems, many shapes are available. Overall, the most popular shapes are round, oval, and cushion. The standard size for a round sapphire is 6mm – the equivalent of a .75 carat diamond – though at Brilliant Earth, we also offer larger and smaller sizes. 8x6mm oval sapphires are also an excellent choice. Kate Middleton's engagement ring, previously worn by Princess Diana, is crowned by a large, beautiful oval sapphire.
Sapphire engagement rings often feature diamond accents and/or engraving details to provide added complexity and To choose the
perfect sapphire,
consider color
first for a given
shape and size.contrast. Three stone sapphire and diamond engagement rings, which feature a center sapphire flanked by a diamond on either side, are a popular choice. For a luxe appearance, consider sapphire halo diamond rings, which feature diamond accents that encircle the center gem. Kate Middleton's sapphire halo engagement ring, for instance, features an oval sapphire encircled by 14 round diamonds. Sapphire and diamond rings are always a luxe and distinctive selection.
Engagement rings featuring vibrant sapphires alone also have a distinct appeal, allowing the eye to be drawn toward the solo, sparkling center gem.