The Washington, DC Showroom
Just a few Metro stops from where America's leaders make history, couples shape their futures at the Brilliant Earth Washington, DC, jewelry store in the Georgetown Design District.
Tucked into Cady's Alley, a picturesque pedestrian lane lined with high-end boutiques and antiques shops and built of historic brick updated with glass and steel, our showroom is a stylish and serene space for discovering our collection of engagement rings, wedding rings, and fine jewelry.
When you step into the sunlit space, you'll be greeted by a jewelry specialist ready to educate you about diamonds, gemstones, and jewelry design so you can discover an engagement ring or other special piece that perfectly suits your style sensibility and budget. Your jewelry specialist will be able to walk you through the process of ordering a new piece of jewelry, show you a curated selection of one-of-a-kind vintage rings from our antique collection, or detail the custom design option if you are interested in creating an entirely unique ring.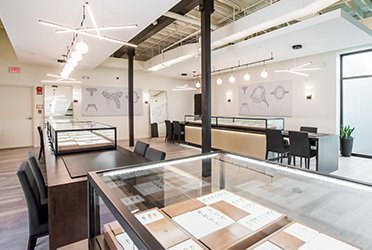 OUR SPECIALISTS CAN HELP YOU LEARN ABOUT DIAMONDS, COLORED GEMSTONES, OR VINTAGE JEWELRY.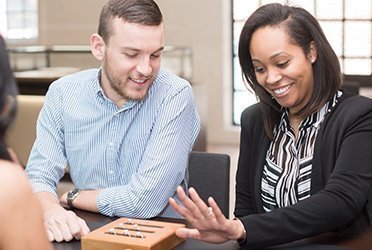 Our showroom is open by appointment only, and each visit consists of a personalized session. So our jewelers can tailor the visit to your specific interests, please share a bit about your shopping goals and jewelry preferences with us in advance of your appointment. The goal of our Washington, DC, showroom is to understand your desires and help you find the perfect piece of ethical origin jewelry in a fun and informative environment.
Curious to know which ring designs are most sought after in our nation's capital? Learn about Washington, DC, engagement ring trends for inspiration.