The Chicago Showroom
Surrounded by the luxury boutiques and lake-view skyscrapers of the Gold Coast neighborhood, Brilliant Earth's Chicago showroom is just above street level on tree-lined Oak Street. Inside you'll discover an elegant and serene space for viewing our collection of engagement rings, wedding rings, antique pieces, and fine jewelry.
You'll be greeted at our Chicago jewelry store by a jewelry specialist ready to educate you about diamonds and the "four Cs," so that you can discover the ideal diamond for your desires and budget. Your jewelry specialist will also be ready to guide you through our collections of colored gemstones and one-of-a-kind vintage rings, and if you are interested in a custom design he or she can explain the process in detail.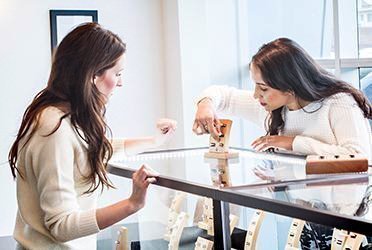 OUR SPECIALISTS CAN HELP YOU LEARN ABOUT DIAMONDS, COLORED GEMSTONES, OR VINTAGE JEWELRY.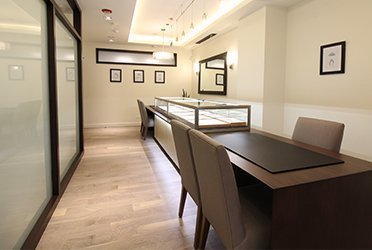 We ask that you make an appointment so that we can personalize your experience. Your showroom visit will be tailored to your specific interests, so it's exceptionally helpful for our jewelers to know a bit about your gem or diamond preferences and shopping goals beforehand. The goal of our Chicago showroom is to help you find the perfect piece of ethical origin jewelry and enjoy every step of the process.