Still haven't found the perfect Valentine's Day gift for the woman in your life? Whether you're still getting to know each other or you're ready to take things to the next level, a piece of jewelry can perfectly capture your sentiments.
The Valentine's Day Proposal
It is no coincidence that ten percent of marriage proposals occur on Valentine's Day. Popping the question on Valentine's Day is incredibly romantic and will forever infuse February 14 with personal significance for you and your soon-to-be bride. Imagine her telling her friends what you did on Valentine's Day!
Before you begin looking at rings, consider whether your bride-to-be would appreciate knowing that the gemstones in her ring are ethically sourced, meaning that they are untainted by violence, human rights abuses, and environmental devastation. More and more couples are seeking out engagement rings and wedding rings that they can truly feel good about wearing.
Now, on to the ring. Is the woman in your life classic and traditional or contemporary and chic? Fret not, there is a perfect engagement ring for every woman, and with the right amount of research and assistance, you can zero in on the one that will touch your future fiancée's heart (not to mention be the most fabulous Valentine's Day gift she has ever received).
For the classic, traditional woman, consider a striking classic diamond solitaire or an eye-catching three-stone engagement ring for a more sparkling look.
If you think your girlfriend would lean toward something a bit more unconventional, replacing the traditional diamond with a sapphire or a different colored gemstone can result in a bold and beautiful engagement ring. Or, for a ring that is truly one of a kind, you can design your own custom engagement ring, in which case, the sky is the limit.
Jewelry that Tells a Story
Valentine's Day is the perfect opportunity to show the woman you love not only how much you care, but that you also know exactly what makes her special. Personalized jewelry is a beautiful and meaningful Valentine's Day gift that shows your appreciation for her individuality.
The lovely initial charm pendant is crafted from recycled sterling silver and stamped with a letter of your choosing. Pair your initial with hers, or include the initials of your children for a gorgeous symbol of your love and commitment.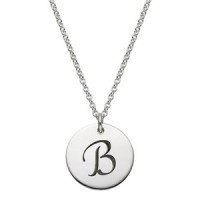 Select a stylish icon charm that represents a beloved aspect of her personality, such as a lucky clover or a lotus, then pair with an initial pendant. Include a diamond accent to infuse it with a touch of sparkle.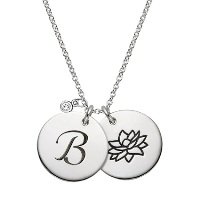 Show her your love was written in the stars. The Silver in the Stars pendants, crafted from brushed recycled sterling silver, feature artistic etchings of the zodiac constellations, complete with a single star—a dazzling Canadian diamond.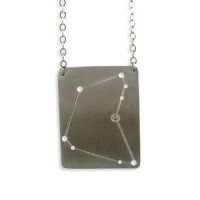 Classic Jewelry Gifts
Giving your loved one diamond or gemstone earrings is a generous and unforgettable gesture of love. Nothing says sophistication like the timeless design of a pair of diamond stud earrings. Smaller studs are a classic jewelry staple that can be worn every day, and a larger pair is a gorgeous complement to formal attire for special occasions.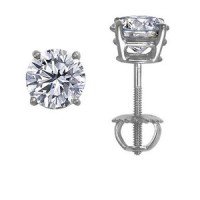 Brightly colored gemstones are a vibrant alternative to the classic diamond studs.
Haven't found that perfect pair? Design your own. Our simple Create Your Own process allows you to select both the setting and the diamond.
Of course, nothing says "Valentine's Day" like a heart. This necklace is simple enough to look stunning with a wide variety of styles.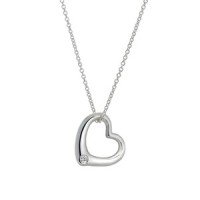 A Gift from Nature
For the eco-conscious, our nature–inspired jewelry captures the beauty of the outdoors with recycled sterling silver and ethically-sourced gemstones. Inspired by the seasons and the elements, these pieces perfectly capture the dynamic energy of nature. Each pendant hangs elegantly from a sterling silver chain.
Final Thoughts on Valentine's Day Gifts
This year, go beyond the typical Valentine's Day gifts of chocolates and flowers. Jewelry that is thoughtfully selected or even custom designed for the one you love is a demonstration of your affection that will speak directly to her heart. Whether you're ready to pop the question or are looking for a piece of jewelry that makes just the right statement, if your gift shows the thought you put into it, you cannot go wrong.