Are you looking for an engagement ring that is distinctive and extraordinary? Brilliant Earth has many options to help you with your search for the perfect unique diamond ring.  Your relationship is special and your ring should be too.
When searching for your perfect ring, consider all of the unique options available to you. Select one or combine several to create a unique diamond ring that exceeds your expectations and stands out from the crowd.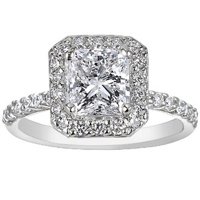 Choose a Unique Diamond Shape
If you want a distinctive ring, consider selecting a shape other than round brilliant or princess cut (the two most popular choices) for your center gem. There are many alternative diamond shapes—oval, pear, marquise, radiant, asscher—and each is beautiful in its own way. Brilliant Earth maintains an extensive collection of hand-selected diamonds in these shapes and more, and can showcase them in any of our engagement ring settings. These "fancy" shaped diamonds look equally beautiful in timeless solitaire settings, contemporary designs, and delicate vintage-inspired rings.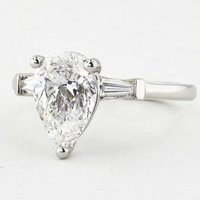 In many cases, simply selecting a less common diamond shape is enough to make your ring stand out from the rest.
Choose a Contemporary Setting
Consider settings that have a bolder, more modern aesthetic for your unique diamond ring. Modern styling in your engagement ring can also amplify your diamond selection.
Great examples of settings that will make your diamond pop are those with a bezel, a wider band, a brushed or matte finish, or a precious metal halo. Another striking choice is a ring with a split shank, which is composed of two bands—often adorned with diamonds–that divide at the top of the ring and then reconnect at the bottom of the band. This style combines the look a wider band with a more feminine feel.
Choose Yellow or Rose Gold
Why not choose a yellow or rose gold setting for a unique and stunning ring? The golden and blush hues of these precious metals stand out in a sea of platinum and white gold and flatter many skin tones for a simple and striking way to make your diamond ring unique.
Choose a Diamond Band as an Engagement Ring
Some women love the idea of wearing a diamond band without a center stone as their engagement ring. There are no rules about engagement rings, and you do not have to choose a prominent center gemstone to create an exquisite ring. Whether you're awed by a diamond eternity band, or smitten with a diamond floral motif, consider a piece from Brilliant Earth's wide-ranging collection of bands for an incredibly unique diamond ring.
You can delight in selecting additional bands to stack around your diamond ring to honor future events and occasions for the ultimate unique and expressive look.
Choose an Antique Diamond Ring
Select a one-of-a-kind, original antique ring to guarantee that your ring is entirely unique. Browse our incredible collection of antique rings, which showcases a broad range of styles from several design eras across all price points. Satisfy your desire for a most unique diamond ring with a treasure from the past that symbolizes the promise of your future.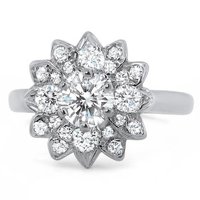 Design a Custom Ring
An extraordinary way to create a unique diamond ring is to custom design it with the help of our jewelry experts. Brilliant Earth specializes in custom designed jewelry and will work with you to make an exquisite, distinctive ring that fulfills your personal vision. We will combine our expertise and master craftsmanship with your vision to create a ring that represents the individuality of your love and commitment.  Custom design can be a great option for personalized rings for women.
Final Thoughts on Unique Diamond Rings
Whether you are shopping for your ideal diamond engagement ring, a diamond wedding band, or a piece of jewelry to commemorate a special occasion, be open to exploring unique options and embracing your inspiration and creativity. Read our Unique Engagement Ring Guide for more ideas.