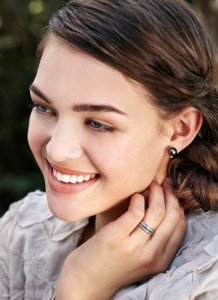 How do I love thee, Brilliant Earth rings? Let us count the ways. (Or maybe, let's not count all of them!) After some intense debate at our San Francisco location, we managed to agree on the top five reasons to choose a Brilliant Earth ring.
Reason #1: Protect the environment.
Many jewelry shoppers don't associate luxury jewelry with environmental harm. However, before slipping on that ring, it's important to be sure that you aren't wreaking havoc on the environment. Irresponsible diamond mining can damage ecosystems and ravage landscapes.  Gold mining is an especially harmful process, releasing toxic chemicals like cyanide and mercury into water supplies and generating about 20 tons of mine waste for every gold ring produced.
Brilliant Earth's diamonds are sourced according to rigorous environmental standards, and we use only recycled precious metals in our rings. (Because gold and platinum can be recycled repeatedly with no degradation in quality, our customers can protect the environment without sacrificing an ounce of shine!) We also offer a wide assortment of estate rings and lab created diamond rings, which leave a minimal environmental footprint because they reduce the need for new mining.
Reason #2: Put an end to civil wars, violence, and poverty.
An ongoing civil war in the Democratic Republic of Congo, fueled in part by fighting over gold and other mineral resources, has claimed more than 5 million lives. Similarly, diamond mining in Zimbabwe recently has been plagued by forced labor, child labor, torture, and killings.  And beyond these trouble spots, more than a million small-scale diamond miners in Africa live in extreme poverty.
By choosing a Brilliant Earth ring, you remove funding for the violence and help build a better future for people in mining communities. All of our rings are verified ethical origin and produced in accord with the highest environmental and labor standards possible. Additionally, we donate 5 percent of our profits to communities harmed by the diamond trade and the jewelry industry.
Reason #3: Allow your ring to be a more fitting symbol of your marriage.
If an engagement ring or wedding ring is what you're after, there's another very compelling reason to choose a Brilliant Earth ring: the symbol of your relationship will be responsible and ethical. We consider it a paradox that many wedding and engagement rings, although intended as symbols of love, are tainted by histories of violence and environmental devastation. By choosing an ethical origin, conflict-free ring from Brilliant Earth, you'll be able to appreciate your ring all the more because it will reflect your values. We believe that the beauty of a ring is truly enhanced by its pure and ethical origins.
Reason #4: Your Brilliant Earth ring will sparkle like no other!
The care we take in sourcing ethical origin products extends to the quality of the rings that we offer. We source only from mines that produce extremely high-quality gems, and our ring settings are made to order with meticulous craftsmanship. Because we track our gemstones from the mine to the customer, we can ensure the integrity of our diamond supply chain. Consider, on top of all this, that we offer a full custom design service which allows you to design your one-of-a-kind dream ring! It's no surprise that our customers give us rave reviews!  Both as a San Francisco jeweler and online, highly personalized customer service and exceptional quality are our hallmarks.
Reason #5: Share your values with those around you.
Let's face it. People are going to want to take a peek at your wedding or engagement ring – especially right after you get it, but also in the years ahead. When you share your ring with friends and loved ones, it's important to be able to display something that you can be proud of – both for the way it looks and for the values it represents. In fact, we encourage you to show off your Brilliant Earth ring. Every time you do, you will be helping to spread awareness about ethical origin gemstones and precious metals, and the need for reform in the industry!