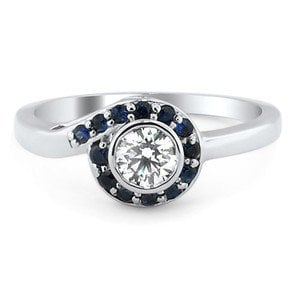 If you're about to propose, or recently did and are now ready to choose a ring, you might want to consider creating a custom design. Here are some of the very good reasons to consider designing a custom engagement ring:

The ring will be totally unique. Many couples are drawn to the idea of owning an engagement ring that's one-of-a-kind.  Since your love isn't quite like any other, your ring can reflect that.

You can bring a vision to life. If you have a specific idea in your head of what your dream ring looks like, but you can't find it at a jeweler, our design team can make that vision a reality. Or maybe you've seen a ring you like at another jeweler, but want to be certain that your ring is made of ethically sourced gemstones and precious metals. Our custom team can create a similar style using gemstones that meet our beyond conflict-free standard and a setting made of eco-friendly recycled precious metal.

You can be part of a creative process. Our customers tell us that they enjoy partnering with our custom design team to create their dream ring. Often people's ideas about what they want evolve as they work with us, and they push their vision throughout the design process. Such a creative undertaking can be a very fitting way to launch the journey of marriage and creating a life together.

Read our guide to custom jewelry design for a step-by-step explanation of how the process works. For inspiration and to see what the possibilities are, check out our custom design gallery, filled with gorgeous rings we've created for couples in the past.

So those are three very good reasons to create a custom-designed engagement ring. However, there are a few things you should know about going the custom route. First of all, it generally takes at least 4-6 weeks to create a custom ring, whereas one of our standard ring designs can be in your hands (or on her hand) in as little as 1-2 weeks (depending on the specific style and center gemstone you choose).

Also, a custom design generally costs a bit more, since you are paying for the extra work that goes into it. If you want a very personalized ring but are not sure if you're up for going custom, keep in mind that our Create Your Own ring process allows you to choose the shape, size, and characteristics of your center gemstone, choose the ring setting and precious metal you prefer, and even add an engraved special message. So even if you decide against going custom you can still create a unique ring that's suffused with you and your fiancé's style and sensibility.

Final Thoughts

Would you consider creating a custom design?  Or, do you own a custom ring?  Share your experience with us  on Facebook or Twitter or in the comments section!