When Pantone, the color authority in the design world, broke the news that emerald is the 2013 color of the year, the effects of the announcement could almost immediately be seen on the runway. Recently, we've seen this color trend appear increasingly often at big events like President Obama's Inauguration and the Academy Awards.
But the deep, rich greens of emeralds have been entrancing men and women since the time of Ancient Egypt. Emerald rings in particular are bold, vibrant, and distinctive, just like the women who wear them. Cleopatra wore her most prized emerald rings when greeting Roman dignitaries, and modern-day celebrities wear show-stopping emerald rings when they want to wow on the red carpet.
The reason? Emerald rings have a classic elegance that never goes out of style.
What to Know about Emeralds
The emerald is the most prized of the green gemstones. It originates from the beryl family of minerals and ranges in color from light to deep green. The emerald is universally believed to symbolize hope, rebirth, faithfulness and continuity. Certain cultures believe that the gemstone rewards its wearers with love, intelligence, and wealth.
The world's finest emeralds are found in Colombia, where vividly green emeralds result from unusual chemistry in remote areas of the Andes Mountains. Coveted Colombian emeralds are blue-green and have strong saturation with no smoky overtones. Our ethical origin Colombian emeralds are sourced under strict environmental protection and fair trade labor practices.
Famous Emerald Admirers, from Ancient Egypt to Hollywood
Many famously strong and celebrated women have fallen in love with emeralds over the years – women like Cleopatra, Jackie Kennedy, and Elizabeth Taylor – to name a few.
Cleopatra: The Original Green Goddess
The Ancient Egyptians revered emeralds long before Cleopatra's time. Proof was found in Egyptian mines, which contained the fossils of royalty along with the emeralds they'd been buried with. A lifelong lover of the prized gemstone, Cleopatra claimed the mines and the emeralds they contained as her own.
Jackie Kennedy: America's Iconic First Lady & Her Emerald Ring
Sixty years later, and the engagement ring JFK presented to Jackie Bouvier is still drawing crowds of admirers for its rare and intense beauty. Jackie's dazzling emerald and diamond engagement ring remains the essence of her signature sophisticated style.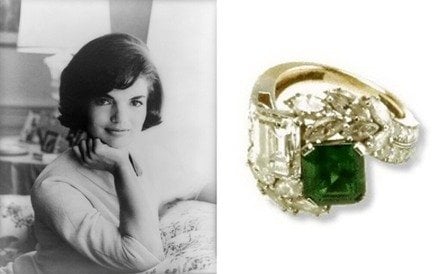 Emerald Rings in Hollywood
Among Hollywood celebrities, the more daring, fashion-forward celebrities have adorned themselves with ravishing emeralds in recent years.
Angelina Jolie has ignited an emerald ring trend several times with baubles worn on the red carpet. The green jewels stand out vividly against her signature all-black or all-white ensembles.
Most recently, it was Kelly Osbourne who dazzled the red carpet with her emerald ring and earrings at the 2013 Oscars.
Newly engaged movie star Halle Berry was presented with an engagement ring that broke away from the traditional diamond center stone. Her ring highlights a stunning square cut emerald as the center stone.
Always the edgy fashionista, Mary-Kate Olsen wears a glamorous and sizable antique emerald and gold ring with both dressy and casual attire.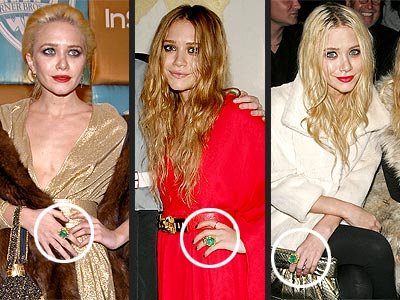 Beyoncé Knowles also selected emerald earrings and a matching ring to stand out against a black dress for her performance at President Obama's 2013 inauguration.
Antique Emerald Rings
And, because emeralds have been adored throughout history, there is an unusually wide range of antique emerald rings from all of the romantic eras of the past. Love these vintage looks? Bookmark our New Antique Jewelry Arrivals page to get a first look at our one-of-a-kind antique rings as they arrive.
Custom Designed Emerald Rings
If you have your heart set on an emerald ring but can't seem to find the one you want, consider designing your own! Whether you lean towards the more traditional three-stone engagement ring with a playful flash of green, a vintage-inspired band with emeralds integrated into the design, or an unconventional, colorful twist on the popular halo design, let our master jewelry designers bring your unique vision to life.
Final Considerations for Emerald Rings
At Brilliant Earth, we offer only the finest ethically sourced Colombian emeralds. Whether it's a one-of-a-kind antique or a custom designed style, an emerald ring makes a beautiful style statement.