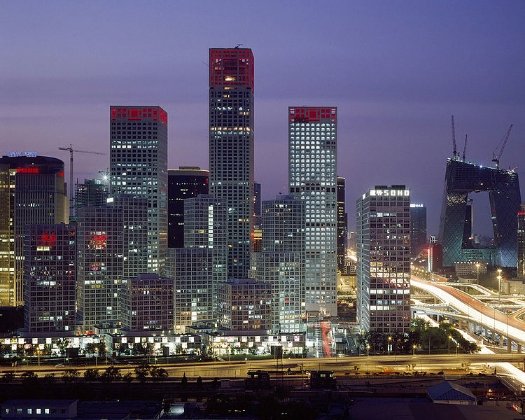 The following blog is the second in a three-part blog series on China and the jewelry trade. The first blog in the series can be found here.
It's always a good idea to be cautious when making broad generalizations about a country's government or business culture.  It's important to recognize, as well, that many Western companies don't have a history of model behavior in Africa either. The blood diamond wars of the 1990s cost an estimated 3.7 million lives partly because Western businesses bought the diamonds that funded rebel groups in countries like Sierra Leone, Congo, and Angola.
We already discussed, in the first blog in this series, some of the ways in which China plays by different rules in Africa's jewelry trade. But if there's one data point suggesting that China is now a laggard in breaking the link between jewelry and human rights abuses, it is the Chinese government's willingness to go into the diamond business with Robert Mugabe, Zimbabwe's corrupt and brutal leader.
China and Mugabe's Blood Diamond Trade
To understand China's role in Zimbabwe's blood diamond controversy, it's helpful to review some of the recent history. In 2008, following the discovery of a massive diamond deposit in the Marange diamond fields of eastern Zimbabwe, the Zimbabwean army swooped in to secure the area for itself. In a military exercise dubbed "Operation Hakudzokwe" (which translates as Operation "You Shall Never Return") the army massacred more than 200 local diamond diggers, mostly by firing guns from helicopters. The army then took over mining operations, enslaving local adults and children in the diamond fields and using all types of violence – killings, beatings, torture, and rape – to keep the miners working. The military and other Mugabe allies used the profits to fortify Mugabe's security state and enrich themselves.
The KP reacted slowly, but in November 2009 it placed an export ban on Marange diamonds – a ban which was supposed to prevent KP member countries, including China, from importing the gems. Promising to professionalize its mining operations, the Zimbabwean government brought in private companies to handle the diamond mining. In 2011, after two years of tense negotiations that almost tore the KP apart, the KP lifted the ban.
The KP's intervention, however, didn't actually put a stop to the horrors. Not long before Zimbabwe received permission to resume diamond exports, a BBC investigation found that the Zimbabwean army was running torture camps at the Marange diamond fields. And although there have been no more massacres, security guards for the mining companies continue to torture, beat, and occasionally kill local residents.
In addition, most of the mining companies have ties to Mugabe and his cronies, making it easy for them to smuggle diamonds without giving a percentage to the Zimbabwean Treasury. (One mining company is even part-owned by Grace Mugabe, Zimbabwe's First Lady, and is headed by Mugabe's former helicopter pilot.) Partnership Africa Canada (PAC), an NGO, estimates that since 2008 – before, during, and after the time when the export ban was in effect – Mugabe and his allies stole about $2 billion worth of rough diamonds. PAC called this theft "the biggest single plunder of diamonds since [De Beers founder] Cecil Rhodes."
Mugabe and other government officials bear most of the responsibility for stealing Zimbabwe's diamond wealth. But to pull off such a massive theft, Mugabe and his allies reached the smart conclusion that they needed wealthy partners willing to overlook serious human rights abuses and systemic corruption. And that's where China comes in.
The Chinese government, which has long supplied Zimbabwe with weapons, is believed to be deeply involved in Zimbabwe's corrupt diamond trade. One report found that high ranking Chinese military officers have been physically on the ground in the Marange diamond fields to oversee diamond mining. Another report found that that a secret airstrip near the diamond fields may have been used to smuggle diamonds in exchange for Chinese weapons. There is also evidence that a luxury Airbus plane – described as "a flying hotel room" – has been used by Chinese businessman Sam Pa to whisk diamonds out of Zimbabwe. The NGO Global Witness believes that Pa provided as much as $100 million to Mugabe's secret police force to gain access to Zimbabwe's diamond riches.
The largest diamond mining company in Zimbabwe, Anjin Investments, is jointly owned by a Chinese state construction company and the Zimbabwean military. Anjin obtained a mining license after the Chinese government loaned $98 million to build the National Defence College, a new military university. (The university opened in October and was built by the same Chinese construction company owning a stake in Anjin.) Human rights groups have cited Anjin for continued abuses in the Marange diamond fields, including beatings and dog attacks by security guards against local residents. The company also uprooted about 500 families from their homes to make way for diamond mining. So far, it has failed to compensate them with promised clean water, food, health facilities, and schools.
Furthermore, China's support for Mugabe has given him the funding he needs to sustain one of the world's worst dictatorships. In office since 1980, Mugabe rules Zimbabwe with an iron fist. Even as his policies have brought economic ruin to his country, Mugabe and his Zanu-PF party have clung to power by intimidating the opposition party, the Movement for Democratic Change (MDC), with torture, beatings, and killings.
In July, voters in Zimbabwe went to the polls. Thanks to diamonds, Mugabe's security forces, including his secret police, had the money to pay for the new weapons and recruits necessary to strong-arm Mugabe's political opponents prior to elections. Accusations have also flown that Mugabe used diamond money to pay off the company that oversees Zimbabwe's election rolls, resulting in the disenfranchisement of a million voters likely to vote for the MDC. It came as no surprise last month when, early last month, it was announced that Mugabe had won the election with a commanding 61 percent of the vote.
Toward a KP Plus?
So what does China's spotty track record in Africa's jewelry trade mean for the social mission of a company like Brilliant Earth? Unfortunately, it could mean that our fight to eliminate the dark side of the jewelry industry—to end violence, reduce corruption, and raise labor and environmental standards—will be harder than we initially thought.
Even if we succeed in supplying own customers with jewelry they can feel proud to wear, and even if we help create a jewelry supply chain that is more socially and environmentally responsible, there is a risk that another supply chain will continue to exist alongside it – a supply chain in which concerns like human rights or the environment don't matter, and in which powers like China don't respond to pressure from American consumers.
Within the KP, the debate over Zimbabwe's diamonds revealed clear battle lines. China, India, Russia, and most African governments took Zimbabwe's side, whereas the United States, the EU, Canada, and Australia pushed hard to end the violence and eliminate corruption. In the end, it proved impossible to get Zimbabwe to improve standards more than it did—which was very little. Without the cooperation of China and other major KP members – and with China having a big financial stake in Zimbabwean diamonds – the United States and its allies were forced to relent. The fact that Zimbabwe, with Chinese help, was smuggling diamonds in violation of the ban also created pressure to lift it and regularize Zimbabwe's diamond trade. (Never mind that even after the ban was lifted, Mugabe still steals and smuggles diamonds.)
After the dispute, what remains is the beginning of a two-stream diamond trade. The United States and the EU still ban the import of Zimbabwean diamonds, whereas countries like China and India now import them openly. (This does not necessarily prevent Zimbabwean diamonds from entering U.S. jewelry stores, as many diamonds lose all identifying information in cutting and polishing centers like Surat, India.) Some in the diamond world have spoken of a "KP Plus" – a new organization with fewer countries agreeing to higher standards.
As noted in the last blog, we see a similar divergence in eastern Congo, where Western companies have tried to avoid conflict minerals while Chinese traders haven't followed suit. The same pattern is evident in the trade in Burmese jade and rubies. Both were banned in the United States to cut off funding for Burma's military dictatorship and due to concerns about slave labor at Burmese mines. (The ban is now being reconsidered as Burma moves toward democracy.) But the ban never worked as hoped, because China and Thailand kept right on buying Burma's jade and rubies, netting billions for the junta that then ruled Burma.
This type of split result could well be the norm in the jewelry trade for the foreseeable future. Some countries and companies will avoid jewelry tied to serious human rights abuses – but many won't. And so, in a world in which the United States controls a smaller and smaller share of the global economy, U.S. action to stop jewelry-related rights abuses may not always suffice.
But do the challenges presented by China mean that Brilliant Earth's social mission isn't worthwhile, or that we are destined to fight a losing battle? Not necessarily.
In the next (and final) blog, we'll look at some of the reasons why, even in a world with a rising China, Brilliant Earth's social mission remains important, and is perhaps even more vital.