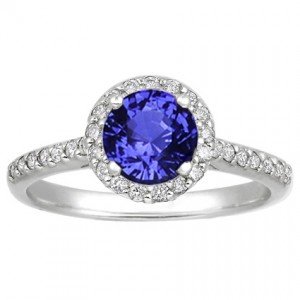 Here's some interesting news for engagement ring shoppers. On average, the price paid for an engagement ring fell 5 percent between 2010 and 2011, according to a survey conducted by TheKnot.com and WeddingChannel.com. In dollar terms, that meant a drop from $5,392 to $5,130 in the average cost of an engagement ring.
The annual survey, the latest of which involved participation from more than 18,000 couples who married in 2011, gathered data on a variety of wedding topics – ranging from wedding dresses to DJs to choice of venue. (Read the full survey results here.) However, the survey doesn't seek to explain all the data it reports.  That leaves us to wonder: why the drop in engagement ring spending?
It's possible that the survey results represent a statistical blip. But assuming that the results are accurate and indicative of a trend, two main explanations come to mind: either engagement prices have declined or consumers are spending less. Since there hasn't been a noticeable decline in prices, it stands to reason that consumers last year decided to spend a little less on engagement rings. But why is that?
The first possibility that comes to mind is that consumers, affected by the economic downturn, are becoming more budget conscious. This theory would seem to be challenged by another survey finding: that overall wedding spending is not declining.  In fact, the survey found a slight uptick of 0.1 percent in the average overall wedding budget.
Still, the belt-tightening explanation can't be discounted so easily. There are some important differences between engagement rings and other wedding expenses – the most salient one being that engagement rings are usually paid for by the groom, while family members often help out with other wedding costs. The slow economy has hit the pockets of young people in particular. It's quite possible that some grooms are spending more cautiously on engagement rings, even as their families pitch in to keep wedding budgets intact.
But there are other possibilities as well. For instance, it may be that changing style preferences, rather than pinched budgets, are driving a decline in engagement ring costs. There's no doubt that sapphire engagement rings, usually more affordable than diamond rings, enjoyed a renaissance last year, as Kate Middleton's dazzling sapphire halo engagement ring reminded the jewelry world of the beauty and desirability of colored gemstones. The rising popularity of sapphires could have helped reduce the average cost of an engagement ring.
Or, it may be that consumers in 2011 were drawn to many of the other excellent engagement options that happen to be more affordable.  These include diamond bands (like our Flora Ring), engagement rings paired with lab-created diamonds, and antique engagement rings.  There are currently many desirable and sought after options for affordable engagement rings.
At Brilliant Earth, we 're eager for consumers to discover all the terrific options available to them; we're also pleased if consumers are doing a better job of setting an engagement ring budget and sticking to it. We believe that one of the keys to being completely satisfied with your engagement ring purchase is selecting a ring within your desired price range. For this reason, we have made setting a budget the very first step in our guide to buying an engagement ring.
Regardless of the reasons for the survey results, it seems clear that engagement ring shoppers are looking for value and choice. That's why, at Brilliant Earth, we strive to provide competitively-priced jewelry that is of the very highest quality, customized to individual preferences, and produced with respect for people and the environment.