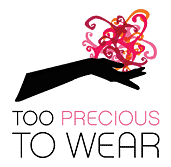 Coral is a precious natural resource on which much of the earth's life depends. Unfortunately, it is also being killed and eroded at an alarming rate, posing a threat to all manner of marine life. Corals are suffering from over-fishing, gas exploration, invasive species, pollution, climate change and consumer demand for home décor items and jewelry. Brilliant Earth will not and has not ever exploited this precious resource in our own jewelry, and we encourage consumers to do their part to protect these precious natural resources by refusing to purchase any product made of real coral.
Too Precious to Wear is a campaign created by SeaWeb, a nonprofit organization that educates consumers and industry professionals on coral conservation. Not only do they recruit fashion industry leaders to campaign for conservation, but also they support and promote strong government legislation for protecting corals. We encourage you to take a moment to sign their coral pledge (we did!) and help to spread the word that coral destruction is dangerous and intolerable.
In the meantime, one thing that we can all do directly is to prevent coral from being harvested for jewelry and décor by not purchasing such items made from coral. Look for designer and fine jewelry made from recycled metals and ethical origin gems.