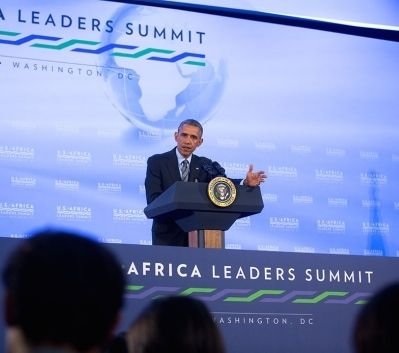 President Obama deserves credit for a smart move. Last week his administration hosted the U.S.-Africa Leaders Summit, an extraordinary gathering of more than 40 African heads of state in Washington. One purpose of the event was to recognize Africa for what it is—a terrific investment opportunity for U.S. companies. The summit, we expect, will lead to deeper economic ties between the United States and Africa.
But another result of the summit was that it created a lot to discuss. And we couldn't help but notice what Obama said, and didn't say, in a major speech on U.S.-African business relations. Here's the relevant quote:
We don't look to Africa simply for its natural resources; we recognize Africa for its greatest resource, which is its people and its talents and their potential.  (Applause.)  We don't simply want to extract minerals from the ground for our growth; we want to build genuine partnerships that create jobs and opportunity for all our peoples and that unleash the next era of African growth.  That's the kind of partnership America offers.
Obama went on to announce more than $14 billion in new business deals involving American companies. General Electric, he said, will build infrastructure. Marriot will build hotels. Coca Cola will help with clean water projects.
These investments are good news. And we completely agree with Obama that U.S. companies shouldn't focus exclusively on Africa's natural resources, that the continent's greatest resource is its people, and that investments in education and infrastructure are key to unlocking Africa's potential. That's why, for example, Brilliant Earth has supported the African Leadership Academy, a school dedicated to training the next generation of African leaders. But if we were writing that same speech, we'd have added another line or two. We'd have clarified that responsible investments in Africa's natural resources are still essential. And we'd have stressed that U.S. businesses ought to be making those investments.
We understand why Obama draws a distinction between natural resource investing and other types of investments: Africa's natural resources in some cases have contributed to significant harm. Amnesty International estimates that 3.7 million people have died in Africa's blood diamond wars. Presently, a civil war financed by gold and other minerals is underway in the Democratic Republic of Congo. Another war funded by diamonds and ivory is taking place in the Central African Republic. Oil is driving conflict in places such as South Sudan.
Many African countries also have squandered their natural resource wealth or used it as an excuse not to modernize. Corrupt leaders like Robert Mugabe (not invited to the summit) have allowed billions of dollars in natural resources—in Zimbabwe's case, diamonds—to be looted.
Given this background, it's tempting to conclude that Africa might be better off if U.S. companies did less natural resource investing and more investing in everything else. But ignoring Africa's natural resources isn't the answer either.
Why not? For one, the negative outcomes associated with irresponsible natural resource management won't go away if U.S. companies don't take the lead. Diamonds, gold, oil, and other resources will still be extracted. Wars will continue, making it harder for companies like General Electric and Marriot to invest. Companies from other parts of the world, such as China, may also exploit Africa's resources with much less of a commitment to worker rights and the environment compared with U.S. firms.
More important, involvement by U.S. companies in natural resource issues can do considerable good. Many African warlords earn money by controlling the trade in metals and gems. In eastern Congo, leadership by U.S. companies—especially the U.S. technology industry—has helped cut off funding for the warlords and create new sources of minerals certified as conflict free. Partly as a result, the war in eastern Congo has started to abate.
Responsible natural resource investing also can advance education and infrastructure goals. Consider that close to a million of Africa's artisanal diamond and gold miners are children. Instead of attending school, many of these kids spend their days toiling in muddy pits or breathing in dangerous mercury fumes. The loss of human potential is enormous. Investments in initiatives like fair trade gold and development diamonds, both supported by Brilliant Earth, can help get children out of the mines and back into school plus help miners earn fair wages.
We lastly want to emphasize that when companies and governments both act responsibly, natural resources can help countries take amazing leaps forward. Botswana is a perfect example. In Botswana, diamond revenues have allowed the government to institute universal primary education and invest in infrastructure. With the help of diamonds, Botswana has gone from one of Africa's poorest countries to one with a standard of living comparable to Turkey.
Does the Obama administration recognize all this? Absolutely. The State Department, the U.S. Agency for International Development, and the Securities and Exchange Commission (implementing the conflict minerals provision of the Dodd Frank financial bill) all have been very committed to promoting responsible natural resource development in Africa. Nevertheless, we'd love to see Obama talk as much as possible about responsible investing in Africa's natural resources. We'd especially love to see him pick up his phone and encourage the jewelry industry to join us in supporting development diamonds.