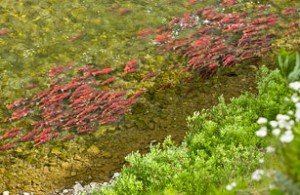 A controversial proposal to build an enormous gold and copper mine in an environmentally-sensitive region of Alaska has run into a roadblock: local opinion. A recent poll by an Anchorage-based research firm has found that 79 percent of residents in nearby communities are against the proposed Pebble Mine project. The poll should hopefully cause a bit of soul-searching by the two companies planning to establish the mine, Anglo American PLC and Northern Dynasty Minerals Ltd. The poll is also likely to enter into the thinking of political leaders who would need to give the go-ahead before any mining could begin.
The Pebble Mine project would use open pit mining, a mining technique which degrades the landscape and generates huge amounts of waste, to extract minerals from a state-owned site near Bristol Bay in Southwest Alaska. The mine would become the largest open pit mine in North America. Although this could mean more economic activity in the region, Bristol Bay is also home to the world's largest sockeye salmon fishery. Pollutants from the mine would disrupt the commercial fishing industry, presently the engine of the local economy. The salmon are also a traditional food source for the region's residents, many of them native peoples.
Environmental activists, commercial fishermen, local community groups, and others have been voicing their opposition to the mine. Notably, a delegation of Pebble Mine opponents attended an Anglo American shareholder meeting in April to express their opposition. The new poll, assuming it is accurate, provides evidence that opposition to the mine is not limited to a small group of activists, but is widespread among the people who would be most affected. The opposition is quite strong. According to the survey, 73 percent of residents strongly oppose the mine and 6 percent somewhat oppose it. These are powerful numbers. Area residents are saying that on balance, the mine would be a raw deal for them.
Brilliant Earth joins the residents of the Bristol Bay region in opposing the establishment of the Pebble Mine. We offer only recycled and responsibly-sourced gold, and will not purchase gold from the mine, should it be established. We are optimistic that this new poll will be an important step in galvanizing opposition to the Pebble Mine. The poll is also an excellent demonstration of the need to take into account the perspective of nearby residents when launching or conducting or mining operations.