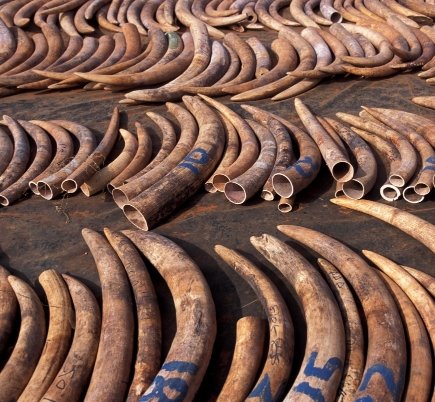 A group of elephant poachers in Zimbabwe has been using a sinister approach to kill the majestic animals: poisoning them with cyanide, a chemical normally used in gold mining. At least 91 elephants in western Zimbabwe have died from cyanide poisoning in the last few months. Wildlife officials at the Hwange National Park have been finding enormous elephant carcasses rotting in the sun, stripped of their valuable ivory.
Cyanide is used in Zimbabwe's gold mines—and in many gold mines around the world—to separate gold from unwanted rock and sediments. It is a rapidly acting and extremely dangerous chemical. Exposure to high levels of cyanide can cause heart attacks, seizures, coma, and death. Although most gold mining companies say they are careful with the chemical, it is very common for cyanide to leak or spill from mine sites, causing environmental catastrophes. In this case, however, cyanide was released into the environment in a shockingly deliberate way.
The poachers have been spreading cyanide over "salt licks" in the park—salty, mineral-rich areas, near watering holes, where elephants congregate. After the animals die, the poachers hack off their tusks. According to one news report, a lion, two water buffaloes, one kudu, two dogs, and several vultures have also died.
What is the reason for these deaths and what is the best way to prevent them? One way to view Zimbabwe's poaching problem is as part of a larger epidemic of elephant poaching sweeping Africa. Elephants are being slaughtered across the continent as demand for ivory, particularly in China, rises. Militant groups in Africa are also profiting from the ivory trade, much as they have profited from blood diamonds and conflict gold (although there is no evidence in this case that the elephants were killed by militants).
Another possibility, however, is that these elephant deaths are a symptom of the troubles plaguing Zimbabwe's mining sector. President Robert Mugabe has gained notoriety for killing and enslaving diamond miners in the Marange diamond fields of eastern Zimbabwe, stealing diamond revenues, and using the profits to enrich himself and his cronies and rig an election last summer. Less talked about is that Mugabe manages his country's gold mines in the same corrupt way he manages his diamond mines—and this is where there may be a connection to the elephant deaths.
Cyanide isn't an easy chemical to obtain in Zimbabwe; the most likely source of the cyanide was a gold mining operation. Mugabe's cronies—political allies and officers in his security forces—are the same people have been awarded control of many of Zimbabwe's gold mines. Conservation groups suspect that if the elephant deaths were fully investigated, an ivory smuggling ring supplied with cyanide by Mugabe insiders might be discovered. Although a few poachers already have been caught and given lengthy jail sentences, these men may only be low-level operatives in a bigger operation.
Mugabe's government, unfortunately, can't be counted on to discover the source of the cyanide that killed the elephants. Nor can it be counted on to staff the Hwange park with enough rangers to police the park and prevent more elephant deaths. The park staff has only 150 rangers to patrol 5,400 square miles, when it may need closer to 700, according to the Associated Press.
Still, there are measures that can be taken that don't rely on Mugabe. The international community can take stronger action against countries trading in ivory through CITES, an international treaty protecting endangered species. Consumers can choose recycled gold, bringing closer a time when there is less gold mining altogether and less cyanide use. And individuals can join the fight against blood ivory by signing this petition.