A diamond ring is the timeless symbol of engagement. Beautiful as a solitaire or dazzling with accents, a diamond engagement ring is the ultimate supporting actor when it comes to popping the question. Coming shortly on the heels of "how did he propose?" one of the first questions posed to the newly-engaged is "can I see the ring?" And most admiring eyes look straight at that diamond, admiring its light and fire, and maybe (just maybe) assessing its size.
It's not surprising, then, that many would-be grooms feel the weight of diamond selection in more ways that one. When you set out to select a diamond engagement ring, one of the first things you will do in the process of determining a budget and balancing a diamond's characteristics is decide just what size diamond you want to present.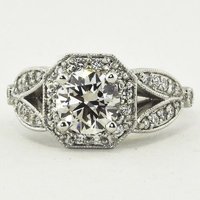 These days, it seems like more and more customers are in pursuit of the perfect one carat diamond ring, and because of this increased demand, a one carat diamond commands a premium price. If you are looking to make more of your budget without compromising look, consider buying an "under sized" diamond—one at a weight slightly below the one carat mark.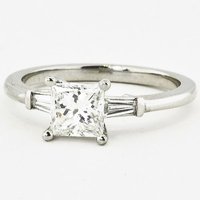 A one carat diamond should not be the be-all-end-all of your diamond search. As we highlight in our engagement ring guide, there are many ways to maximize your budget and the look of your diamond engagement ring, and we are excited to tell you more about these appealing options.
Not All Carats are Created Equal
First thing's first. A carat is actually a unit of weight, not a measurement of size. So, while it's certainly possible to get an approximation of diamond size (i.e., how it will look on her finger) by knowing its carat weight, there can be significant variety in the millimeter measurement of one carat diamonds, depending on how they are cut.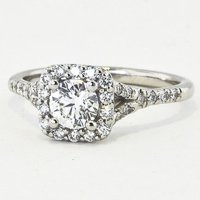 A deeper cut one carat diamond will have a smaller top surface measurement, while a one carat diamond with a more shallow cut will measure larger across the top surface. So, a great way to enhance the part of your diamond that will be seen is to opt for a diamond with a slightly shallower cut. This choice offers great value; you can purchase a diamond under one carat in weight, but it can in fact appear larger than many one carat diamonds you see!
You may be interested in exploring our recommended diamond collection, which is comprised of hand-selected diamonds that we believe balance a diamond's characteristics with beauty and budget in mind.
Enhance Your Setting
Another great option to consider when seeking to maximize the look of your diamond is to set it with beautiful detail and embellishment, such as a diamond halo setting. Halos, which completely encircle the center gem of your engagement ring, provide extra sparkle while also making your diamond appear larger! You can't go wrong with a winning combination of scintillation and style.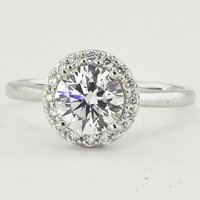 Opt for a Lab-Created Diamond
In addition to our collection of beyond conflict free naturally mined diamonds, Brilliant Earth is thrilled to offer a special collection of lab created diamonds featuring colorless diamonds up to a carat in weight. Lab-created diamonds—completely distinct from diamond simulants such as cubic zirconia—are physically, chemically, and optically equivalent to naturally-mined diamonds and are an excellent, lower-cost option for a more affordable diamond engagement ring that hits the one carat mark.
Consider Fancy Shapes
Another great way to amplify your engagement ring is to consider diamond shapes other than round brilliant. Brilliant Earth offers the full range of diamond shapes, including princess, radiant, emerald cut, asscher, oval, and more. These stunningly unique diamonds will "pop" at less than one carat in weight, or may be more affordable in the larger sizes.
Buy An Antique, Be Inspired
Brilliant Earth maintains an exquisite collection of antique diamond engagement rings, selected by our jewelry experts for their unique beauty and craftsmanship. A ring from this collection offers incredible value when compared to newly-cut diamonds and settings, and also lends an unmatched romantic quality. Explore our antique collection for an array of engagement rings (above and below the one carat diamond mark) that will take your breath away.
Final Thoughts
Although we know it's easier said than done, don't let the hype about diamond size dampen your spirits as you search for an engagement ring. Let us help you create a sensational diamond ring that fits your budget and exceeds your expectations.