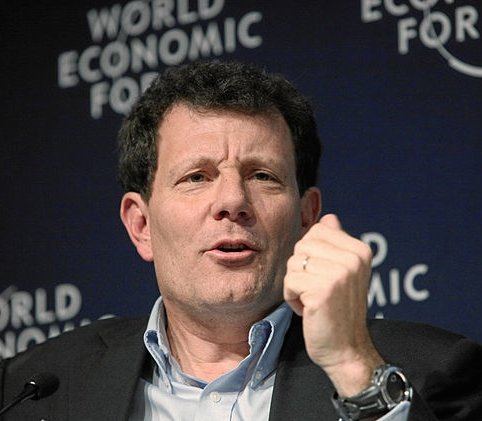 Dear Mr. Kristof,
We're big fans of your "Win a Trip" contest for college and graduate students. In your New York Times column on Sunday, you announced that this year's contest winner is Nicole Sganga, a junior at Notre Dame. You asked for suggestions on places to go and themes to cover on your trip together. (By the way, congrats Nicole!)
Here's an idea: give readers a love story. One goal of the contest is to interest young adults in the developing world. The millennial generation ranges in age from 18 to 33. This is a generation looking for love and celebrating love they've found. So focus your trip on engagement rings—or rather, the developing countries that supply the diamonds, gold, and other gems and metals used to produce them. You'd be surprised at all the places you could go and the people you could meet!
We'd first like to suggest two countries where blood diamonds live on: Angola and Zimbabwe. In Angola, you could look at how migrant diamond diggers from neighboring Congo are being assaulted by Angolan soldiers. You'd want to meet Rafael Marques de Morais, a journalist who has exposed violence and corruption in Angola's diamond industry. You could also pose some difficult questions to Avi Paz, the president of the World Diamond Council, who recently supported Angola's bid to lead the Kimberley Process (KP), the world's blood diamond watchdog.
In Zimbabwe, we suggest a visit to the Marange diamond fields. That's where, in 2008, Zimbabwean soldiers massacred more than 200 diamond miners, then enslaved adults and children until the international community cried foul. Nobody has been held accountable and the theft of diamonds by government insiders may continue. (One NGO called it the "biggest plunder of diamonds since Cecil Rhodes," the British imperialist who founded DeBeers.) In Zimbabwe, don't forget to talk with Farai Maguwu, a dissident calling for transparency and justice.
The Central African Republic is being wracked by violence, forcing a million people to flee their homes.  Some of the tensions are religious, but the underlying conflict is about natural resources such as diamonds, gold, and timber. If you can visit safely, go there and shine a light on this conflict before it develops into something worse.
The story of diamonds in Africa is not just about sorrow. If you went to Sierra Leone, you could meet our friends at the Diamond Development Initiative, who are building a brighter future for the continent's one million artisanal diamond diggers, most of whom earn just a dollar a day. Or you could visit Cote D'Ivoire, where a USAID-funded project is helping diamond miners to register their property rights. Swing by Botswana or Namibia to learn about how countries have leveraged their diamond wealth to raise standards of living for millions of people.
The issues surrounding gold, another jewelry component, are just as serious. In the Democratic Republic of Congo, you could update readers on efforts to break the link between certain "conflict minerals," including gold, and the deadliest war since World War II. Or, you could visit a country such as Tanzania or Mali to witness how children have been swept up in the gold mining boom and how mercury use by artisanal gold miners is poisoning their health and ours. (There's a direct link between artisanal gold mining and mercury levels in the fish we eat.)
You'd have plenty of options outside Africa too. In Latin America, you could go to the Venezuelan Amazon to investigate diamond smuggling or the Peruvian Amazon to witness how gold mining is deforesting the land and creating boomtowns rife with crime and prostitution.  You could visit one of the promising fair trade gold cooperatives in Bolivia, Columbia, Peru, or Ecuador. You could go to Haiti, which is trying to entice gold mining companies as it recovers from the 2010 earthquake, or to Costa Rica, the first country in the Americas to ban open pit mining.
Alternatively, go east. China is the world's biggest gold producer and consumer, not to mention this year's KP Chair and a rapidly growing market for diamond engagement rings. India is the world's biggest diamond cutting and polishing center. Indonesia is home to the world's largest gold mine—the monstrous Grasberg mine. Myanmar is a major supplier of rubies, sapphires, and jade, but its mines have a history of funding oppression and relying on slave labor. We're curious to know: what's going on at those mines now that Myanmar is moving toward democracy?
Whichever options you choose, however you mix and match, the $72 billion diamond jewelry industry is a fascinating prism for viewing the world. On your journey, you'd meet the poorest diamond diggers and the wealthiest mining executives. You'd tackle issues ranging from civil wars to child labor to the destruction of ecosystems. And you'd have a way of reaching young readers—of demonstrating how young people's lives in Indiana and Indonesia are intimately connected.
One more selling point: we'd be able to help. We could work with you to sort through travel options. We could introduce you to friends and partners in the jewelry industry and at NGOs. We could also get out the word. We've got 700,000 Facebook followers, mostly millennials. We'd gladly follow your travels and share Nicole's blogs and videos through social media. With your help, we could get a generation of young people interested in mining issues and help build the kind of grassroots movement needed to develop solutions.
How does that sound? Let us know if you'll accept our proposal! And wherever you go, have a great trip, guys. Bon voyage!
Sincerely,
The Brilliant Earth Team