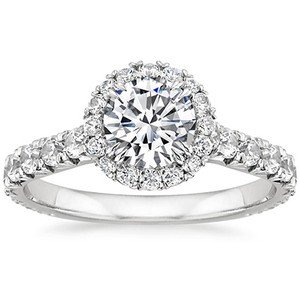 Whether you're a fan of the Heat (the basketball team) or the heat (the subtropical weather), you're bound to fall in love with this sparkling southeastern city. According to Forbes magazine, Miami is a major center for culture, entertainment, trade, commerce, and the arts. This city is much more than just an oversized party town! It is becoming known for its array of museums and theaters in addition to its impressive medical centers and research institutes.

Miami summers are hot and humid and the winters are warm and short, so if you are a sun-worshipper, this is the city for you. There are endless things to do and see in this cultural hotspot, including watching the Calle Ocho Festival in Little Havana and snorkeling through the coral reefs of Biscayne Bay. Even though the jumping Miami disco scene of the 1970s has fizzled out, music is still the constant heartbeat of the city. If anything, you are bound to hear the pounding techno beats emanating from the coolest Miami Beach nightclubs.

If you are looking for an engagement ring that shares the vibrant soul of this intense city, consider these brilliant rings!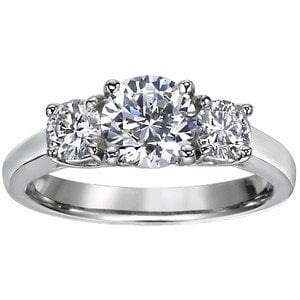 Miami Glam

The beach, the bright lights, the warm weather, and the excitement all make up Miami's glamorous lifestyle. It is a place where you want to dress up, look your best, and be seen. If you are looking for a glamorous engagement ring that speaks to the luxurious side of Miami, consider the dazzling Astoria Diamond Ring which features a delicate scalloped pavé diamond band and an intricate trellis. If one large diamond isn't glamorous enough, then a Three Stone Diamond Trellis Ring might be for you! Why have one when you can have three? If, however, you are looking for a ring that reminds you of the bright lights of Miami Beach, look no further than an enchanting halo engagement ring. These rings feature a circle of scintillating light that surround the center diamond, bringing it to the next level of glamour.

An Outdoor City

Miami has year round outdoor weather! If you can take the heat you'll never have to sit inside—watch out for those monsoons though! There are 263 county parks and 2 national parks in the greater Miami area. At any time you can bike along the beach, visit the Everglades, or see the wildlife in Crandon Park. If you love the natural scenes that Miami has to offer, consider these nature-inspired engagement rings! The Luxe Willow Diamond Ring is a stunning combination of nature and glamour, with twisting diamond-studded vines and marquise shaped diamond buds. The Lotus Flower Diamond Ring features a subtle scalloped halo that produces a floral appearance, perfect for if you adore the Miami Botanical Gardens.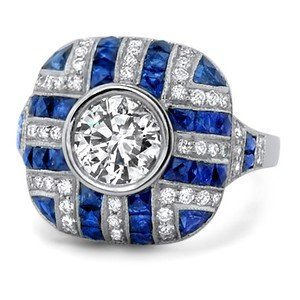 Miami Art Deco Style

Eight hundred buildings in Miami's Art Deco District are recognized by the National Register of Historic Places. It's a great idea to take a long stroll along these streets to admire the vibrant colors, geometric shapes, decorative accents, and the stunning juxtaposition between straight and curving lines. If you are looking for an engagement ring to celebrate this gorgeous district, consider a true antique Art Deco ring from the 1920s or 1930s! These rings are a part of the rich history of Art Deco art and architecture—a period when bigger and brighter was better. Choose a ring with a richly colored gemstone or a stunning center diamond for authentic Art Deco style.

Final Thoughts

Whether you visit on vacation or you've lived there all your life, Miami is undoubtedly a hotspot for a variety of cultures. The engagement rings that mirror Miami's spirit and exuberance are perfect for anyone who loves this warm, bright city on the ocean.

Do you adore Miami? What ring reminds you of this amazing place? Let us know on Facebook, Twitter, or in the comments!