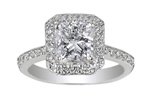 Looking to maximize the appearance and size of your center diamond? Hoping to create balance and lend a sense of delicateness to a large gem? "Halo" settings that wreath the center stone in diamonds are the perfect choice for all sizes and shapes of gems.

The Halo style originated as an "illusion" setting, or a setting designed to create the illusion of a larger center diamond, at the turn of the century. At the turn of the new millennium, the Halo was reinvented as a way to balance a large gem in a delicate setting. Brilliant Earth finds both styles equally stunning!

Now, thanks to our modern jeweler's approach of using full cut diamonds (diamonds cut with the same number of facets as our larger gems), our Halo settings most definitely outshine their vintage counterparts! Whether your tastes tend to vintage, classic, contemporary or modern, the shapes and lines of our Halo settings are sure to complement your center diamond and dazzle you!