More couples get engaged during the holidays than any other time of year. In fact, 1/3 of engagements happen during this timeframe.
Now that engagement season is officially underway, we wanted to dive deeper to better understand how men and women approach the entire process of the proposal. Should couples go ring shopping together, or does that ruin the surprise? Is asking the woman's father for her hand in marriage outdated or expected? We found answers to these questions and more. Read on for a full overview of engagement facts and figures!
Many couples discuss marriage at length before they get engaged, so while the proposal itself may be a surprise, the general timing is expected. While some feel that ring shopping together spoils the surprise, others believe that it's crucial for making sure the woman ends up with a ring she loves.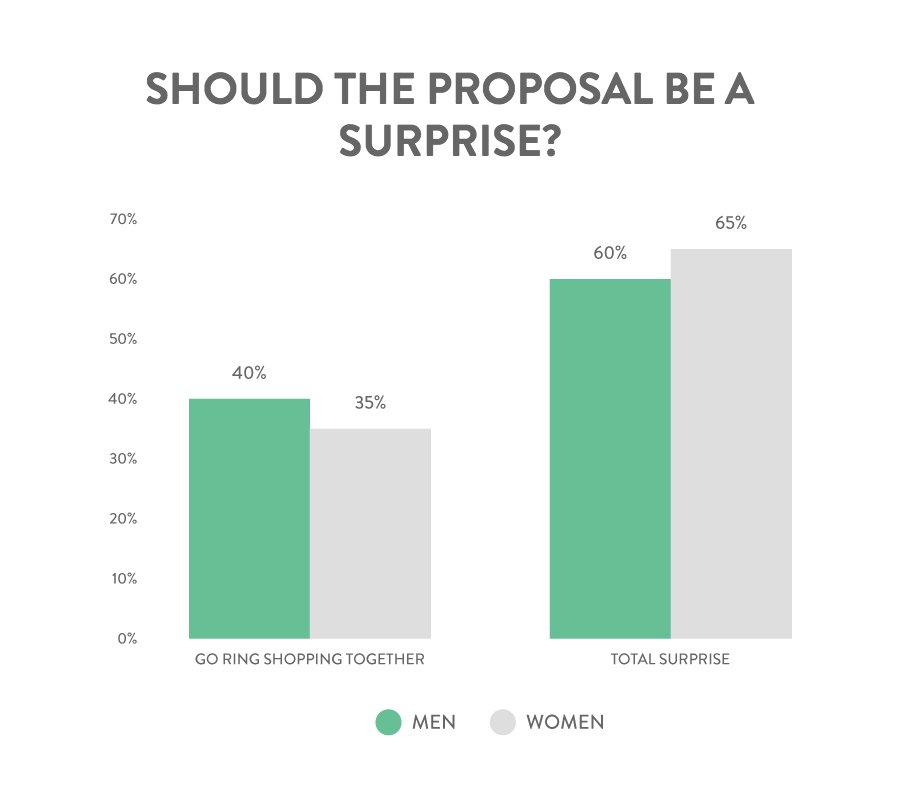 The Takeaway: Though some prefer the idea of a surprise engagement, a third of men and women want to go ring shopping together first to learn each other's preferences.
Now you might be wondering, just how much should people be spending on engagement rings? It's long been taught that the man should spend about 2 to 3 months' salary on a ring for his partner, but it seems most people these days see that as outdated. In fact, women are surprisingly thrifty about the situation, with more than half saying men should spend less than $2500.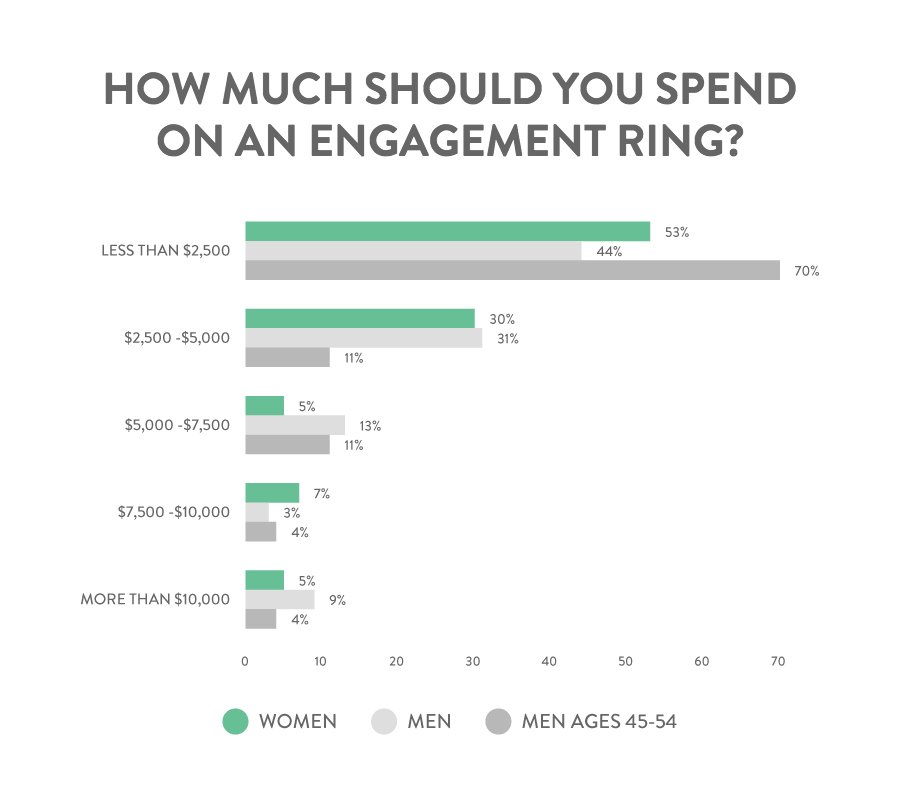 The Takeaway: Men are generally willing to spend more on a ring than women say is necessary. But, men in their late forties are surprisingly tight with their wallets!
So, now we know women don't mind if men are frugal with their ring purchase, but what about their outlook on diamonds created in a lab? The majority of men and women feel neutral or positive about selecting a lab created diamond, with women being even more open to this type of jewelry than men. For both genders, millennials are far more positive about lab created diamonds than older generations. 80% of millennials feel happy or neutral towards the idea of lab grown diamonds.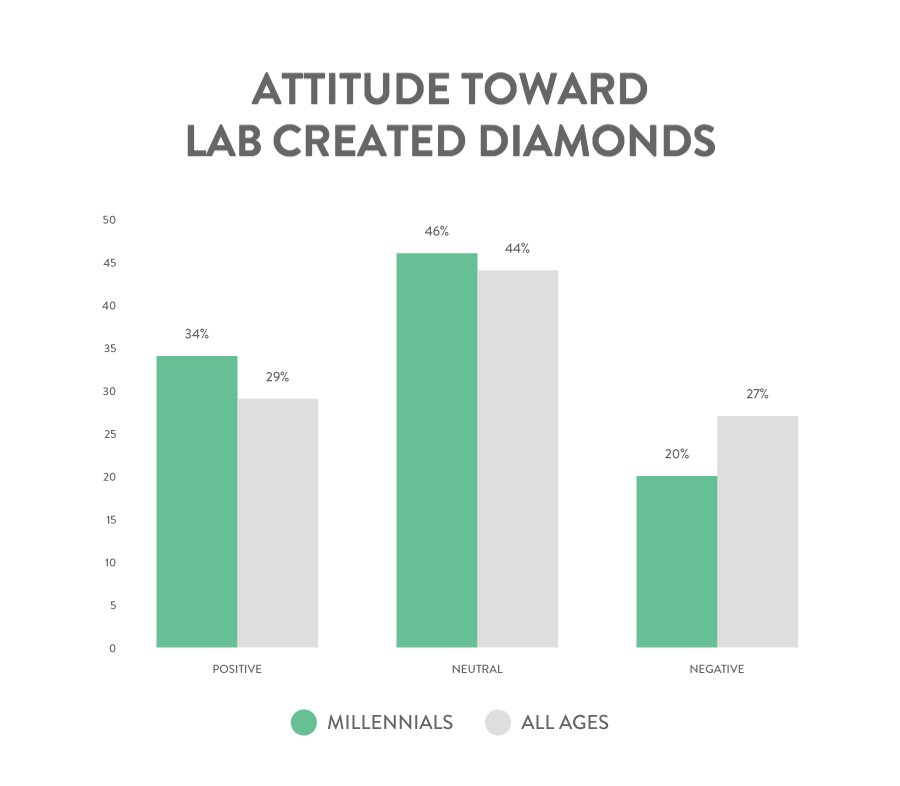 The Takeaway: Three quarters of men and women would be happy or feel neutral about giving or receiving a lab grown diamond. Women are 12% more comfortable with the idea of wearing a gem created in a lab than men are!
How long do couples like to be engaged before marriage? 42% of women prefer a longer 12-18 month engagement whereas only half that many men think that's the ideal timeframe. Men are twice as likely to want a short, 0-6 month engagement than women, but also two times as likely to want an engagement longer than two years. Guys either want to get married now, or wait a really long time…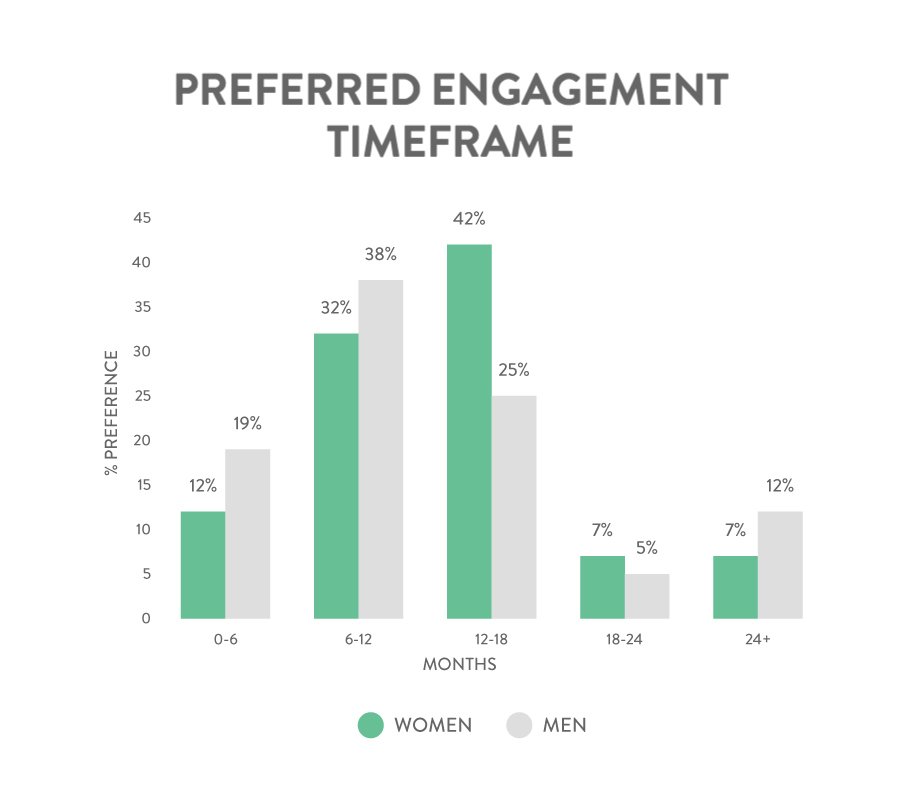 The Takeaway: Ideal engagement timeframes vary significantly, but men generally support the idea of a shorter engagement than women do.
Many people are supporters of the traditional idea of asking a woman's parents for her hand in marriage. While he doesn't need to outright ask for permission, more than two thirds of women think the man should at least have a conversation about his intentions before popping the question.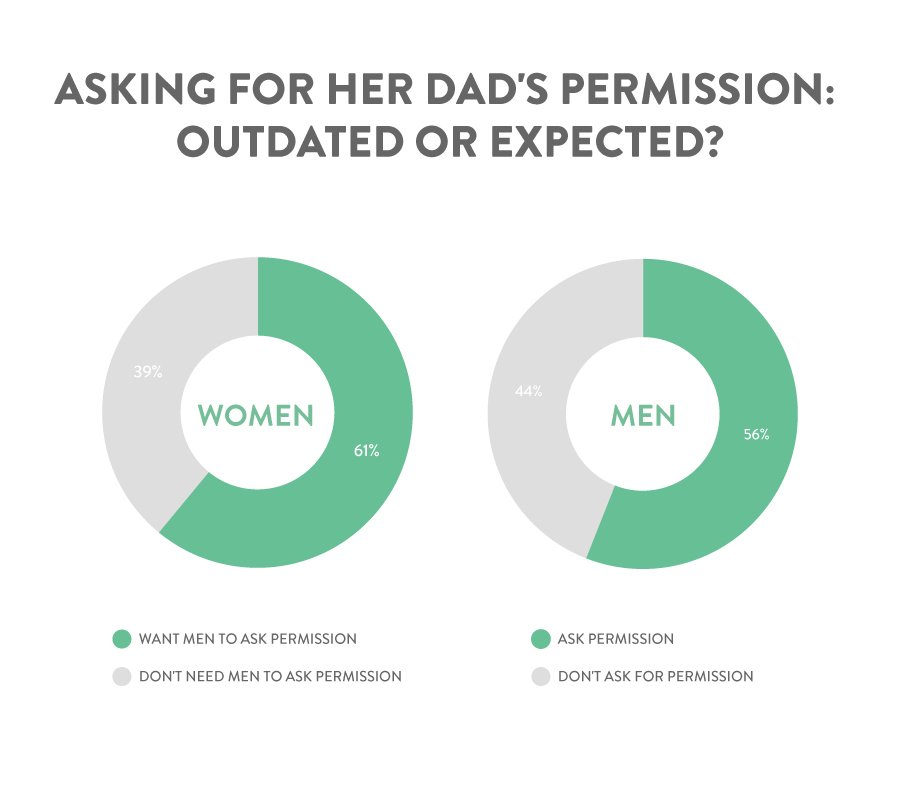 The Takeaway: Men and women generally agree that the man should ask for her parents' permission before popping the question. Men are slightly less inclined to support this practice however, possibly because their future father-in-law intimidates them.
Think you should pop the question at the next sporting event you attend? Think again. Only 3% of women want their engagement to take place in front of a large crowd.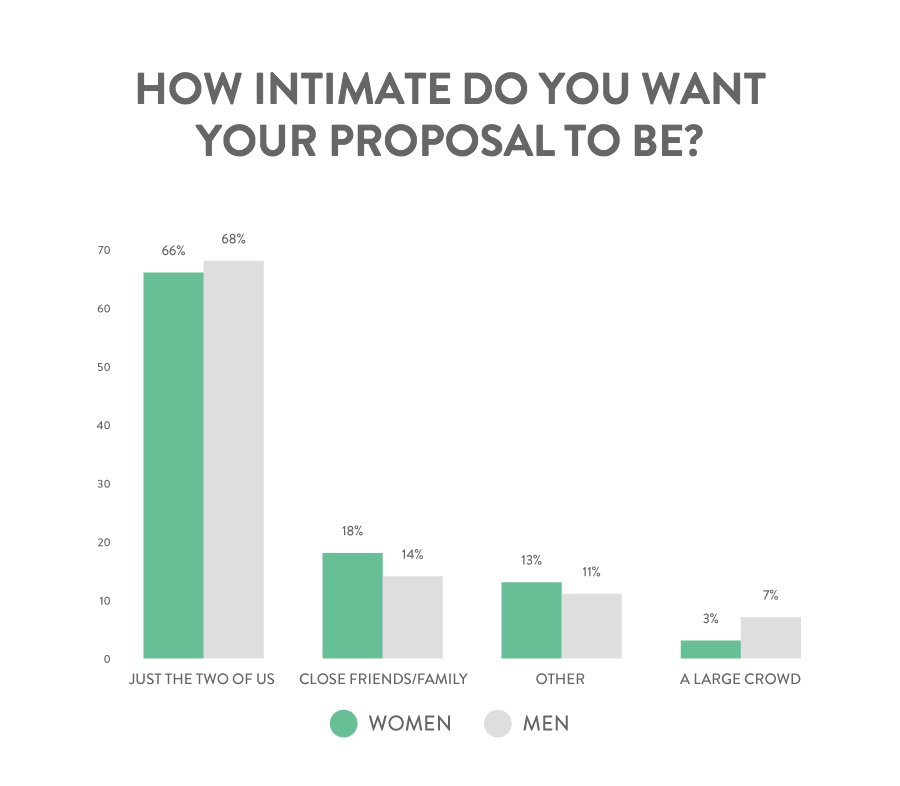 The Takeaway: Most men and women want the proposal to be just the two of them, but men are twice as likely as women to want a proposal in front of a large crowd.
For both men and women, diamond size is the least important factor when choosing a ring. Both genders believe that design beats out diamond size, gemstone quality, and other notable jewelry characteristics.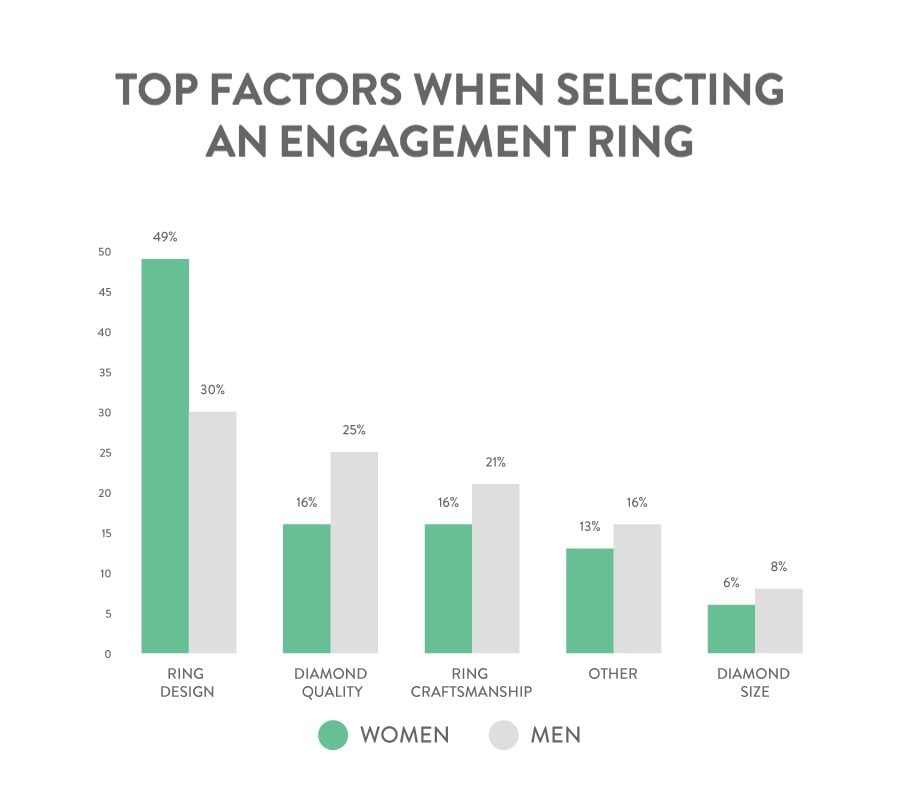 The Takeaway: Women care more about ring design than any other feature — including diamond quality and diamond size.
Diamonds remain the most popular gemstone choice, though some men and women are looking for something more distinctive with a colored gemstone. Interestingly, women are twice as likely to want an understated band with no center gem and men are more likely to say no to the idea of a ring entirely.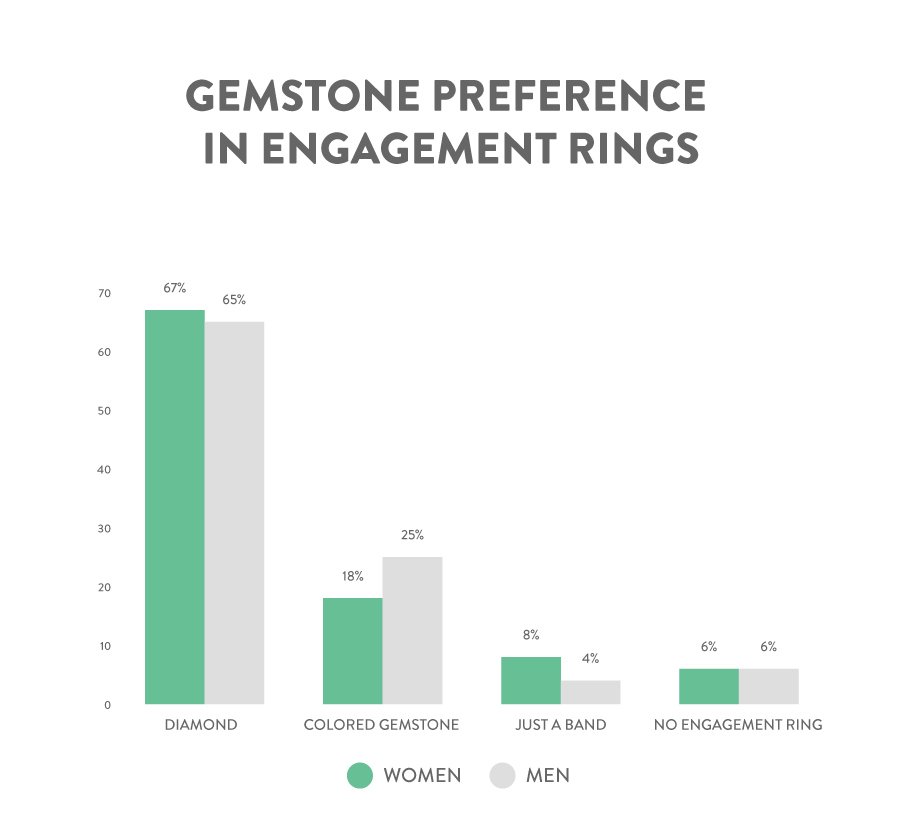 The Takeaway: Traditional may feel like the safest way to go, but a third of couples are looking for something unique – either a colored gemstone or non-traditional band.
Younger generations are far more likely to think ethical sourcing is a key consideration for jewelry purchases. 80% of millennials believe it's important to purchase responsibly sourced jewelry, while the national average is closer to 66%.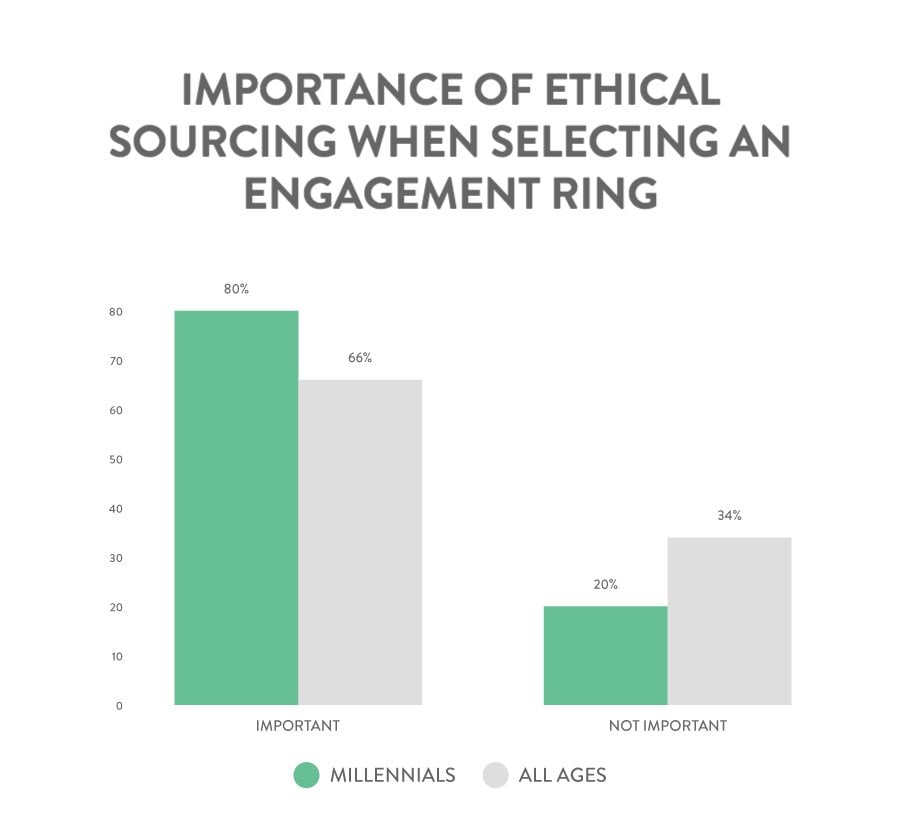 The Takeaway: Women are more likely to think ethical sourcing is important than men are, and millennials are 14% more likely than the average couple to say ethical sourcing is a key consideration when purchasing an engagement ring.
—
This data was collected through Google Surveys. Poll results indicate significant findings from a randomized sample of 3,484  participants.