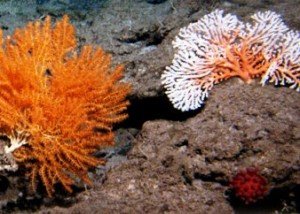 Jewelry producers have escaped an international measure that would have limited their ability to make jewelry out of red and pink corals. Environmentalists had been seeking to protect the corals, a building block of the ocean ecosystem, under a treaty known as the Convention on International Trade in Endangered Species of Wild Flora and Fauna (CITES). Unfortunately, at a recent meeting in Doha, Qatar of the 175 countries belonging to CITES, a measure to protect the corals did not receive the necessary votes – meaning that jewelers and their customers now have a special responsibility to take a stand against the use of red and pink corals in jewelry.
Red and pink corals are a reef-forming coral variety found mostly in the Mediterranean and Pacific. Coral reefs are sometimes thought of as the rain forests of the sea. Formed when coral species secrete exoskeletons made of calcium carbonate, they provide breeding grounds and critical habit for marine wildlife. Coral reefs also provide immense benefits for humans. They support tourism and fishing, protect shorelines from tsunamis and storm surges, and hold promise as a source of life-saving medicines.
Sadly, the world's coral reefs are being destroyed at an alarming rate due to climate change, ocean acidification, pollution, and other human-created threats. On top of all these challenges, red and pink corals are under stress for another reason: people are deliberately stripping them from the ocean and using their beautiful skeletons to make jewelry and home décor. Artisans in countries such as Italy and Croatia have long made luxury jewelry out of red and pink corals. A necklace made of red coral can fetch $25,000 or more. And in countries such as China and Taiwan, red and pink corals are used to make inexpensive decorations and souvenirs.
Many of the factors stressing coral reefs, such as climate change, are difficult to address. One comparatively easy step, however, would be to stop or reduce the harvesting of red and pink corals. Seaweb, an organization dedicated to protecting the oceans, has launched the "Too Precious To Wear Campaign" to fight for the protection of corals and to educate the public about the harm done to coral reefs by overharvesting. One of the campaign's major goals has been to gain protection for red and pink corals under CITES. The measure at the recent CITES conference would not have banned trade in red and pink corals, but it would have restricted the trade and provided essential monitoring and oversight.
Short-term economic concerns apparently held sway at the conference. Although countries voted to restrict trade in some species, such as an endangered Iranian salamander, they voted against protections for blue fin tuna, several species of shark, polar bears, and red and pink corals. The next CITES conference will not be until 2013. With no action forthcoming to protect red and pink corals under CITES, it is now more important than ever for jewelers and jewelry-purchasers to refuse to participate in the selling of coral jewelry.
As the leading provider of ethical origin jewelry, Brilliant Earth is a strong supporter of the Too Precious to Wear Campaign. We urge jewelry consumers not to purchase coral jewelry and to support the campaign by signing the "Coral Pledge." If enough jewelry vendors and consumers say no to coral jewelry, it may still be possible for red and pink corals to survive.